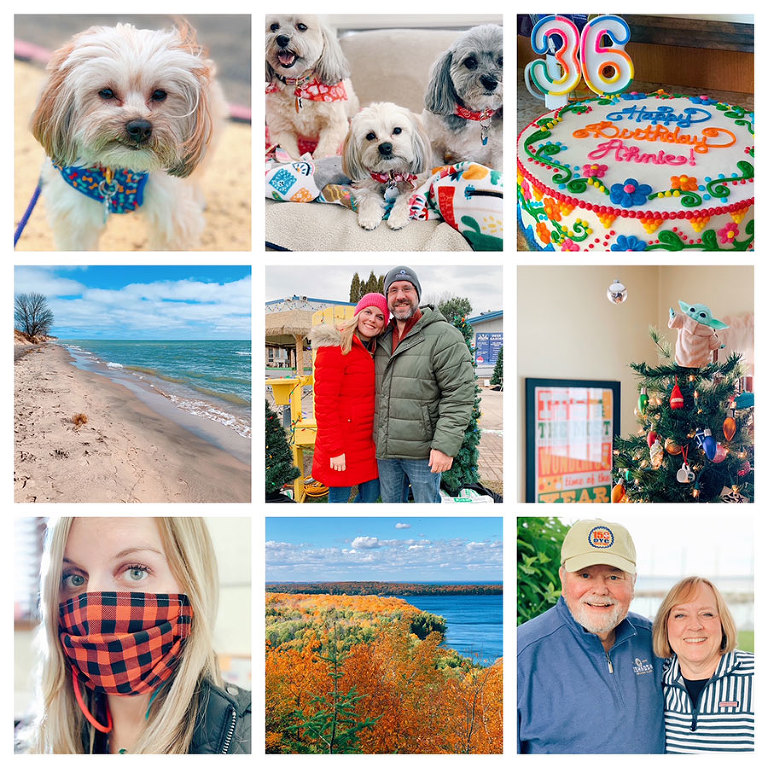 1. What did you do in 2020 that you'd never done before? Survived a global pandemic?
2. Did you keep your new years' resolutions, and will you make more for next year? My only two resolutions for 2020 were to bake/cook more and to exercise more — and yes, I've done both of those this year.  I'm not making resolutions for 2021… noooooope.
3. Did anyone close to you give birth? Nope.
4. Did anyone close to you die? No, thank goodness.  I hope the same holds true for 2021.
5. What countries did you visit? No where. No traveling. See also: GLOBAL PANDEMIC.
6. What would you like to have in 2021 that you lacked in 2020? Nearly everything? 2020 was batshit crazy.
7. What date from 2020 will remain etched upon your memory, and why? January 3rd – the day Mike and I started dating.
8. What was your biggest achievement of the year? Had an excellent year at work despite *gestures broadly* all of 2020.
9. What was your biggest failure? My 20+ pound weight gain? I hate calling that a "failure" though… but it is something I'm not happy about.
10. Did you suffer illness or injury? No, other than my usual headaches/migraines.  And all of my loved ones have been COVID-free – please god let it stay that way.
11. What was the best thing you bought? Every year I make a photobook on Shutterfly;  so that's always my favorite annual purchase.
12. Whose behavior merited celebration? This question is weirdly worded, but Mike has been great all around.
13. Whose behavior made you appalled and depressed? Any and all politicians.  Any and all people who deny science (anti-maskers and anti-vaxxers are the bane of our existence).
14. Where did most of your money go? Amazon.  Let's be real.
15. What did you get really, really, really excited about? I'm not sure I've been "really, really, really" excited this year — it's just been so much and nothing is normal.
16. What song(s) will always remind you of 2020? "Cool" by Dua Lipa
17. Compared to this time last year, are you i. happier or sadder?: Happier because I found Mike and Mike found me. ii. thinner or fatter?: Fatter. LOL. Christ. iii. richer or poorer?: Richer.
18. What do you wish you'd done more of? Puzzles. (just kidding)
19. What do you wish you'd done less of? Depression/stress/boredom eating and drinking.
20. How did you spend Christmas? With my parents in Oshkosh.
21. What was your favorite TV program? Schitt's Creek, Game of Thrones, and the Marvelous Mrs. Maisel
22. Do you hate anyone now that you didn't hate this time last year? It's a waste of energy to hate people. Buuuuuut… as long as we're on the topic: anti-maskers and anti-vaxxers pop into mind.
23. What was the best book you read? I don't even know. As soon as the pandemic hit in March I stopped having any interest in reading.  Weird, right?
24. What was your greatest musical discovery? Dua Lipa
25. What did you want and get? A good, happy relationship.
26. What did you want and not get? Every single travel plan I had this year got canceled so that bummed me out.
27. What was your favorite film of this year? No clue; I don't remember watching many movies this year.
28. What did you do on your birthday, and how old were you? I turned 36 and spent my time with my family here and Mike's family in Bloomington, IL.
29. What one thing would have made your year immeasurably more satisfying? IF CORONAVIRUS HAD NOT CRAPPED ALL OVER OUR LIVES.
30. How would you describe your personal fashion concept in 2020? Stretchy pants.
31. What kept you sane? Mike. My mom. Sadie. My dad.
32. Which celebrity/public figure did you fancy the most? Yeah, no.
33. What political issue stirred you the most? There are too many to list. TOO. MANY.
34. Who did you miss? All of my friends. I didn't see anyone this year.
35. Who was the best new person you met? Mike's kids are great.
36. Tell us a valuable life lesson you learned in 2020: Life is wildly unpredictable and nothing is guaranteed — everything can be flipped over in a heartbeat. Tell people you love them, enjoy the little things, take risks on some big things, make the most of your one wild and precious life.
37. Quote a song lyric that sums up your year: I don't have a specific lyric for the year — but I think "Marjorie" by Taylor Swift is brilliant and instantly reduces me to tears. She wrote it about her grandmother and it's just so good. "Never be so polite, you forget your power Never wield such power, you forget to be polite"