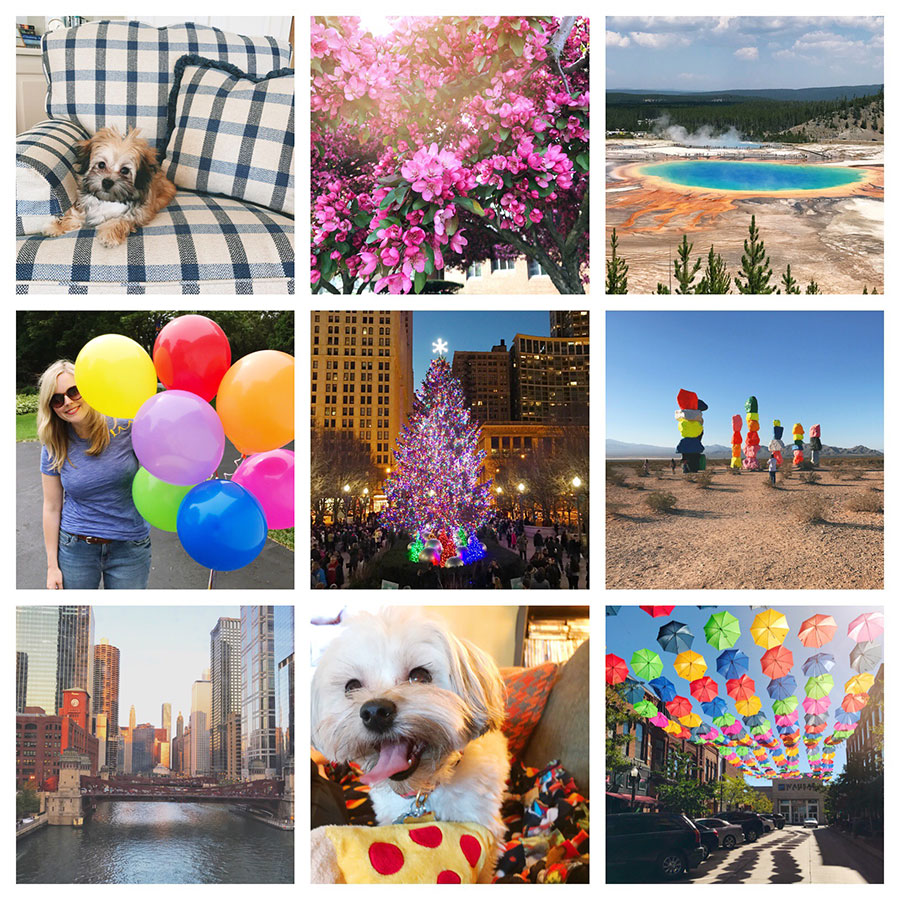 1. What did you do in 2017 that you'd never done before?
Co-chaired the United Way fundraising campaign, co-wrote an appellate brief.  Both of those experiences were un-fun!
2. Did you keep your new years' resolutions, and will you make more for next year?
I don't think I made resolutions for 2017. I don't have any planned for 2018.
3. Did anyone close to you give birth?
A few friends had babies.
4. Did anyone close to you die?
Michelle's husband, Dave, passed away.
5. What countries did you visit?
Just the US — Chicago a few times, Yellowstone National Park, Las Vegas.
6. What would you like to have in 2018 that you lacked in 2017?
Less anxiety regarding nearly every aspect of my life.
7. What date from 2017 will remain etched upon your memory, and why?
2/12/17 was the date Dave passed away.
8. What was your biggest achievement of the year?
I lost about 30 pounds since Christmas of 2016.
9. What was your biggest failure?
Many newbie mistakes at work, I'm sure.
10. Did you suffer illness or injury?
My menstrual migraines are really getting out of hand. TMI?
11. What was the best thing you bought?
I'm not sure. I don't think I made any big purchases in 2017.
12. Whose behavior merited celebration?
My momma – who is also my boss. I'm grateful for her patience, understanding, and perspective – especially when I had to take a sabbatical in order to co-chair the United Way campaign.
13. Whose behavior made you appalled and depressed?
Any and all politicians.
14. Where did most of your money go?
Festival Foods, Target, and SADIE!
15. What did you get really, really, really excited about?
All of my trips that I have planned.  My mom and I are going to see it all!  We've both known too many people who have died too soon — and it has given us a wake-up call.  Life is short, travel now, see it all, enjoy each day because you never know.
16. What song(s) will always remind you of 2017?
Anything from HAIM's "Something to Tell You" or Taylor Swift's "Reputation"
17. Compared to this time last year, are you
i. happier or sadder?: Happier
ii. thinner or fatter?: Much thinner
iii. richer or poorer?: Same
18. What do you wish you'd done more of?
Exercise. Story of life, right?! Though I've been walking a lot. I need to do more strength training.
19. What do you wish you'd done less of?
Worry. But I'm a worrier. It's in my DNA.
20. How did you spend Christmas?
With my parents in Oshkosh.
21. What was your favorite TV program?
I ditched cable in 2017, so I don't watch much TV anymore.  I thought "The Keepers" on Netflix was phenomenal though.
22. Do you hate anyone now that you didn't hate this time last year?
It's a waste of energy to hate people.
23. What was the best book you read?
See earlier post about the books I read!
24. What was your greatest musical discovery?
My love affair with HAIM continues.
25. What did you want and get?
To lose weight. Done and done.
26. What did you want and not get?
World peace. LOL.
27. What was your favorite film of this year?
Coco. It was so beautiful!
28. What did you do on your birthday, and how old were you?
I turned 33 and was in Oshkosh — it was ECLIPSE DAY! Memorable for sure.
29. What one thing would have made your year immeasurably more satisfying?
Ha. For our UWay campaign to have been less of a dumpster fire.
30. How would you describe your personal fashion concept in 2017?
Talbots. All the Talbots. Because Talbots = the lady lawyer uniform.
31. What kept you sane?
My mom.
32. Which celebrity/public figure did you fancy the most?
Not sure. I don't really pay attention to that stuff anymore. I'm officially getting "old"
33. What political issue stirred you the most?
There are too many to list. TOO. MANY.
34. Who did you miss?
All of my friends who live far away.
35. Who was the best new person you met?
Too many to name. The silver lining of the UWay dumpster fire was getting to meet so many wonderful people. Oshkosh is an awesome place to live and work.
36. Tell us a valuable life lesson you learned in 2017:
Ask two million questions before you commit to doing anything major.
37. Quote a song lyric that sums up your year:
*shrugs* I don't know.