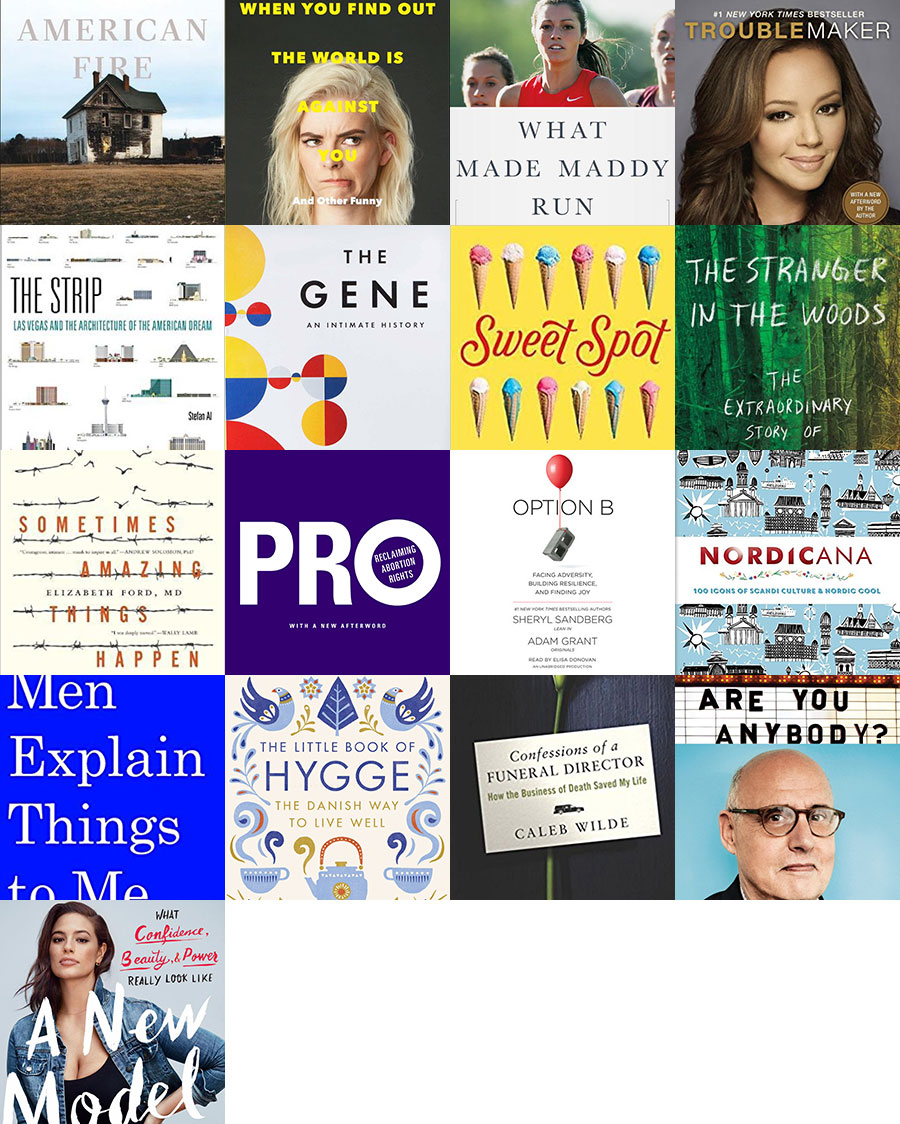 In no particular order, here are my Books of 2017!
American Fire: Love, Arson, and Life in a Vanishing Land by Monica Hesse // I LOVED THIS BOOK. True story about a series of recent arsons in rural Virginia.
When You Find Out the World is Against You: And Other Funny Memories About Awful Moments by Kelly Oxford // Eh. It had its funny moments, but I liked her previous book better.
What Made Maddy Run: The Secret Struggles and Tragic Death of an All-American Teen by Kate Fagan // This is a must-read for all young people… well, for everyone, really. Maddy was a college student at Penn and star on their track team until she died by suicide by jumping off the roof of a parking garage.
Troublemaker: Surviving Hollywood and Scientology by Leah Remini // If you know me, you know that I'm fascinated by the cult that is Scientology. So I really enjoyed this book.
The Strip: Las Vegas and the Architecture of the American Dream by Stefan Al // Super interesting book about the history and architecture of Las Vegas.
The Gene: An Intimate History by Siddhartha Mukherjee // Ooooo, science, I love you so hard. This book is a monster, but a worthy read.
Sweet Spot: An Ice Cream Binge Across America by Amy Ettinger // I hated this book, which is puzzling considering how much I love ice cream. The author was pretentious and made fun of Wisconsin — not cool. I didn't even finish the book.
The Stranger in the Woods: The Extraordinary Story of the Last True Hermit by Michael Finkel // Absolutely fascinating read. And further proof that life is one big gray area.
Sometimes Amazing Things Happen: Heartbreak and Hope on the Bellevue Hospital Psychiatric Prison Ward by Elizabeth Ford // Good stuff here. You'll laugh, you'll cry.
Pro: Reclaiming Abortion Rights by Katha Pollitt // I have always been, and will always be, pro-choice — and this book did a deep dive into the subject of abortion in America.
Option B: Facing Adversity, Building Resilience, and Finding Joy by Sheryl Sandberg // If you're struggling with something right now, give this a read. Or if you know someone who is struggling with something, read this book.
Nordicana: 100 Icons of Nordic Cool & Scandi Style by Cassell // Super cute! Now… when does the next plane to Norway or Sweden leave?!
Men Explain Things to Me by Rebecca Solnit // Ah, a well-timed read when SO MANY MEN are doing SO MANY shitty things.
The Little Book of Hygge: The Danish Way to Live Well by Meik Wiking // I'd like to move to Denmark immediately, please.
Confessions of a Funeral Director: How the Business of Death Saved My Life by Caleb Wilde // Just an okay read.
Are You Anybody?: A Memoir by Jeffrey Tambor // Made me laugh out loud many times. Loved it.
A New Model: What Confidence, Beauty, and Power Really Look Like by Ashley Graham // Ashley (or her ghostwriter) will never be one of the great American writers, but I love her and the confidence she's given those of us with a few extra pounds.