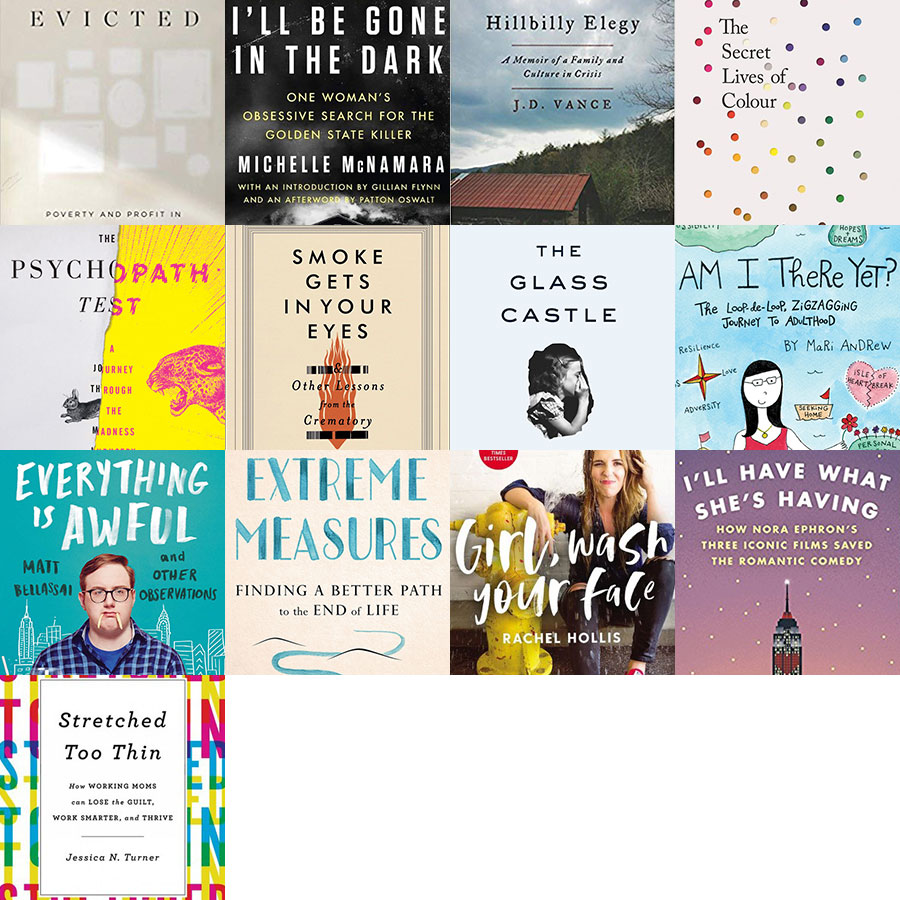 1. Evicted: Poverty and Profit in the American City by Matthew Desmond // I enjoyed this book and it certainly makes you sympathetic to the tenant side of the landlord-tenant relationship; but let's remember that there are two sides to every story. There are shitty landlords and shitty tenants.

2. I'll Be Gone in the Dark: One Woman's Obsessive Search for the Golden State Killer by Michelle McNamara // Loved it! I'm a big true crime fan, and Michelle was a badass.

3. Hillbilly Elegy: A Memoir of a Family and Culture in Crisis by J.D. Vance // Good stuff. Though I'm sure very few on the far left would agree with my review.

4. The Secret Lives of Colour by Kassia St. Clair // Umm, an entire book about color… history, culture, meaning, etc. I am obsessed with this book.

5. The Psychopath Test: A Journey Through the Madness Industry // A book all about psychopaths. If you're into that, which I apparently am, it's an interesting read.

6. Smoke Gets in Your Eyes: And Other Lessons from the Crematory by Caitlin Doughty // I've always been weirdly fascinated with death (remember when I asked for an anatomy/autopsy book when I was in 6th grade?), so I absolutely, 100% enjoyed this book.

7. The Glass Castle by Jeannette Walls // Ehhhhhh not my favorite. I read it because Jeannette came to Oshkosh to speak.

8. Am I There Yet? The Loop-de-Loop, Zigzagging Journey to Adulthood by Mari Andrew // Adulthood is no fun and getting there is even less so, but this book is like a beautifully-illustrated friend to make you feel less alone in it.

9. Everything is Awful: And Other Observations by Matt Bellassai // This was just OK. A quick, sometimes-funny read.

10. Extreme Measures: Finding a Better Path to the End of Life by Jessica Zitter // Encouraging people to plan for the end of their life will be one of the hills I die on (no pun intended). I come at it from the legal side, and this book comes at the issues from the medical side. It's an interesting, thought-provoking must-read.

11. Girl, Wash Your Face: Stop Believing the Lies About Who You Are So You Can Become Who You Were Meant to Be by Rachel Hollis // I just… ehh… nah.

12. I'll Have What She's Having: How Nora Ephron's Three Iconic Films Saved the Romanic Comedy by Erin Carlson // Yes yes yes! Loved it! Good insight into the filmmaking industry and I really loved getting to know more behind-the-scenes information about some of my favorite movies.

13. Stretched Too Thin: How Working Moms Can Lose the Guilt, Work Smarter, and Thrive by Jessica Turner // I'm not a mom (duh), much less a working mom, but I read the book because I knew Jessica growing up. I thought it was well-written and if you are a working momma, give it a read!