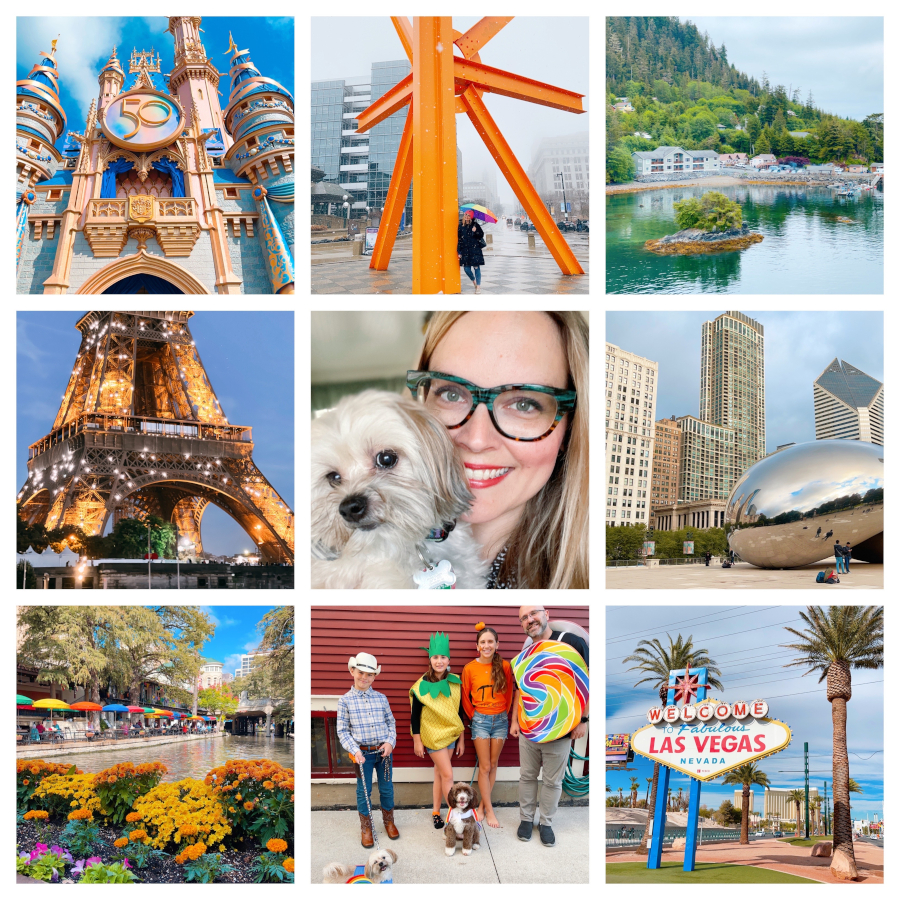 1. What did you do in 2022 that you'd never done before?
Traveled to Europe!! A lifelong dream come true.  And I went on a cruise to Alaska — I had never cruised before and loved it!
2. Did you keep your new years' resolutions, and will you make more for next year?
I didn't make resolutions for 2022. But I think my resolutions for 2023 are going to be: get hot and don't die.
3. Did anyone close to you give birth?
Nope.
4. Did anyone close to you die?
My childhood neighbor, Jordan, died and it broke my heart into a million pieces. We weren't close in adulthood, but he was an indelible part of my childhood. And my best friend's sweet dog, Hattie, died.  This also broke my heart into a million pieces. Hattie was the sweetest girl and she will be forever missed.
5. What countries did you visit?
England, Ireland, the Netherlands, and France (and Canada for like 4 hours).
6. What would you like to have in 2023 that you lacked in 2022?
A healthier body.
7. What date from 2022 will remain etched upon your memory, and why?
The dates of the sad days mentioned in question #4.
8. What was your biggest achievement of the year?
I'm not sure. 2022 wasn't about achievement as it was survival and keeping my mental health afloat.
9. What was your biggest failure?
My now 40+ pound weight gain? I hate calling that a "failure" though… but it is something I'm not happy about.
10. Did you suffer illness or injury?
LOL yes. I was sick during my time in Ireland and I had a killer viral infection over Thanksgiving. And my sweet dad has been plagued with health issues this year.
11. What was the best thing you bought?
Every year I make a photobook on Shutterfly, so that's always my favorite annual purchase.  I also bought a dia de los muertos figurine while I was in San Antonio that I absolutely adore. It's the creepiest and most beautiful thing and I love the juxtaposition of those two qualities.
12. Whose behavior merited celebration?
This question is weirdly worded, but Mike and my mom have been wonderful people to me this year.
13. Whose behavior made you appalled and depressed?
Nearly everyone. We are living in angry, awful times.
14. Where did most of your money go?
Travel!
15. What did you get really, really, really excited about?
All of my travels really, really, really excite me. I wish I could travel as a full-time gig or be a travel agent. There's nothing I love more.
16. What song(s) will always remind you of 2022?
"I Ain't Worried" by One Republic (Top Gun: Maverick sountrack!) or anything from Taylor Swift's "Midnights"
17. Compared to this time last year, are you
i. happier or sadder?: Sadder
ii. thinner or fatter?: Fatter. LOL. Christ.
iii. richer or poorer?: About the same.
18. What do you wish you'd done more of?
Exercising.
19. What do you wish you'd done less of?
Depression/stress eating.
20. How did you spend Christmas?
With my parents and Mike in Oshkosh.
21. What was your favorite TV program?
I didn't watch a ton of new TV this year.
22. Do you hate anyone now that you didn't hate this time last year?
It's a waste of energy to hate people.
23. What was the best book you read?
I don't even know. As soon as the pandemic hit in March of 2020 I stopped having any interest in reading — and that general lack of interest still remains.  I am halfway through "The Song of the Cell" though and I'm loving it. #sciencenerd
24. What was your greatest musical discovery?
Hmmm. I don't know.
25. What did you want and get?
A successful and safe trip to Europe.
26. What did you want and not get?
To lose the weight I gained in 2020. Sensing a theme here?
27. What was your favorite film of this year?
TOP GUN: MAVERICK!!!! #Hangman4Life
28. What did you do on your birthday, and how old were you?
I turned 38 and spent it here in Oshkosh with Mike and family.
29. What one thing would have made your year immeasurably more satisfying?
To not have the worry and sadness of my dad's health looming over everything.
30. How would you describe your personal fashion concept in 2022?
Stretchy pants.
31. What kept you sane?
Mike. My mom. SADIE!
32. Which celebrity/public figure did you fancy the most?
GLEN POWELL, BABYYYYYYY.
33. What political issue stirred you the most?
There are too many to list. TOO. MANY.
34. Who did you miss?
Bethany. Lucky for me, we are reuniting for a girls trip in California in January!
35. Who was the best new person you met?
I don't even know.
36. Tell us a valuable life lesson you learned in 2022:
This too shall pass.  Whether it's good or bad.  This too shall pass.
37. Quote a song lyric that sums up your year:
*shrugs* I don't know. Long gone are the days of my early twenties where we use song lyrics in our AIM away messages to be overly dramatic.