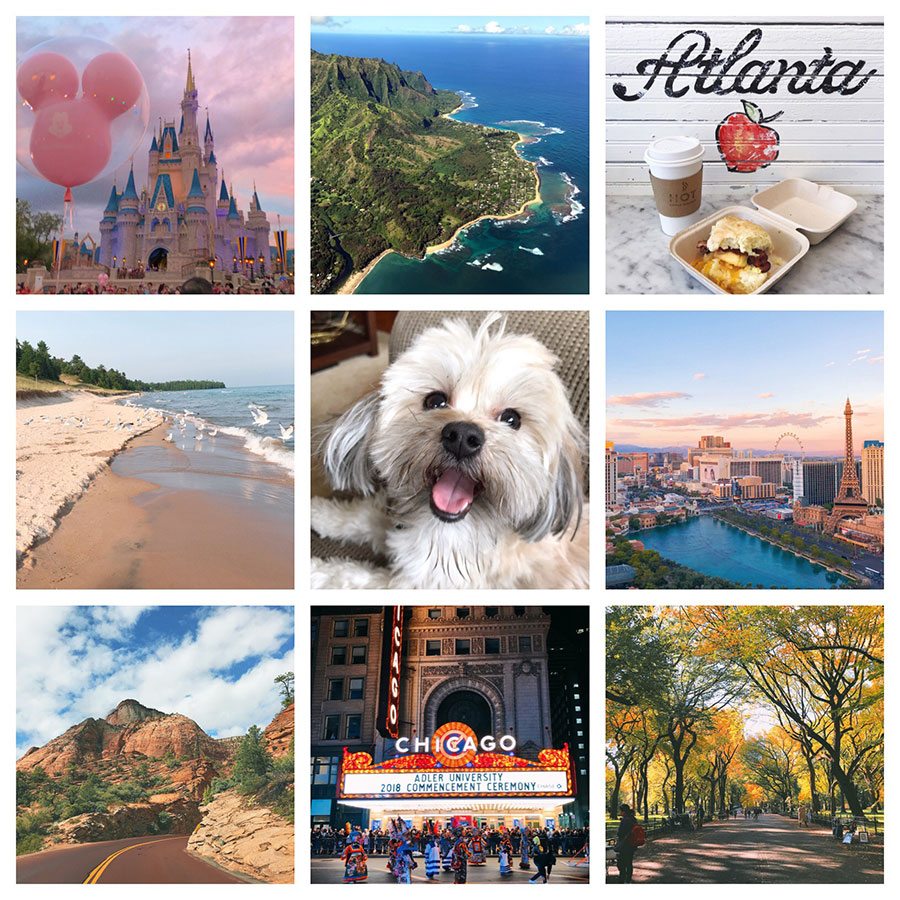 1. What did you do in 2018 that you'd never done before?
Flew in a helicopter… with the doors off… it was scary but also so fun!
2. Did you keep your new years' resolutions, and will you make more for next year?
I don't think I made resolutions for 2018. I have a few resolutions for 2019: revive my baking blog, read more books, exercise more frequently, and drink more water and less soda (maybe it'll help with my headaches).
3. Did anyone close to you give birth?
A few friends had babies.
4. Did anyone close to you die?
No, thank goodness.
5. What countries did you visit?
Just the US — Disney World, Hawaii, Atlanta, Chicago a few times, Las Vegas, and New York City.
6. What would you like to have in 2019 that you lacked in 2018?
Less anxiety regarding nearly every aspect of my life and more exercise.
7. What date from 2018 will remain etched upon your memory, and why?
5/14/18 – the date of my Dad's heart surgery.
10/25/18 – the date of Sadie's knee surgery.
8. What was your biggest achievement of the year?
I'm not sure; I feel like I didn't have many noteworthy accomplishments.
9. What was your biggest failure?
Many newbie mistakes at work, I'm sure.
10. Did you suffer illness or injury?
No, other than my usual headaches/migraines. My dad had bypass surgery though — so scary!
11. What was the best thing you bought?
Sadie's knee surgery; pricey, but I would have done anything to fix her.
12. Whose behavior merited celebration?
My momma – who is also my boss. I'm grateful for her patience, understanding, perspective, humor, friendship, and open-mindedness.
13. Whose behavior made you appalled and depressed?
Any and all politicians.
14. Where did most of your money go?
SADIE! That knee surgery wasn't cheap.
15. What did you get really, really, really excited about?
All of my trips — I love visiting new places.
16. What song(s) will always remind you of 2018?
"Delicate" by Taylor Swift (her live show in Chicago was so good!); and anything by Queen, because I fell back down that rabbit hole after seeing Bohemian Rhapsody.
17. Compared to this time last year, are you
i. happier or sadder?: Same
ii. thinner or fatter?: A little fatter (thanks, holidays!!)
iii. richer or poorer?: Same
18. What do you wish you'd done more of?
Exercise. Story of life, right?! Though I've been walking a lot. I need to do more strength training.
19. What do you wish you'd done less of?
Worry. But I'm a worrier. It's in my DNA.
20. How did you spend Christmas?
With my parents in Oshkosh & Pete's family in Hartford.
21. What was your favorite TV program?
Schitt's Creek!!
22. Do you hate anyone now that you didn't hate this time last year?
It's a waste of energy to hate people.
23. What was the best book you read?
I do a whole separate post about my books of the year,
24. What was your greatest musical discovery?
Hmm not sure; I enjoyed Brooks & Dunn way more than I thought I would when we saw them in Las Vegas!
25. What did you want and get?
For the most part, I maintained my weight. Though this post-holiday period of time doesn't count, right?
26. What did you want and not get?
World peace. LOL.
27. What was your favorite film of this year?
A Star is Born. So good!
28. What did you do on your birthday, and how old were you?
I turned 34 and was in Oshkosh. Spent the weekend prior in Door County!
29. What one thing would have made your year immeasurably more satisfying?
Not sure. I had a pretty nice year.
30. How would you describe your personal fashion concept in 2018?
Talbots. All the Talbots. Because Talbots = the lady lawyer uniform.
31. What kept you sane?
My mom.
32. Which celebrity/public figure did you fancy the most?
Bradley Cooper. He's dreamy.
33. What political issue stirred you the most?
There are too many to list. TOO. MANY.
34. Who did you miss?
All of my friends who live far away.
35. Who was the best new person you met?
I'm not sure!
36. Tell us a valuable life lesson you learned in 2018:
(1) If your gut is telling you something is wrong, something is probably wrong and (2) you have to advocate and push like hell for your life and your health. Both of these lessons brought to you by my Denny and his heart surgery experience.
37. Quote a song lyric that sums up your year:
*shrugs* I don't know.