Oh my goodness, Hollywood Studios day.  My favorite day from the trip (and I don't think Hollywood Studios has ever ranked as my favorite day).  The park is really turning itself around thanks to Star Wars: Galaxy's Edge and Toy Story Land!  We had an absolute blast at Galaxy's Edge and the day will forever be etched in my happy memory bank.
The weather was forecasted to be cold.  And even though we are Wisconsinites, we aren't stupid.  We bundled up, wore our winter coats and hats, and were so grateful that we did!  It was in the low 40s and extremely windy… but I think that helped to reduce the crowd levels, so it was an overall win for us.
We got to DHS right at park opening and headed straight for Galaxy's Edge.  Mike was dying — his beloved Star Wars came to life!  I was also dying, but not quite to the scale that Mike was.  Our first stop was Smuggler's Run — which is essentially a magic motion ride where you get to pilot the Millennium Falcon.  It was SO FREAKING COOL.  You ride with two other parties.  Mike and I were the captains/pilots.  Another party served as the shooters.  And the last party served as the engineers.  It was an interactive, fun, absolute joy of an experience.  The technology has come a long way in that even though it was a magic motion ride, neither one of us felt too queasy afterward.  Two thumbs up, Disney!
After Smuggler's Run, we walked around and just tried to absorb everything.  So much to see, so many details, and fun fact: there are no signs in English anywhere.  Everything is in this mystery Star Wars language, which really added to the experience and made you feel a little disoriented, in a good way.
We stopped and tried blue and green milk.  Blue was the winner in our book by far! It tasted like candy. Mmm. We visited the shops, which only allowed one party in at a time. We sat down and rested and watched Chewie and Rey and the Stormtroopers come out to play.
By this point it was nearing lunch time and I wanted a Toy Story grilled cheese, so we left Galaxy's Edge and headed to Toy Story Land.  Oh.  My.  GOD.  Toy Story Land was one of the most precious things I've ever seen.  You feel like you're in the movies.  Primary colors everywhere!  The pull at my heart was intense — like you're walking through your childhood all over again.  It was magical.  I hope that I ever lose that sense of wonder and awe — and the ability to see and feel that kind of joy.
I had my grilled cheese at Woody's Lunchbox. It's not an average grilled cheese.  They used 4 different cheeses, garlic and mayo on the bread instead of butter, etc.  So good and so worth it.
We headed back to Galaxy's Edge for two reasons 1) Mike's reservation at the Droid Depot and 2) Rise of the Resistance!
The Droid Depot is basically Build-a-Bear for Star Wars geeks.  It was so awesome!  You can make a BB or an R2 — and you pick all your parts and then a cast member helps you to assemble the droid.  You leave with a "living", "breathing", working droid that beep-beep-boops and whizzes around.  It was such a charming experience.
By this point in the day, my back was killing me.  Like, I-need-to-sit-down-for-a-while killing me.  But our Rise of the Resistance boarding time was approaching so I had to suck it up and pretend to be psyched.  I mean, I was psyched, but I was also a little grouchy and in a lot of discomfort.
Rise of the Resistance was incredible. It was unlike any ride I've ever been on.  It was a 20+ minute experience. You feel like you're in the movies… it's the only way I can describe it. Because of the length of the ride and the level of production involved, you have to reserve a boarding time in advance.  You have two chances to do this: 7am and 1pm.  Mike fired up the MyDisney app at 7am that morning and got us our boarding position.  You then have to check the app throughout the day to find out what time corresponds to your boarding position.  We were in position #59… and we kept checking back until they were able to give us a window of time: we had to be at the ride and ready to go between 1pm and 1:30pm.  The entire process was a little confusing at first and slightly counterintuitive, but we figured it out .  And after we experienced the ride and realized how involved it was, it made total sense why they do it that way.
But honestly, that ride was great.  I'm not a huge fan of crazy rides and don't do well with extreme spins or drops or loop-de-loos, but I was A-OK.  You sit with another group on a trackless car.  The trackless car takes you through the entire ride experience… moving from room to room to room as you join the Resistance battling the First Order.  It's a dark ride with a lot of lights and flashes and noises and spins and a drop (nothing too scary though — I honestly thought the drop on Pirates of the Caribbean was bigger).  It's a must see, 10/10 ride!
After Rise of the Resistance, we had some time to kill before our dinnertime reservation at Oga's Cantina.  We decided to drop all of our souvenirs (including Mike's new droid) off at the car and ride the new Skyliner.  The Skyliner has stations at DHS, the Caribbean Beach Resort, the Pop Century, EPCOT, and a few other resorts I can't remember off the top of my head.
We loved the Skyliner! It was smooth and not crowded.  It was nice to just have a moment alone in our little skyliner car — we enjoyed the quiet and the ability to put our feet up and relax. It definitely helped my lower back feel a little better! We rode the skyliner to the Caribbean Beach, got out, walked around for a bit.  Then took the skyliner to EPCOT.  We walked around the boardwalk area of EPCOT and then boarded a boat back to DHS.
We headed back into the park and had dinner (burgers and an Oreo funnel cake) before our drink reservation at Oga's Cantina.  Oga's was a hoot.  It's basically just a bar (they serve just a few food items) — with alcoholic and non-alcoholic drinks available.  All of the drinks are colorful, fun, and many of them have dry ice as a feature.  It's kid-friendly, so don't let the fact that it's a bar scare you away if you've got kids in tow.  You can't just pop in though… reservations are a must!
After Oga's we headed out and stopped to watch Kylo Ren interact with the crowd.  Kylo, as you know, is kind of a dick.  But he spotted a little boy in a wheelchair and told him to come up to the front — then he said that the boy would do great things in life and have many talents.  It was such a sweet moment — the moments you see all the time at Disney.  They train their cast members so well and it's so sweet when kids are singled out and made to feel so special.  The magic of Disney, right?
We made one more trip through Toy Story Land — and this time rode Toy Story Mania because there was no wait (unheard of in normal times!).  I beat Mike!  Woot woot!
It was nearing park closing time but we wanted to go on one more ride:  Mickey and Minnie's Runaway Railway.  This is the ride that replaced the Great Movie Ride (which I loved but admittedly, it was becoming very outdated).  Overall it was cute (dark ride, trackless cars, lots of neon colors and lights), but omg, there was one section where your car goes into this room with Daisy Duck at the helm… and Daisy pretends to conduct an orchestra… and your car moves and sways with her conducting motions.  I. Wanted. To. Barf.  The worst part of the entire day was that bitch Daisy!
But I survived sans barf.  The park was closing at this point, so we headed back to the car and back to our hotel to crash yet again.  It was such a delightful day at Hollywood Studios.  Up next: our last day… at the Magic Kingdom!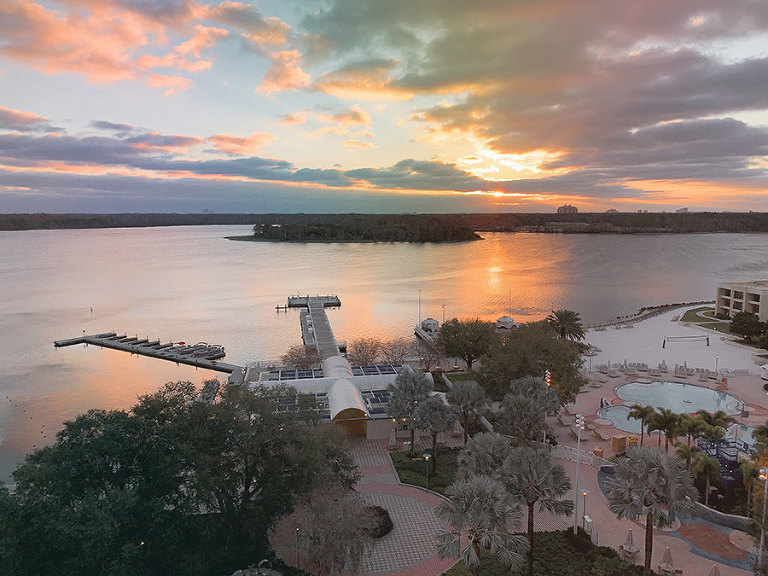 Good morning, WDW!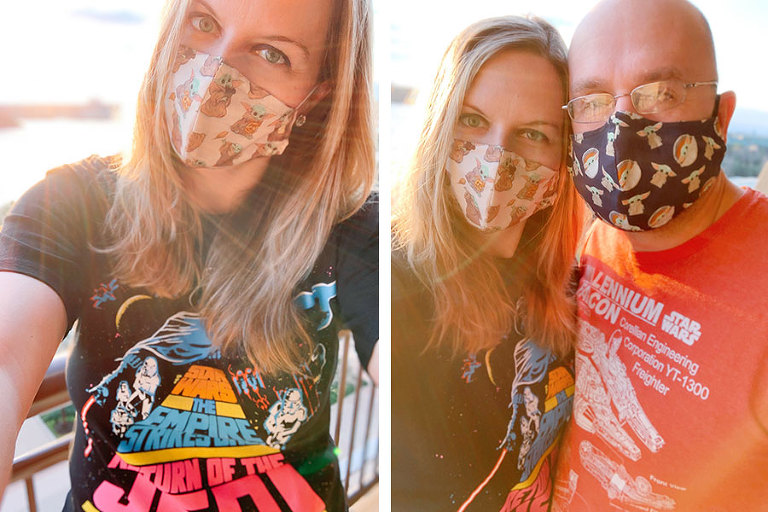 The Star Wars nerds were ready to go!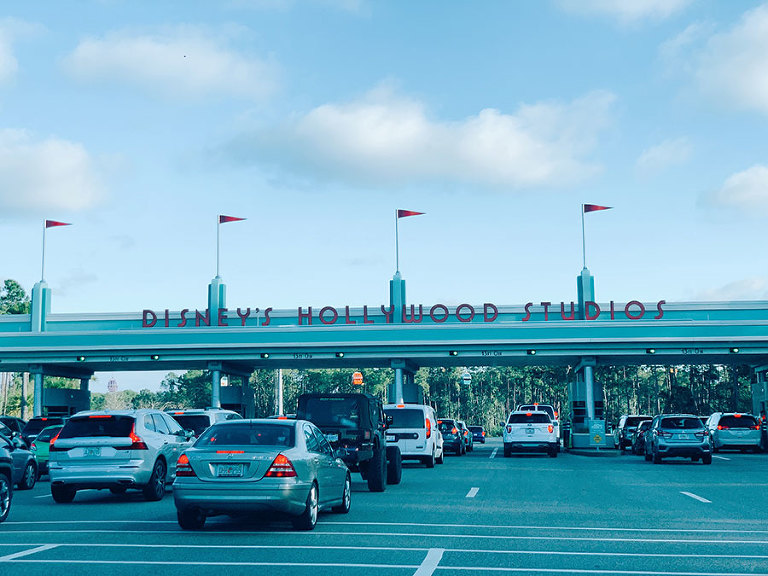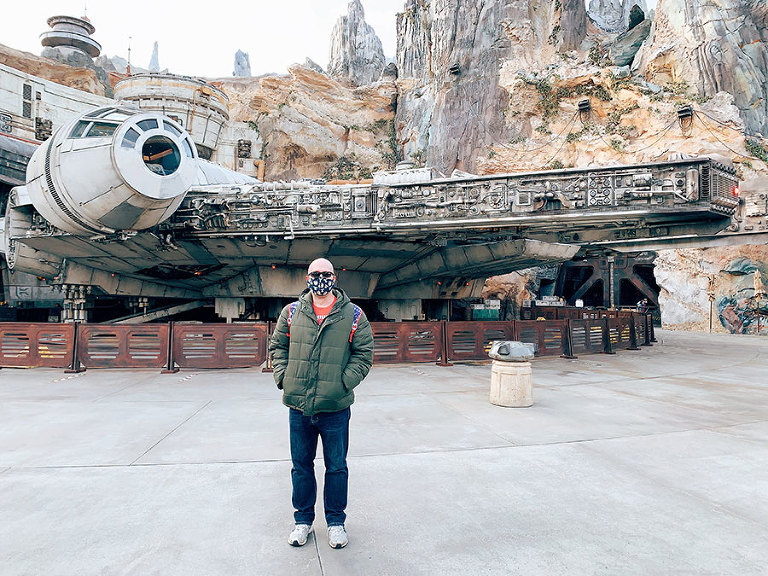 Mike… dyingggg. Picture with the Millennium Falcon!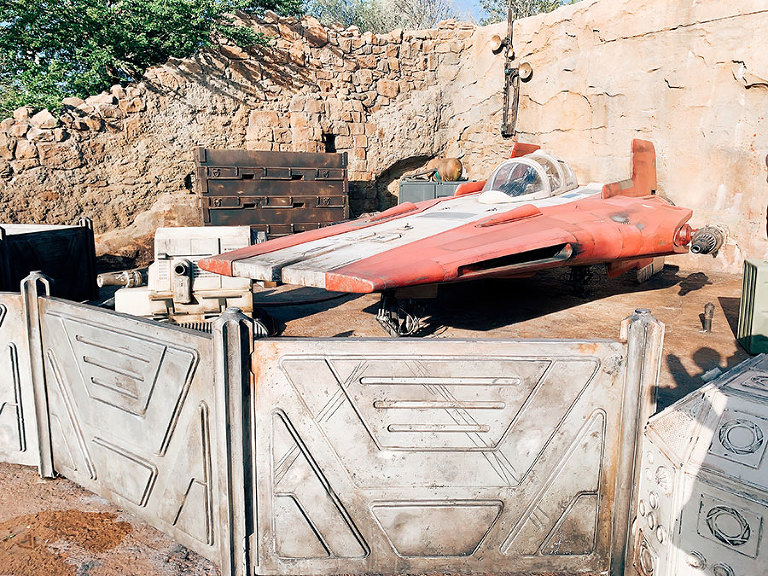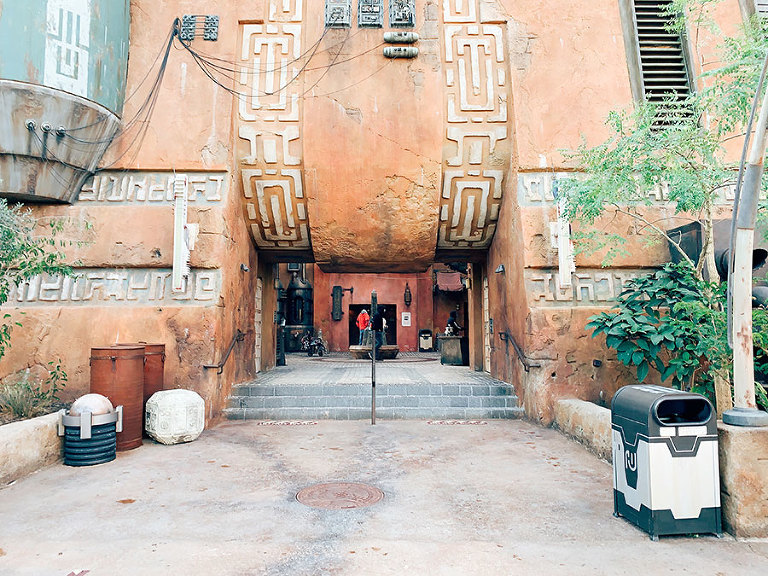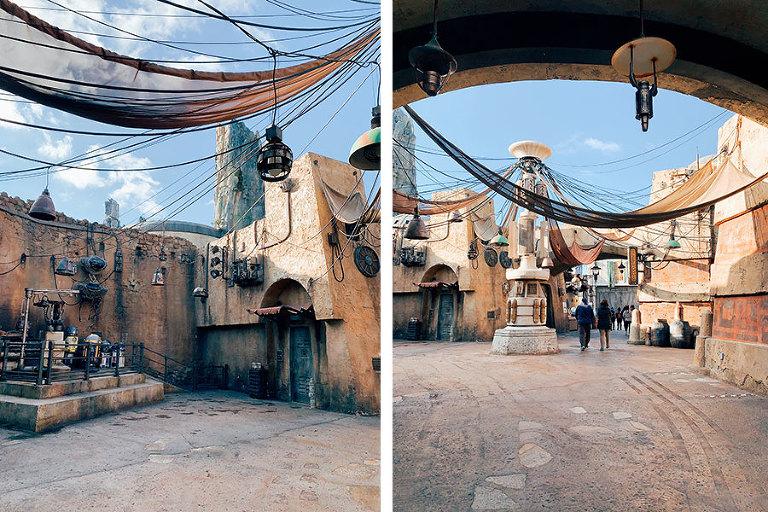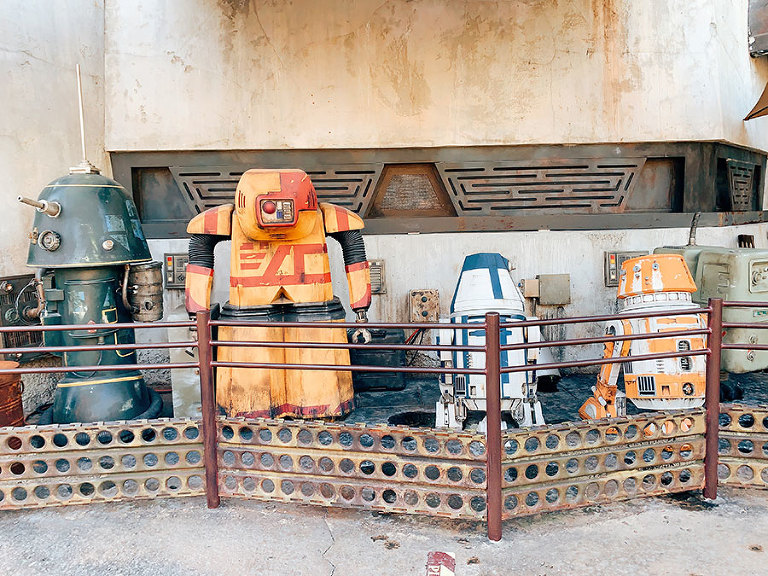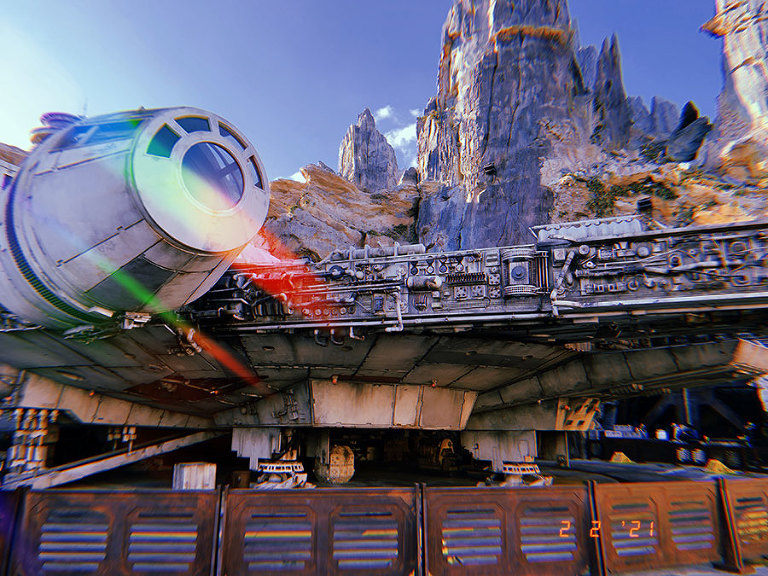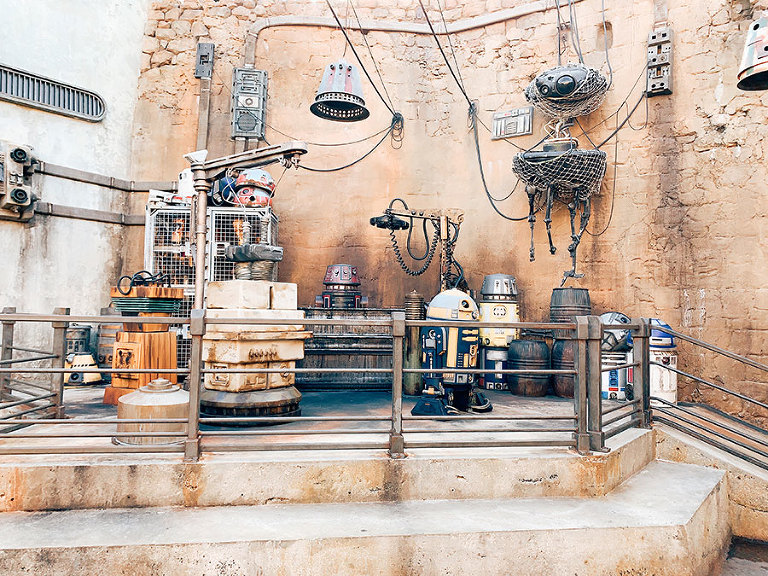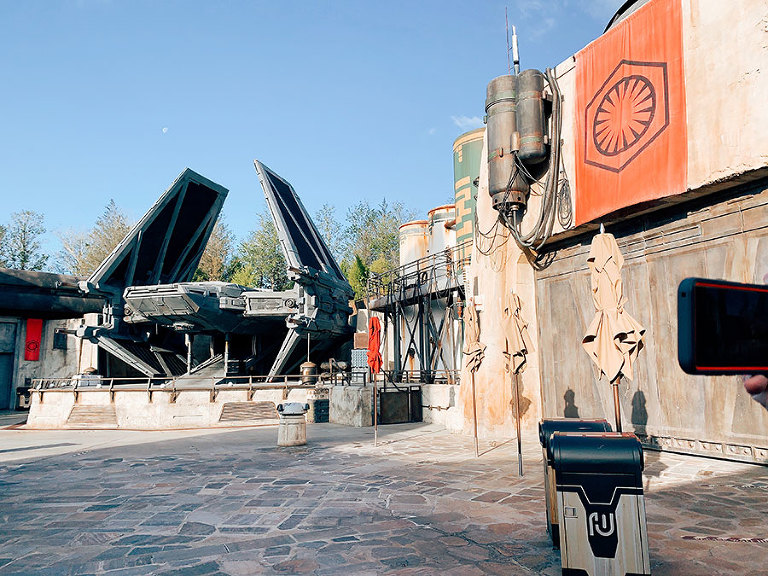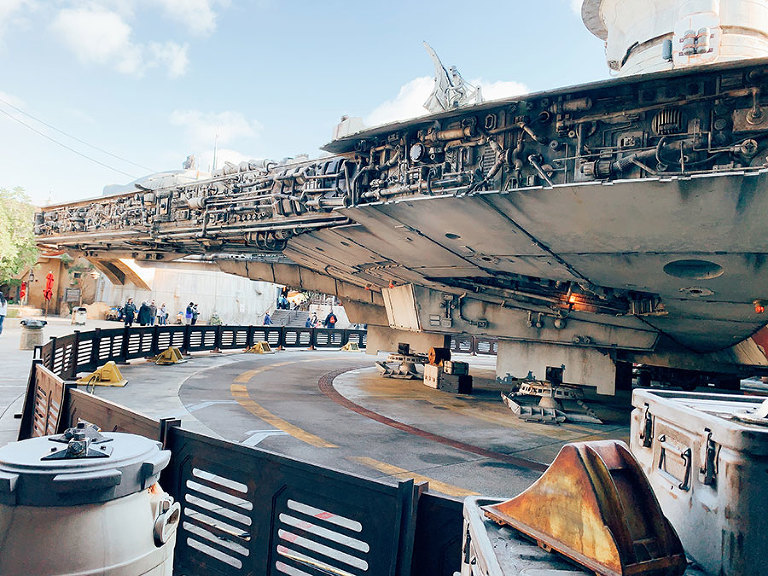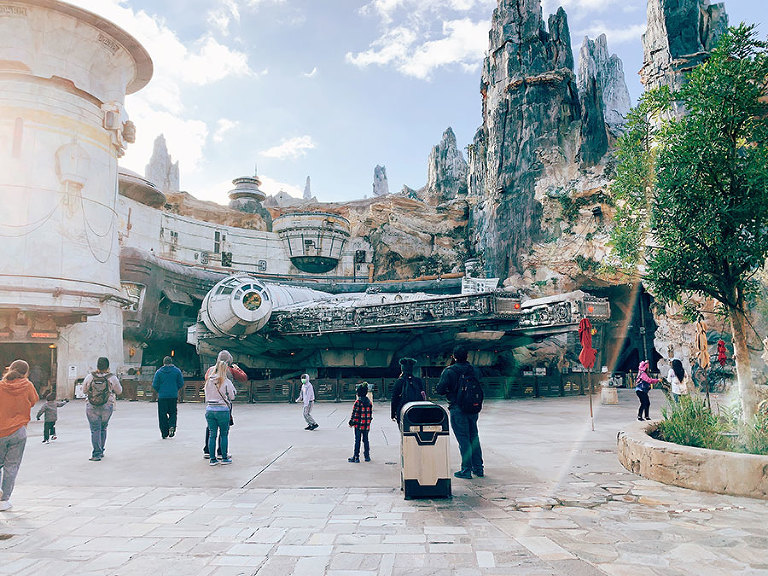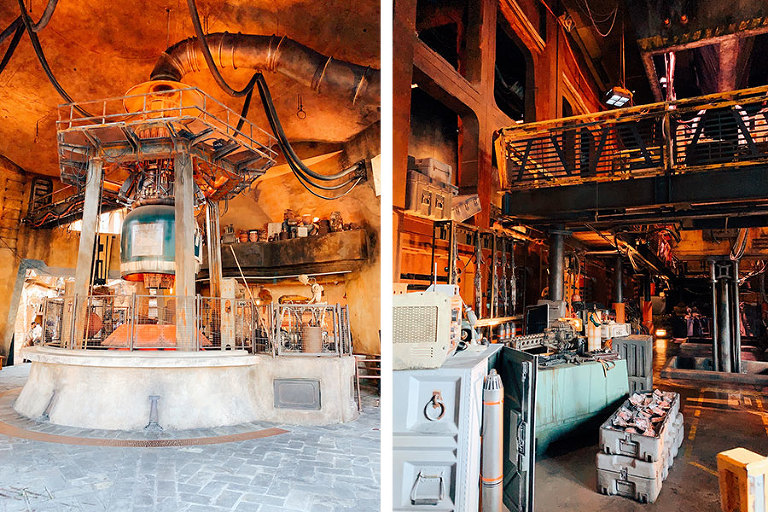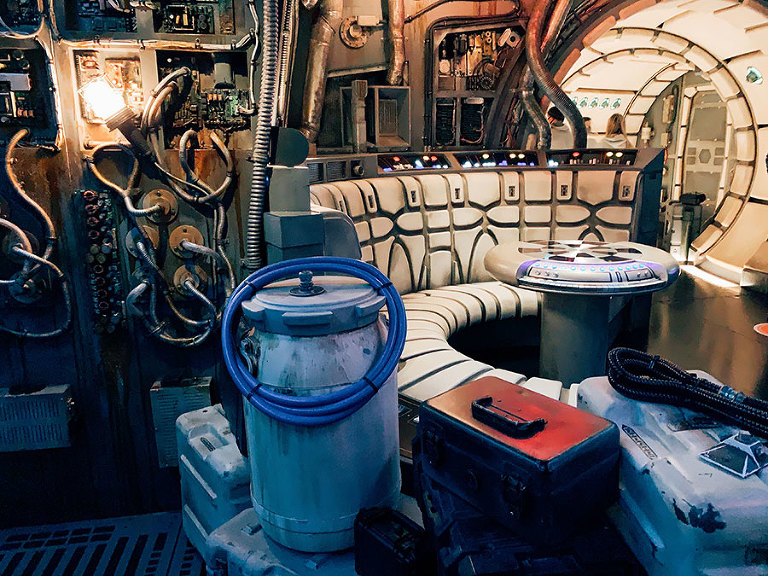 The waiting area for Smugglers Run.
View from the queue.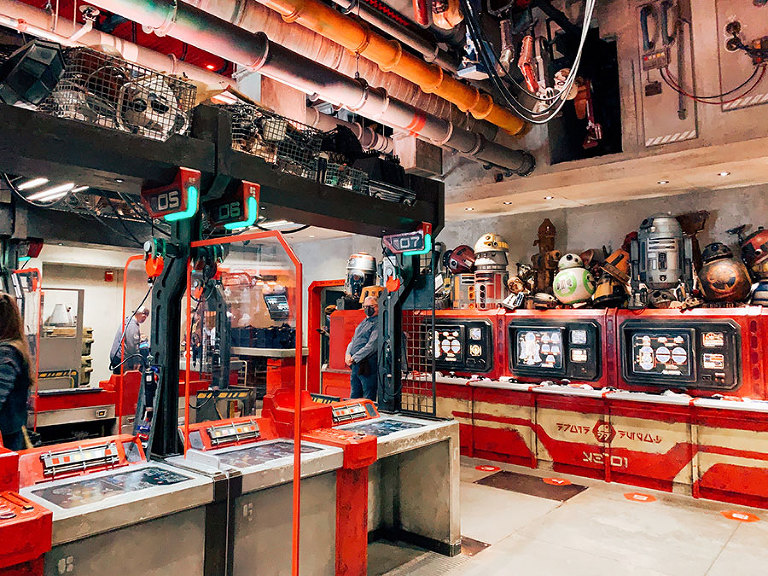 The Droid Depot!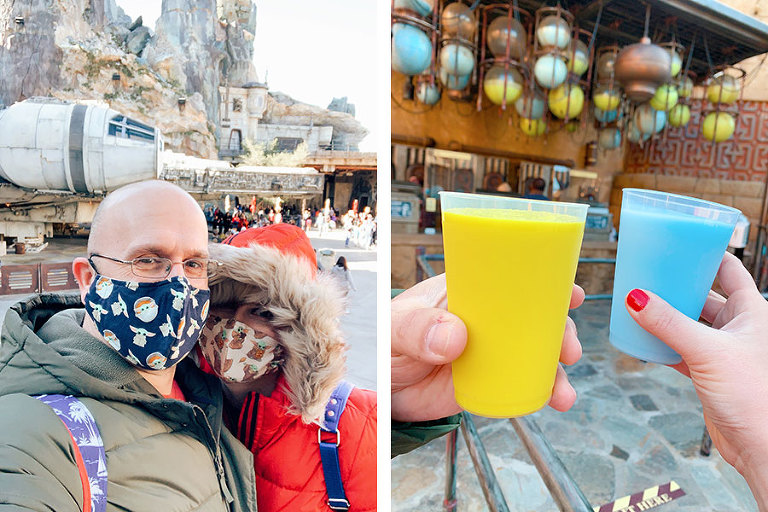 I wasn't kidding about it being cold!  And mmmm BLUE MILK!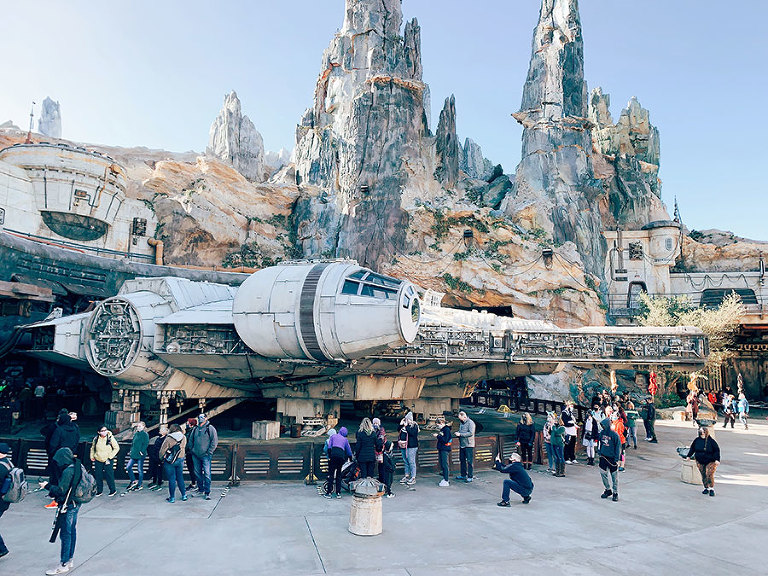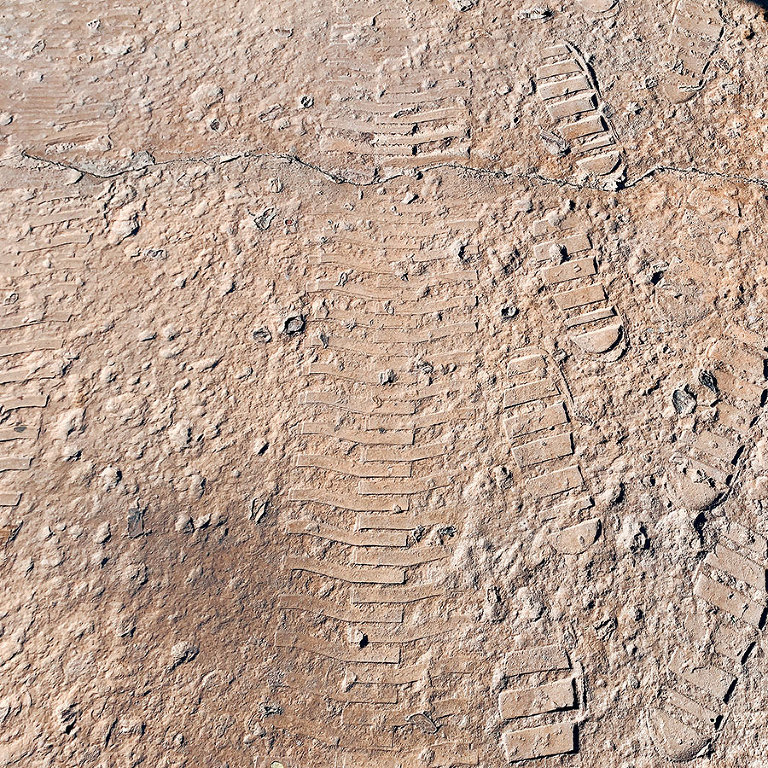 The attention to detail was impressive — C-3PO and R2-D2 footprints!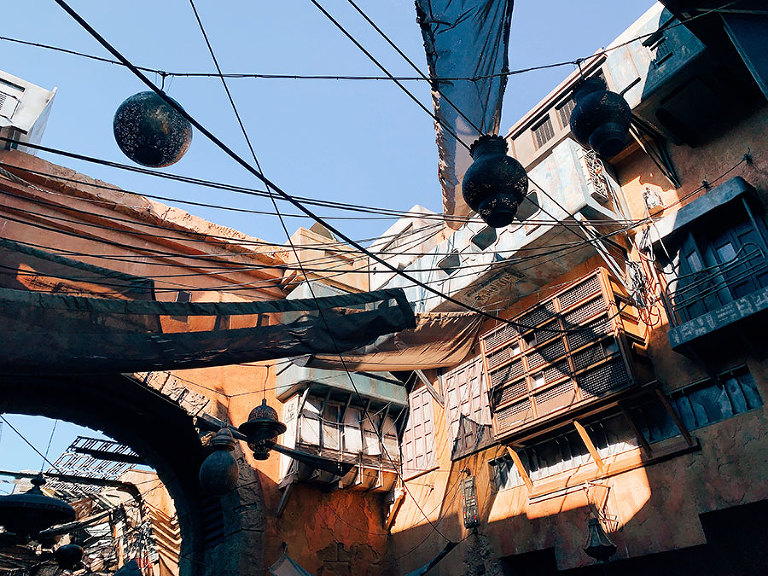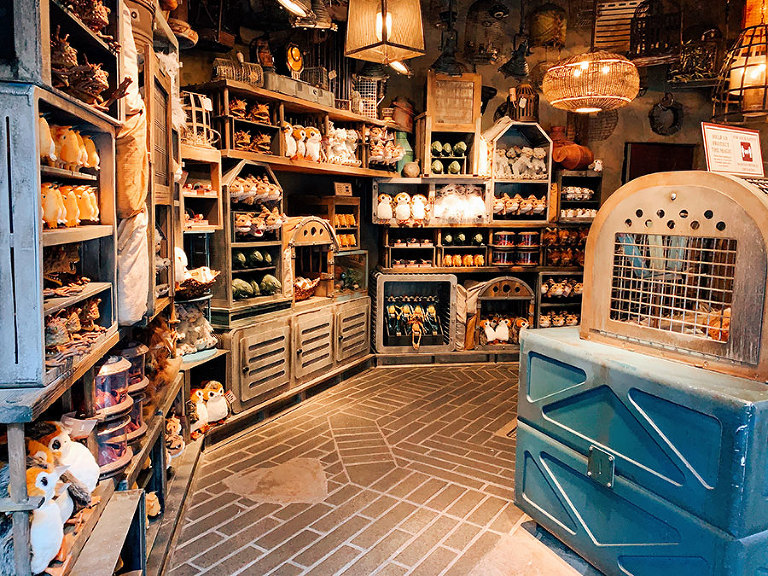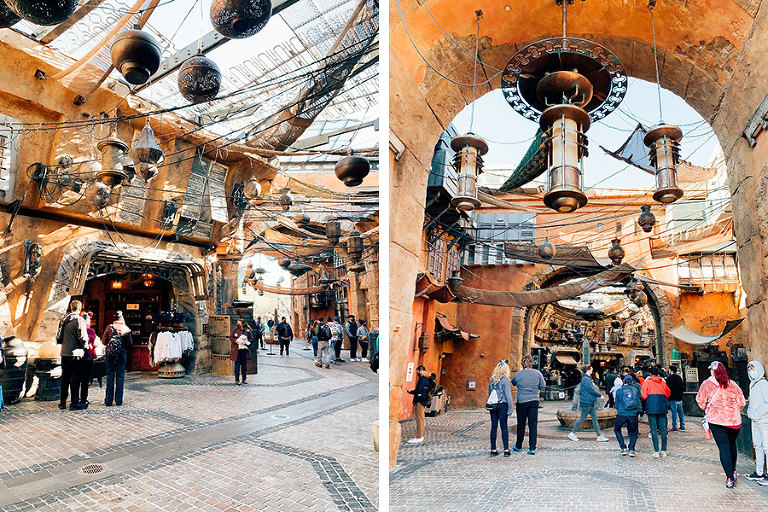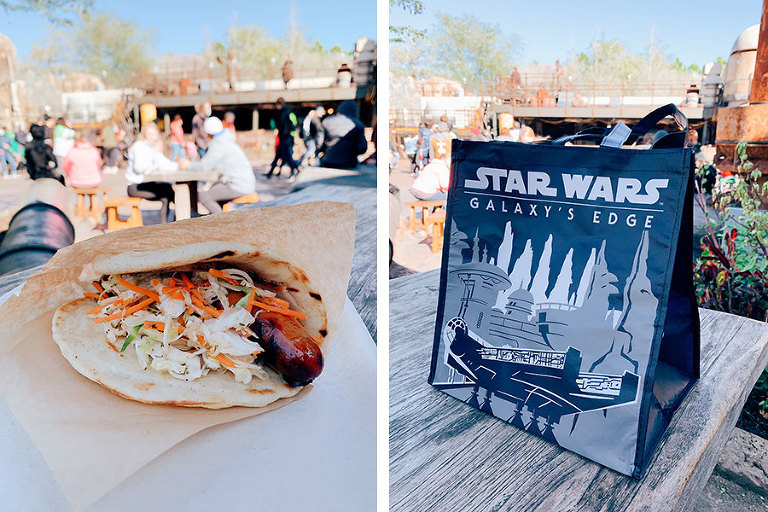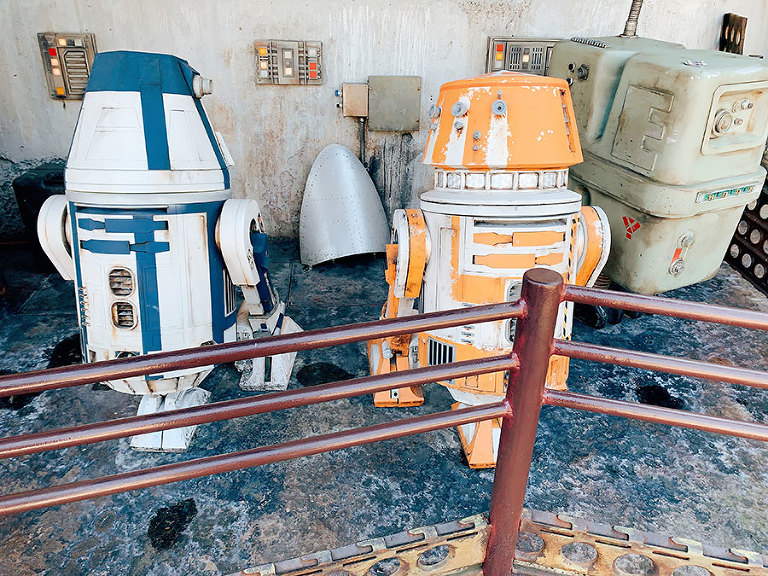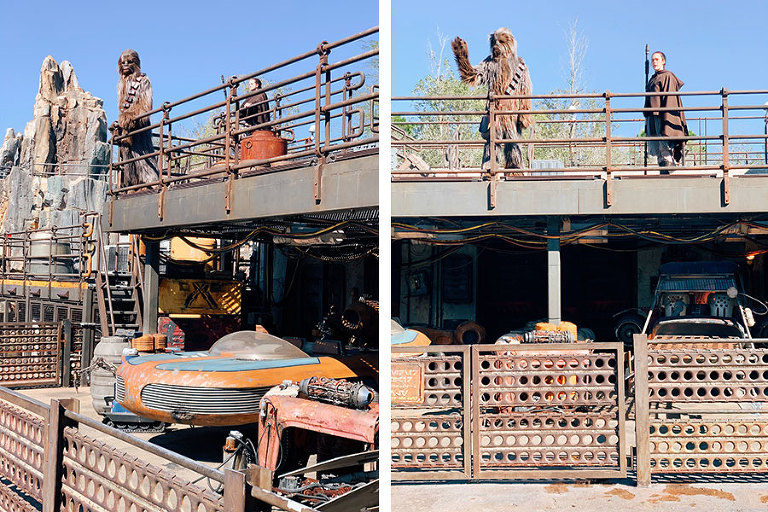 Ahhh, so cool!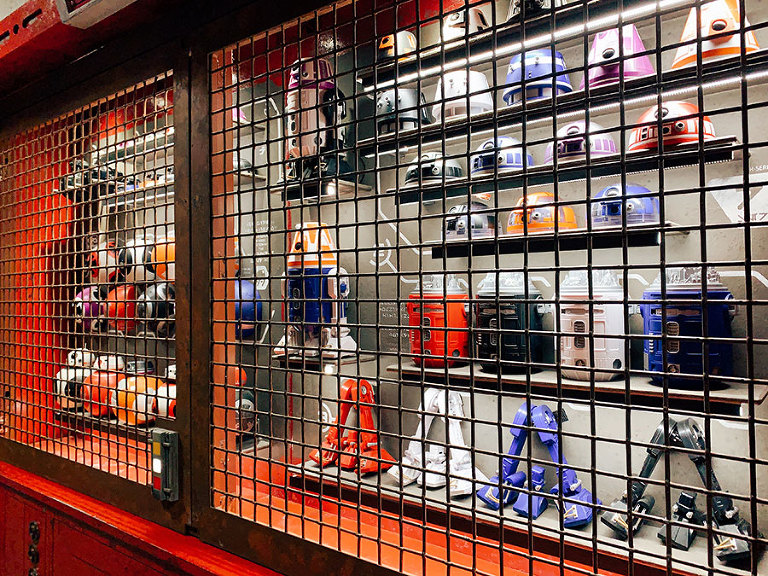 Mike's turn at the Droid Depot!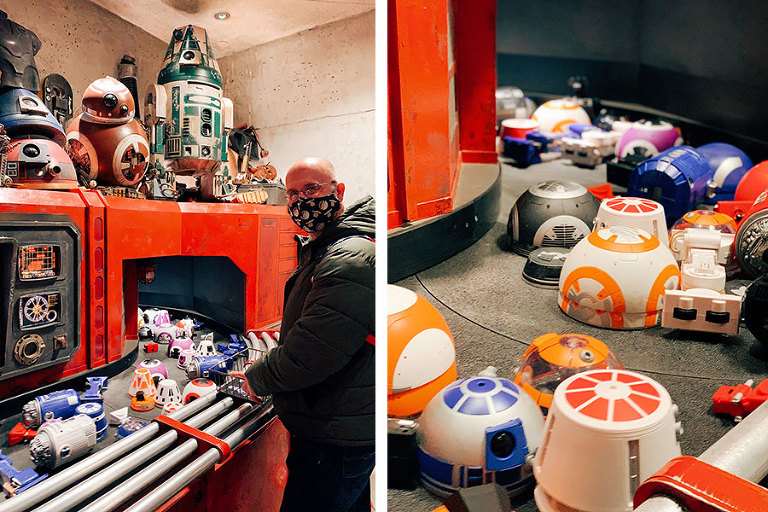 Choices, choices.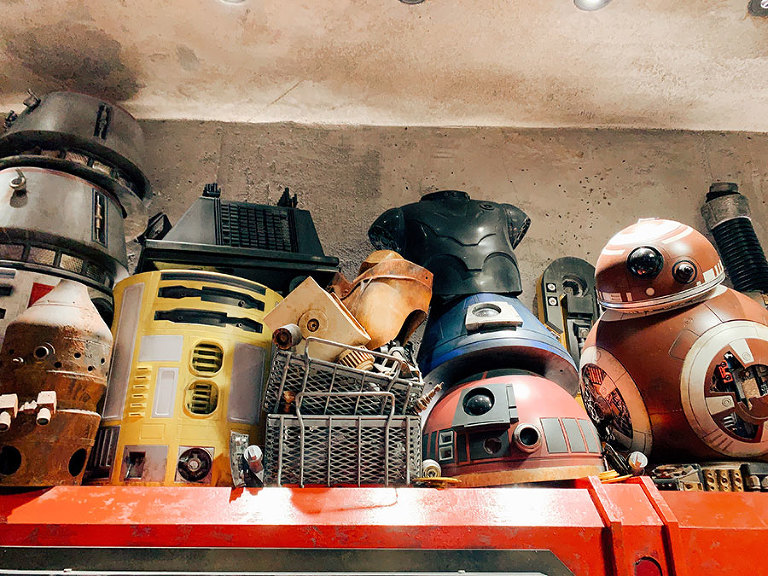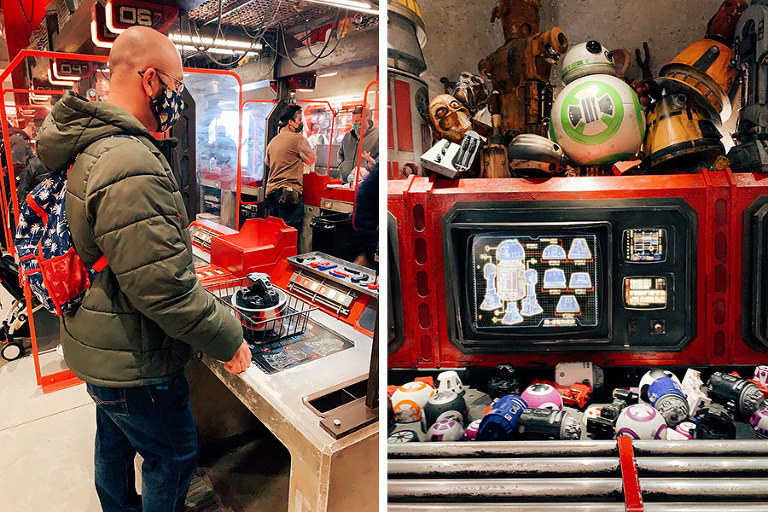 I loved that green BB up on the shelf! I wish they had green ones available to make!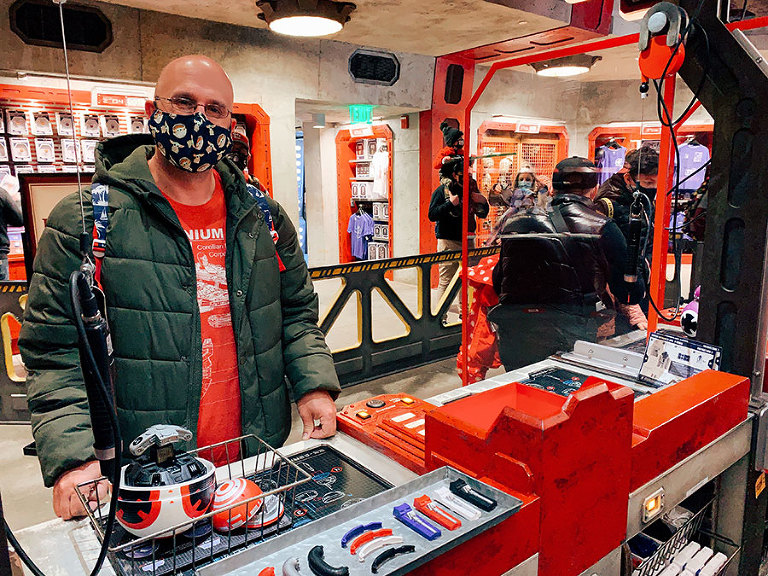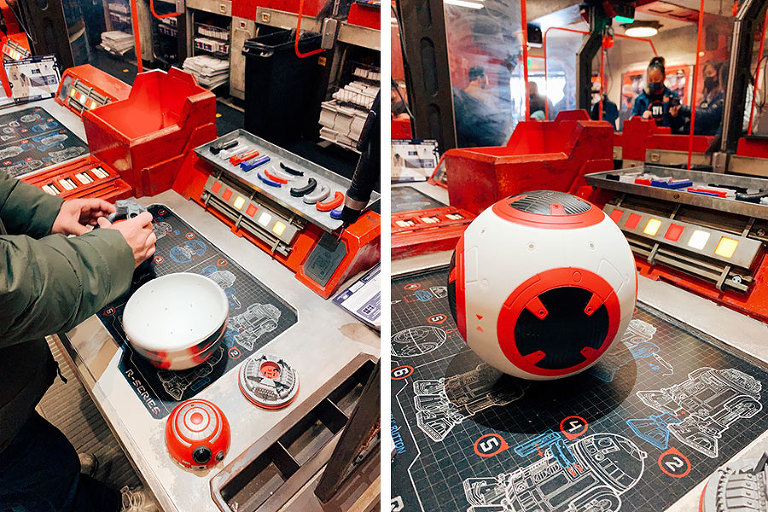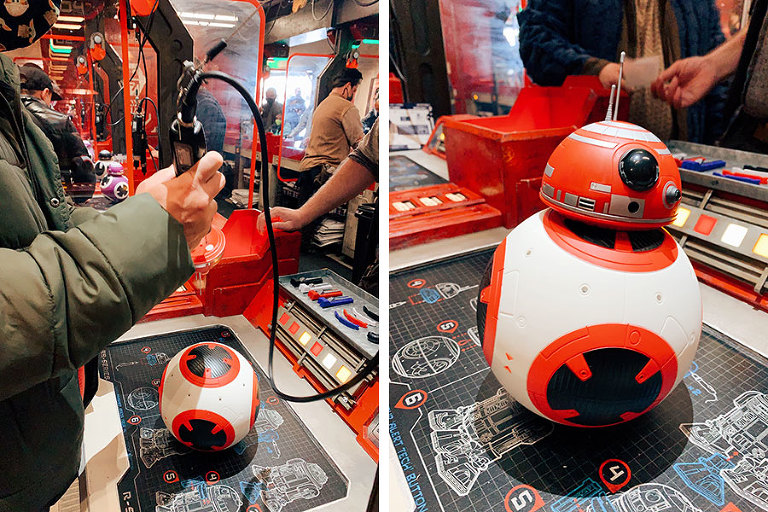 All set to come home with us! I like that Mike chose a BB (cuter, imo). And the red/black kind of gave it a Sith vibe.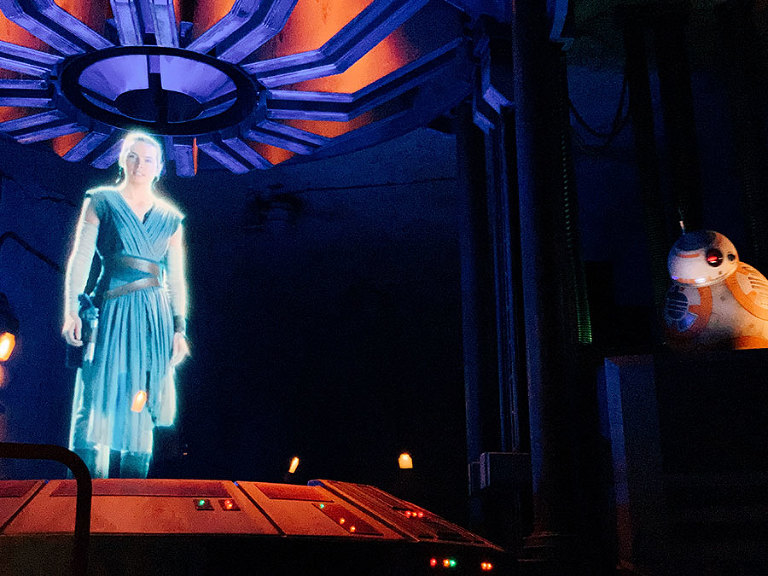 Rise of the Resistance!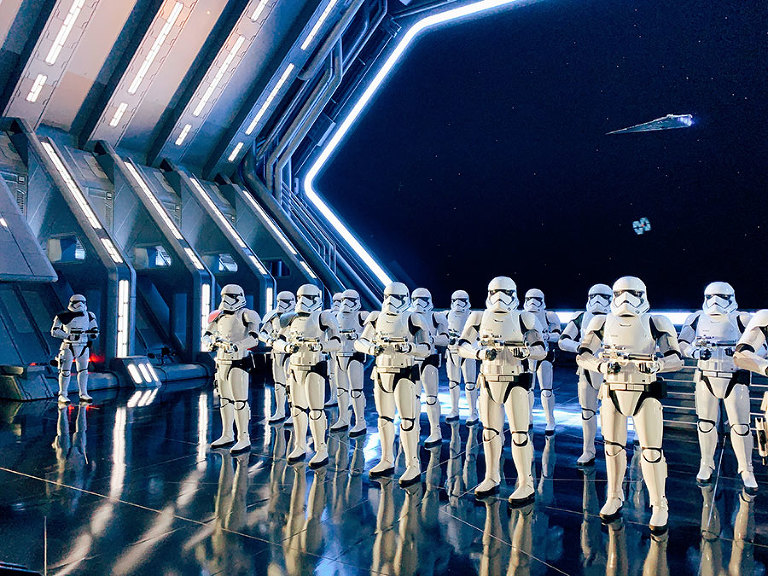 Stormtroopers everywhere!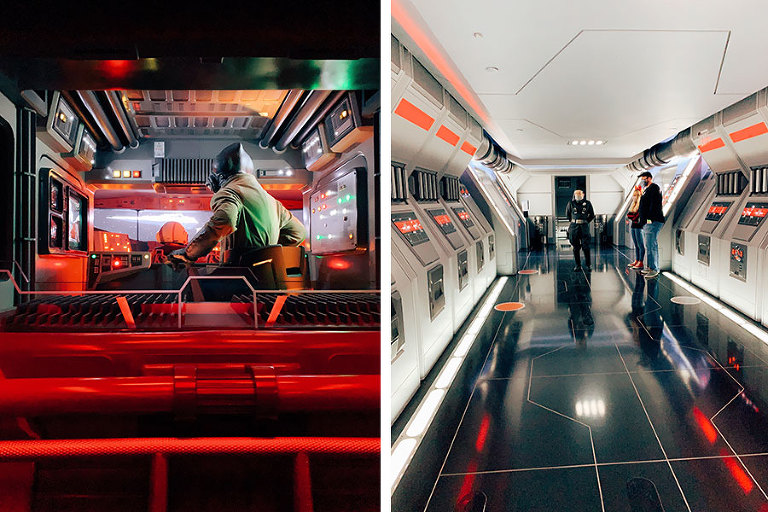 I tried to take pics on the ride but this was about all I could get.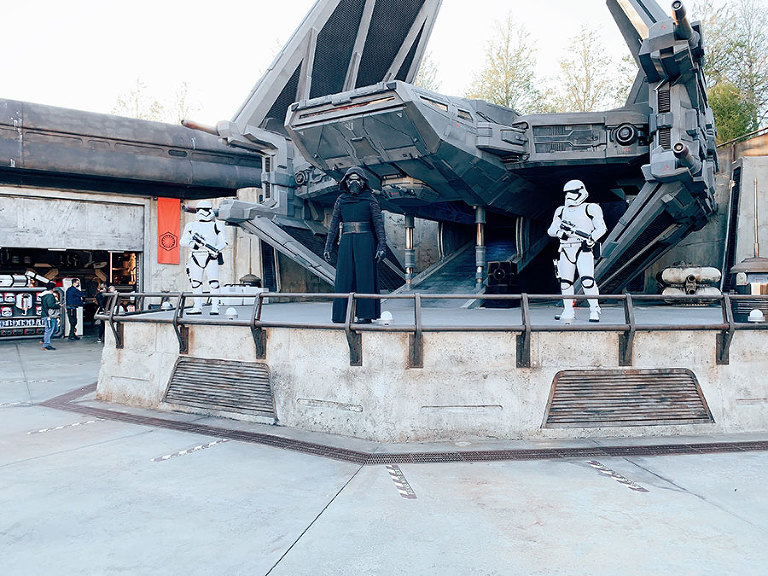 Kylo Ren.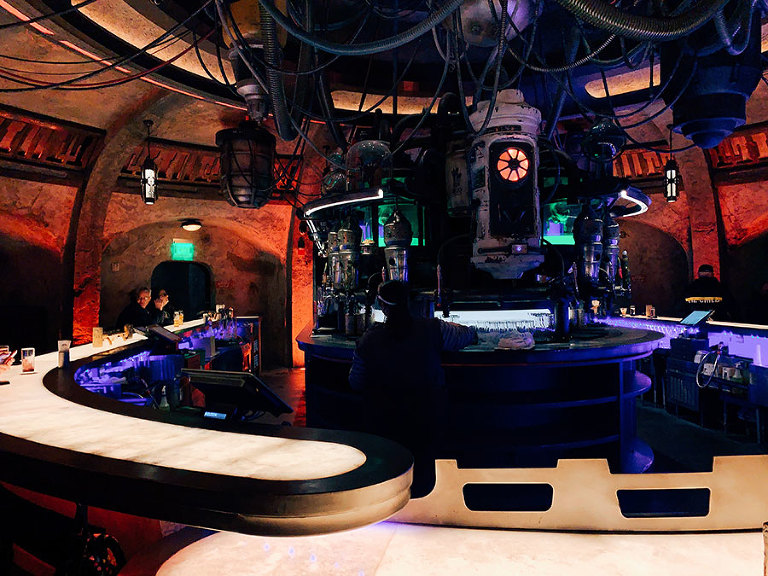 Oga's Cantina!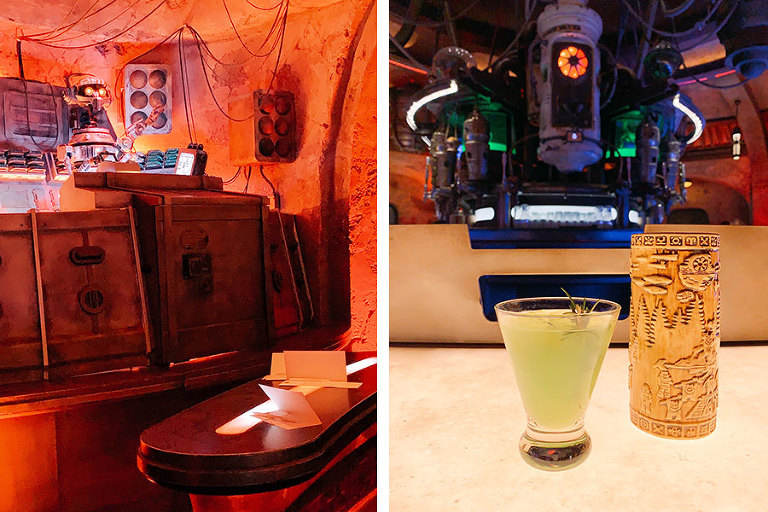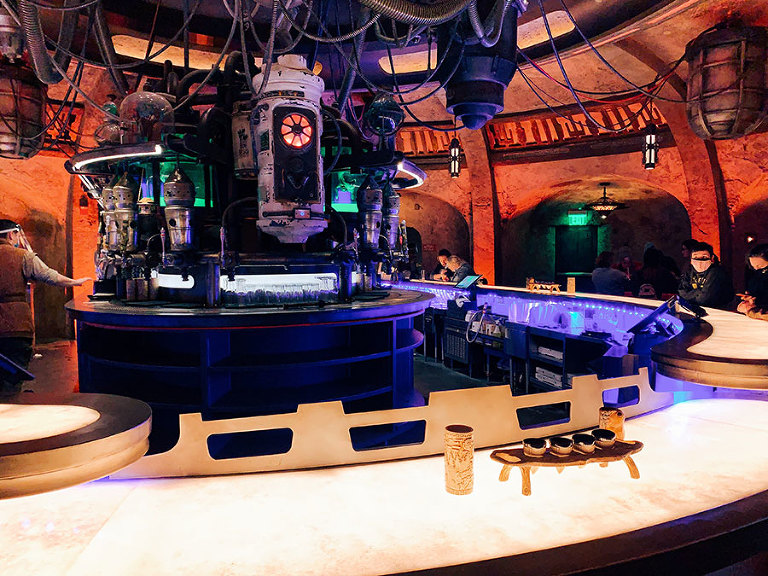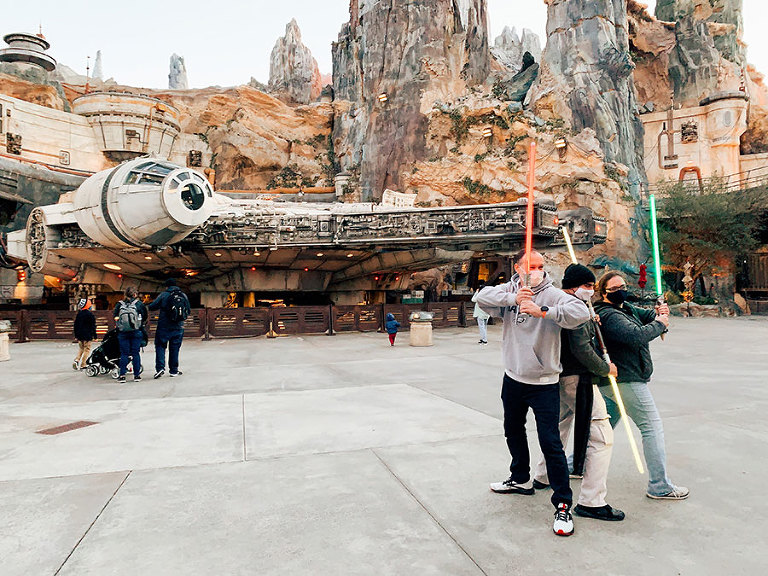 May the Force be with you.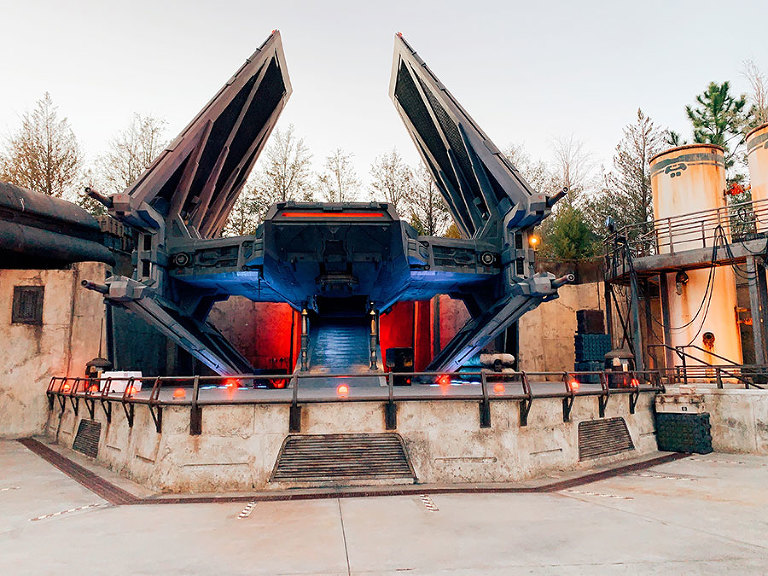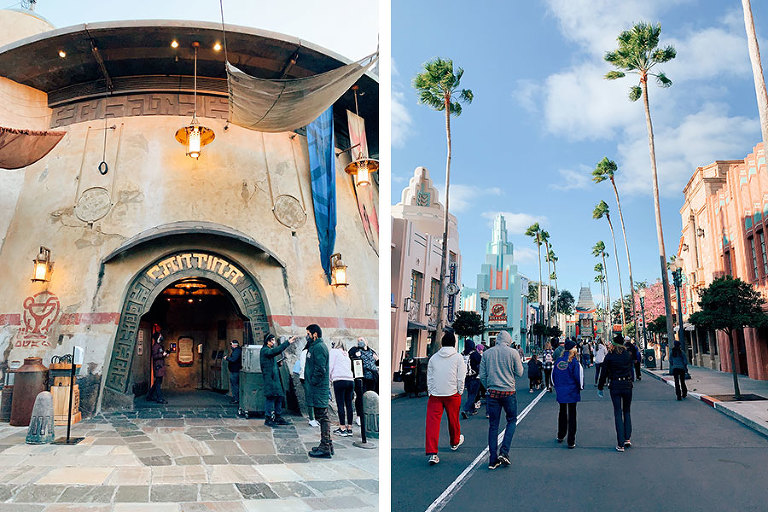 And so marks the end of my Galaxy's Edge photos.  Moving on to the rest of DHS now!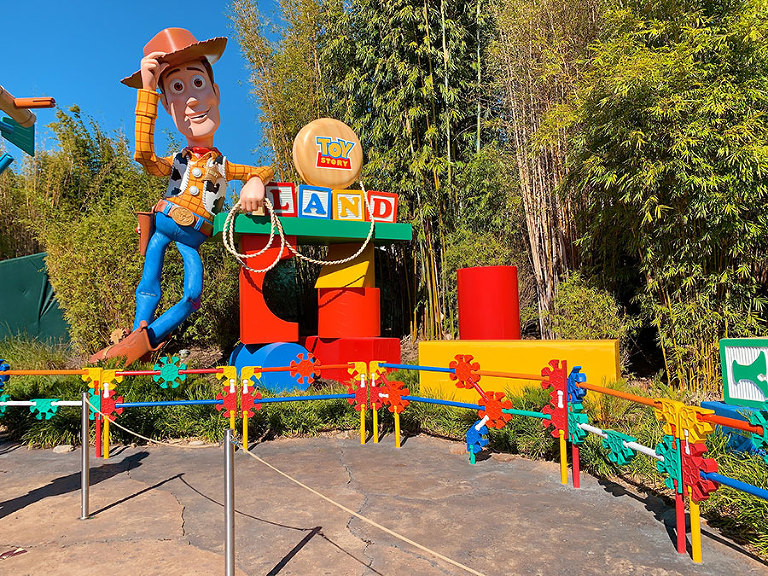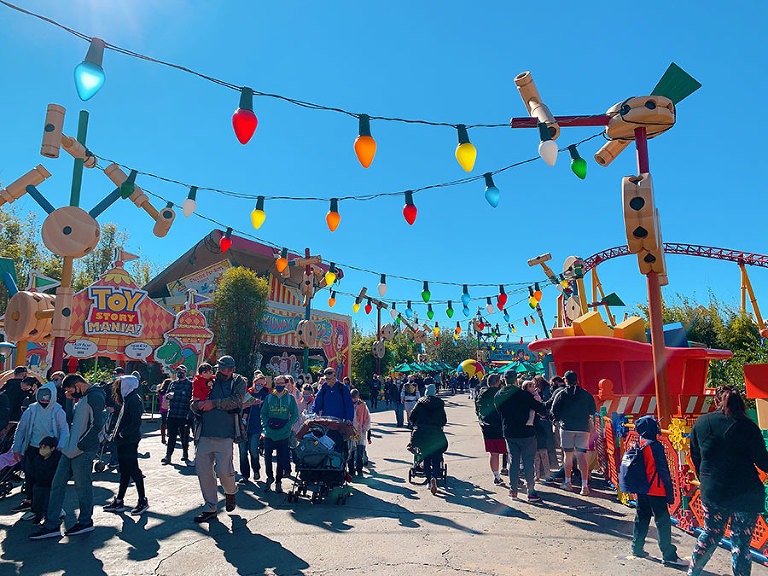 Just the cutest!
Slinky Dog Dash!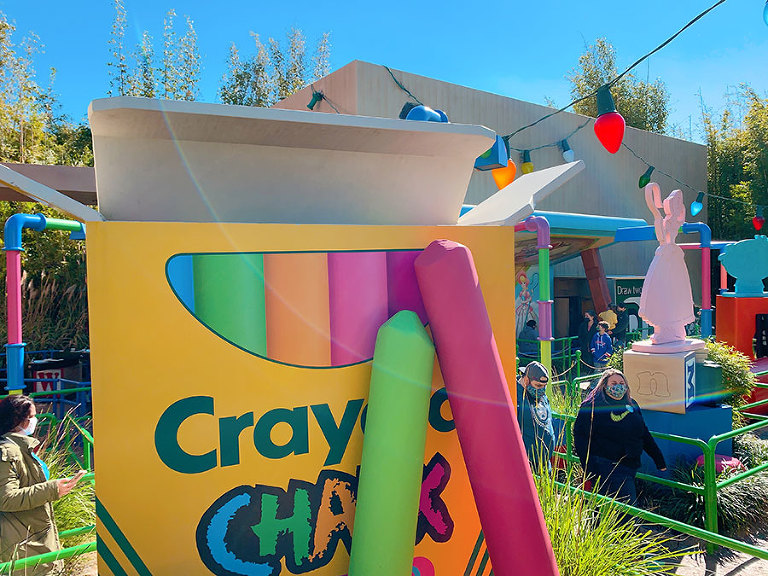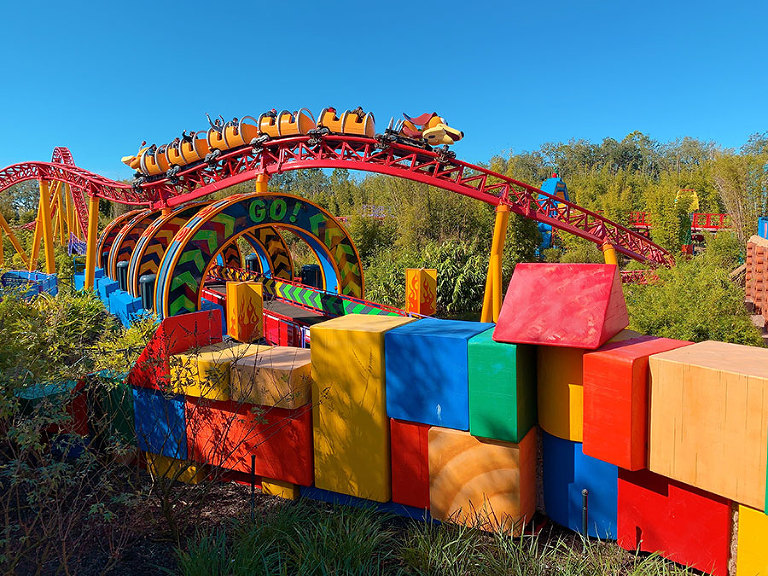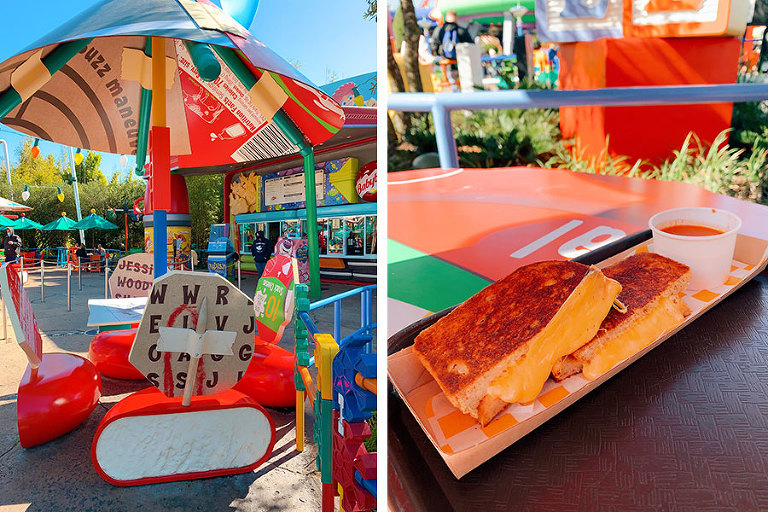 Woody's Lunchbox! Look at the Babybel chairs!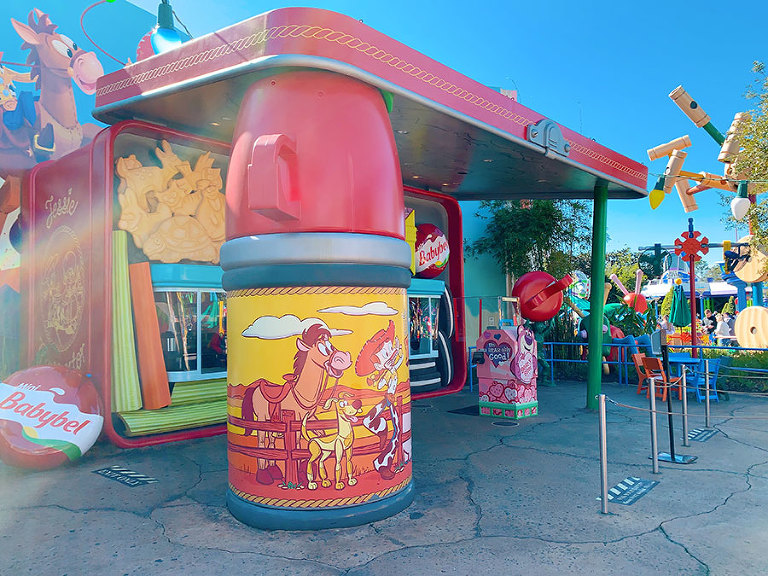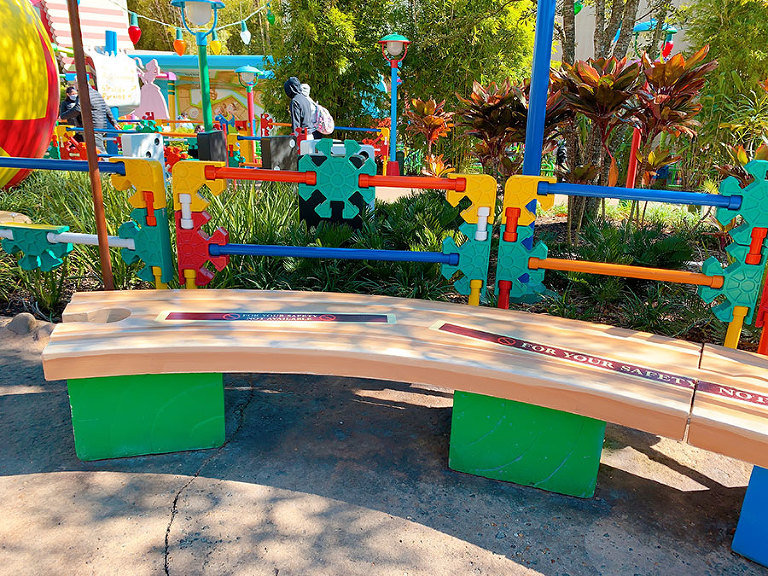 Brio train benches!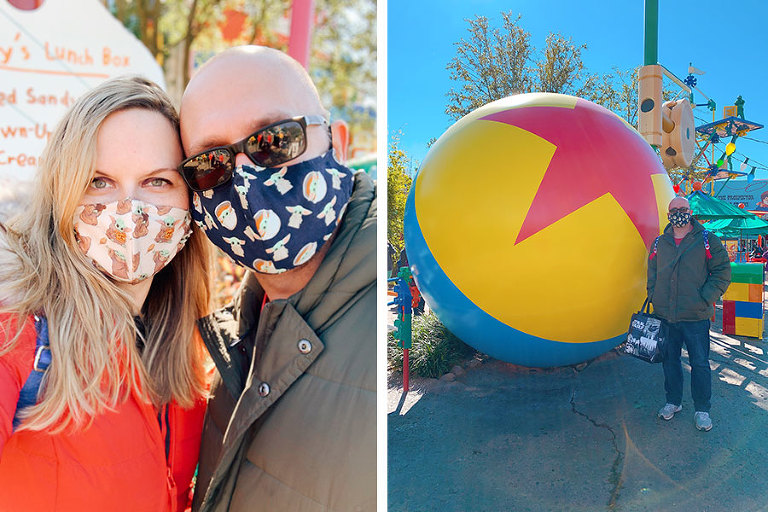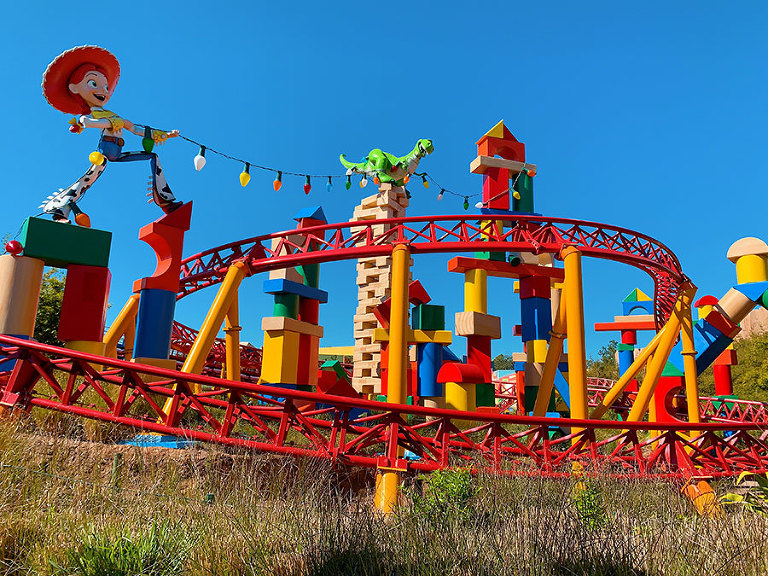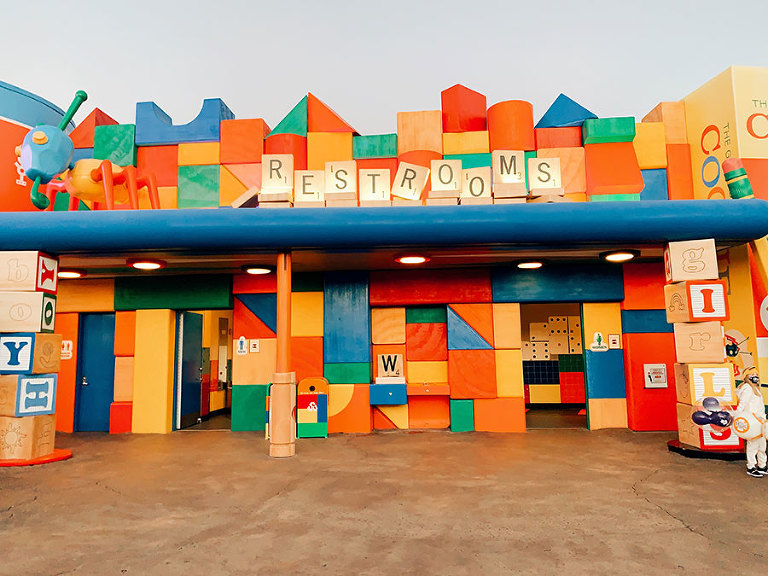 Even the bathrooms were adorable.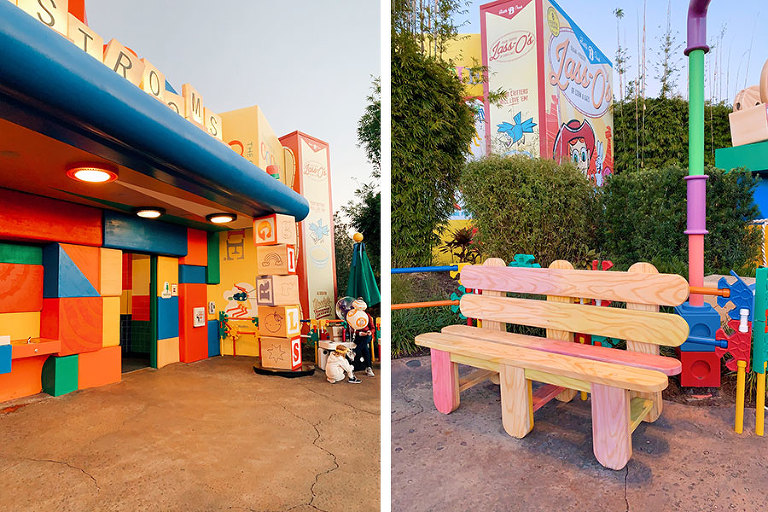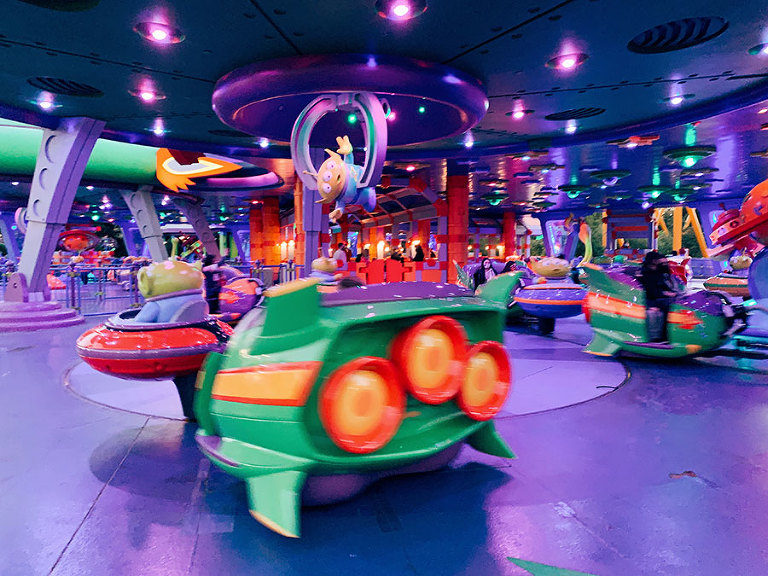 Say it with me now… "The claaaaawwwwww!"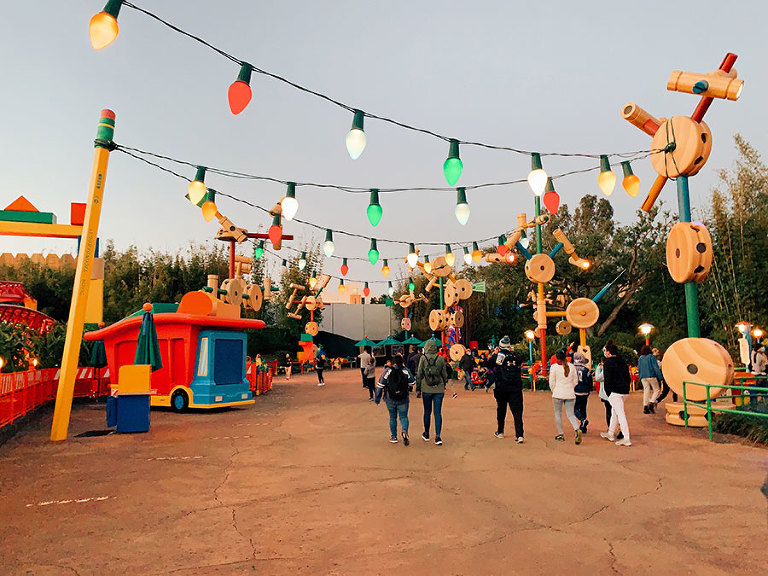 A completely empty Toy Story Mania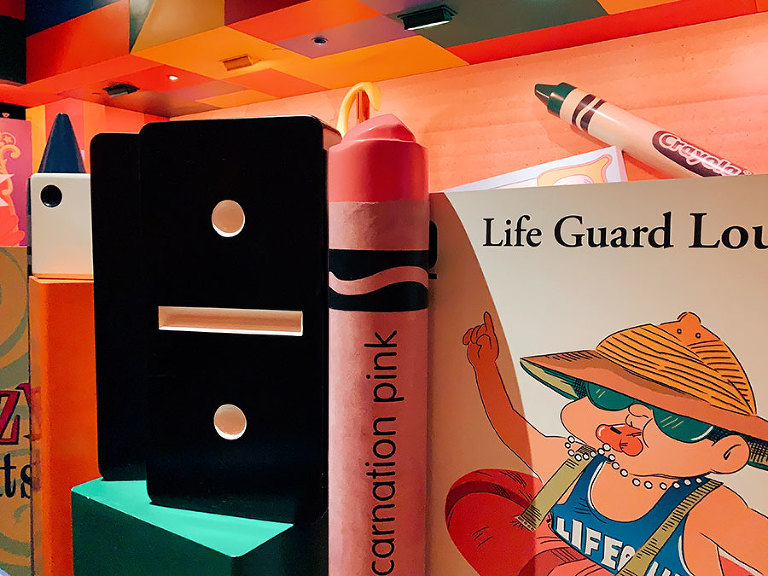 Love the attention to detail… making the pink crayon used instead of sharp.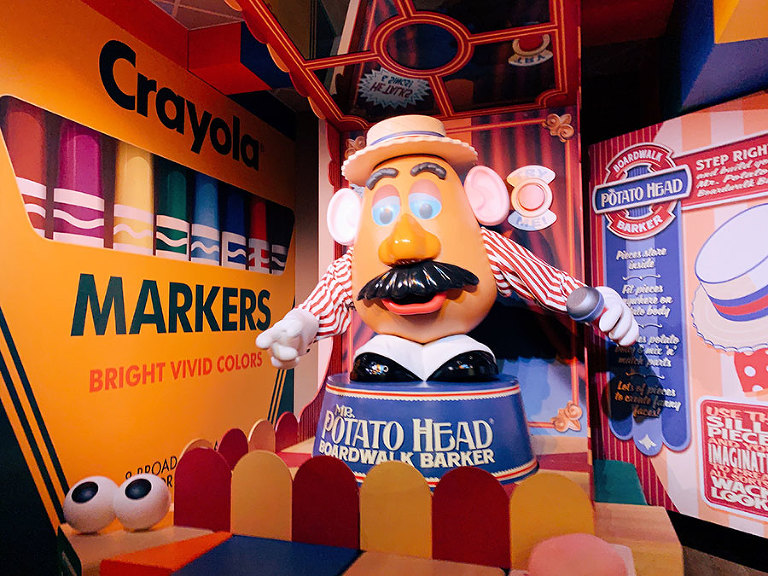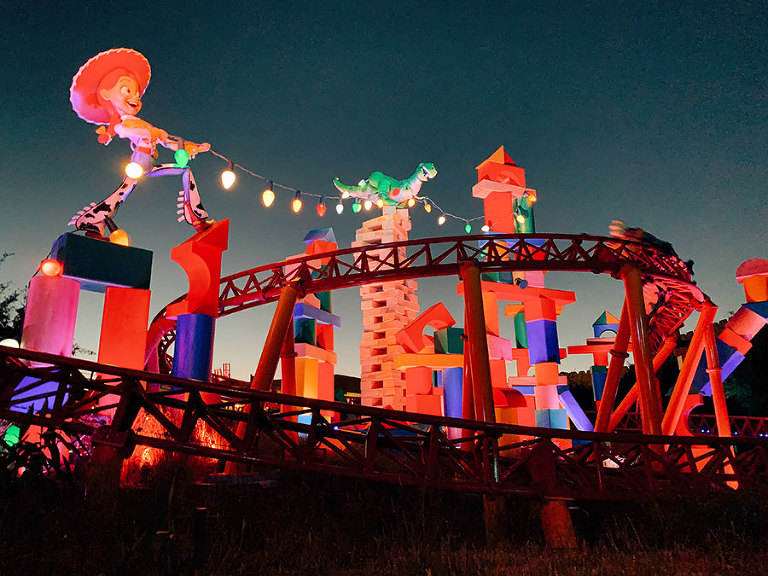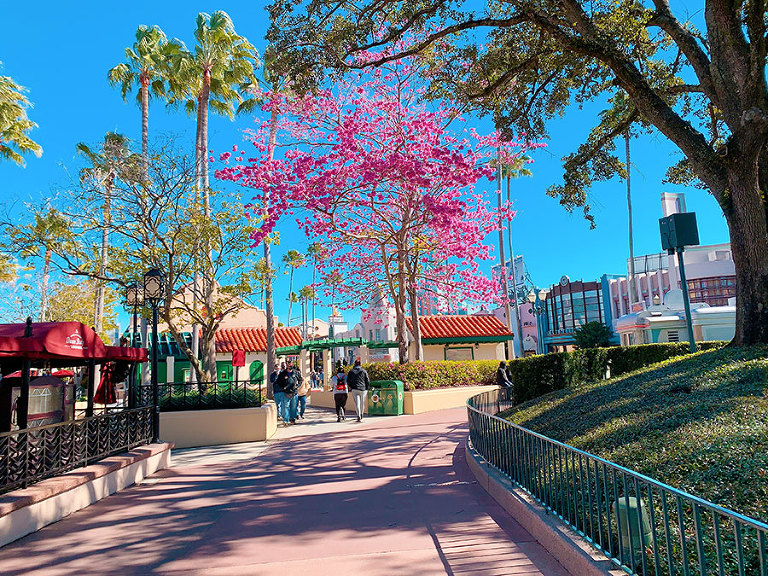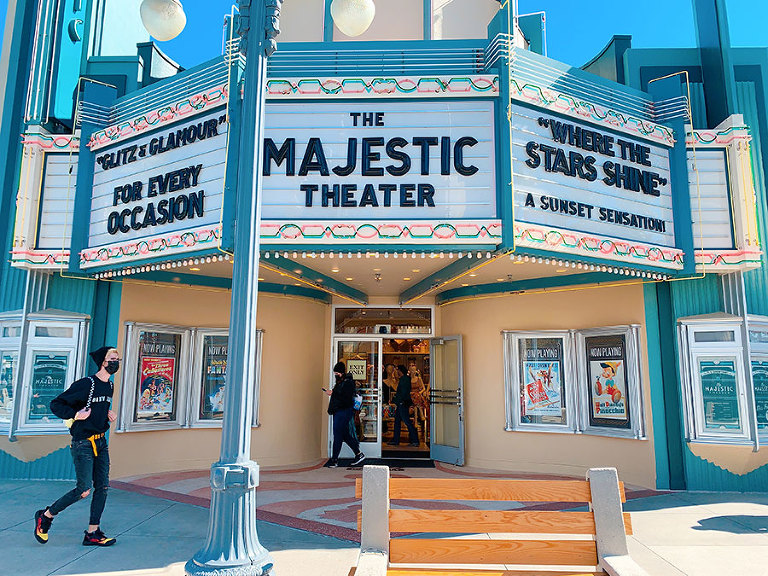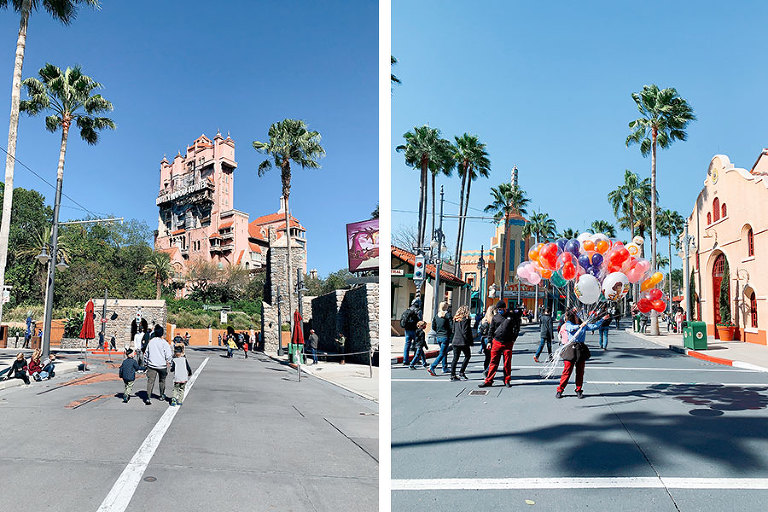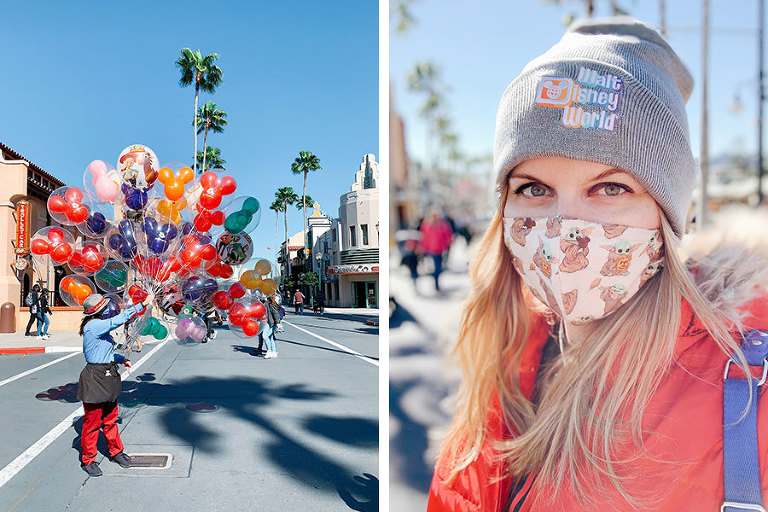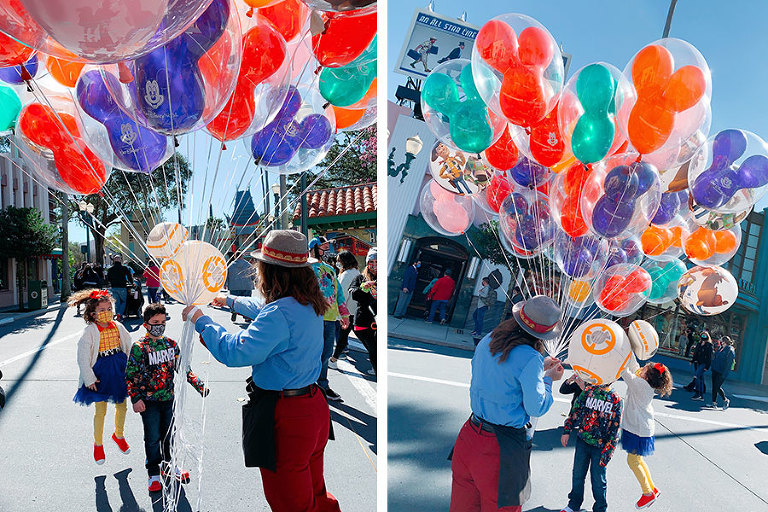 That little girl was almost as excited about the Mickey balloons as I was!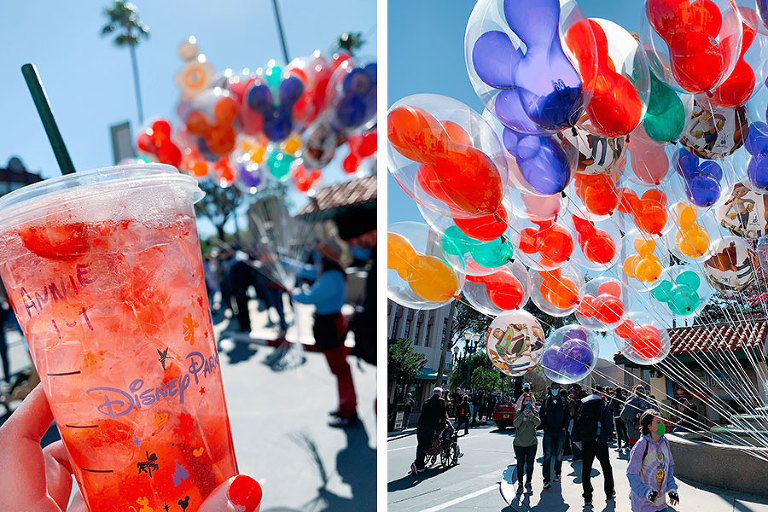 Of course I had to get a Starbucks strawberry refresher. Starbucks while traveling always makes me think of my momma. I hope I can convince her to visit DHS soon so she can see Galaxy's Edge and Toy Story Land, too!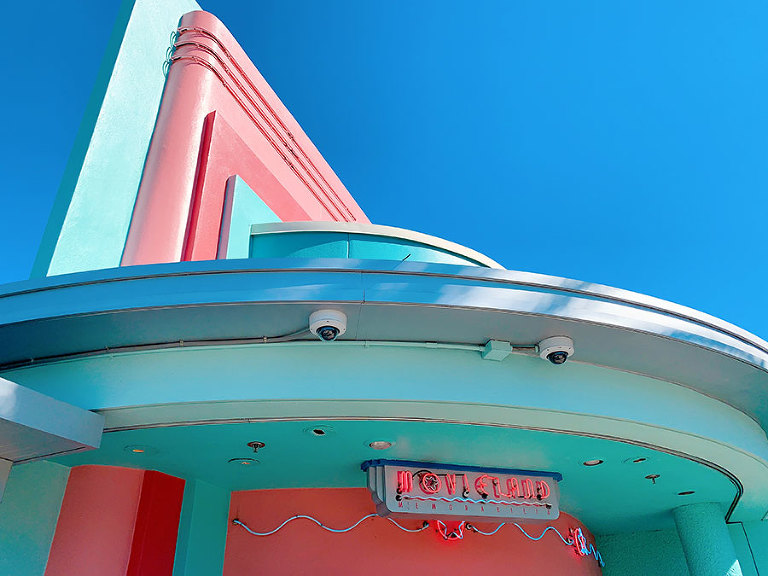 On our way to the Skyliner… I just liked the colors here.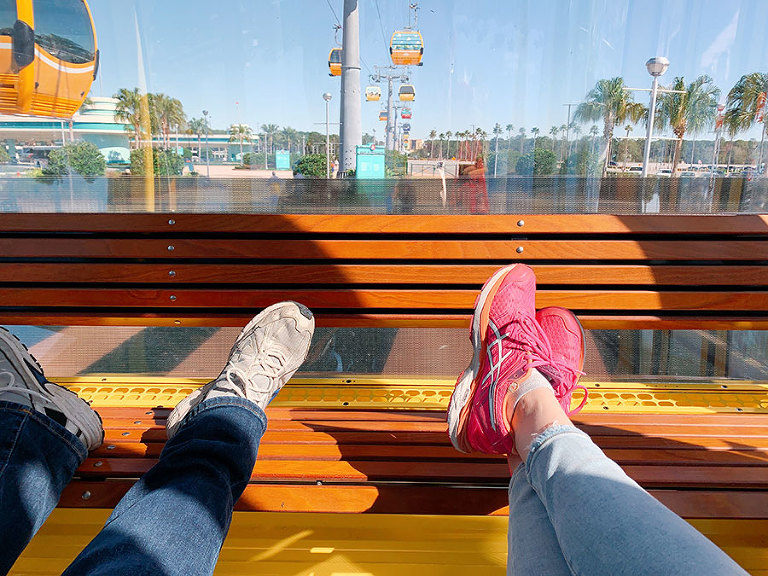 Finally.. a little rest. It was so lovely.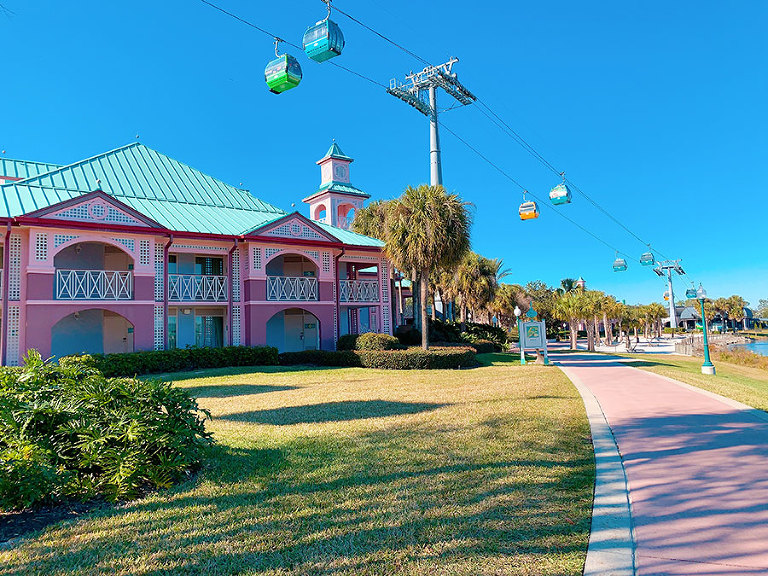 Walking around the Caribbean Beach Resort property.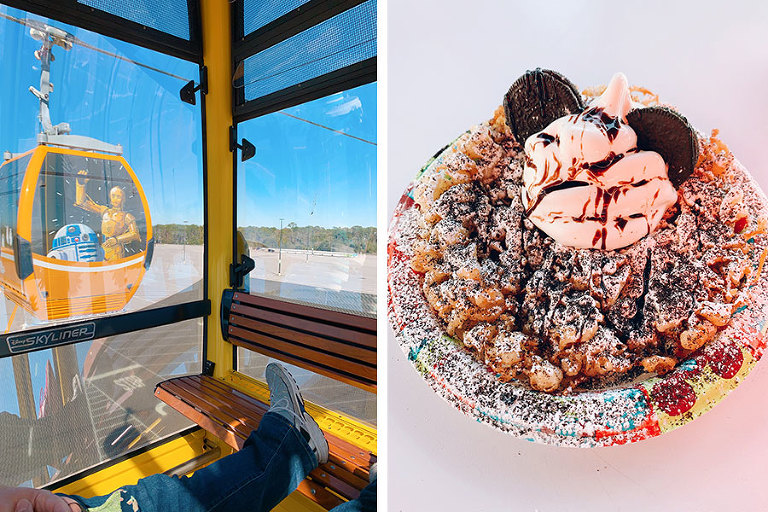 We passed a Star Wars car! And check out that yummy Oreo funnel cake! When on vacation, right?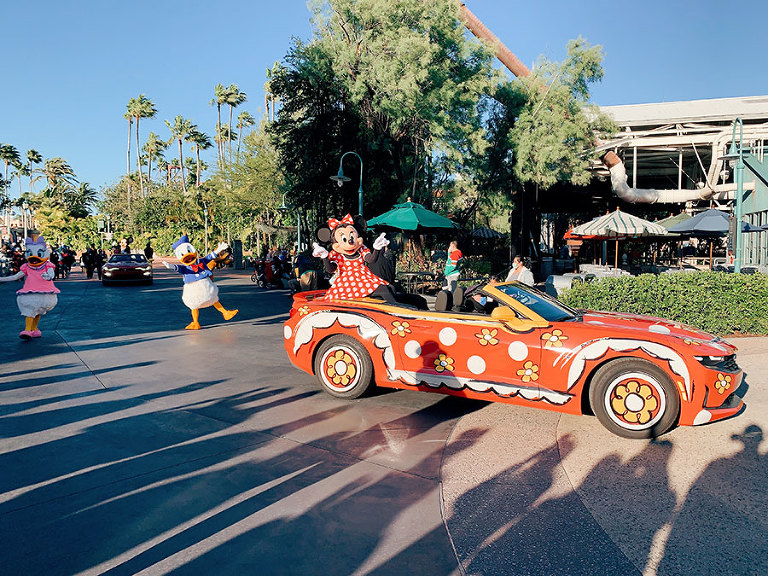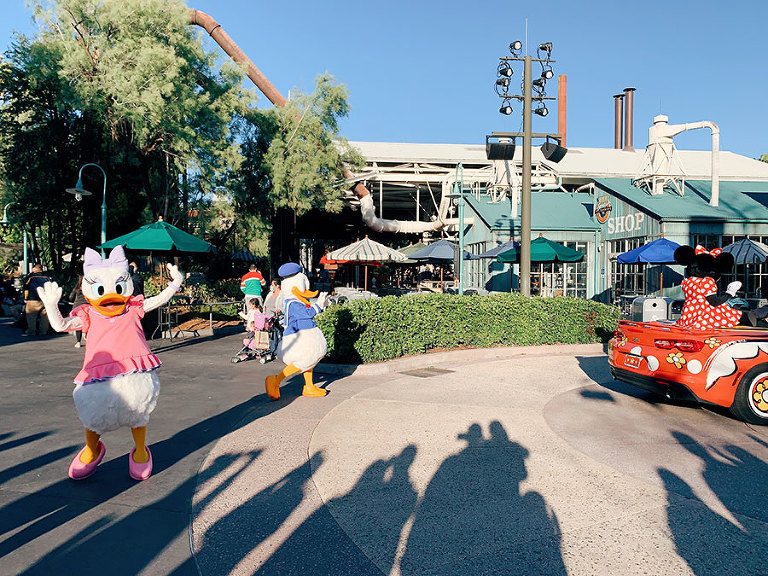 I no longer like Daisy Duck (IYKYK..)