October 2011
Where We Stayed:Â  With Friends
When our Gettysburg trip came to an end, my parents flew home to Wisconsin and I flew further east to Boston. One of my best friends, Bethany, lives in Boston with her husband Dan and dog Hattie. The Coxes were also dogsitting for Logan, so it was twice the puppy goodness when I arrived.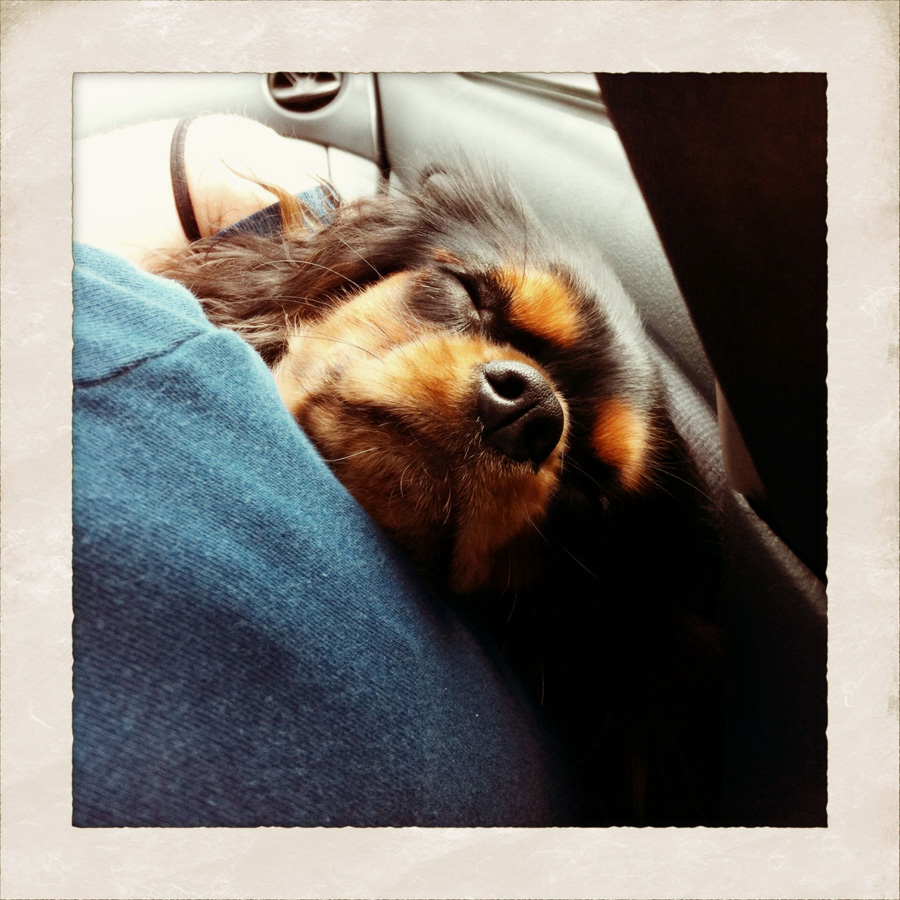 But anyway. Oh, Boston, I loved you. If I had a reason, I would have moved to Boston yesterday. It was one of those cities that I instantly liked. It's a big city, but it feels small, cozy, and very manageable. The only slight downfall to Boston is that ever-present attitude that New England and the east coast is the center of the living universe. Here's what I did in Boston!
Visited Haahhhhhvahhhd! Bethany and I had breakfast in Harvard Square one morning — and I couldn't help but feel both smarter and dumber. The elite of the elite are schooled there and I'm glad I can say that I was able to visit.
Visited MIT! One of my good friends from college, Krupa, is a physical chemistry graduate student at MIT (she is the definition of a smart cookie). I had a delicious lunch with her and we were able to catch up. I miss her dearly.
Walked (most of) the Freedom Trail. More on that in another post.
Went to Dunks (aka Dunkin Donuts) about 57 times. No joke.
Saw a very moving memorial to Steve Jobs outside of the Boston Apple store.
Walked and walked and walked and walked. I should have brought shoes other than flip-flops. Lesson learned.
Visited the Museum of Science with Bethany and Dan. More on that in another post.
Mike's Pastry! Yummy!
Onward to the photos!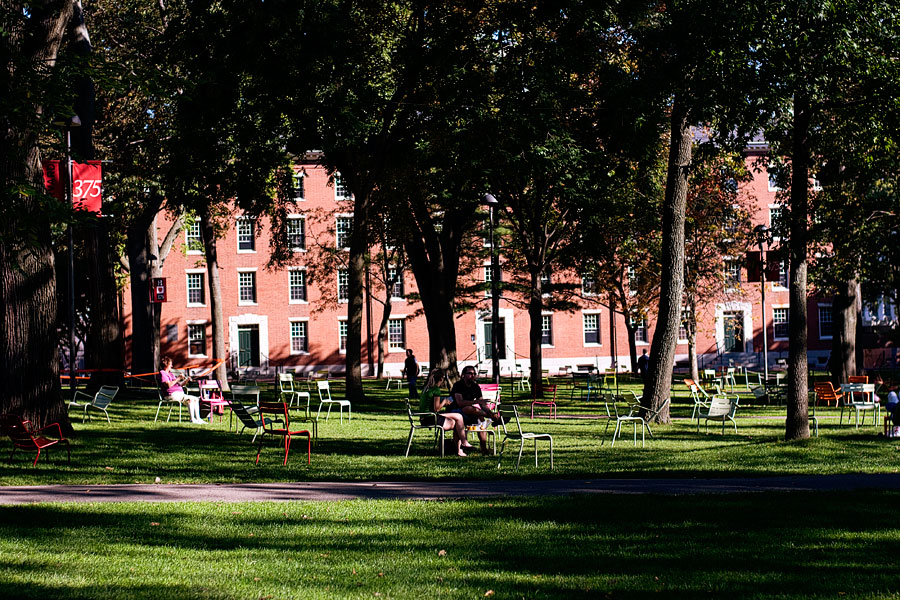 Harvard. I couldn't help but think of Elle Woods.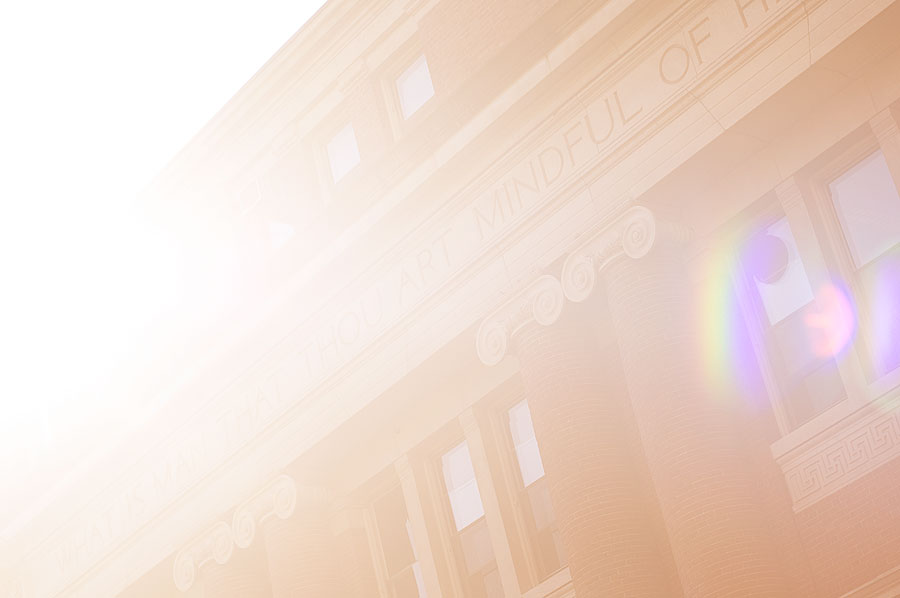 Very bright morning light at Harvard. Love the lens flare.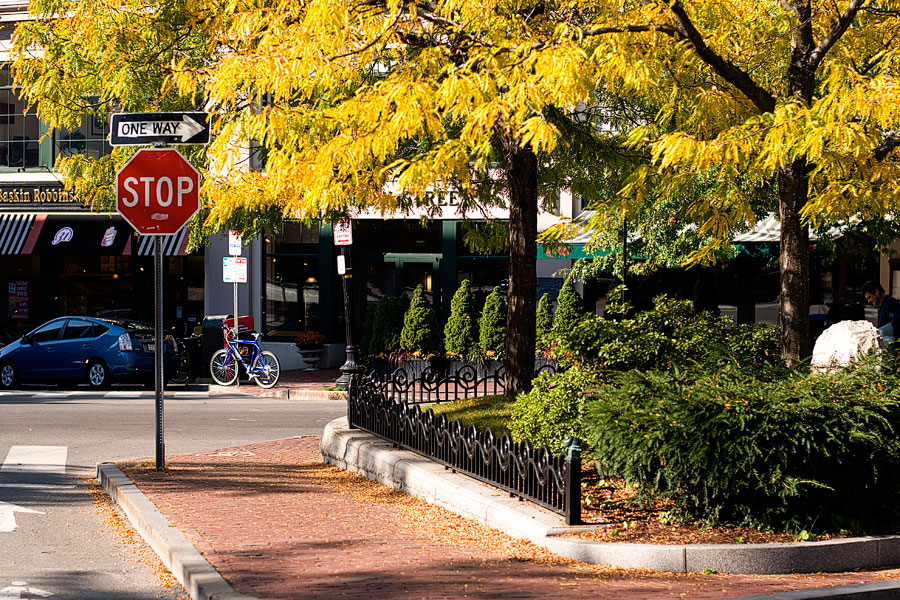 Cambridge, MA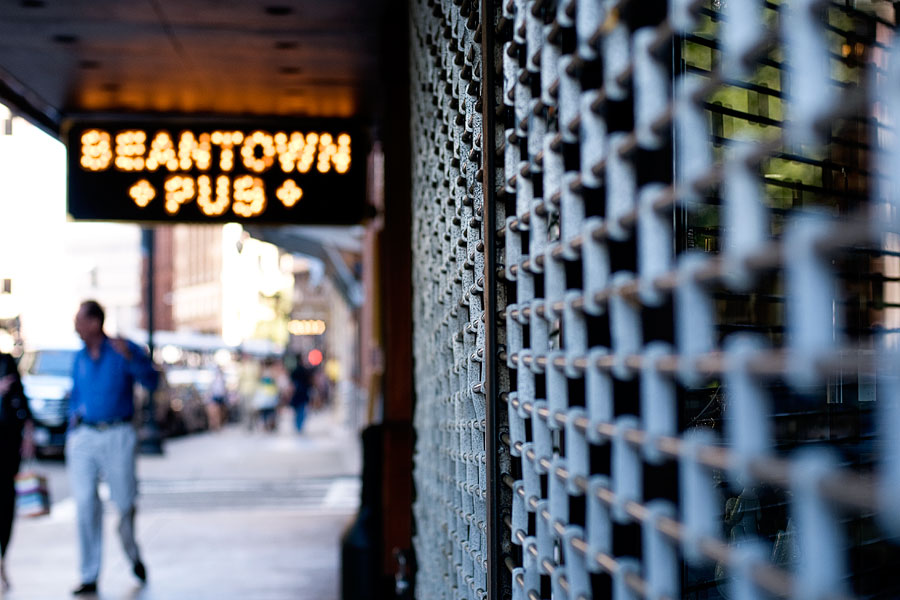 Boston bokeh.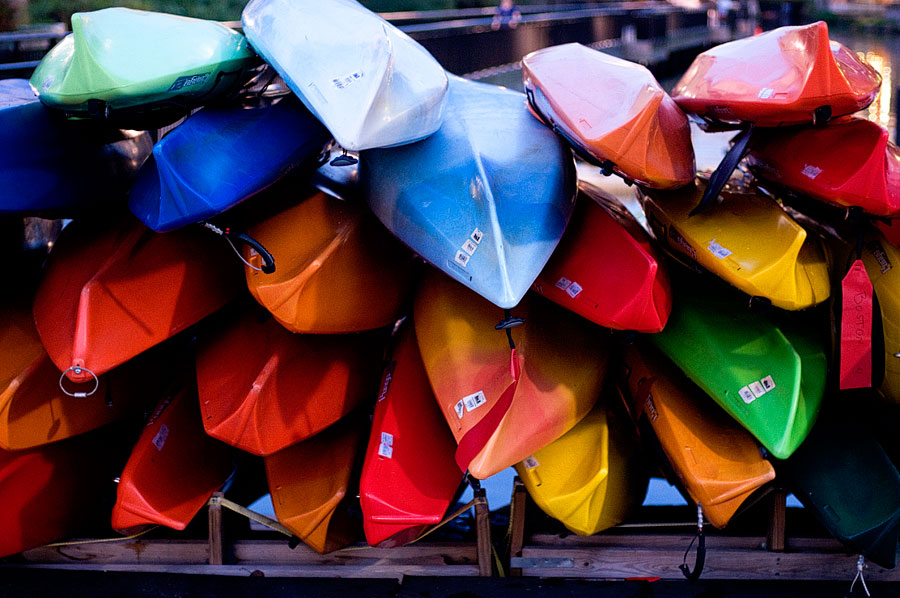 Hangin' out where Bethany works. Charles River Kayak!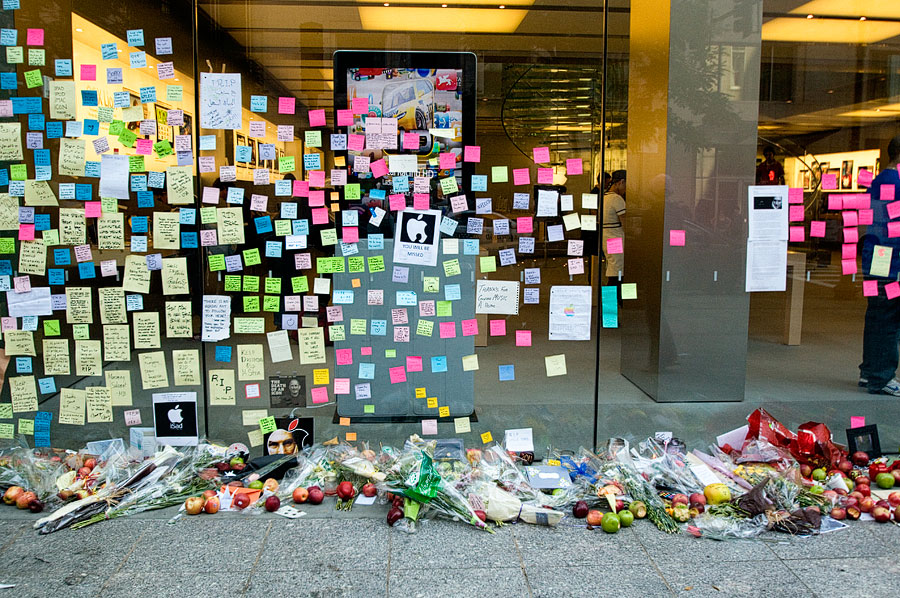 RIP, Steve Jobs.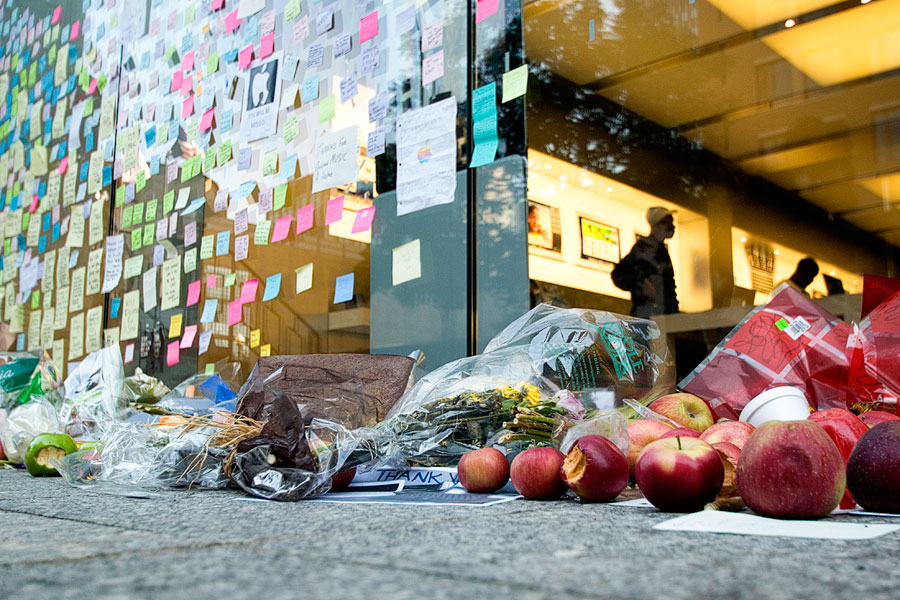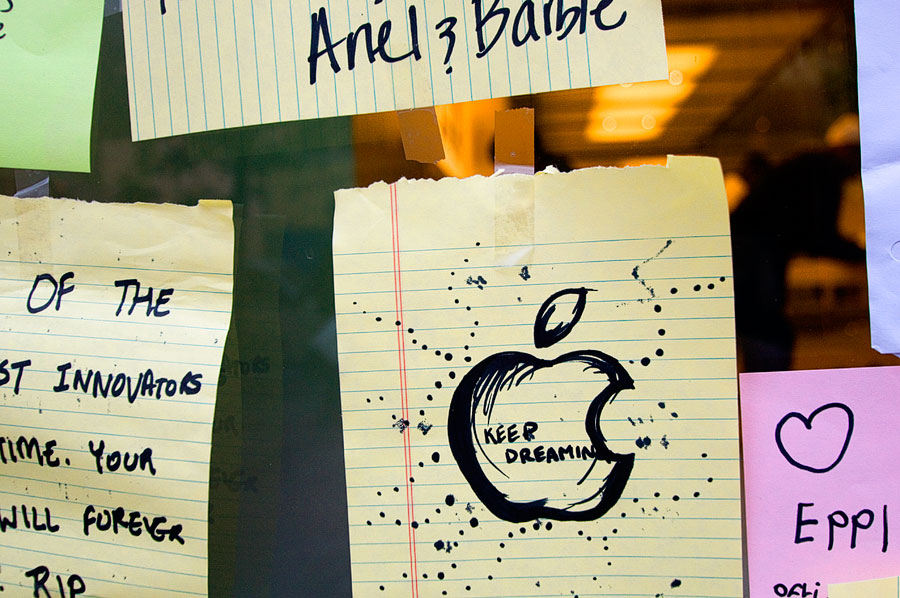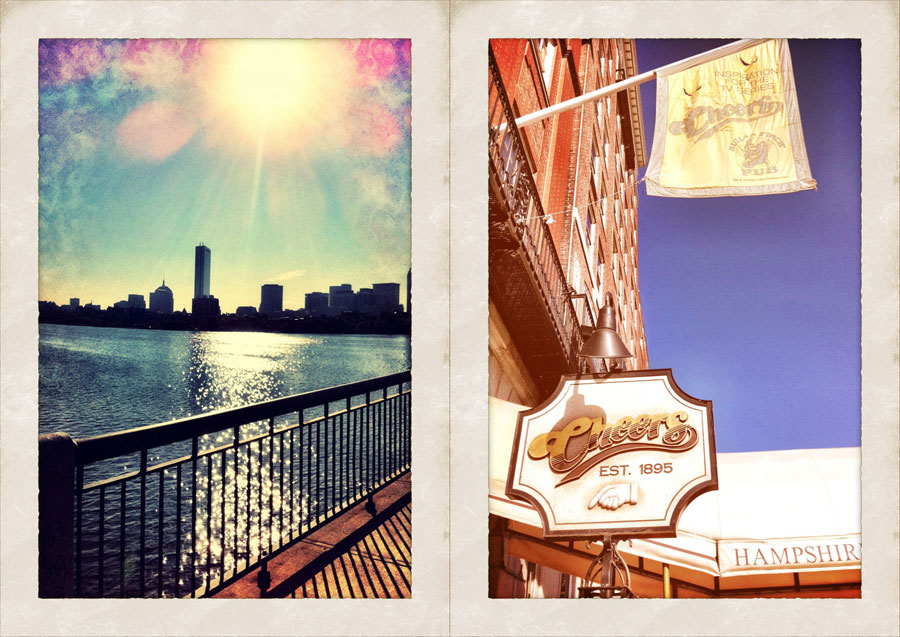 Good morning, Boston! Later in the day, I visited the famous Cheers bar!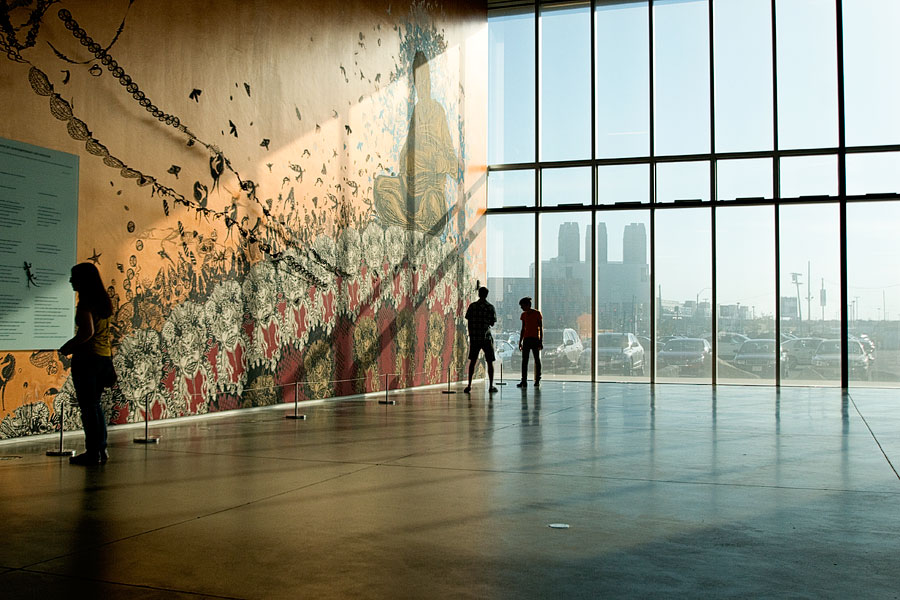 The lobby of the Museum of Contemporary Art. The exhibit that I went there to see was gone.. I missed it by just a few days!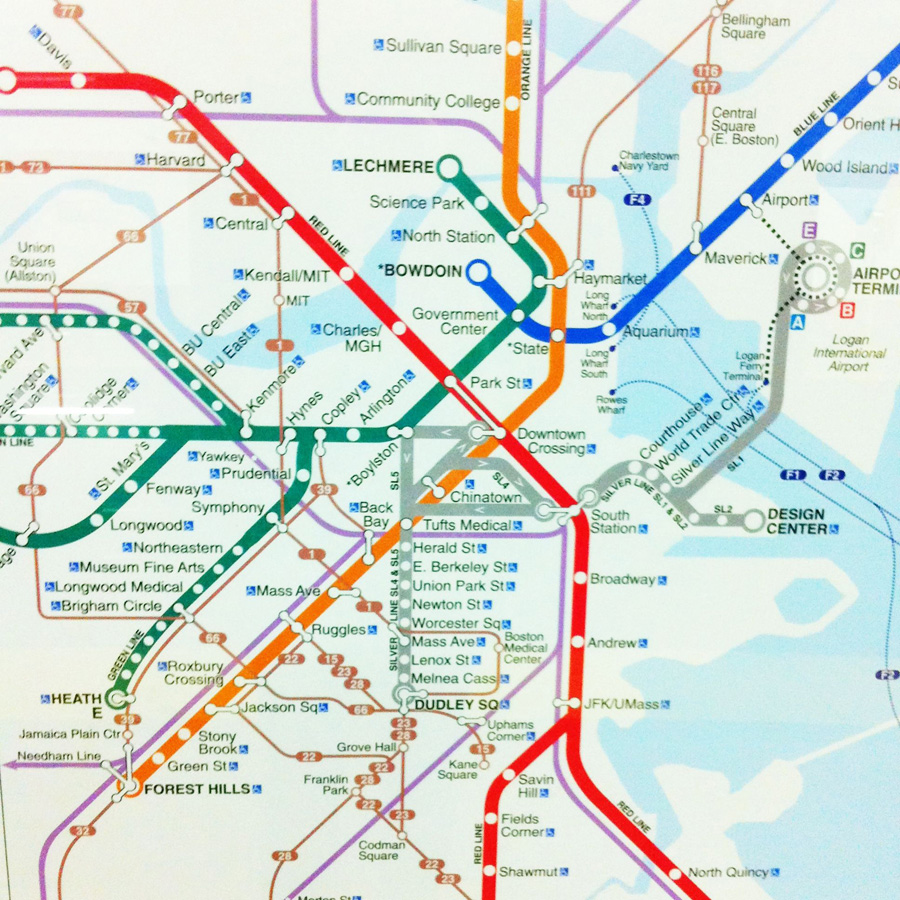 The T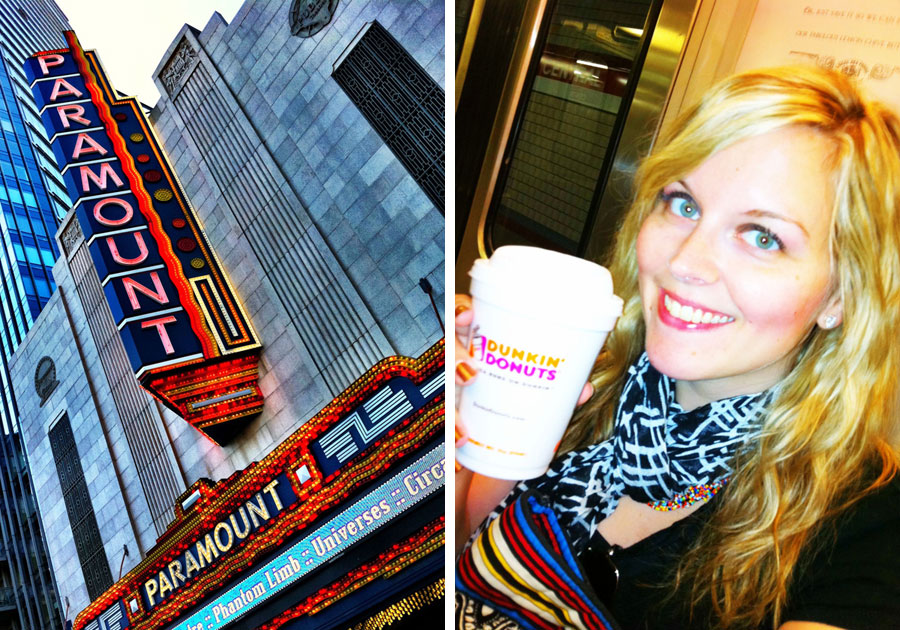 Love signs and love Dunks.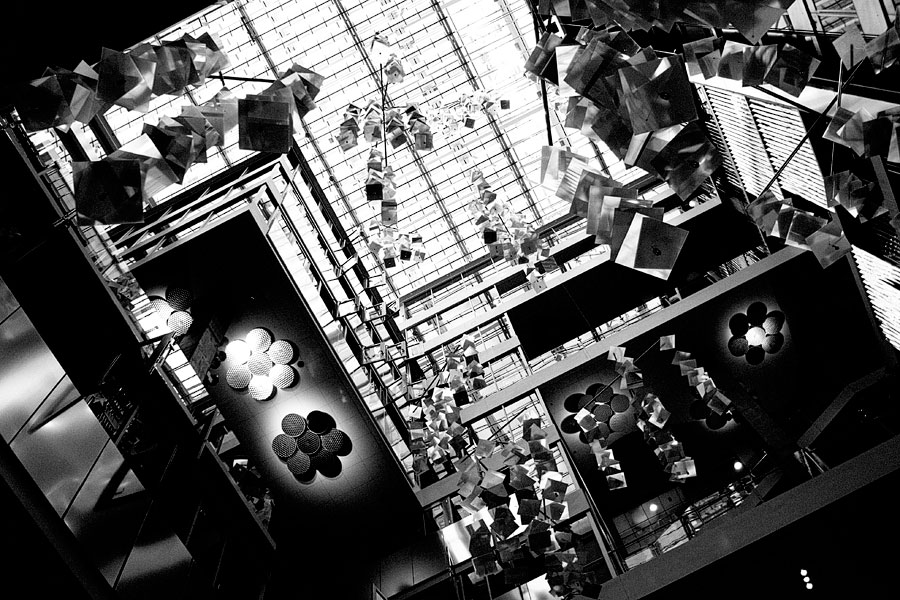 The beautiful lobby of Genzyme (I think)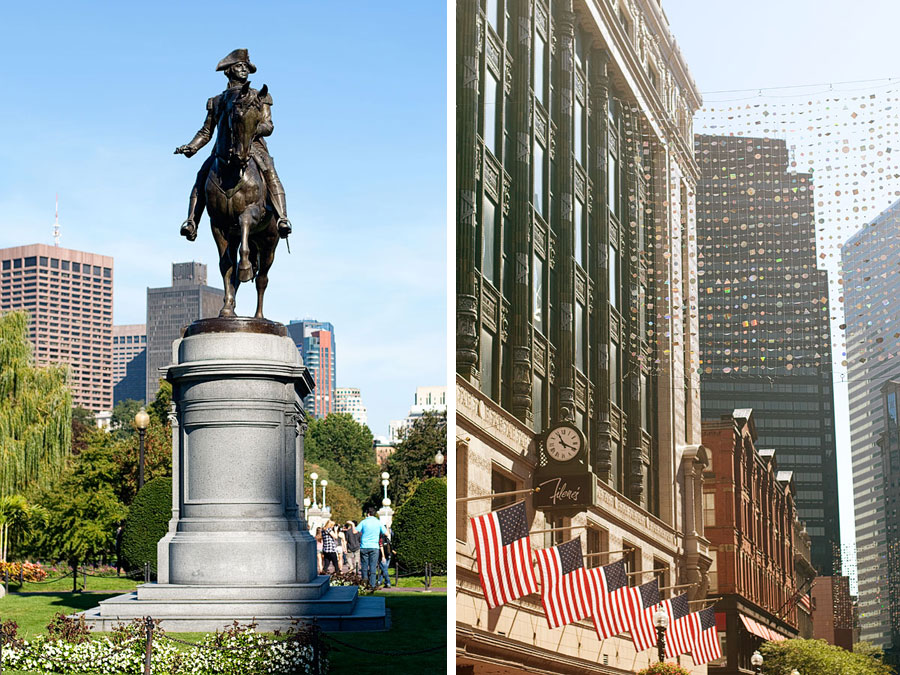 The Common & some sparkles in the sky.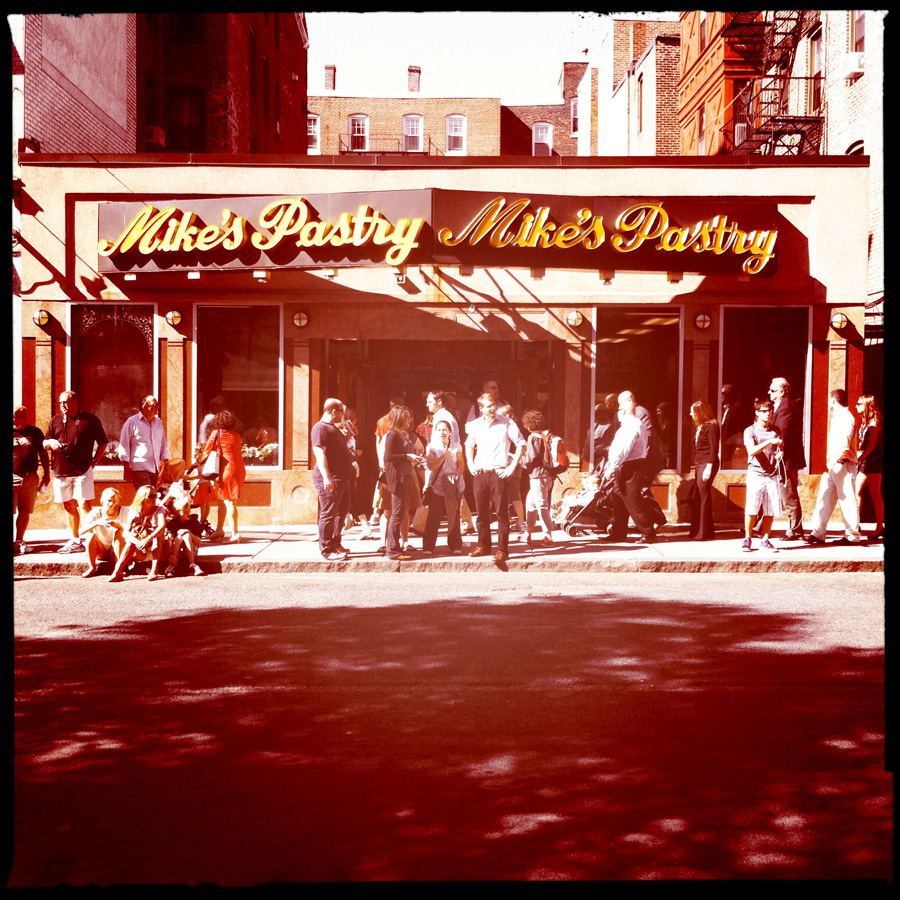 Mike's Pastry! Famous & delicious!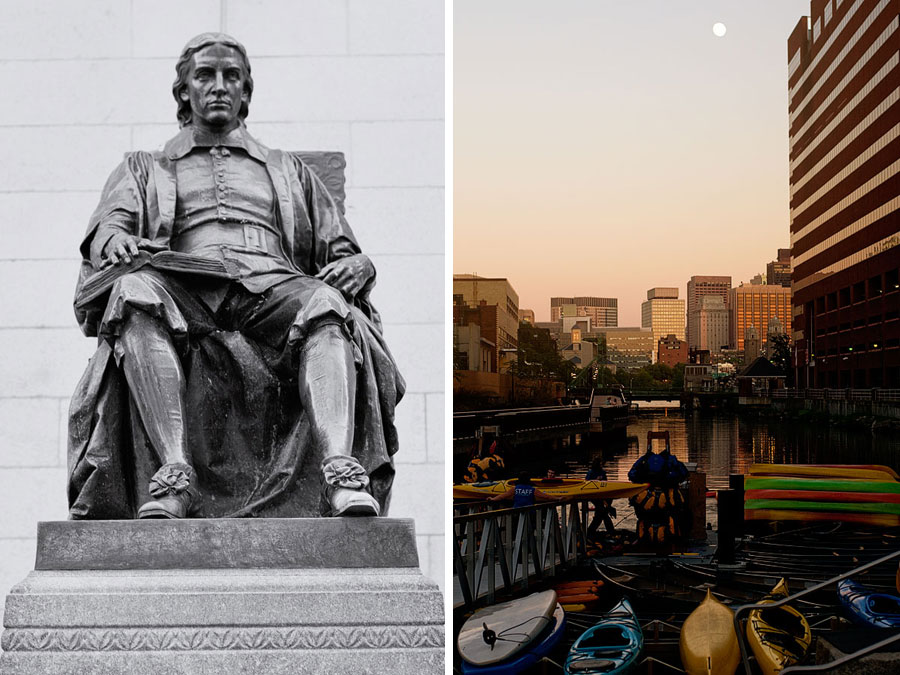 Mr. Harvard (not really) — and the Charles River at sunset.
Another must-see Boston tourist attraction is the Freedom Trail. So many historial sites laid out along a red brick path. Sometimes I felt like Dorothy from Oz following the yellow–err–red brick road. The Freedom Trail is a 2.5 mile walk which outlines and highlights historial landmarks, churches, cemeteries, etc. I walked the trail on a steaming hot 80+ degree day, so I didn't make it to the end (I'll finish next time I'm in Boston!). I got hot, hungry, and tired – not a great combination. But what I did see of the trail was beautiful and very interesting!
Here's a list of what you will see if you walk the entire trail: Boston Common, The Massachusetts State House, Park Street Church, Granary Burying Ground, King's Chapel, King's Chapel Burying Ground, Benjamin Franklin statue and the site of the first public school, Old Corner Bookstore, Old South Meeting House, Old State House, site of the Boston Massacre, Faneuil Hall, Paul Revere House, Old North Church, Copp's Hill Burying Ground, Bunker Hill Monument, and the USS Constitution.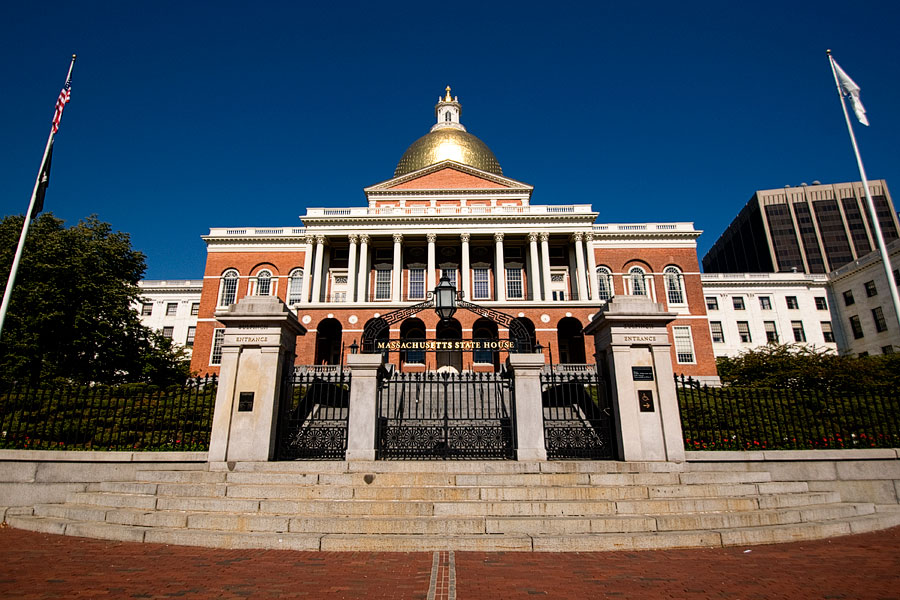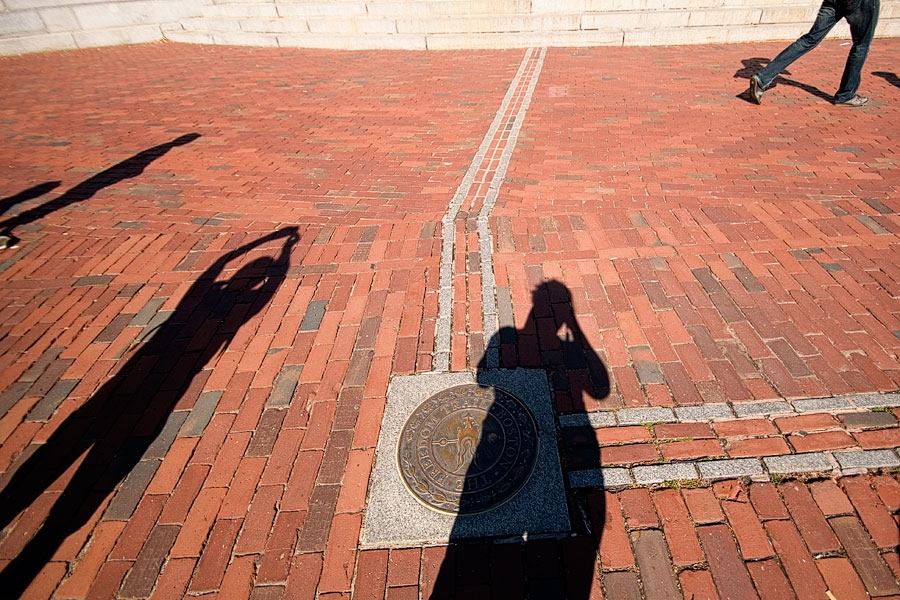 Red brick marks the way.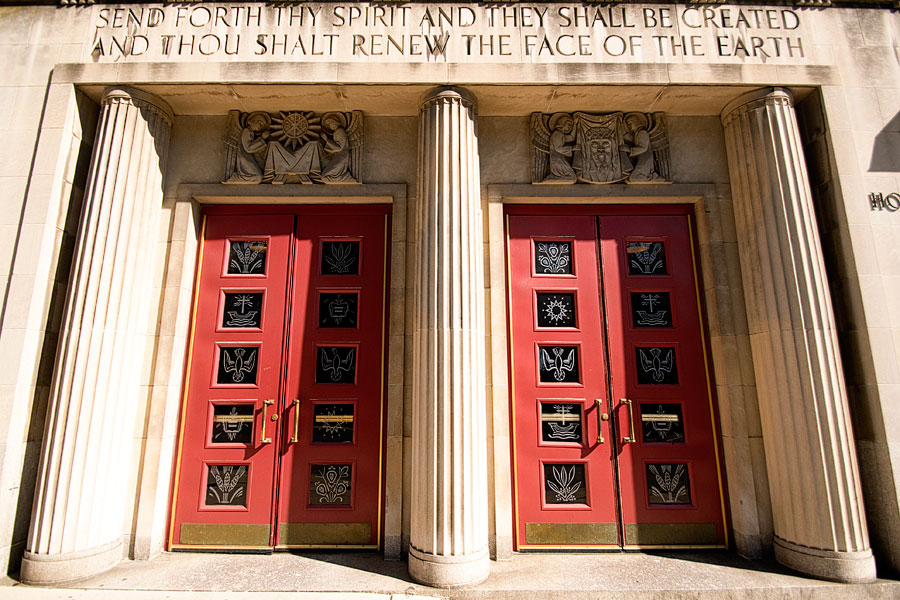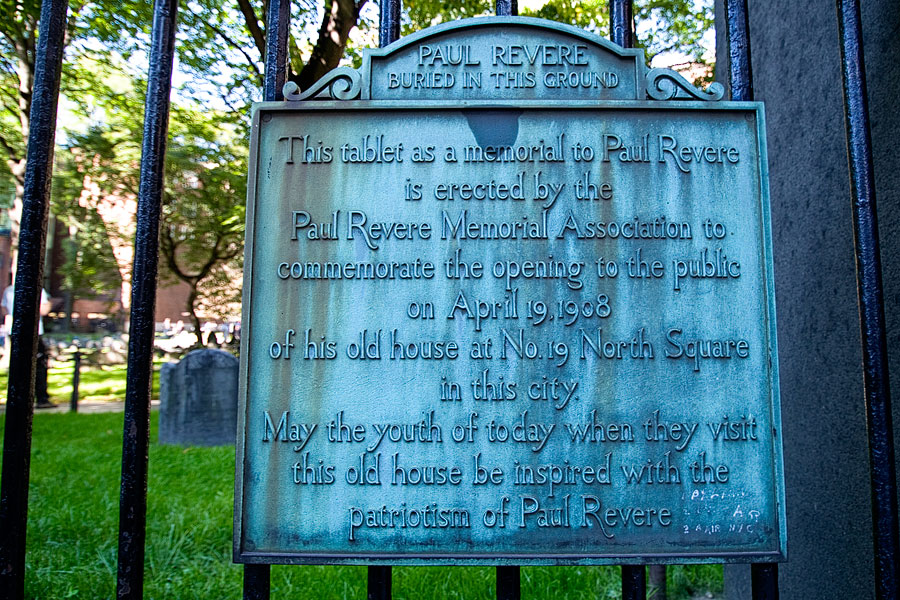 Very, very old cemetery.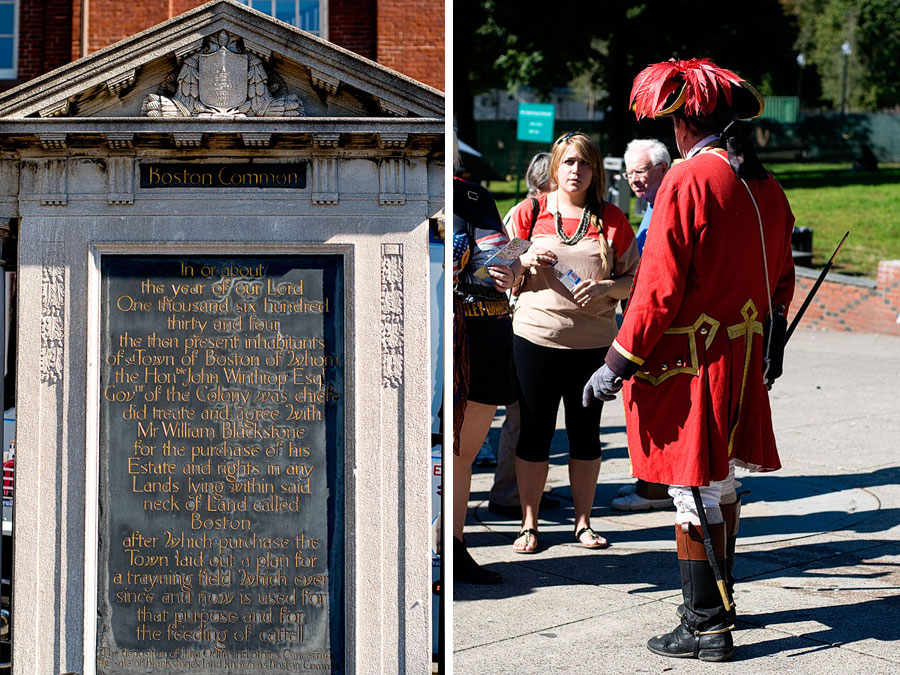 Loved the uniforms for the tour guides. I bet it was steeeeeamy on that hot day!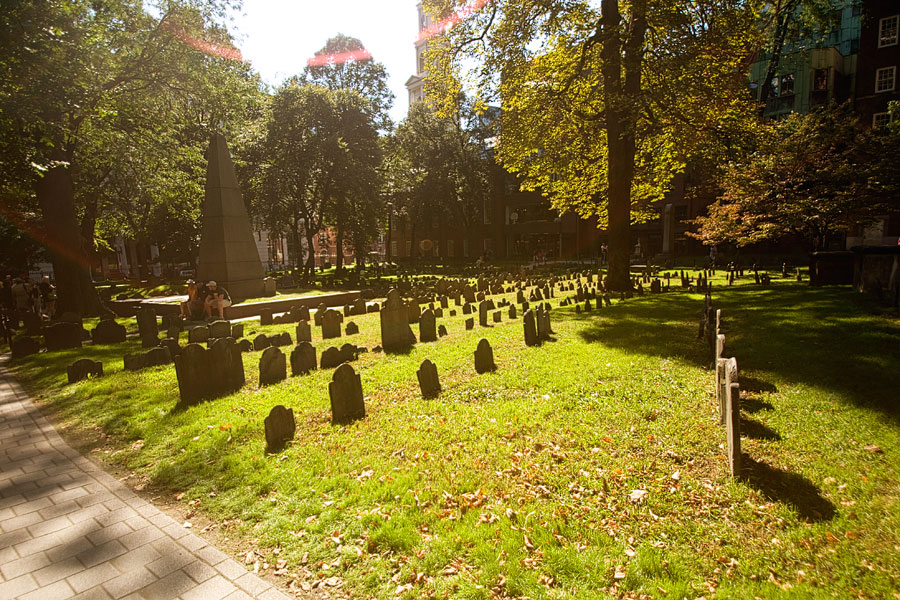 Granary Burying Ground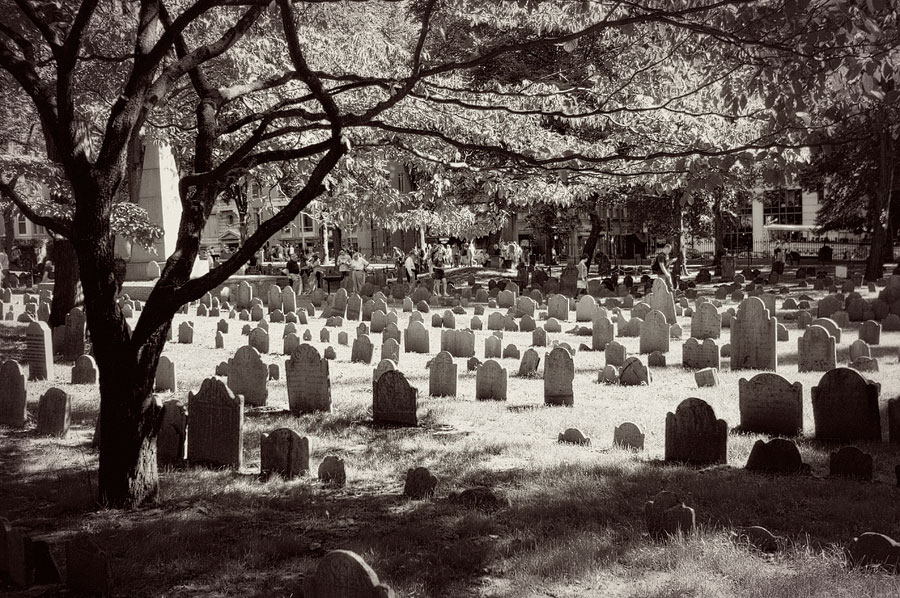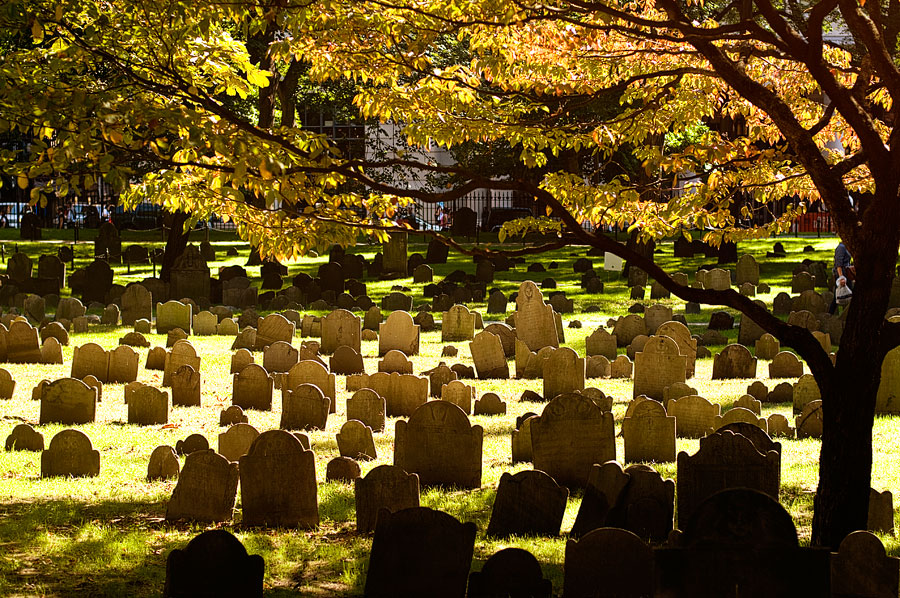 The fall colors were beautiful.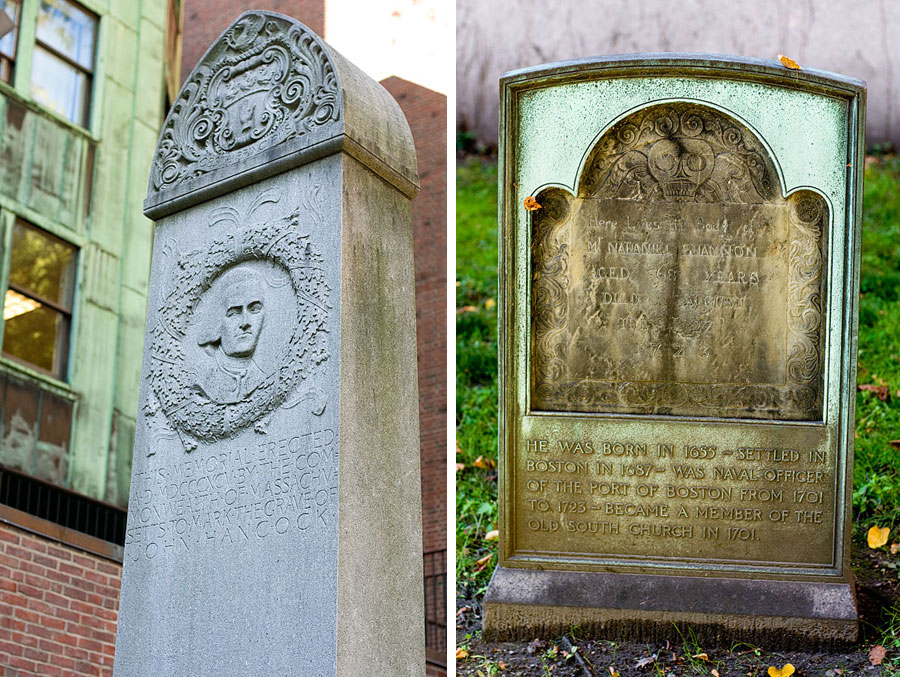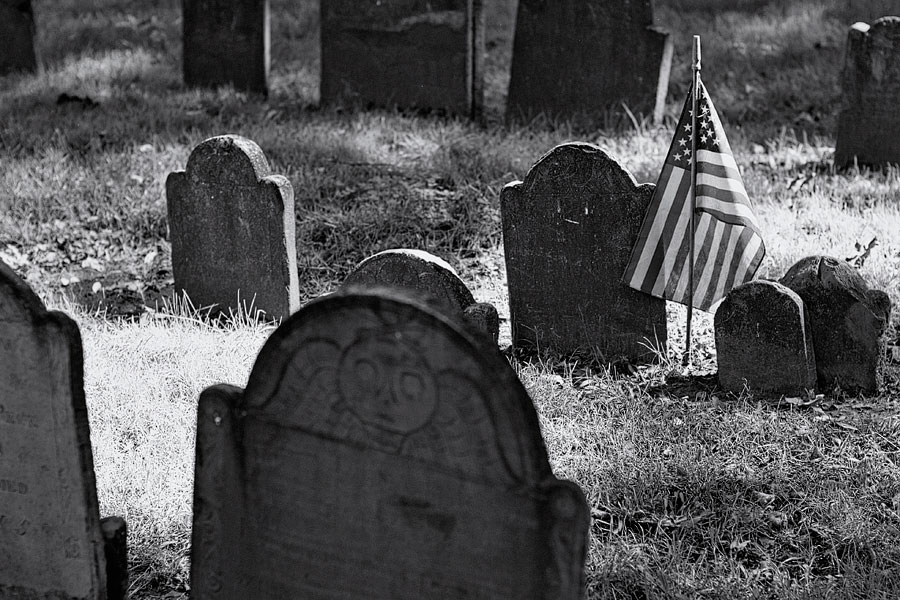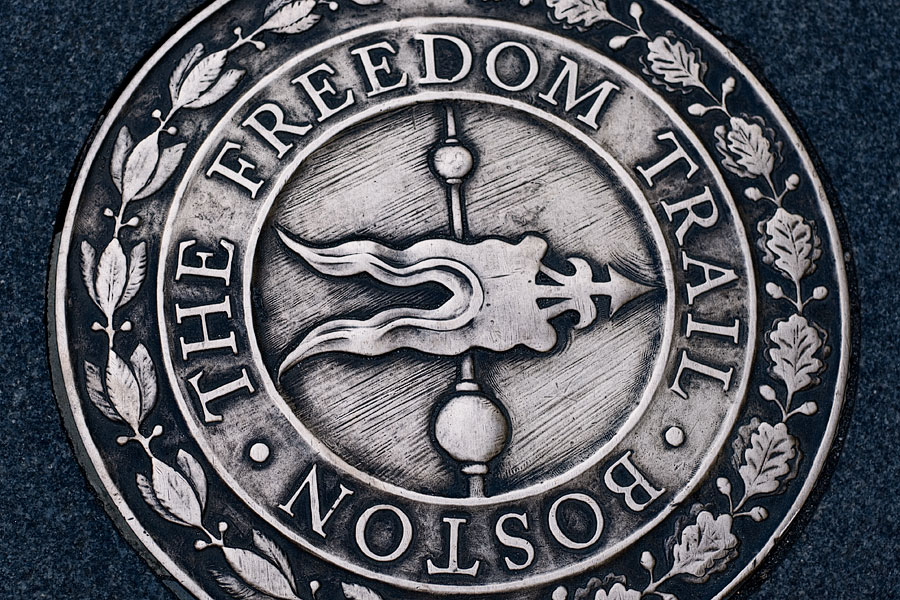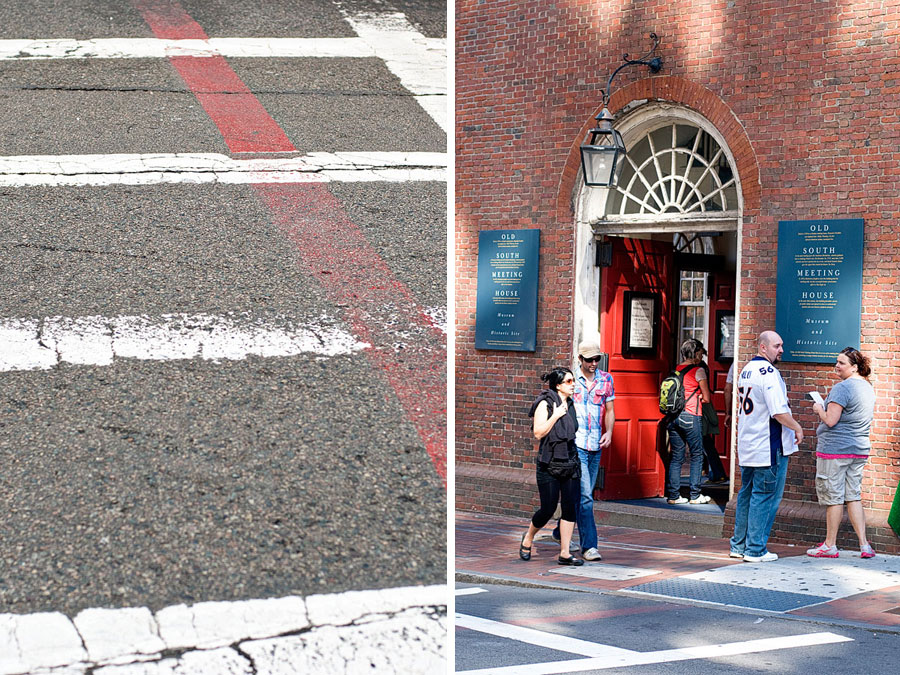 The trail — and the Old South Meeting House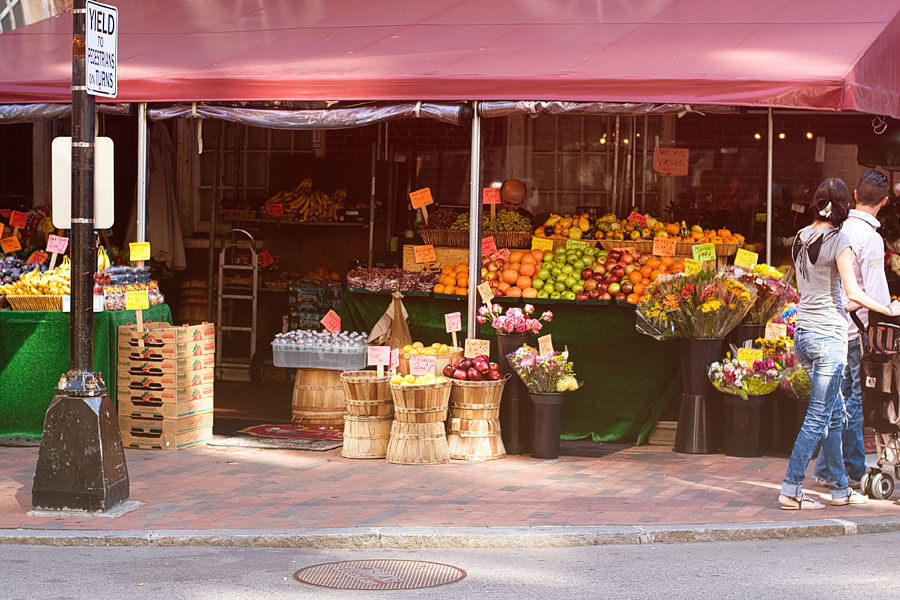 Cute market.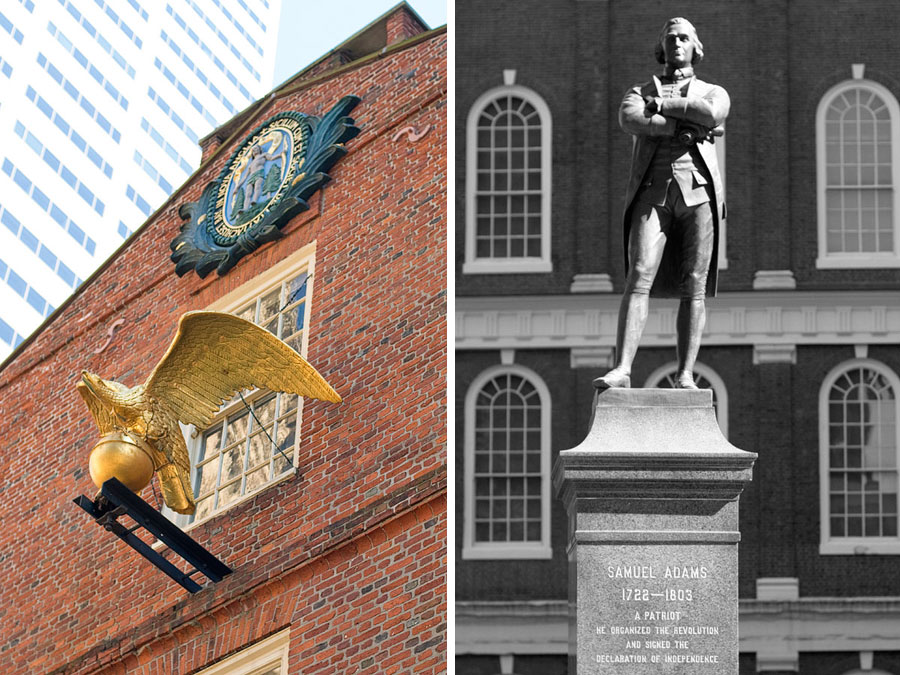 Sam Adams… standing like a boss.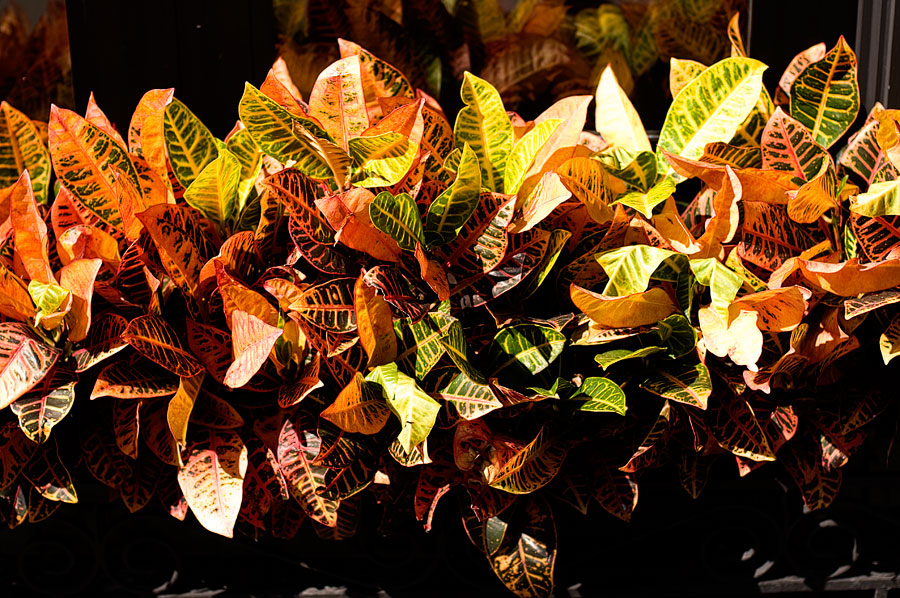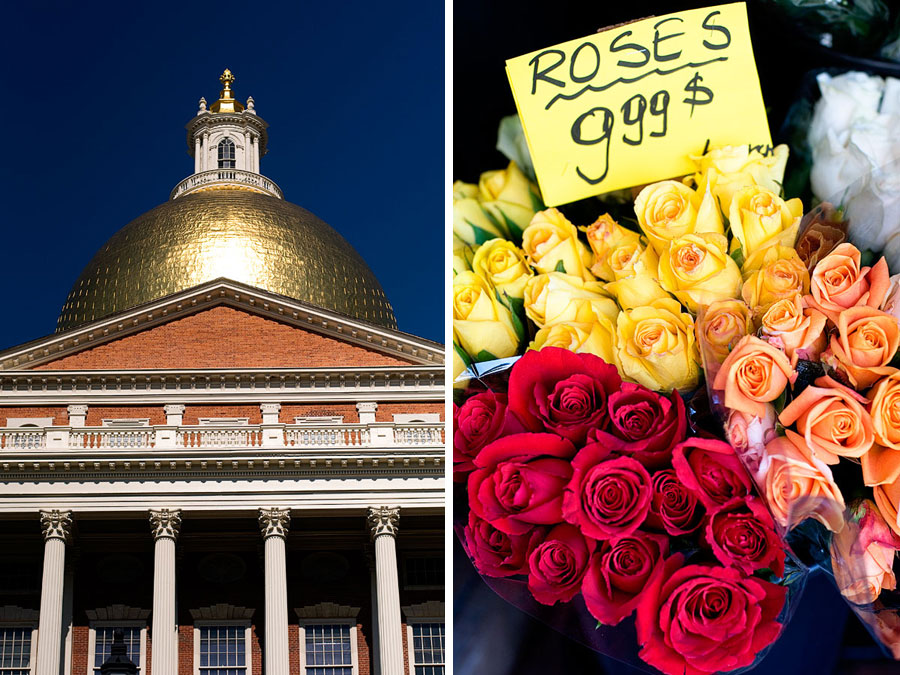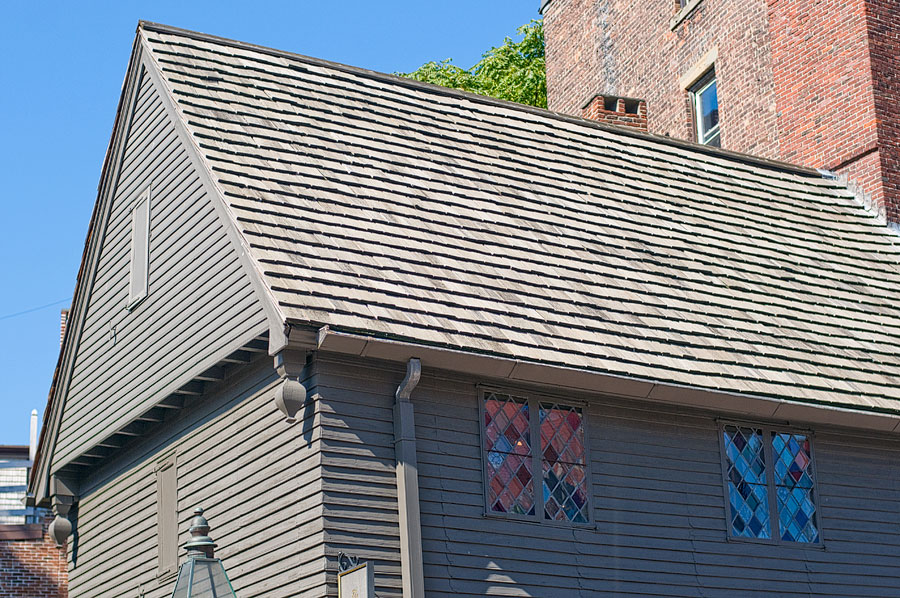 Paul Revere's house. O-L-D.
On one of Bethany and Dan's days off we went to see the Museum of Science. It appealed to me because, duh, I love science. It was also a museum that was on Bethany's to-see list. Well, let me just say that our experience at the good ol' Museum of Science was weird. The museum itself was alright, but seemed a bit outdated to me (or maybe I'm just comparing it to the stellar Museum of Science and Industry in Chicago). My favorite section was called 'Mathematica' — all math and statistics! Whee!
The downfall to the day came when we decided to see the electricity show. None of us knows what went wrong, but we left the show with throbbing headaches and a general feeling of malaise. Not cool. The rest of our day was a bit lackluster because of this. We left the museum, went to Mike's Pastries, and then went home and took naps (or at least I did). It was like the electricity in the silly show sucked the life out of us. Very bizarre. But here are the photos!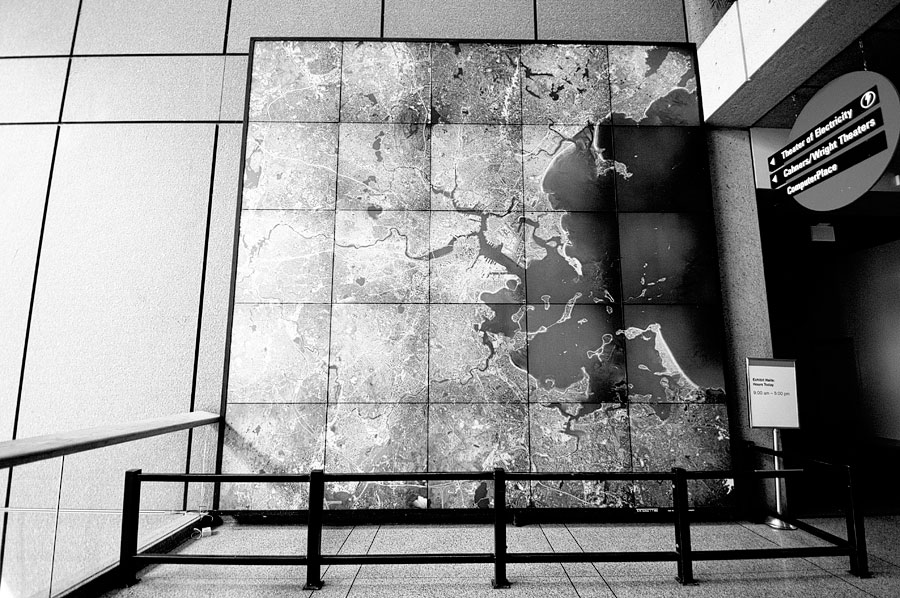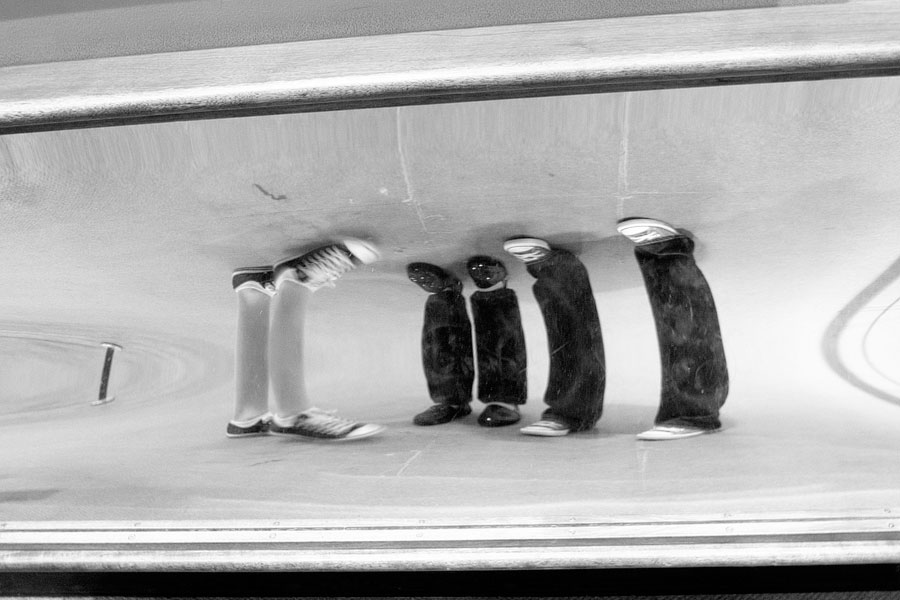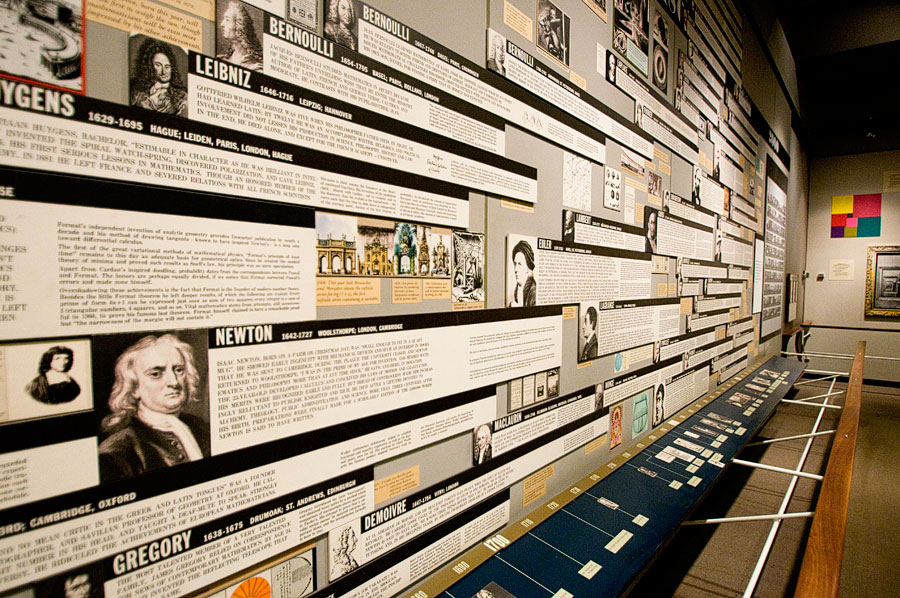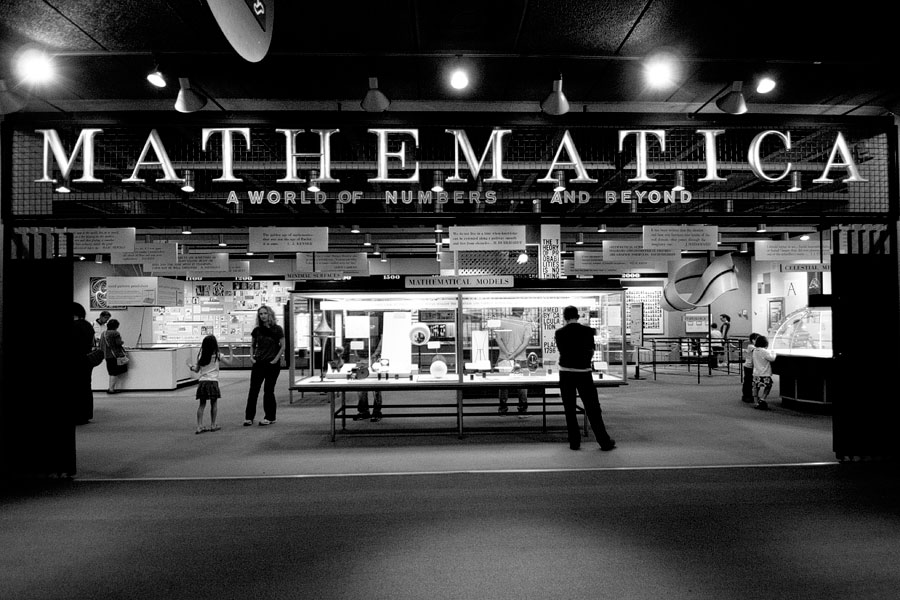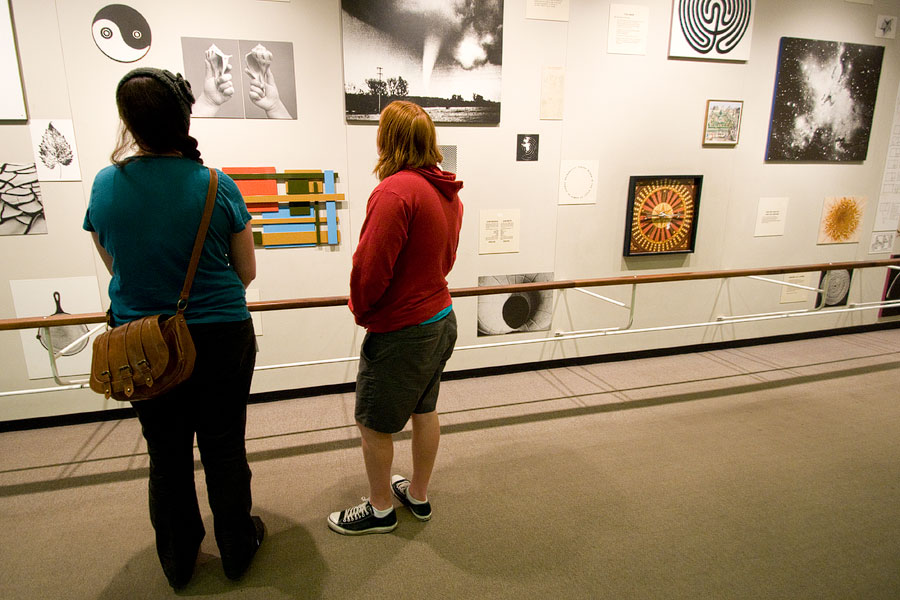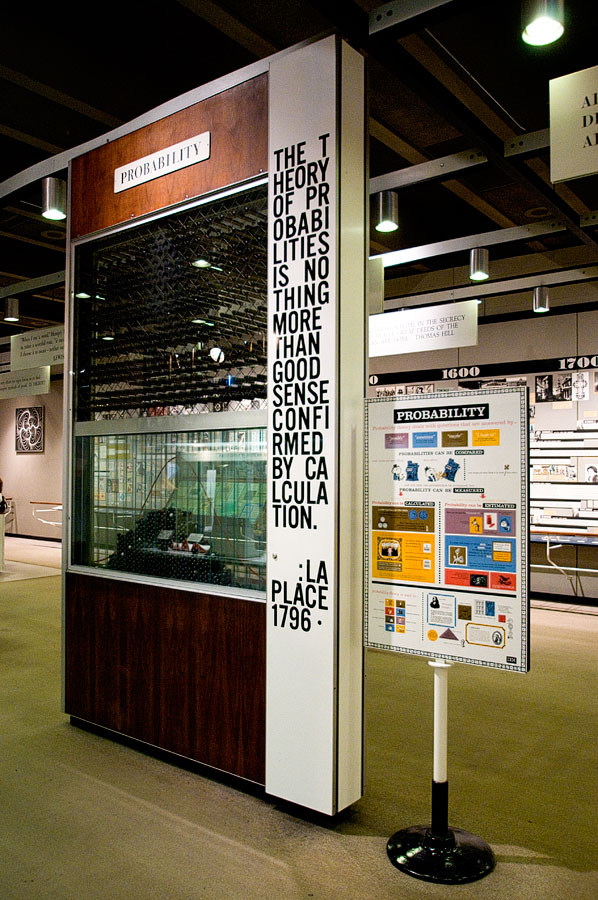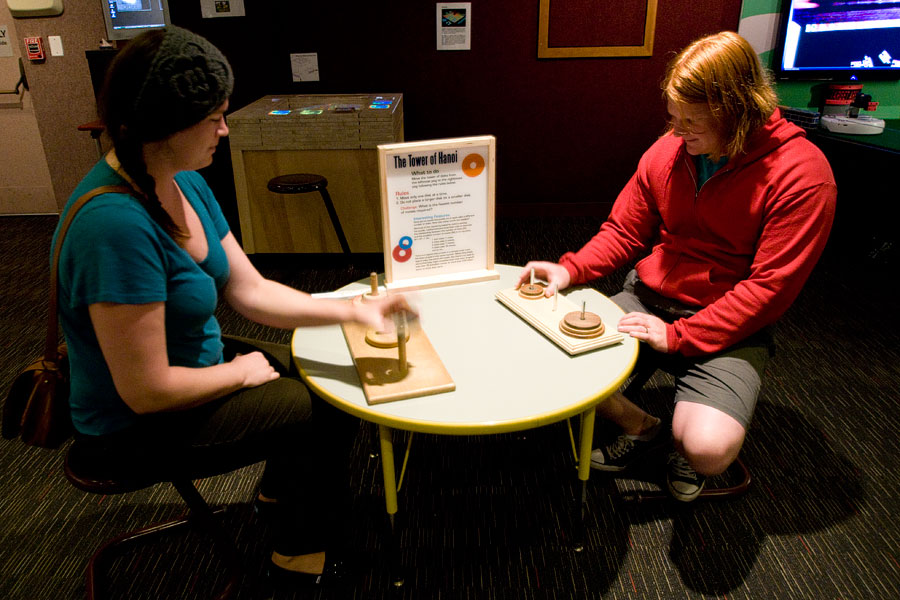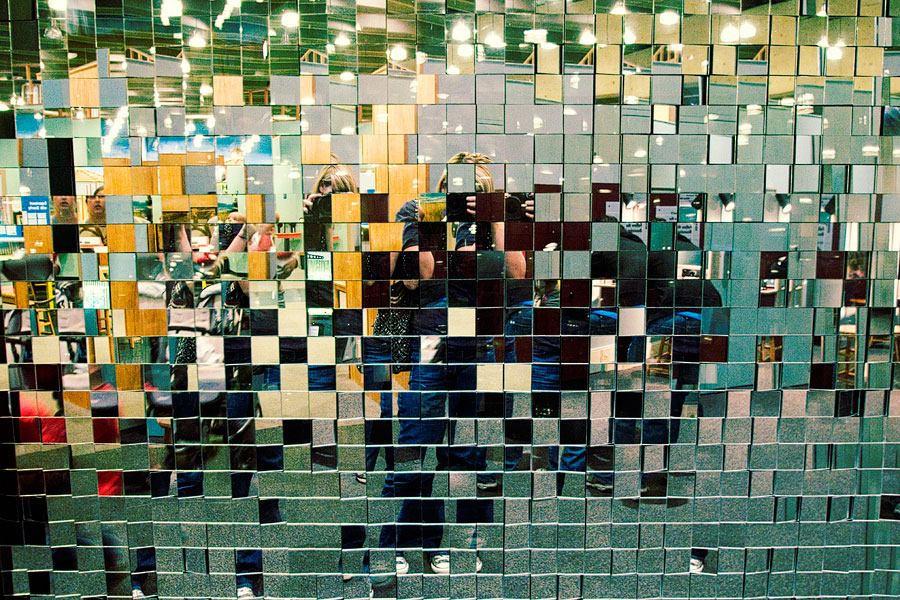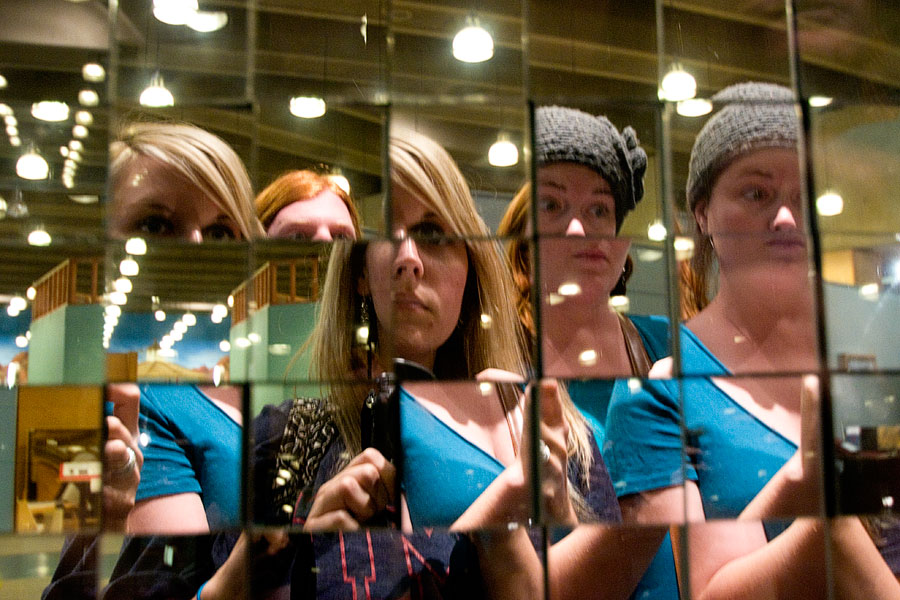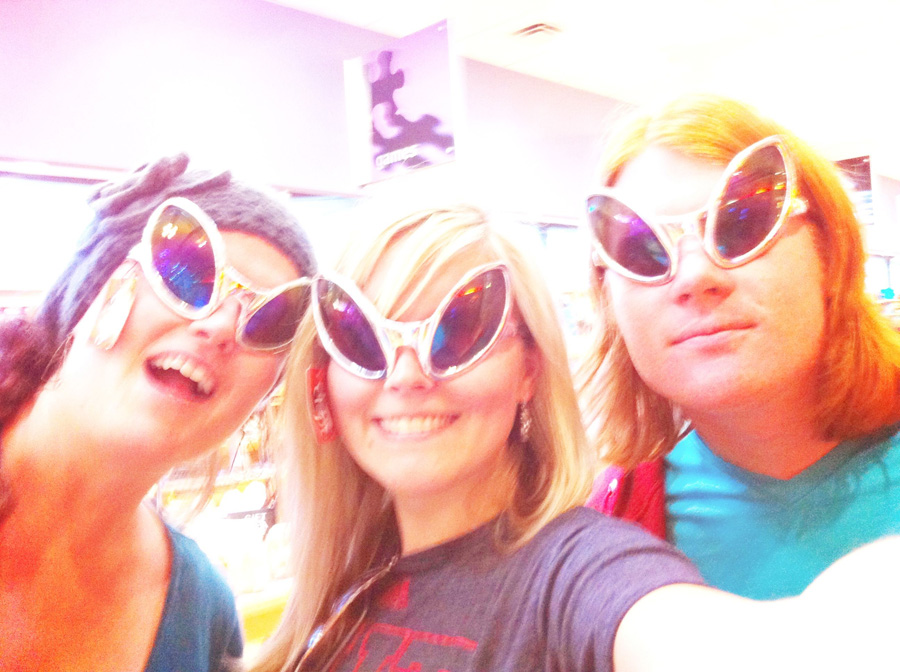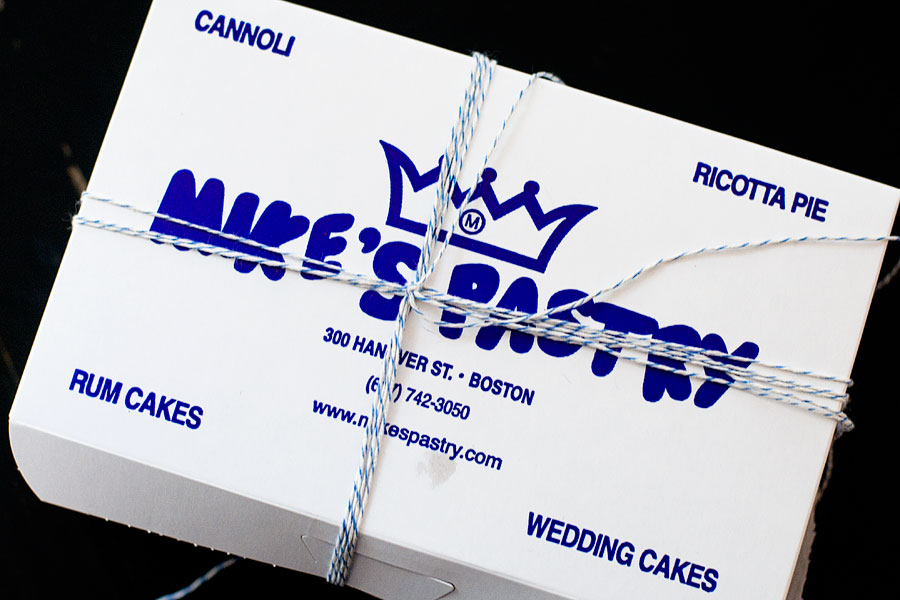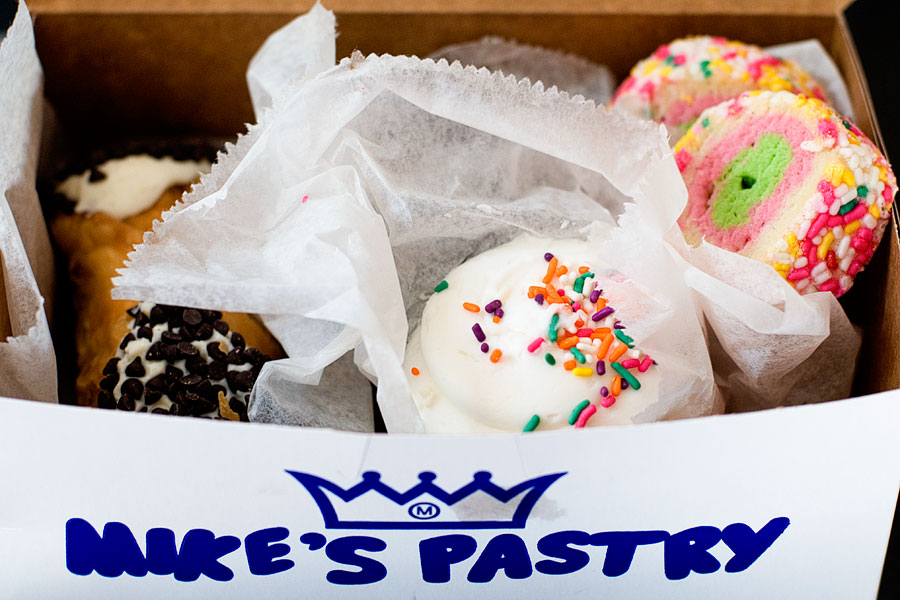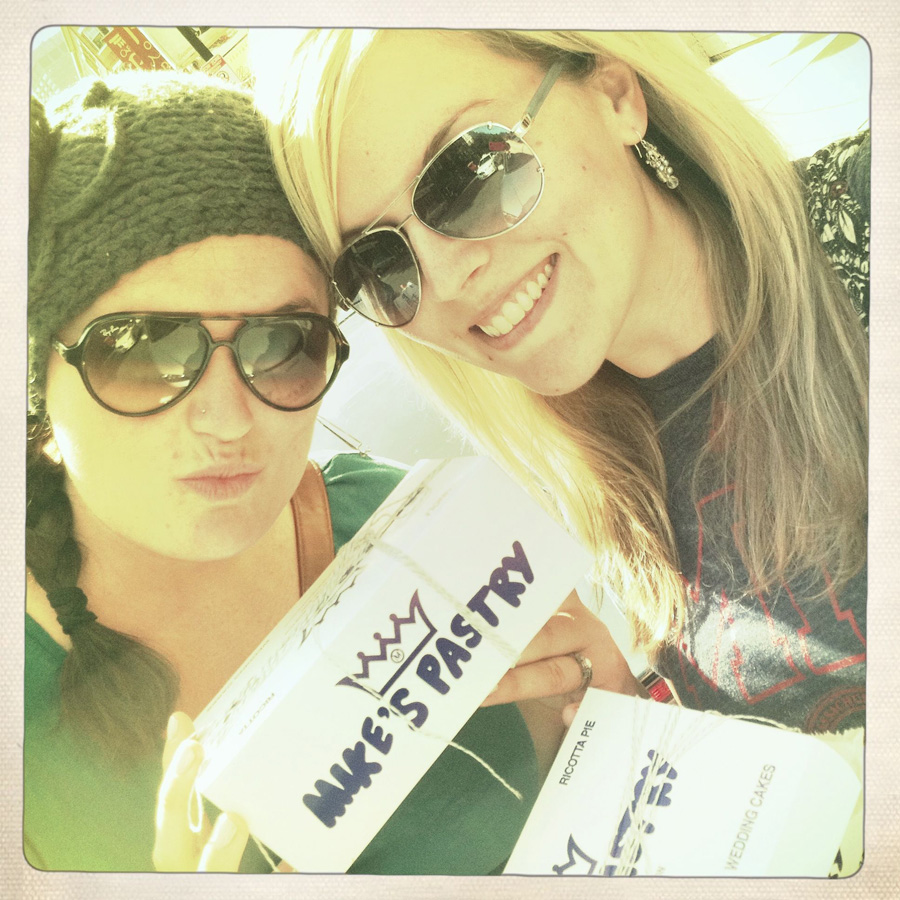 On my last day in New England, we drove to Maine. On our way, we stopped in Gloucester, MA (which, hilariously, I thought of as Maine… not Mass… ooops). Gloucester is a small town, but huge in the fishing industry. In it's 350-year history, Gloucester has lost over 10,000 men to the Atlantic Ocean. There are heartbreaking memorials and plaques along the shore to honor these men (and the women and children they left behind). And hey movie buffs: the Perfect Storm was set in Gloucester!
We walked along the shore with Hattie. As we were walking, we met some men and their pooches. We talked with Mr. Max and his owner for a while. Everyone in Gloucester was kind and welcoming. My kinda place. The memorials and statues were moving – especially being so close to the sea, where you could hear the waves and look out to an empty horizon.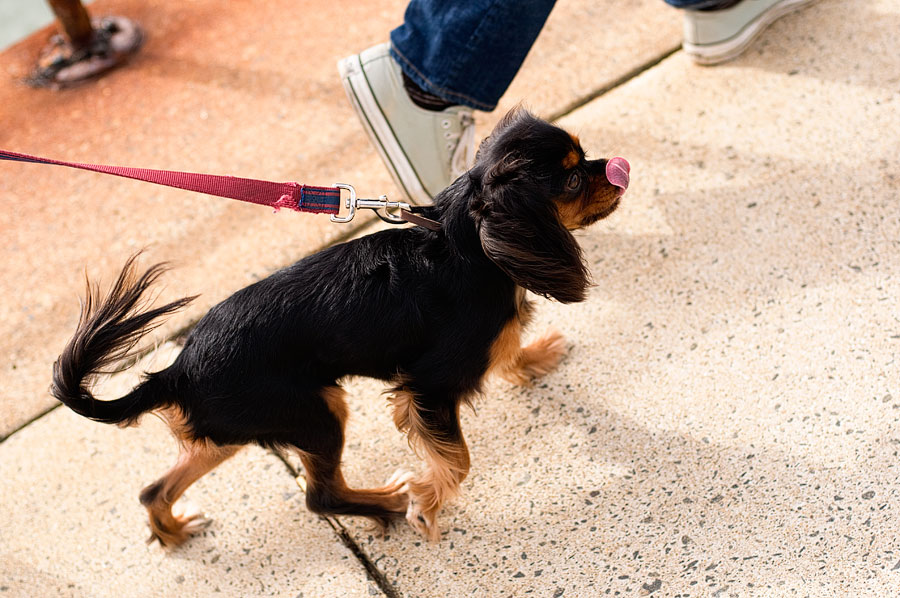 Hattie was ready to go!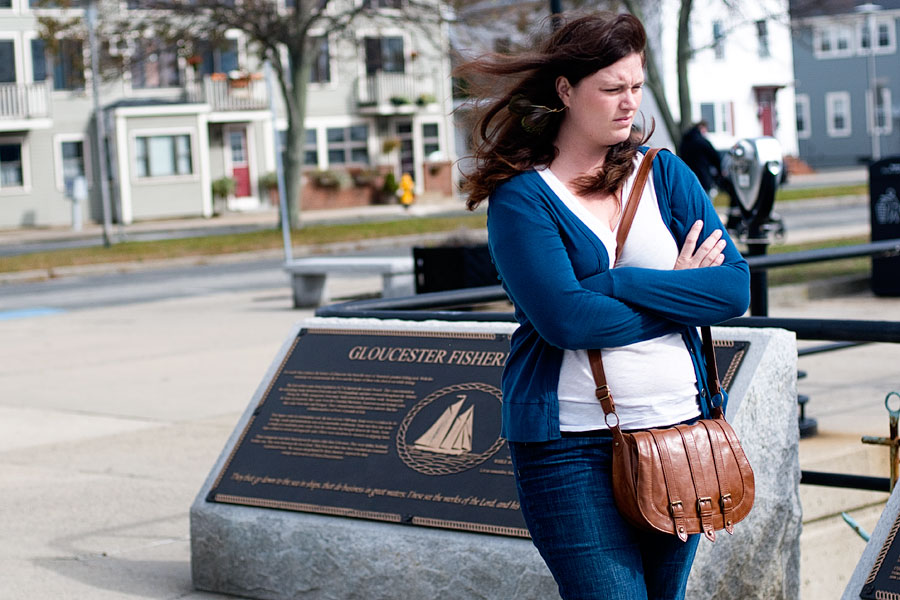 Melancholy.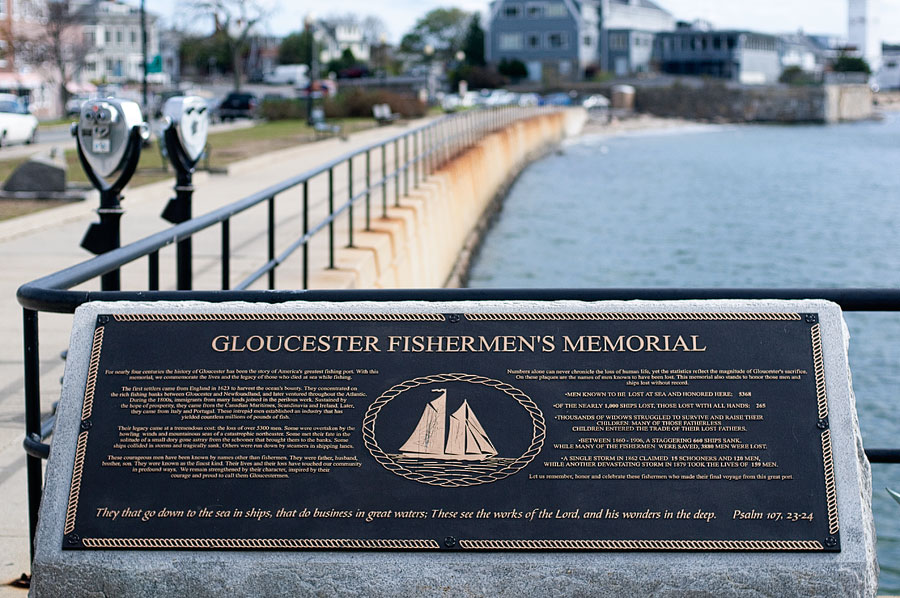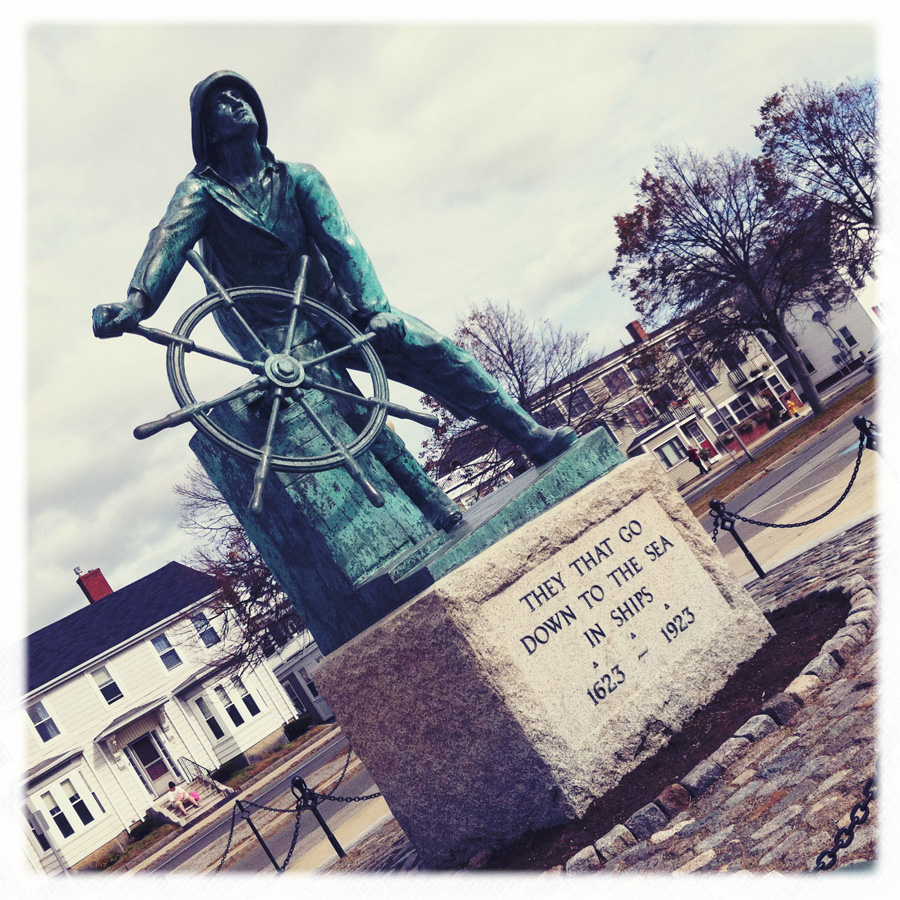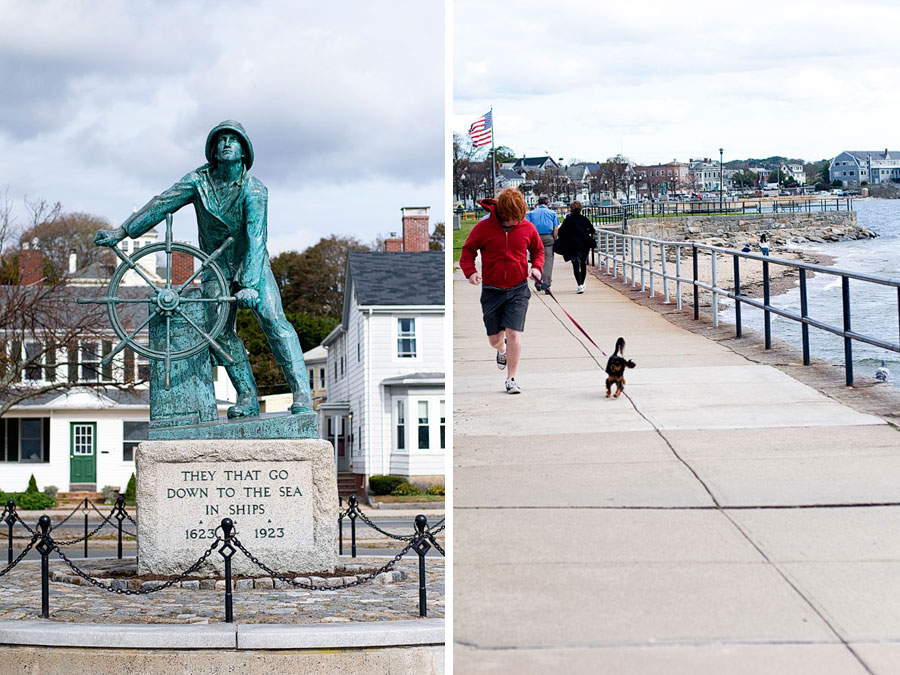 Dan and Hattie catch up to us.


The Cox Family. <3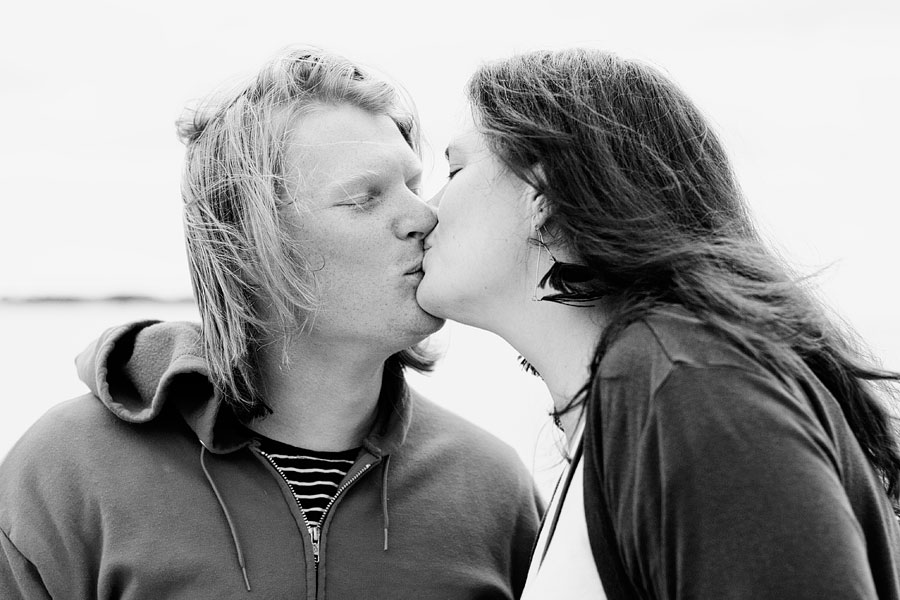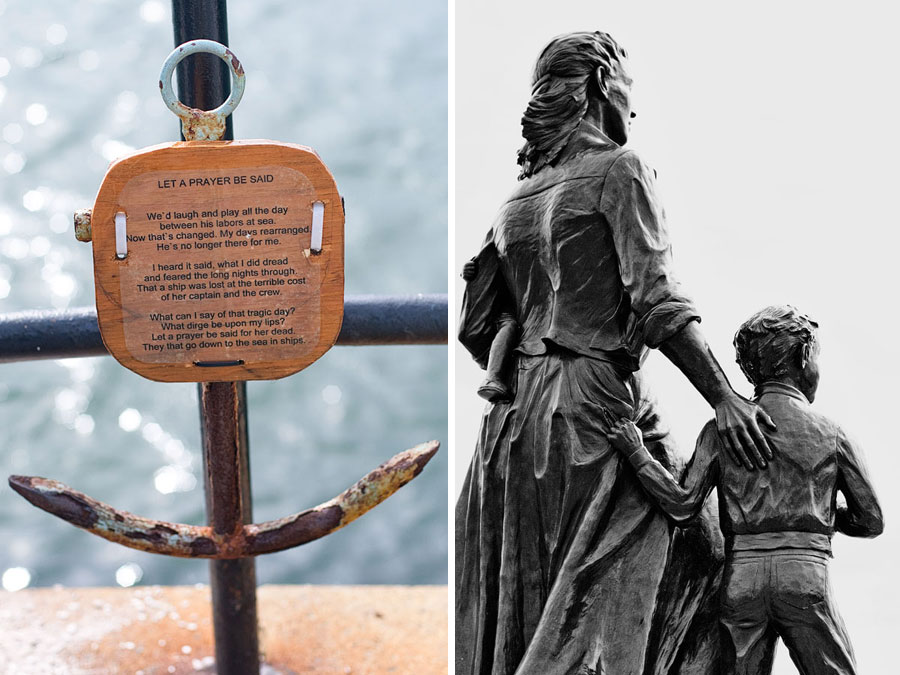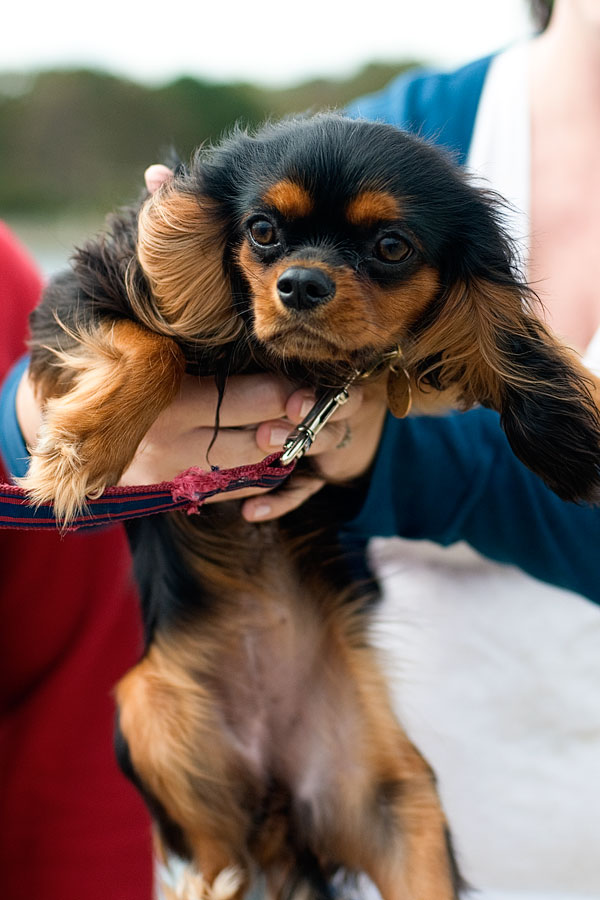 Hattie McHatterson!


Snugglin' up to Mr. Max