November 2018
Where We Stayed: The London NYC
Another trip to New York for me and Jillian!  We are developing a pattern of going every 2 years, it seems.  Maybe we'll pick someplace new in 2020, but we always have such a great time in New York — despite the city being somewhat of a hellscape to our very introverted selves.
This year we arrived on Halloween (taking a 6am flight was not our brightest decision), which I was curious about.  Would it be cute and adorable — or would New York be all sorts of crazy on the spookiest day of the year?  It was cute and uneventful for us, probably because we were back at the hotel and asleep by 9pm that day!
Our trip was full of food (so, so much food), bakeries, walking (averaged about 9 miles a day!), trains of all sorts, the Color Factory, the Great Jack O'Lantern BLAZE!, the joy of Uber, Lyft, and Postmates, plenty of Mexican food, and a lot of laughs. Onto the photos.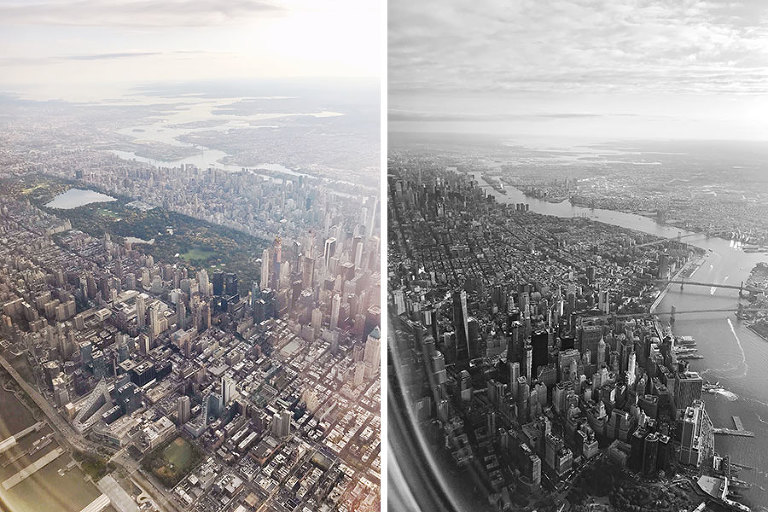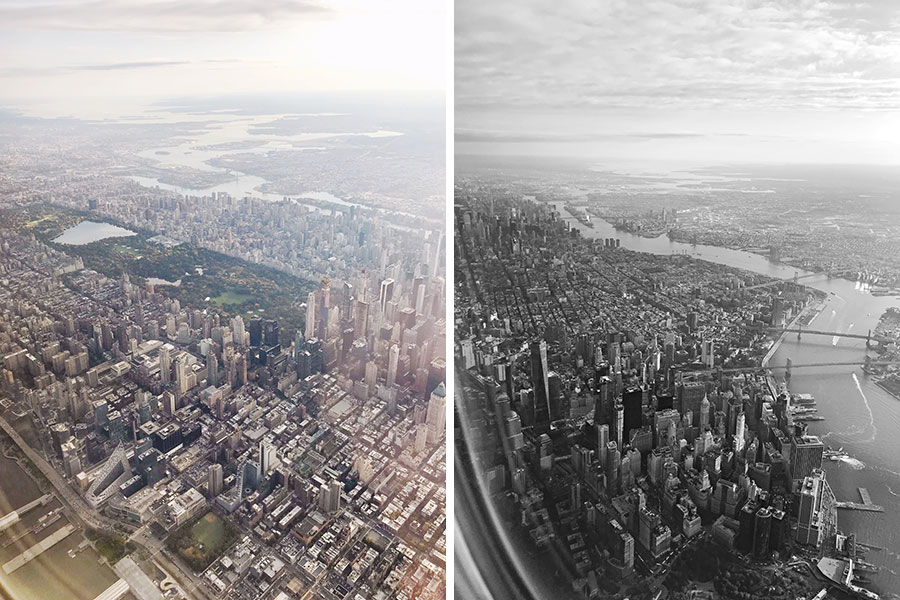 The view from the airplane was pretty awesome.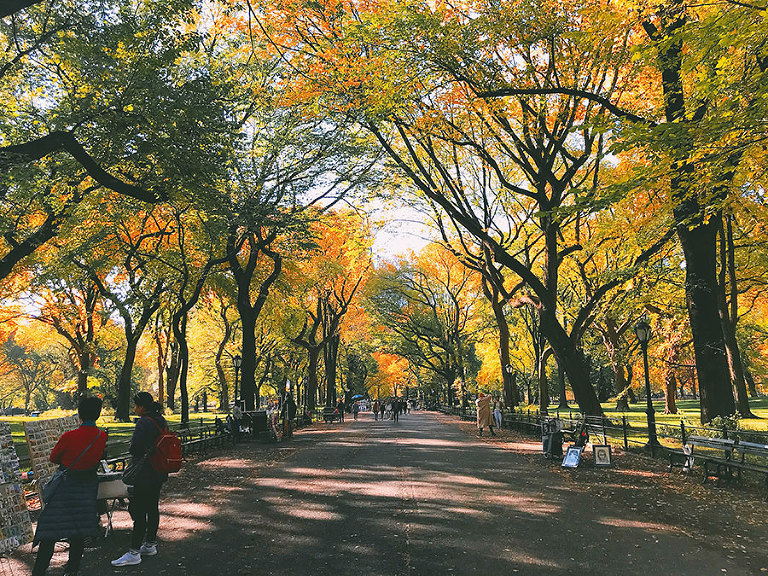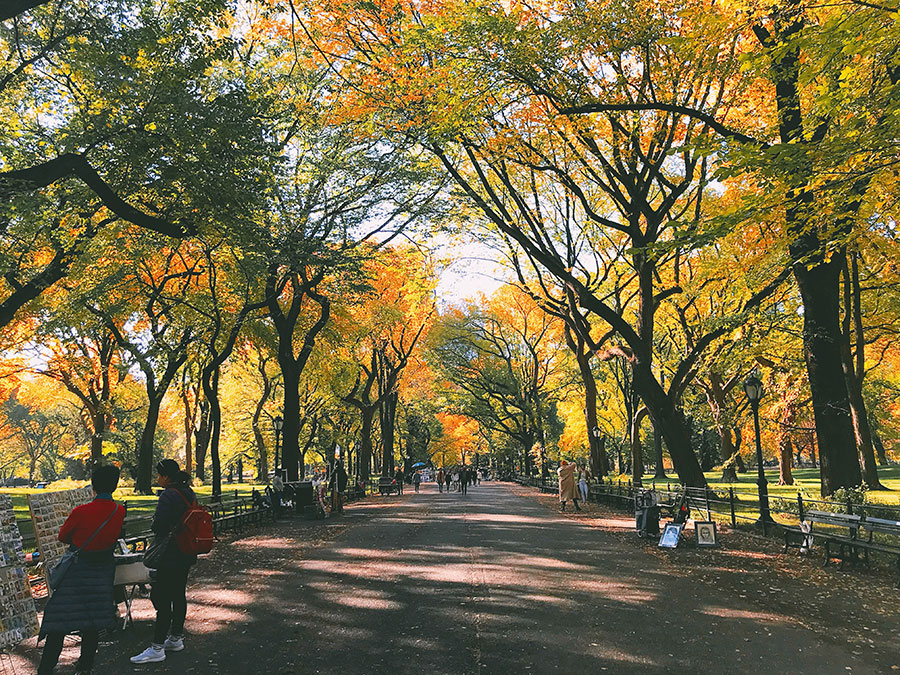 We arrived, took a Lyft to our hotel, but were too early to check in — and a little too early for lunch.  We killed time by walking around Central Park, which is so beautiful this time of year.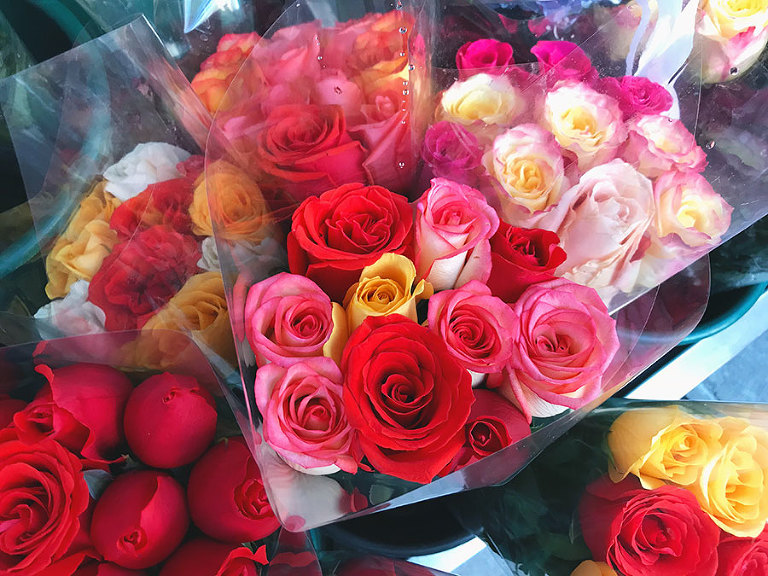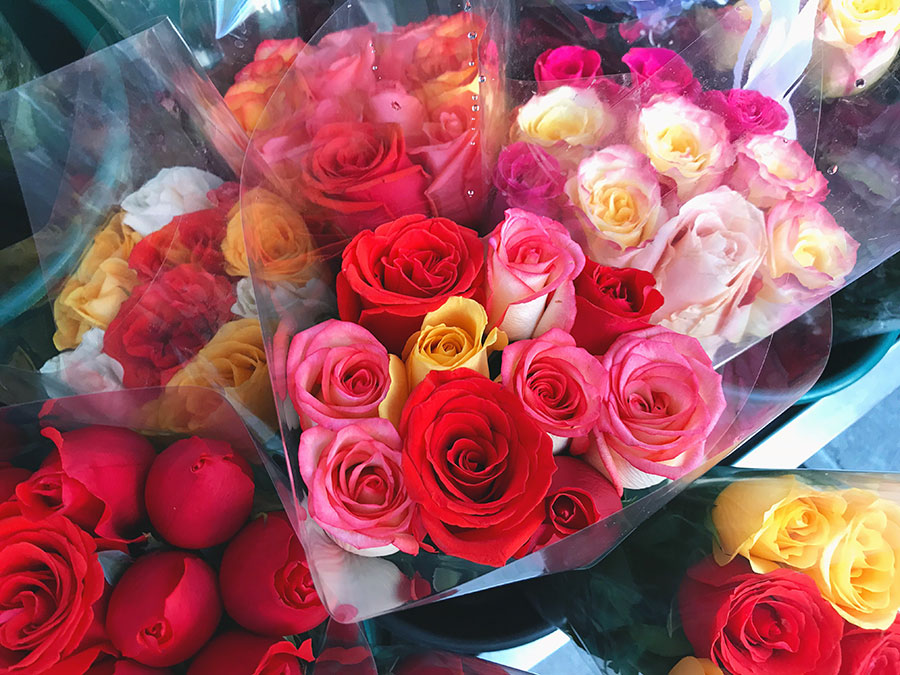 Seeing fresh flowers on nearly every street corner is one of my favorite things about New York.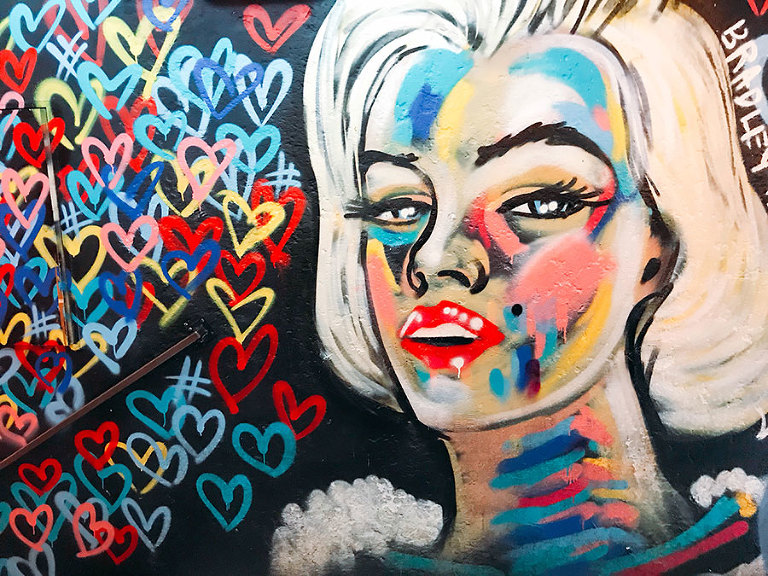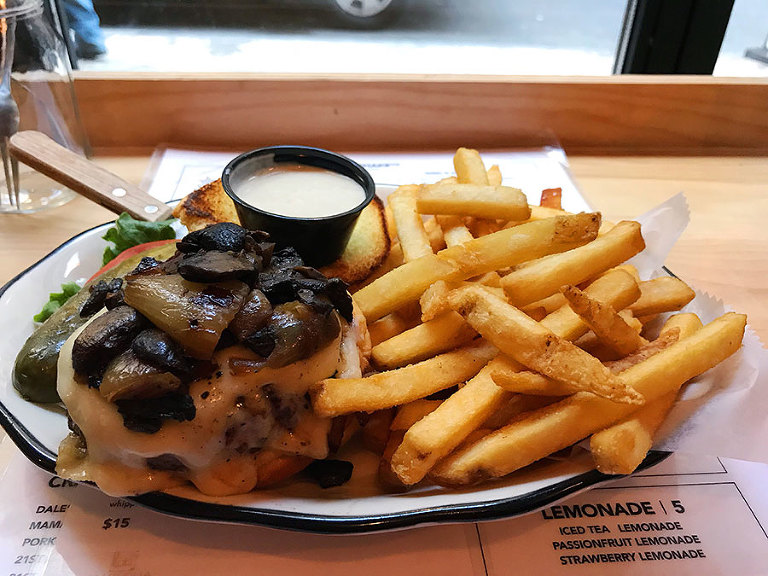 We went to Black Tap for lunch.  The burger and fries were great, but look at the shakes!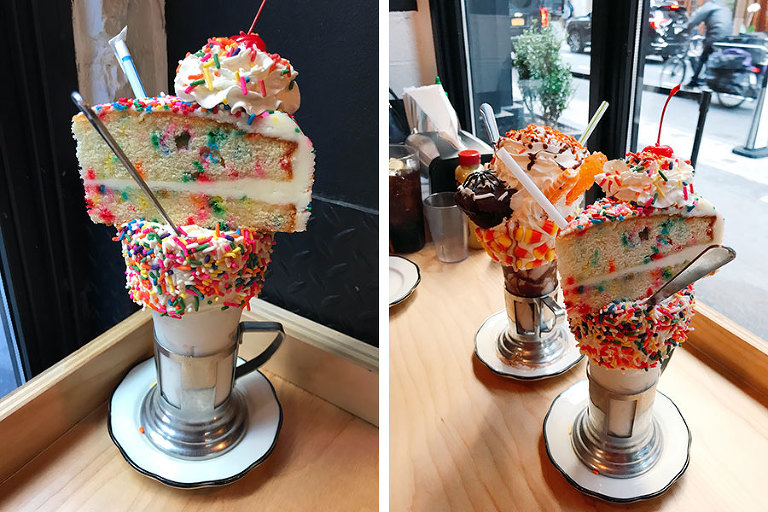 As absurd as they look, they were actually really good. The funfetti cake was one of my favorite desserts that I experienced on this trip — the icing was perfect.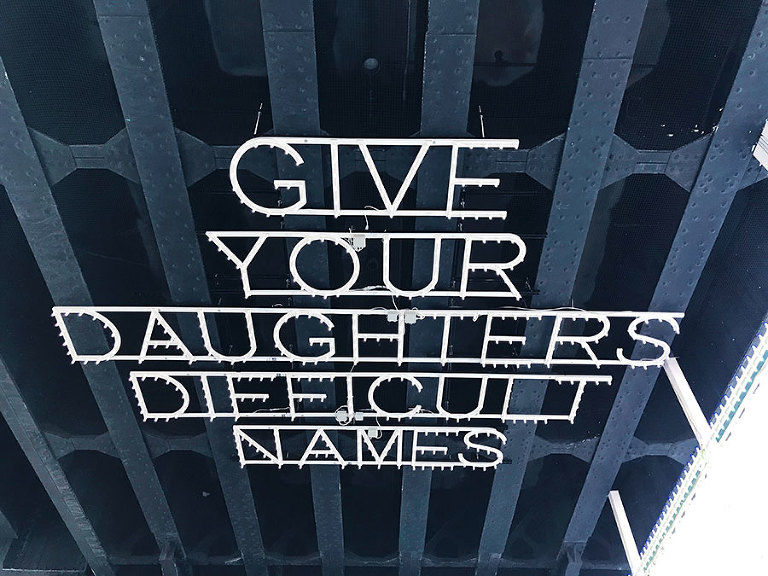 After our huge lunch at Black Tap, we took the subway to see the High Line.  This art greets you at one of the entrances.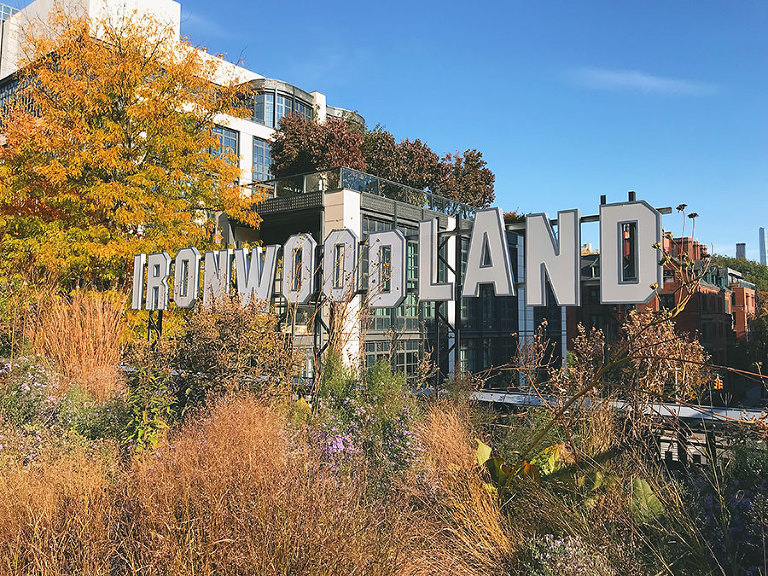 The High Line is an elevated park that used to be a rail line.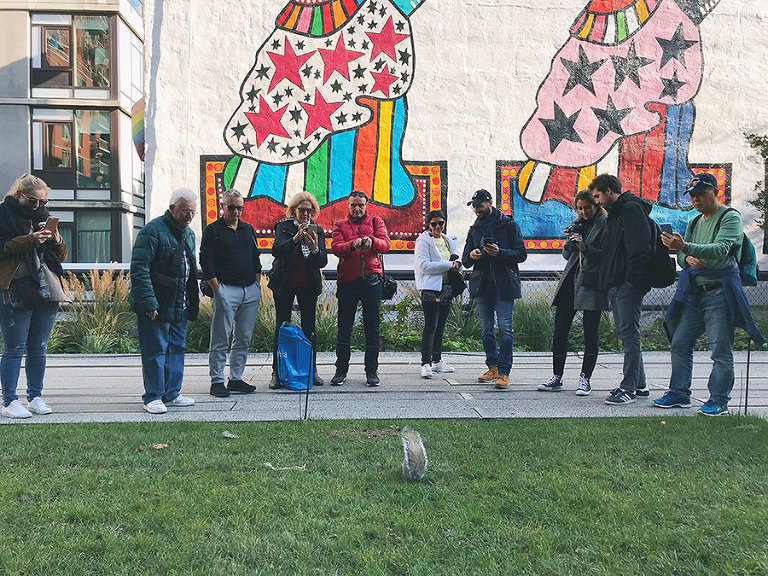 In other news, have they never seen a squirrel before?!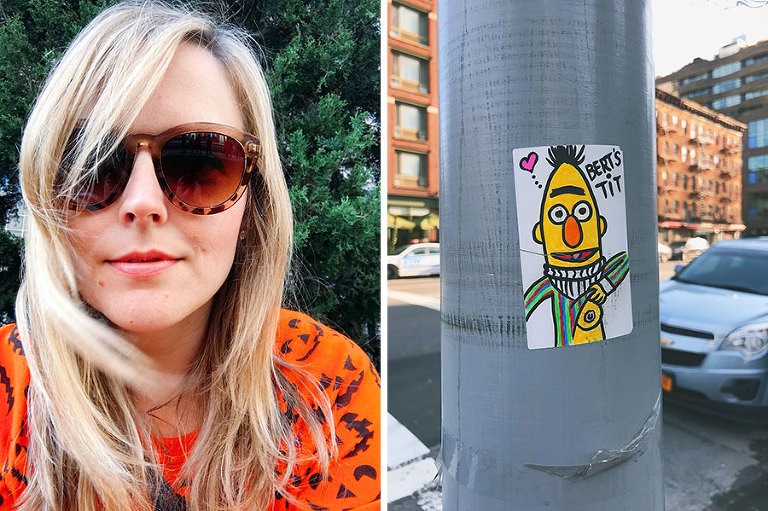 Resting.  Honestly, every hour or so Jillian and I had to sit down, take a minute, not speak to each other, and just decompress.  NYC is a very over-stimulating city!  Oh, and there's Bert's tit. Why? I don't know.

We visited two bakeries after the High Line:  CHIP and Empire Cake.  The CHIP cookies were just OK, but the black and white cookies and rainbow cookies from Empire Cake were amazing!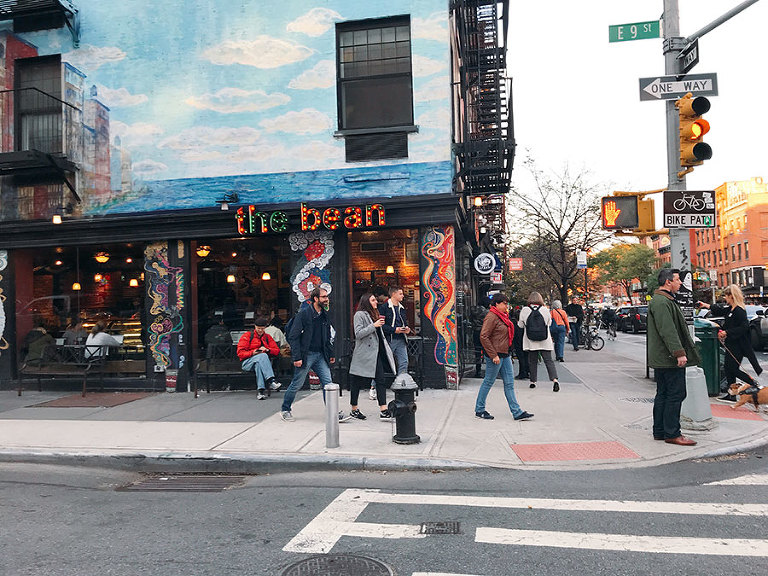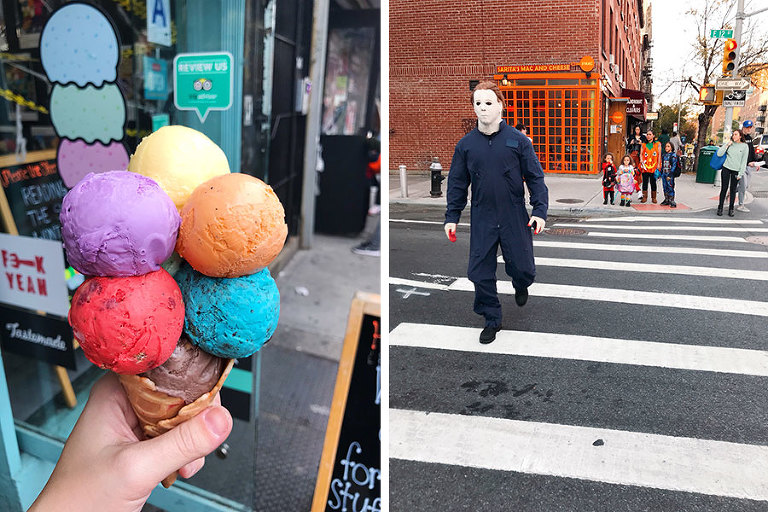 We also visited Stuffed, located in the East Village (I think).  Look. At. That. Ice. Cream. Cone. It was truly delicious and shockingly, stayed completely intact as we ate it. I do not understand the physics. Oh, and hey Michael Myers.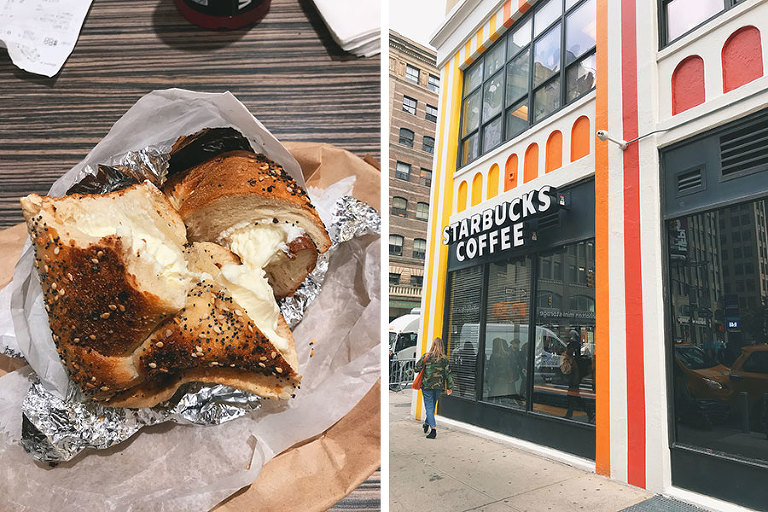 The next morning, we went to Best Bagel & Coffee and we really did experience the best bagel.  Everything bagel toasted with cream cheese was my order (not exciting, I know), but oh, it was so good. The bagels really do taste different (and better) in New York.  We then took the train to SoHo to find the Color Factory!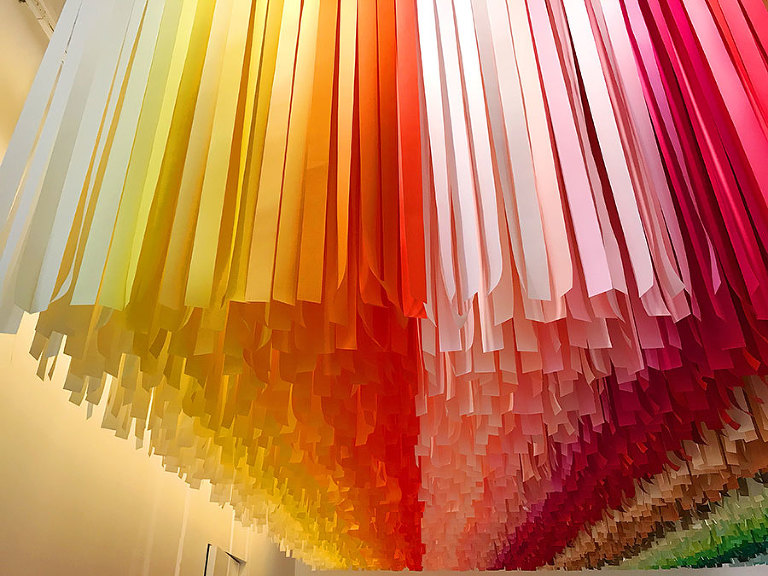 The Color Factory is an interactive museum of sorts.  Color color color.  My heaven, obviously.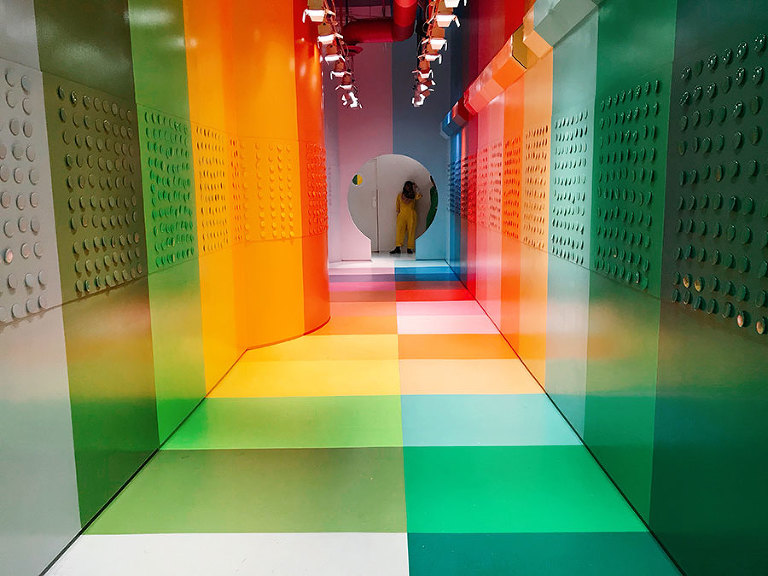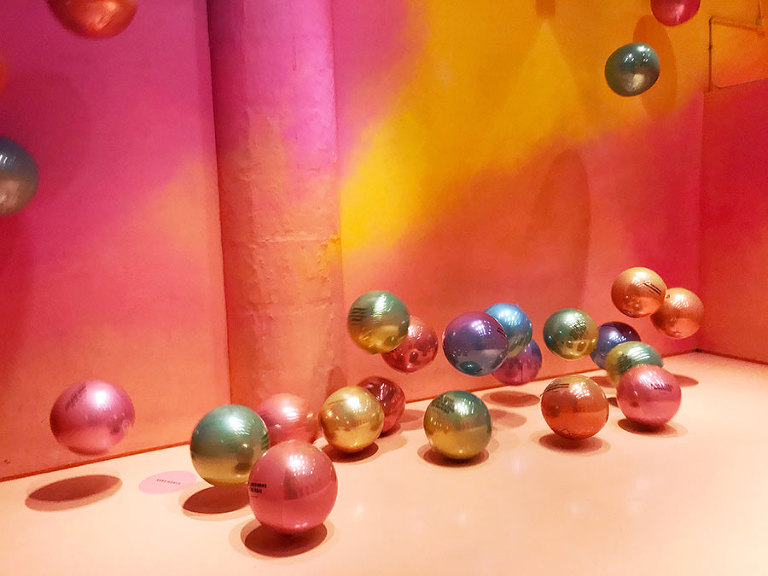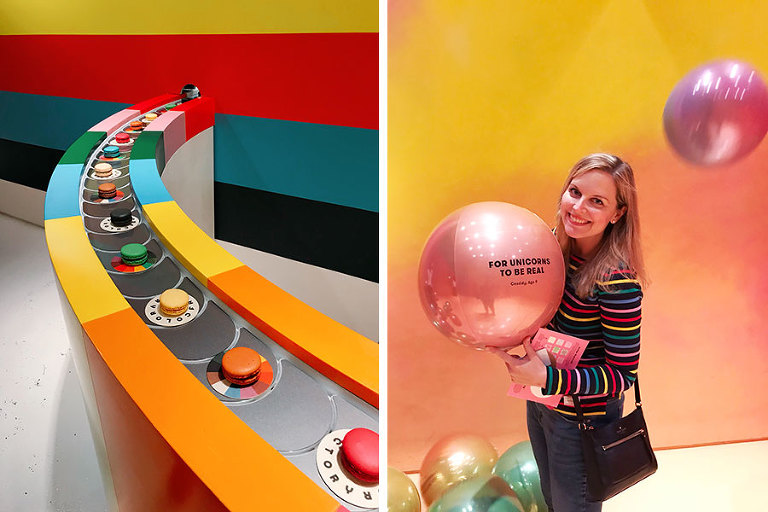 Macarons on a conveyor belt. And balloons with wishes on them, written by elementary school children. I, too, wish that unicorns were real.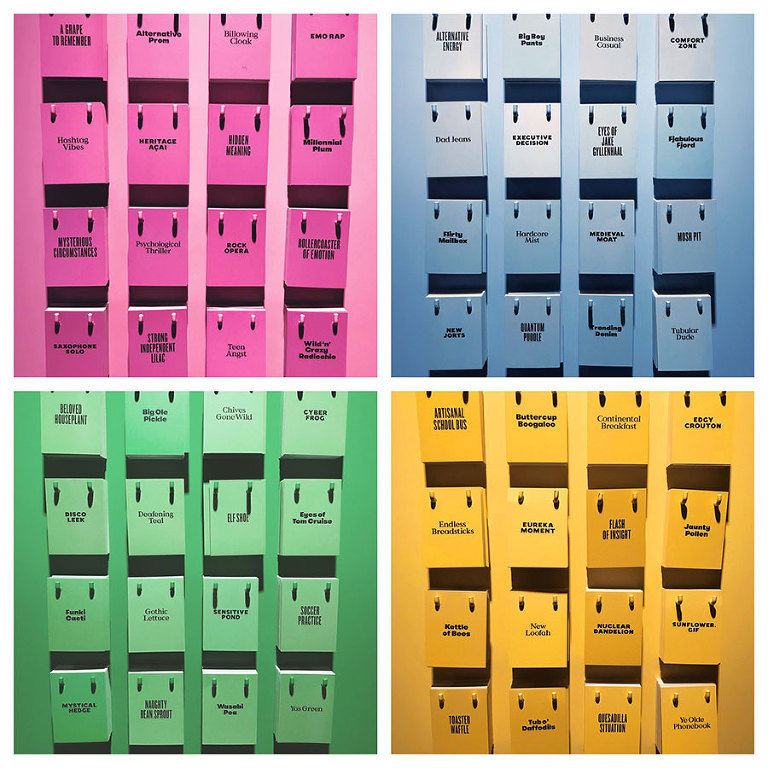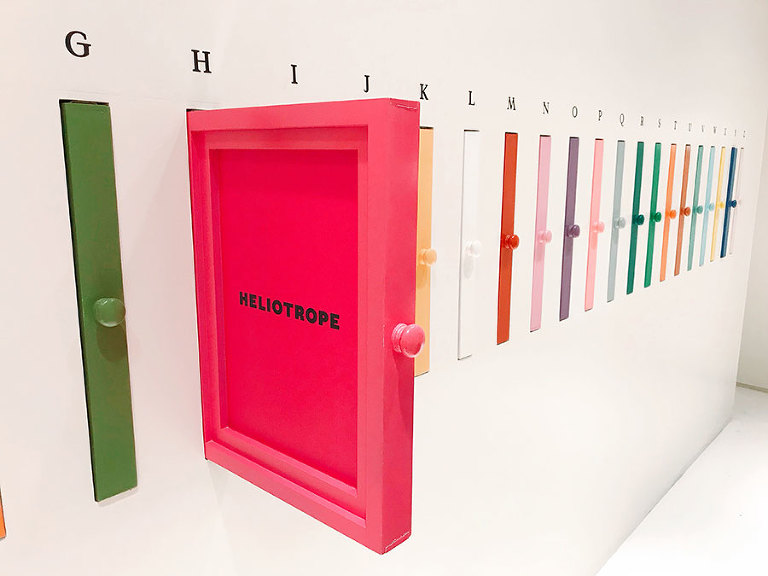 The other side had fun facts about whatever particular color you choose. I always thought heliotrope was more purple than pink though.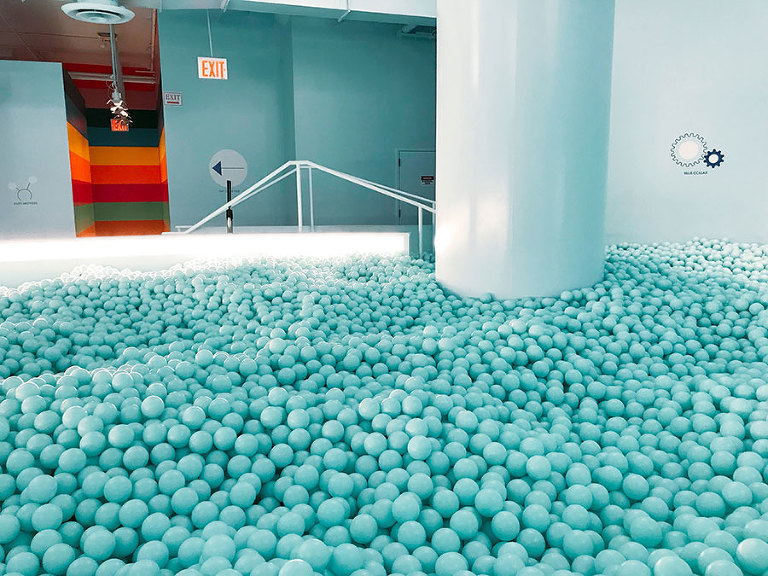 You guys. A BALL PIT! I hadn't been in a ball pit since I was a kid at Chuck E. Cheese!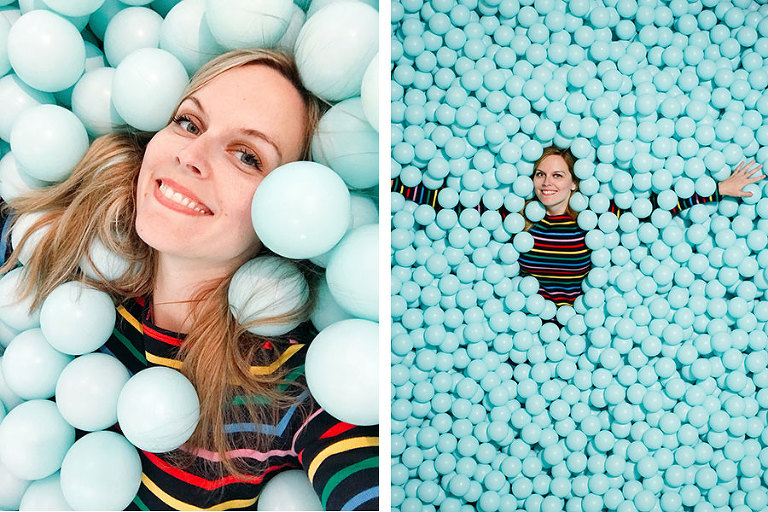 Oh yes. It was sweet to see a bunch of adults having fun and, for a minute or two, remembering what it's like to be a kid.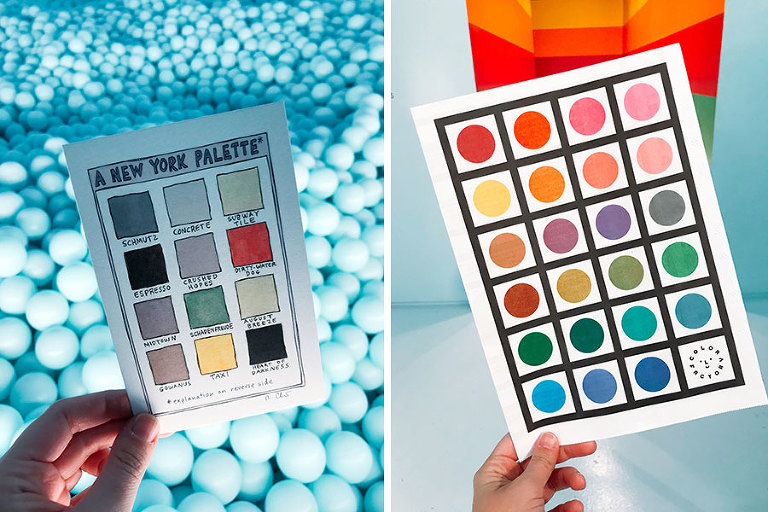 The New York palette made me laugh.  They also provided you with a Color Factory map, so you could explore other New York neighborhoods and their colorful highlights.  We wished we had more time to see it all.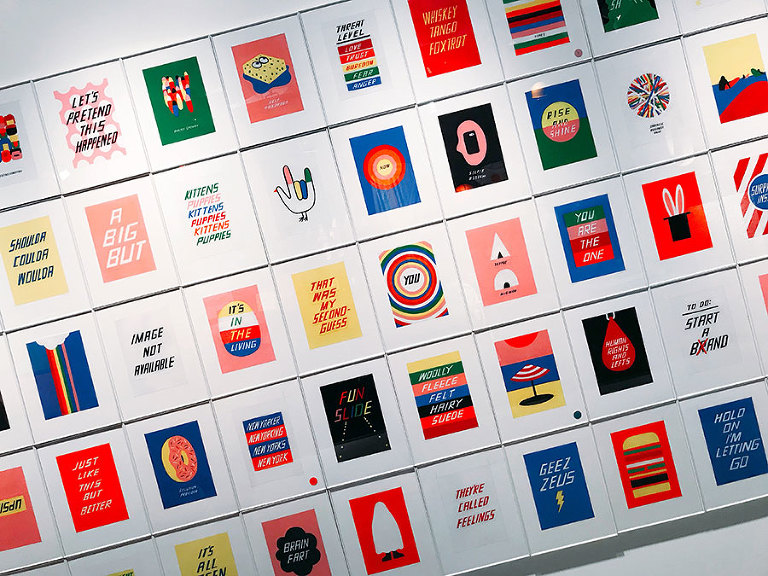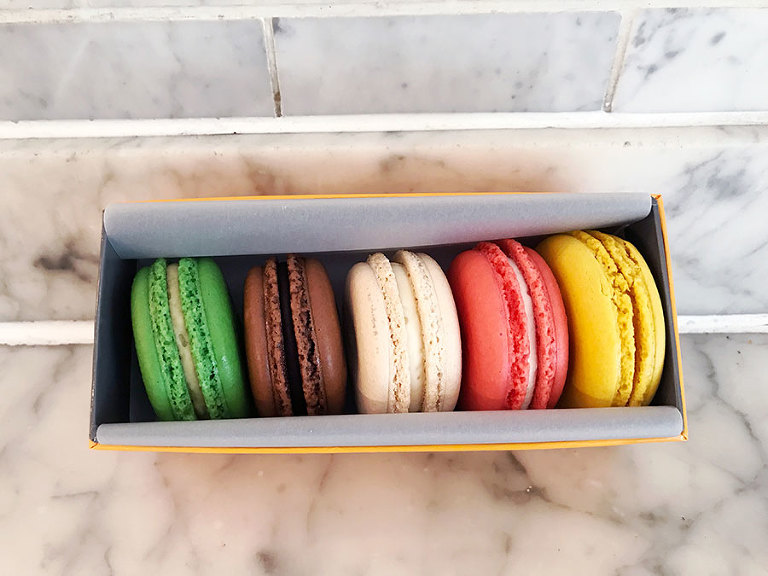 After our happy color experience, we went to Dominique Ansel.  The macarons were delicious, but the staff was rude.  Ya can't win them all.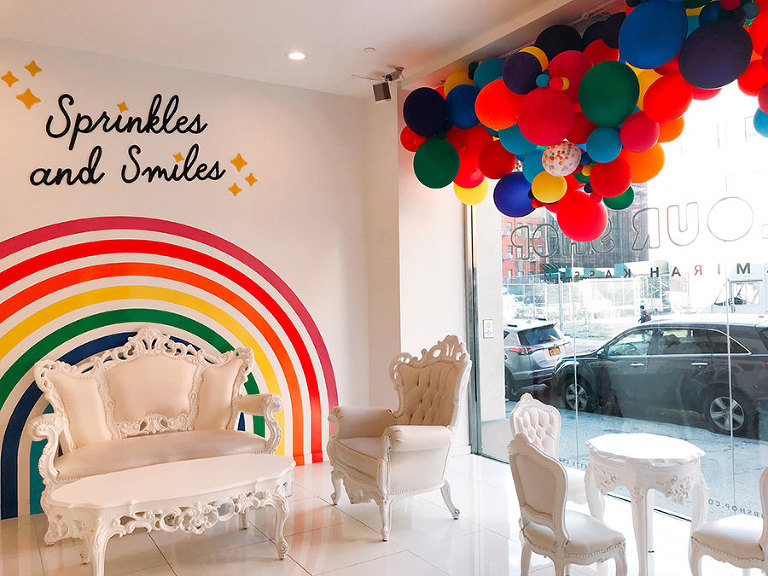 As soon as I saw this place, I knew that Flour Shop was the bakery for me! Sprinkles! Rainbows!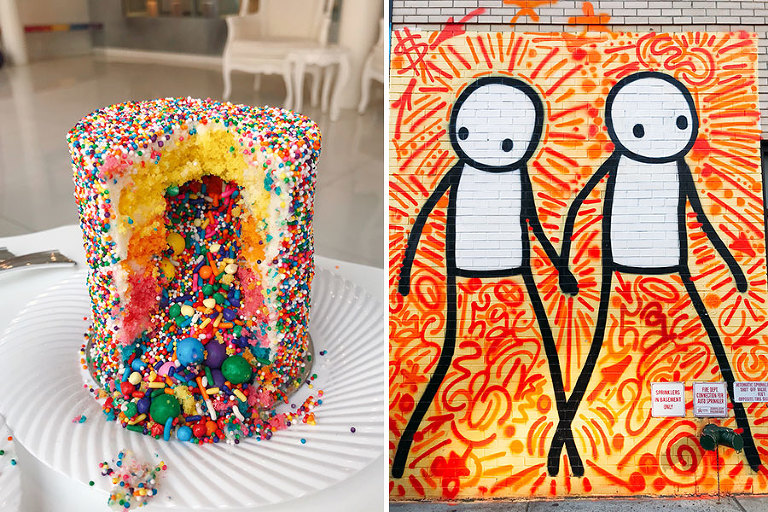 Look at that rainbow cake… stuffed with rainbow sprinkles!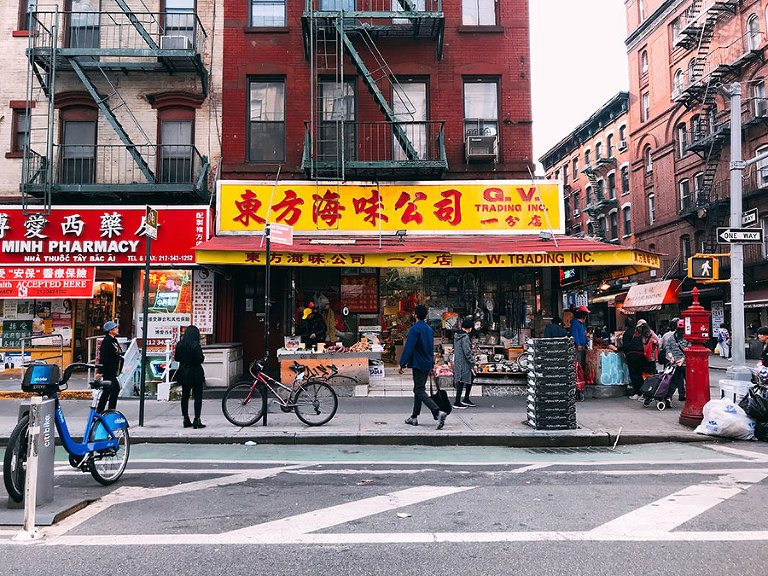 Chinatown was up next.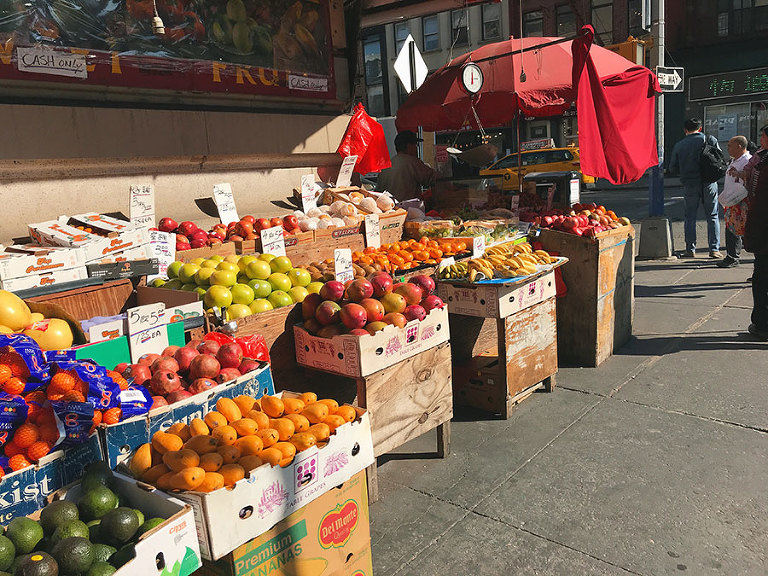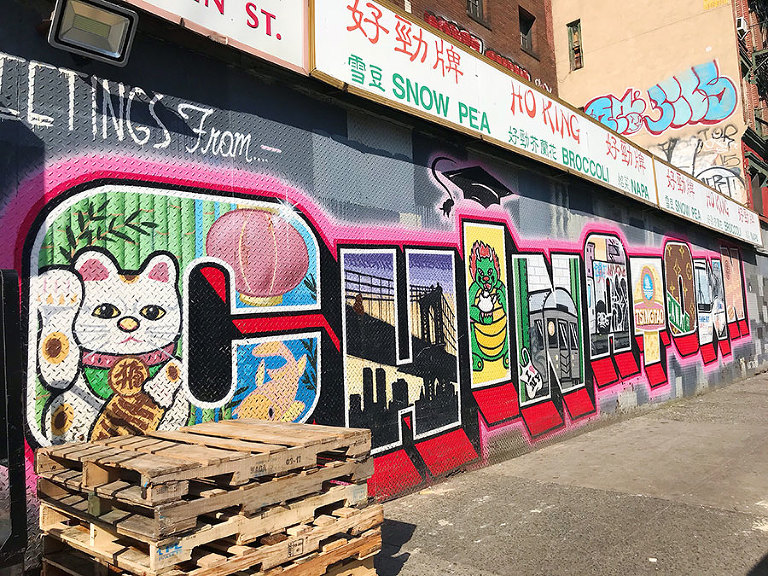 Greetings from Chinatown mural.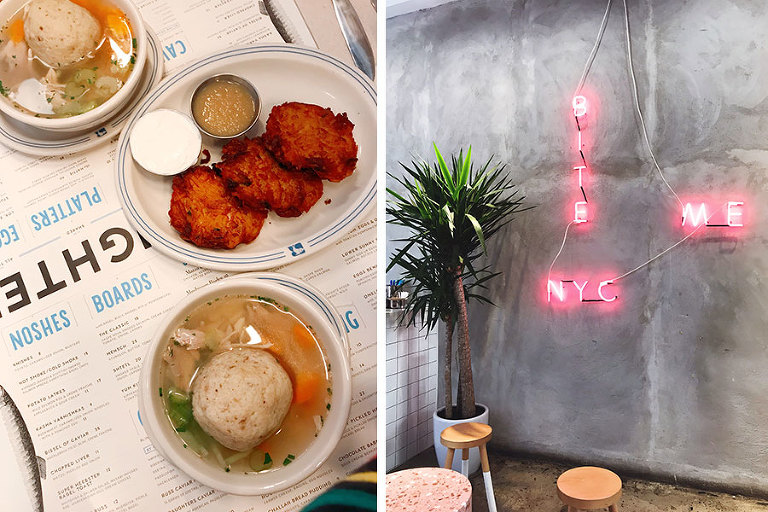 We then went to the Lower East Side for lunch at Russ & Daughters.  Traditional Jewish fare – we had matzo ball soup and potato latkes.  From there, we went to Supermoon Bakehouse.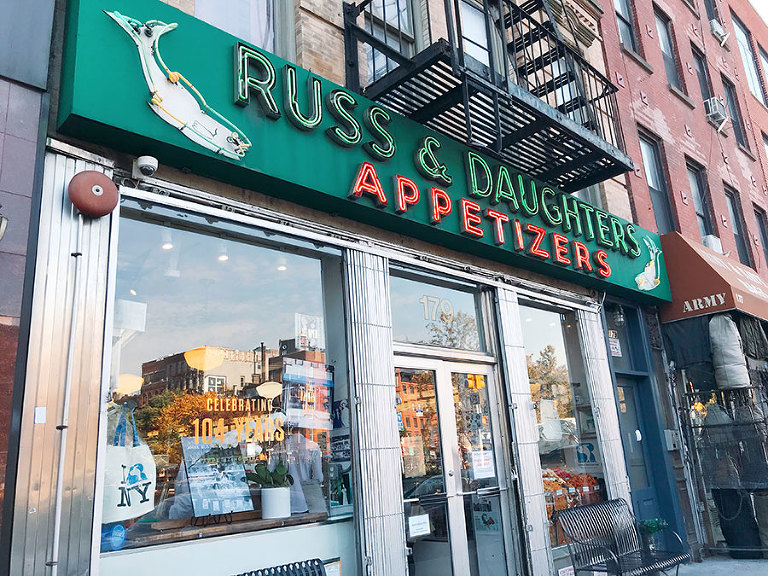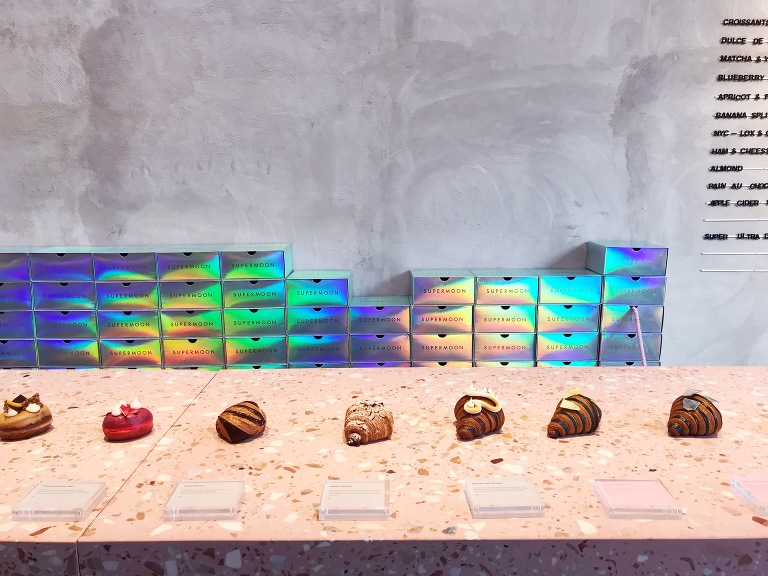 Supermoon was great – the staff was so welcoming and friendly – I think the place is secretly run by a group of Midwesterners. ;)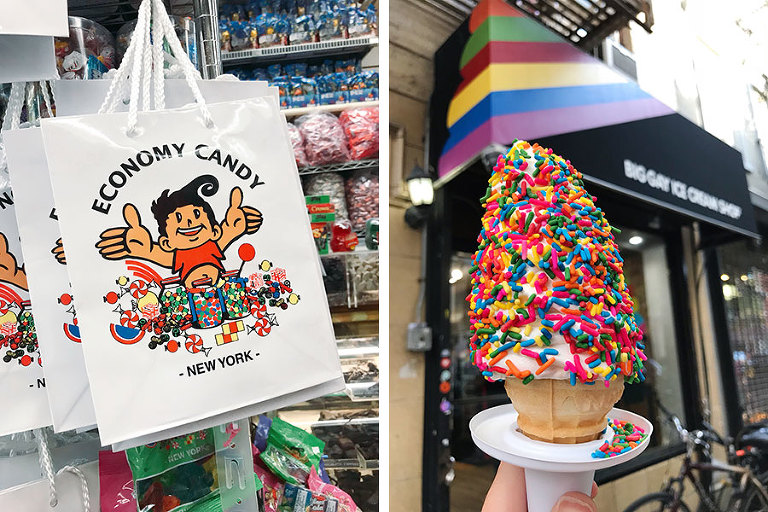 We also stopped at Economy Candy and Big Gay Ice Cream (their sprinkles are somehow different and really, really delicious!).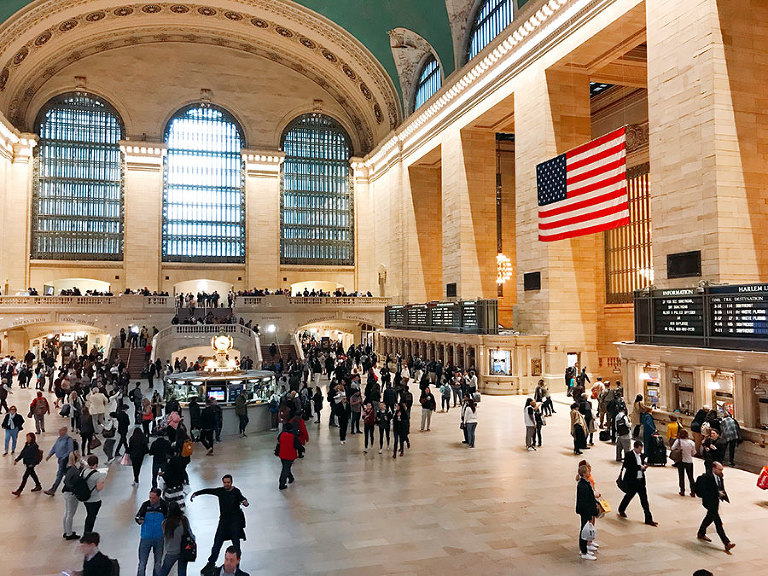 Then it was off to Grand Central Station to take a train to Croton-on-Hudson, a suburb of New York City, to experience the Great Jack O'Lantern Blaze!  My dad saw a bit about it on the Today show and DVR'd it for me.  I watched it and said, 'wait! Jillian and I could totally go see that!' I bought tickets and researched what train to take — and we were off and running!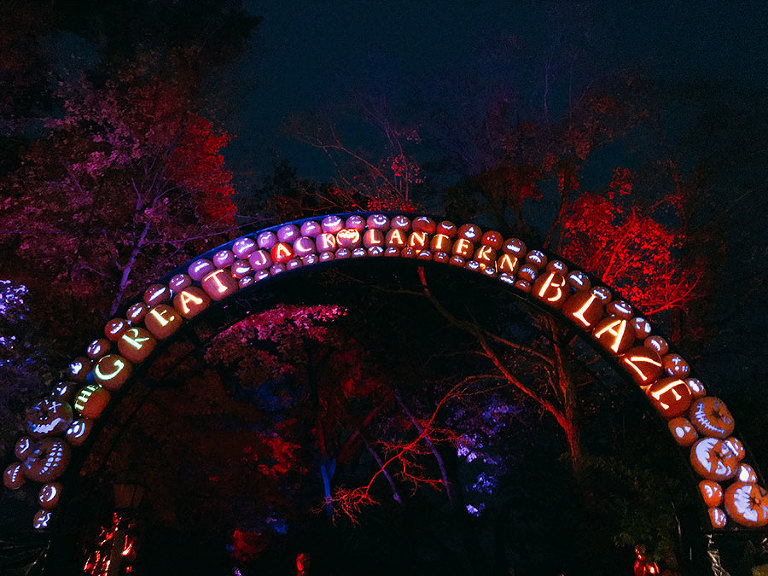 We had surprisingly good pizza at a strip mall when we got off the train — and then went to see ALL THE PUMPKINS.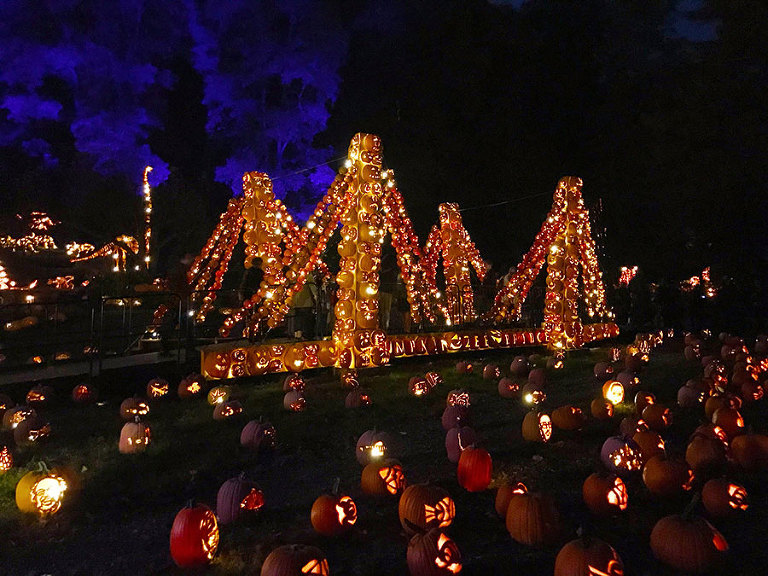 It was so magical.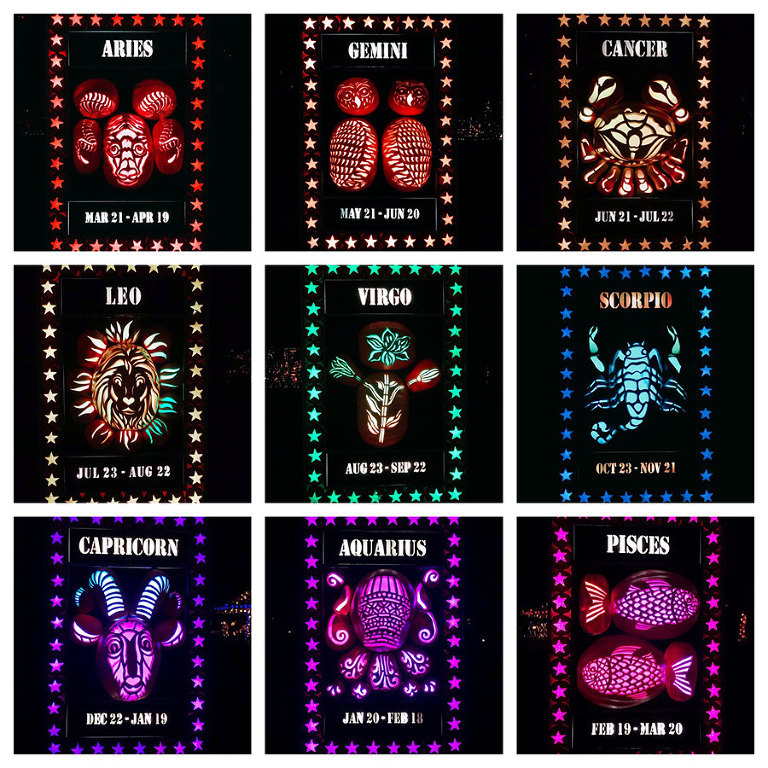 All the signs of the Zodiac were carved into pumpkins.  I know, this isn't all 12 of them, but aren't they cool?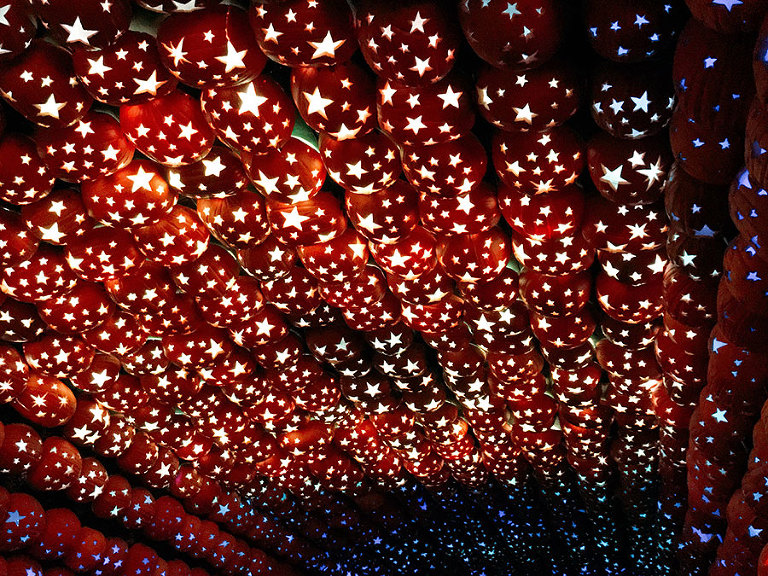 OMG.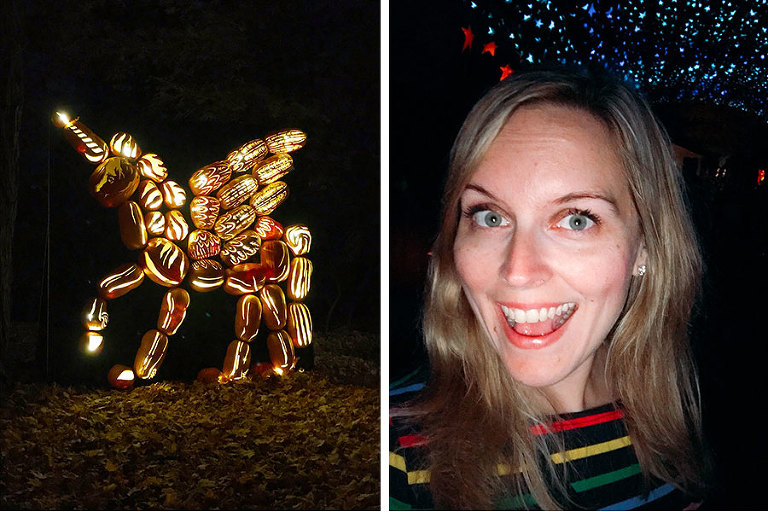 My face the entire time we were there.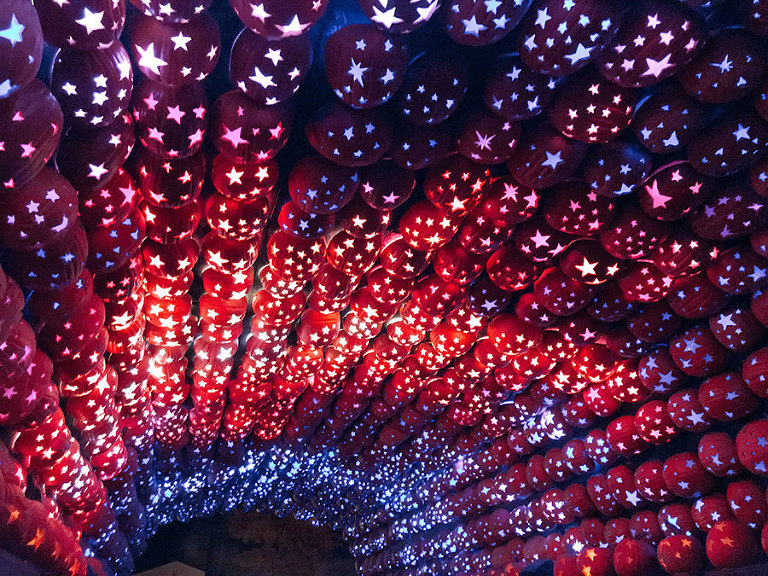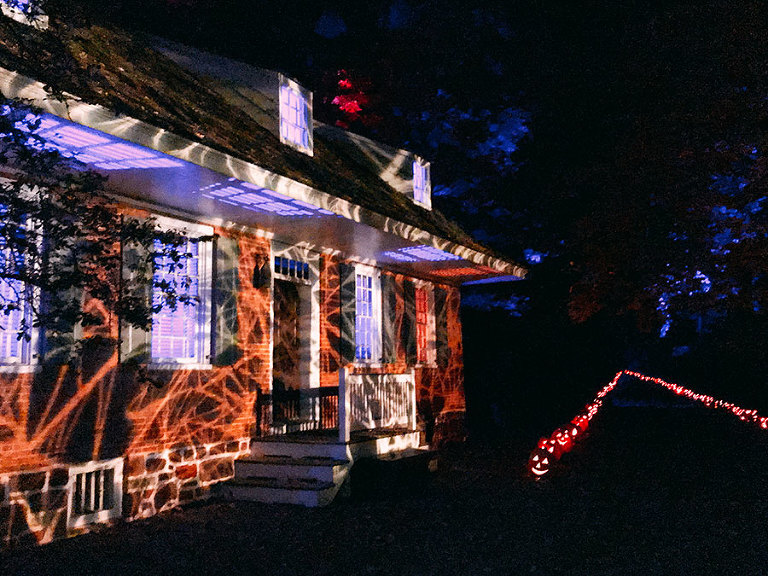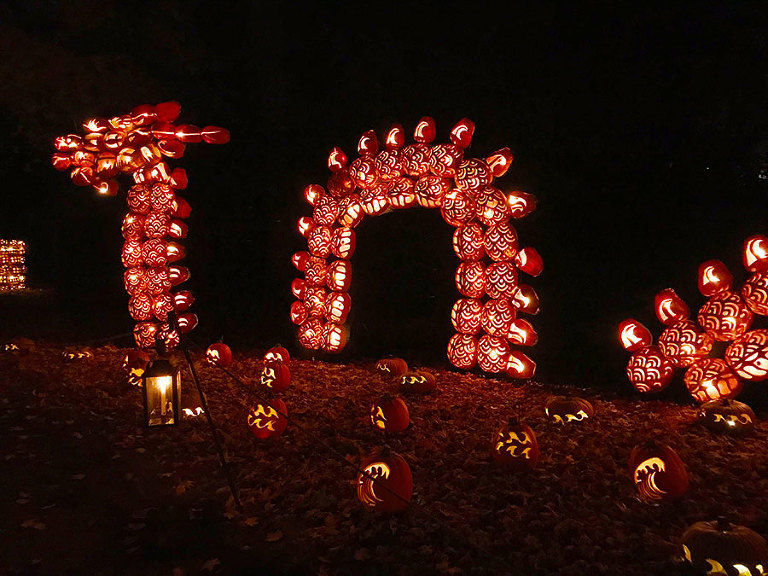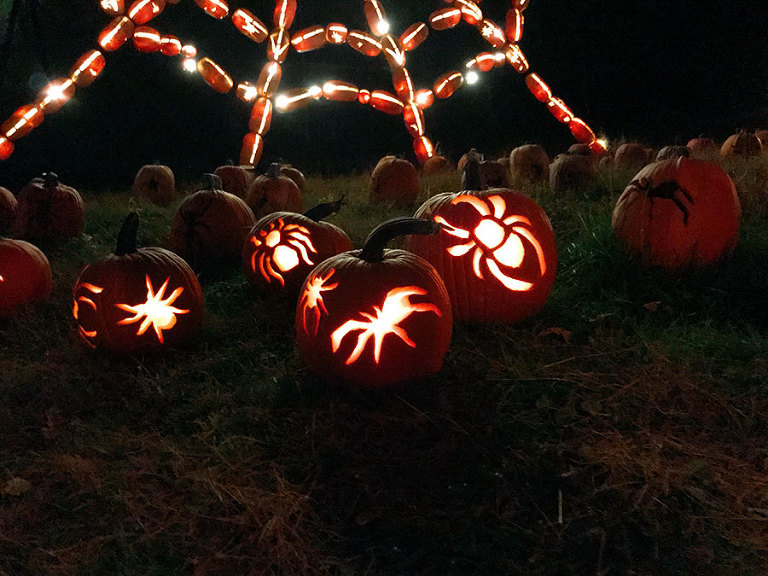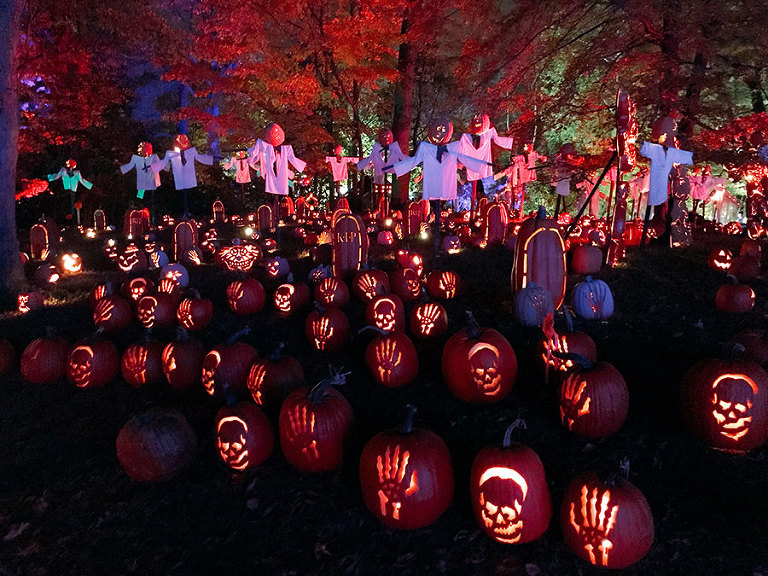 SO COOL.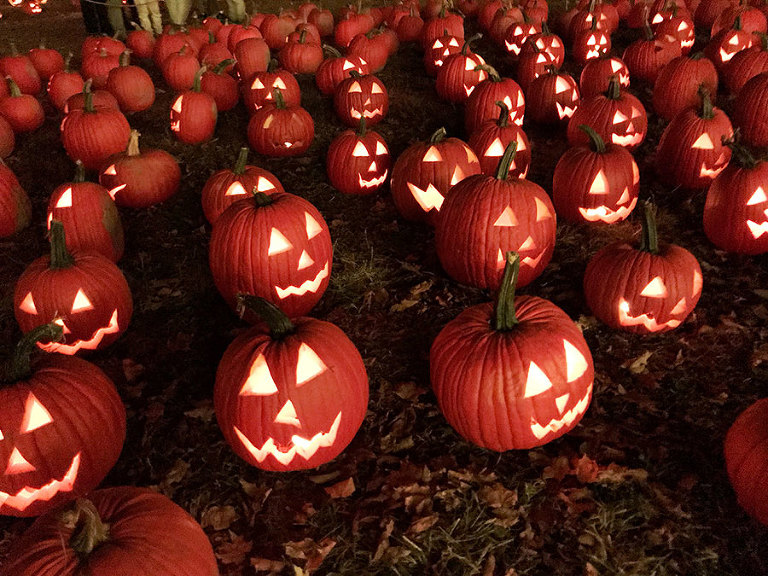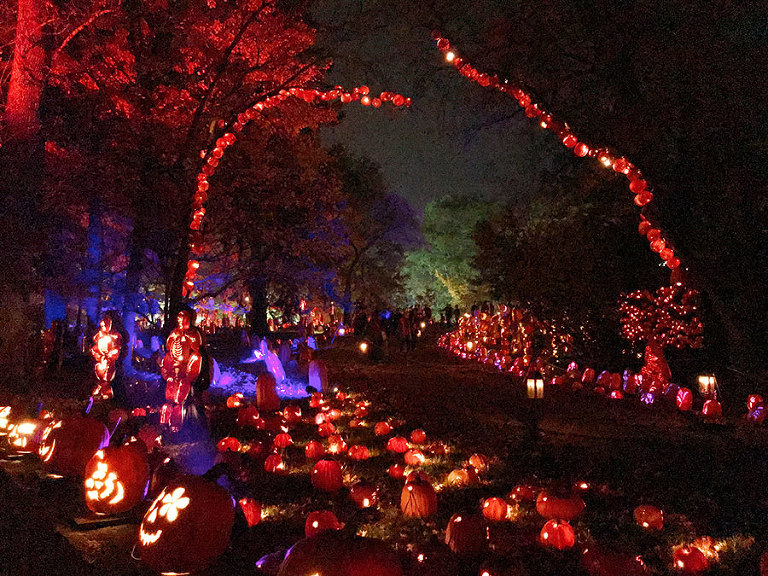 This was the only time in the trip when I wished I had my nice Nikon rather than my iPhone.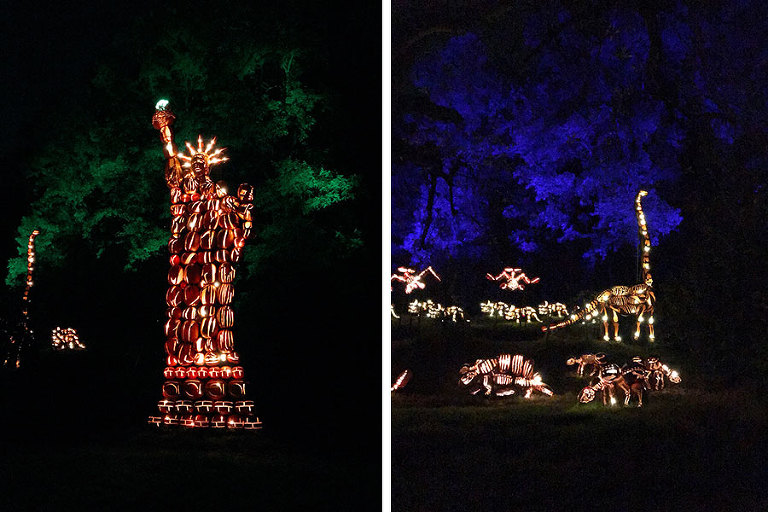 The Blaze was one of my favorite parts of the trip.  It was magical and charming and spooky and just plain awesome.  It was 100% worth the hour-long train ride to get there and the photos don't do it justice.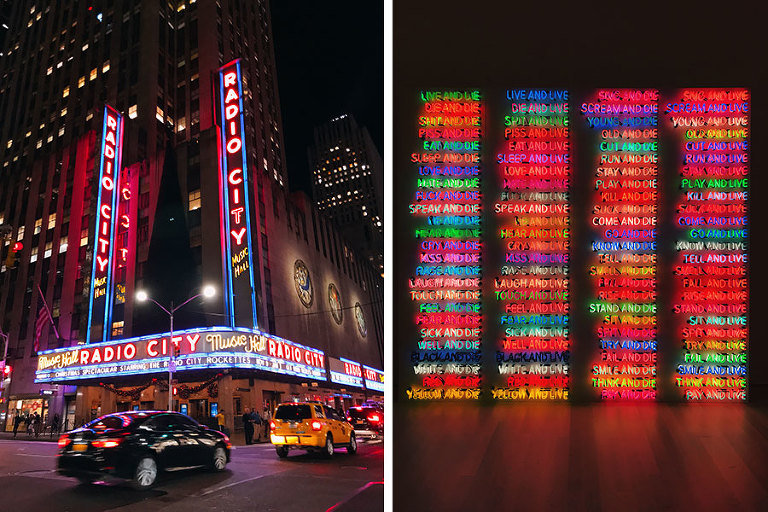 Radio City + a cool neon piece at the Museum of Modern Art.  I'm not a sophisticated enough person to really enjoy MoMA, but I've never met a neon piece that I haven't loved.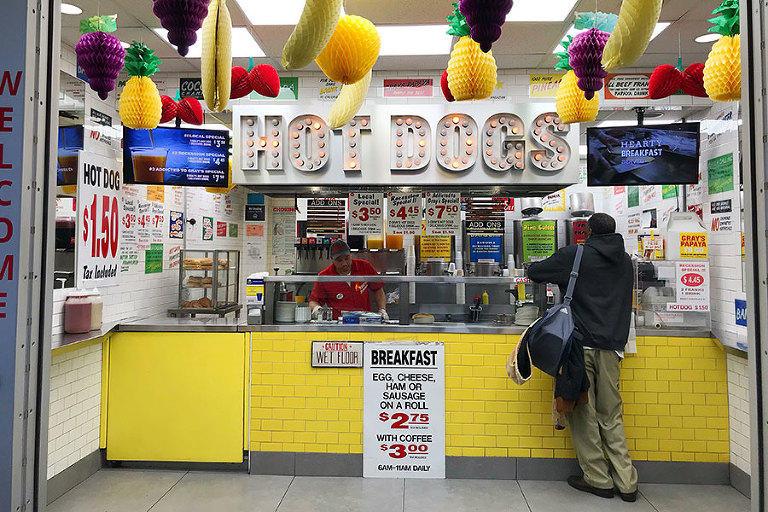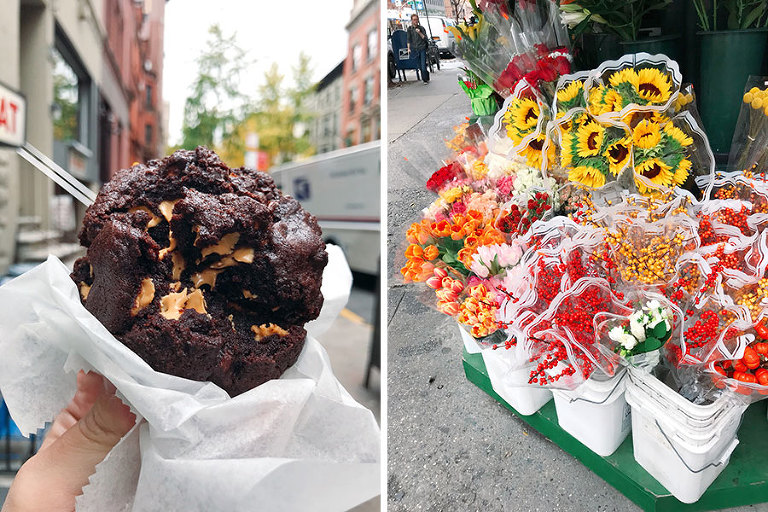 Friday was a slower-paced day (thank goodness).  We went to Best Bagel & Coffee again for breakfast, then we went to the Upper West Side, one of my favorite New York neighborhoods.  The chocolate peanut butter cookie from Levain is just as good as everyone (read: all the food bloggers) say it is!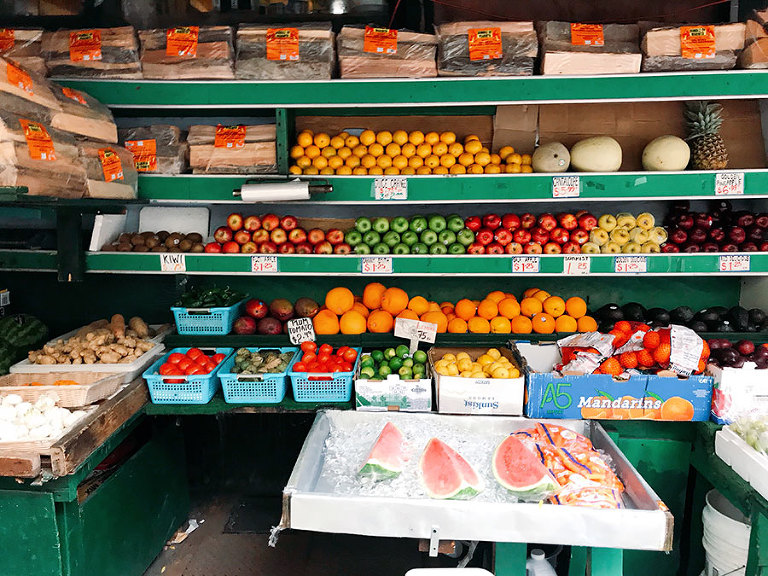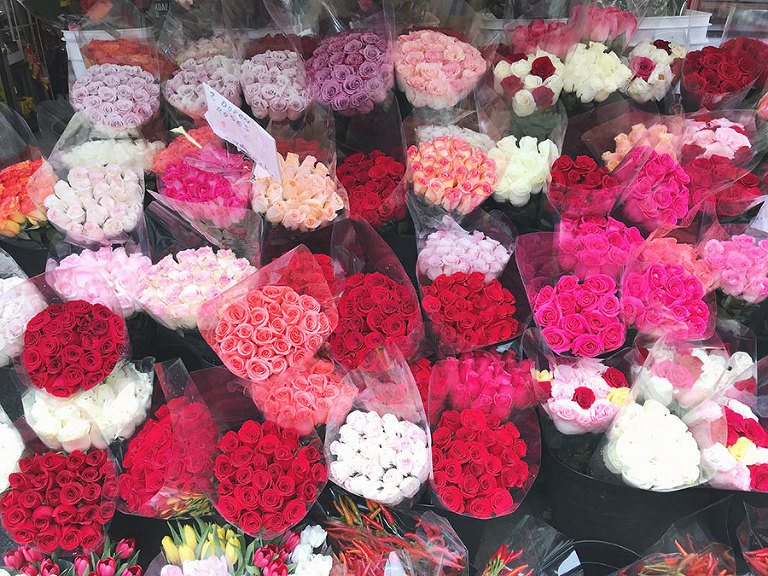 I told you I love the flowers.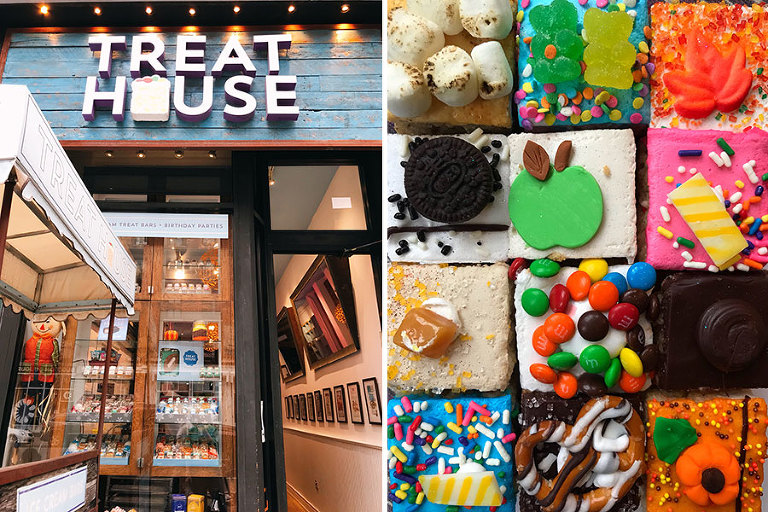 Treat House was so fun! Mini rice krispie treats — that actually tasted as good as they looked. Many people ask how we can possibly eat so much all day long. The answer is simple: we don't.  We buy the treats and try them, we don't eat all of everything you see!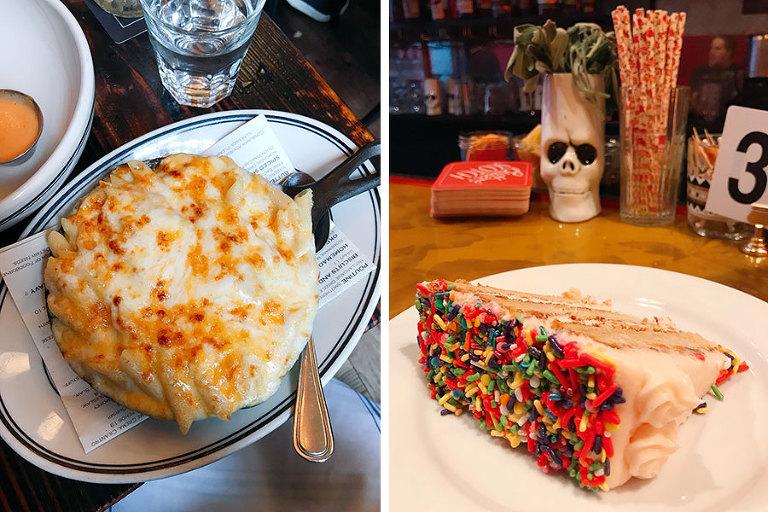 I had the best mac 'n' cheese of my life at Jacob's Pickles.  I would 100% go there again.  Later that evening, we took the train to Brooklyn to visit Butter & Scotch, a bar/bakery.  Let me say that again: a bar and bakery.  Why are there not more of these?!  It was so fun.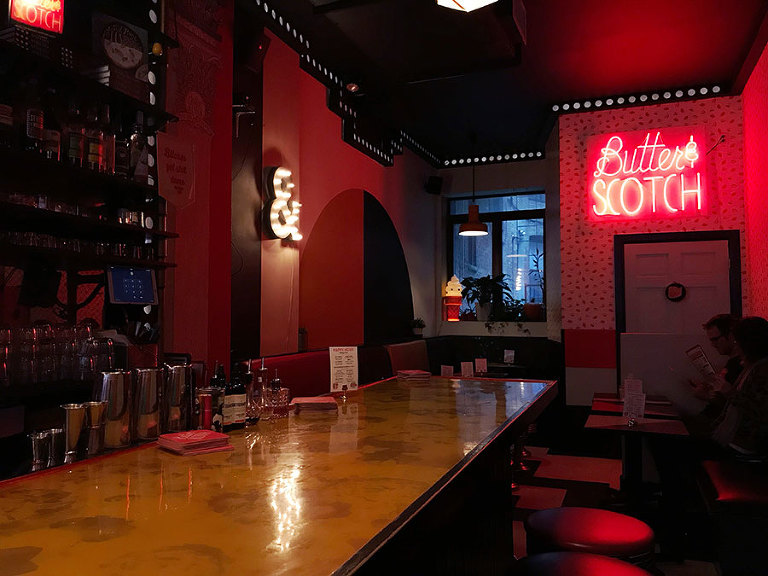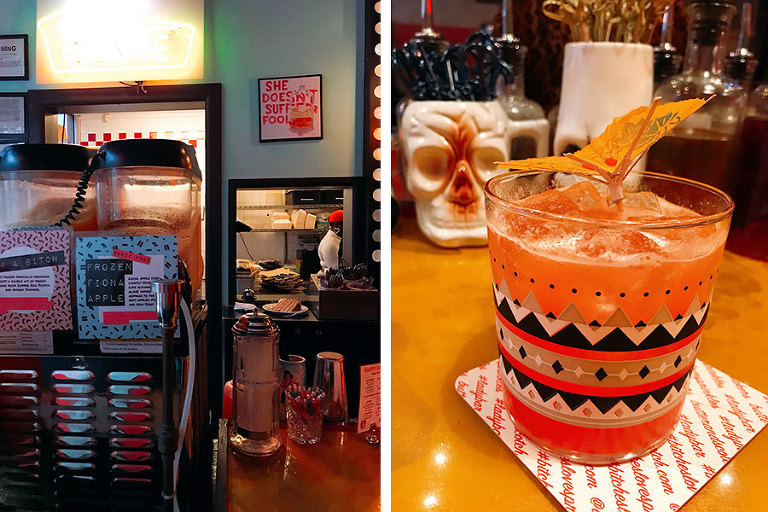 Cute (and very expensive as compared to Wisconsin) cocktails.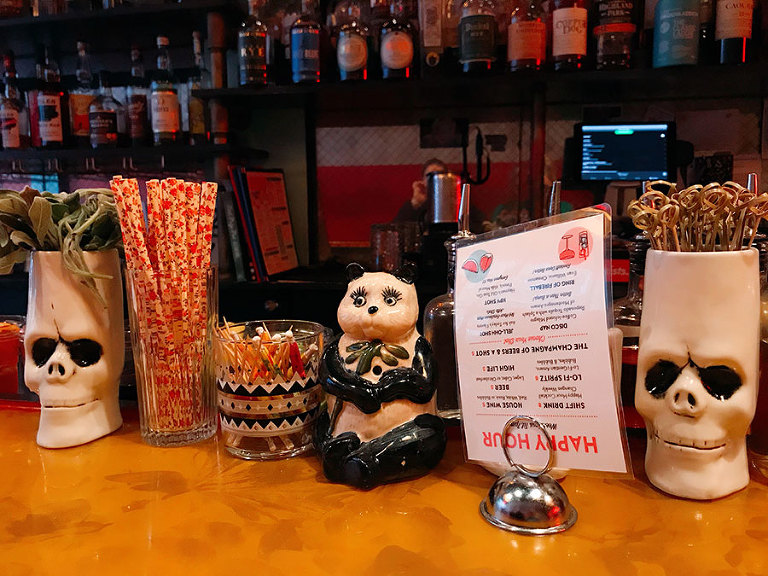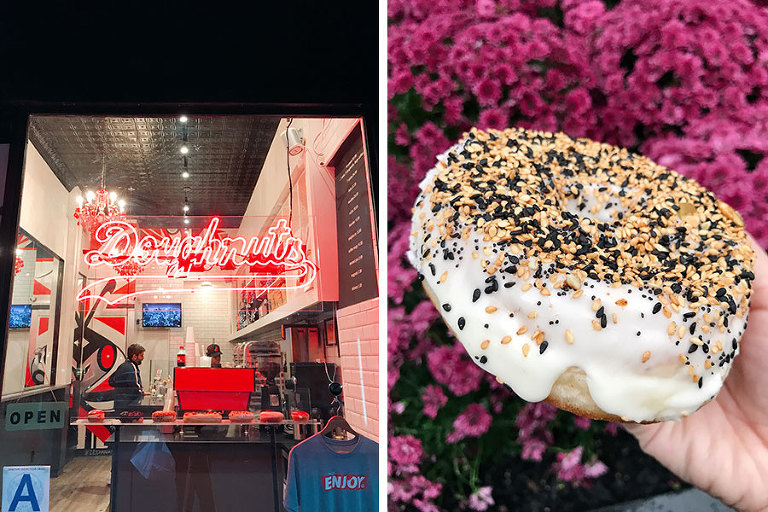 On Saturday, our departure day, Jillian went to get her hair done at Dry Bar and I went to get donuts.  Sounds about right.  The Everything Donut was so good! But then again, I'm always a big fan of the salty + sweet combination.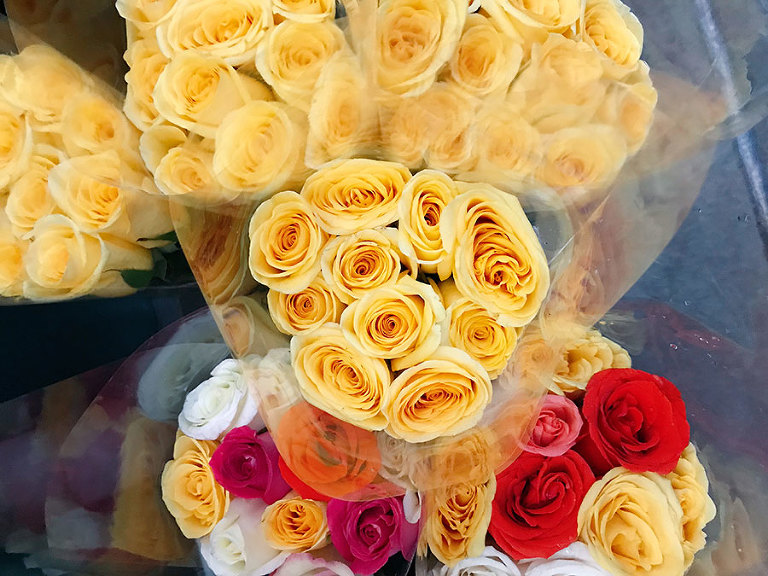 Another flower photo.  How shocking!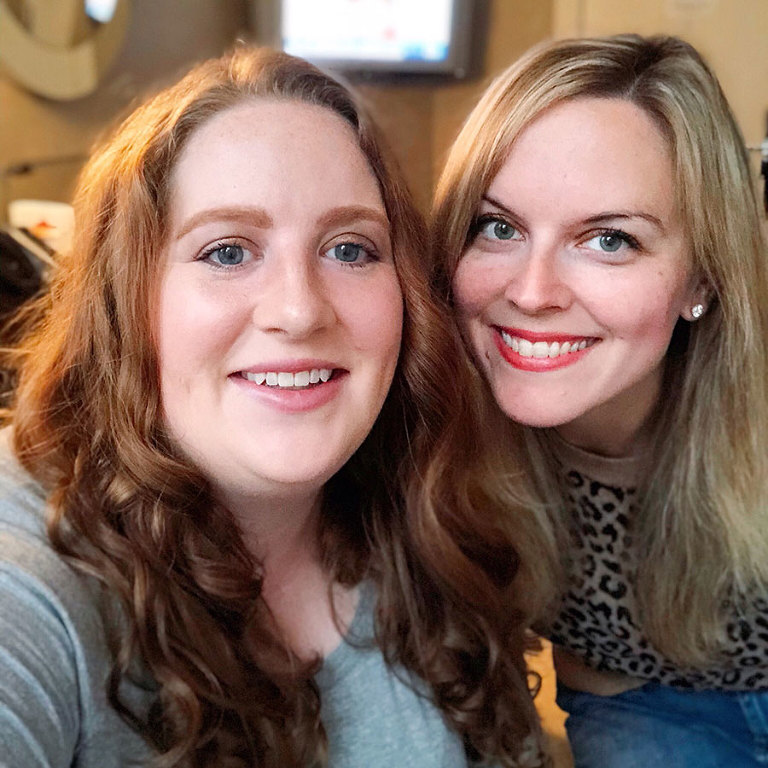 The only pic of the two of us that we managed to take!  We were too busy photographing all the food we ate, obviously. ;)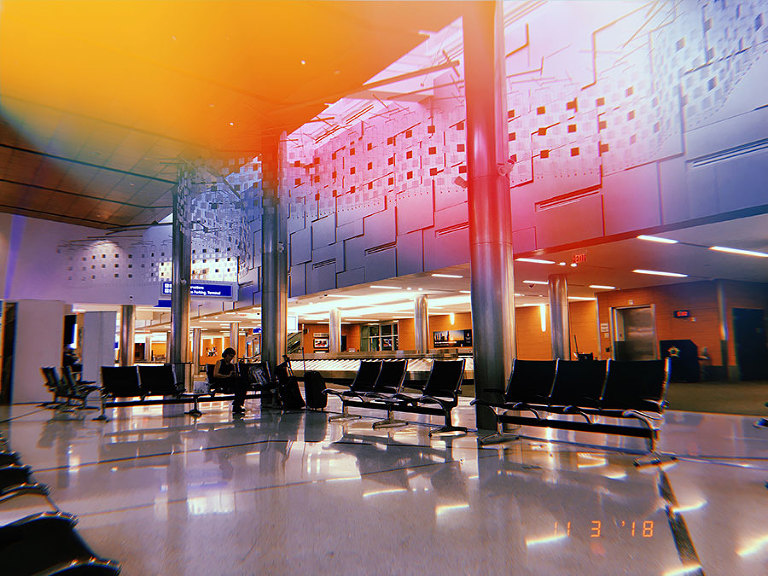 And, home sweet Wisconsin.  Waiting at quiet MKE for Pete to pick me up.
We had such a fun time.  New York is chaotic, interesting, diverse beyond words, and absolutely full of the best of the best of everything.  I love it and I hope to visit again and again and again throughout my life.  The world is full of beautiful things to see, both ordinary and extraordinary.  Never stop paying attention and always say YES (even if your feet hurt).