January 2019
Where We Stayed: Hyatt Regency Orange County
My mom and I went to California for a week in January.  We were anxious about the trip because of the government shutdown situation (we were planning on going to a National Park and all, but more on that in a later post), but we had a wonderful trip.  Perfect weather, smooth travel, and great experiences.  We felt extra lucky because it rained non-stop for a week (in Southern California!) right after we headed home.  I always appreciate those instances when I feel like the universe is giving me a hug.
We spent one day at Disneyland, one day at Joshua Tree National Park, and a few days in Palm Springs.  I went to Disneyland in 2012 and 2016, and I like it more and more with each trip.
We stayed at the Hyatt Regency Orange County, which is where I stayed on my previous two trips.  We really like it.  It's clean, convenient, has a shuttle to/from the parks, and has a Starbucks in the lobby.  What more could we want?
Given that our first day was a travel day, we didn't have the energy to go to the parks that evening.  So we went to Downtown Disney instead and did a little shopping.  The thing I LOVE about Disneyland is how close together everything is.  You can walk between Disneyland, California Adventure, and Downtown Disney easily and quickly — no bus or monorail is necessary to get you from one to the other.
The next day, Tuesday, we spent the whole day at the parks (and walked 18,000 steps!).  We didn't plan ahead for Fastpasses, so we didn't do many rides or shows.  Most of the joy for me is just being there — and soaking up the Disney atmosphere, food, and cuteness.  I say it all the time, but to me, the parks feel like a warm, comforting hug.
I got to see Pixar Pier at California Adventure for the first time.  It was formerly Paradise Pier.  Disney re-branded the whole "land" to be Pixar-themed — and it is ADORABLE.  Two very enthusiastic thumbs up.
My other favorite land at California Adventure is Cars Land, which is weird because I'm not crazy about Cars as a movie.  The land is just so precious though — Route 66-themed and completely charming.
We ate a lot of Disney treats, my favorite being the Churro Toffee. OMG.  Toffee, covered in white chocolate, dipped in cinnamon-sugar.  To die for.  I have a t-shirt from my last trip to Disney World that says, "Just Here for the Snacks" — so true.
I wish we could have spent more time at Disneyland but I was thrilled to get one day.  See you next time, Anaheim!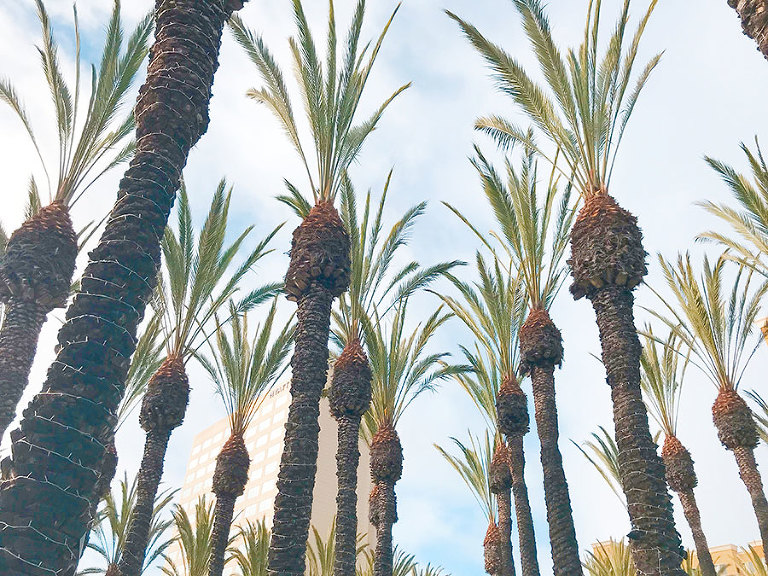 The palm trees that greet you at the Hyatt Regency Orange County.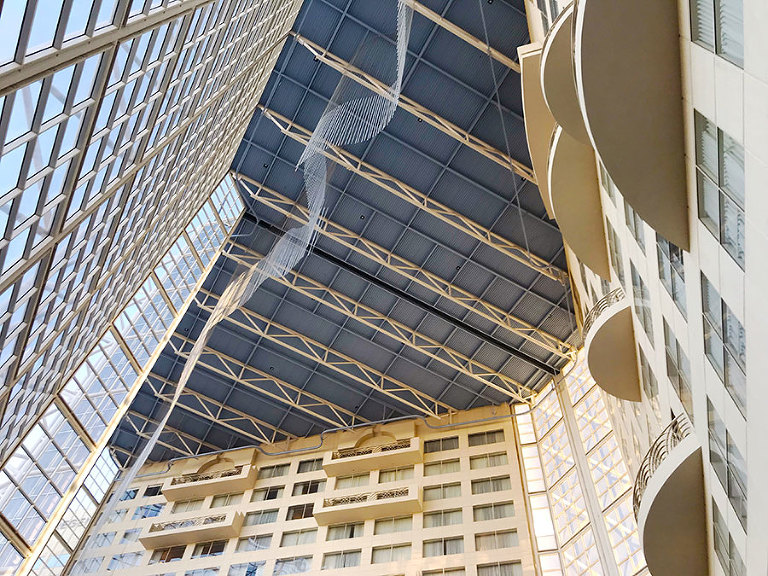 Looking up in the lobby.  I love how open and airy the hotel is.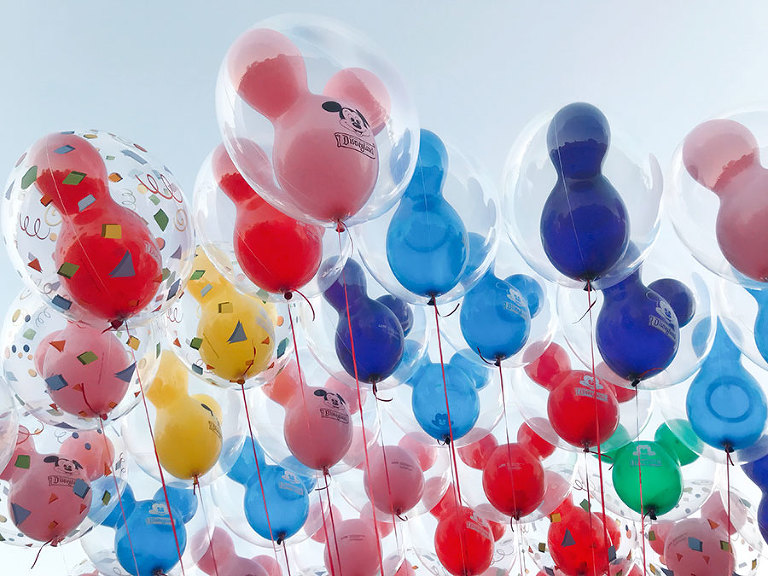 Y'all know that my favorite thing in the world is a Mickey balloon.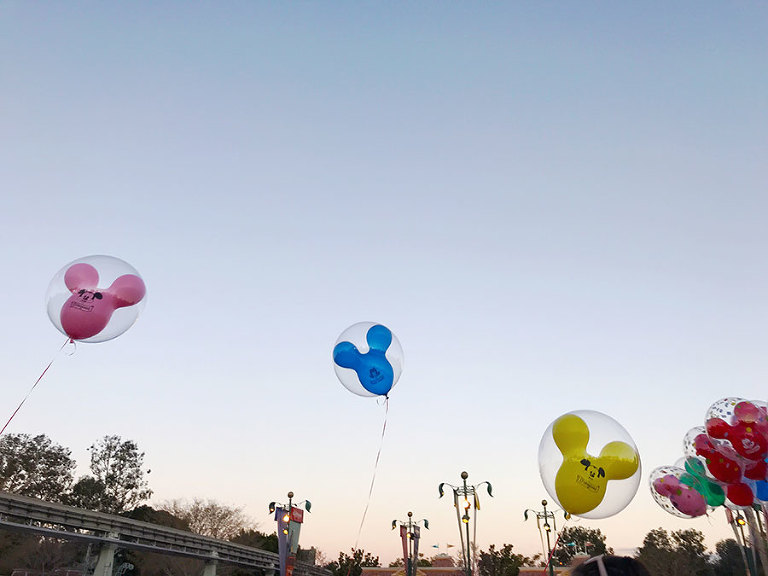 Walking out of Downtown Disney.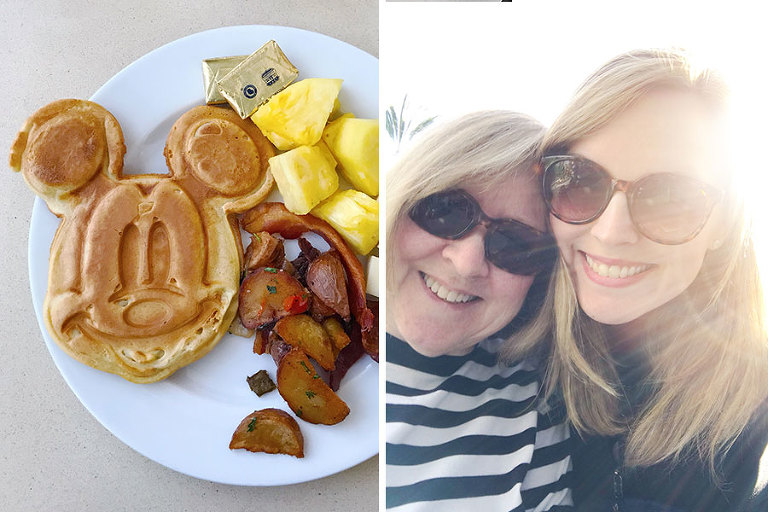 Our hotel attempted to do Mickey waffles.  It was a good effort but not the same experience as a Disney resort Mickey waffle.  I'm such a snob, aren't I? ;)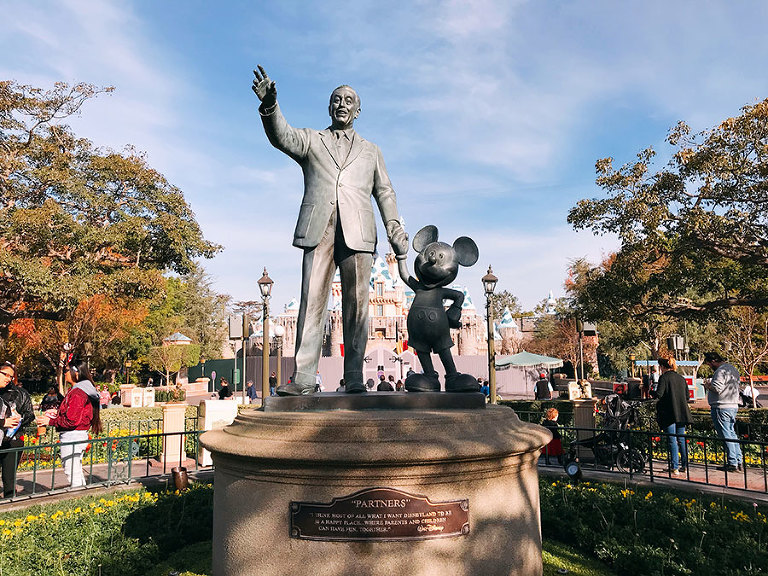 Sleeping Beauty's castle was undergoing renovations, so it was all walled off and unavailable for photos. Here's Walt and Mickey instead.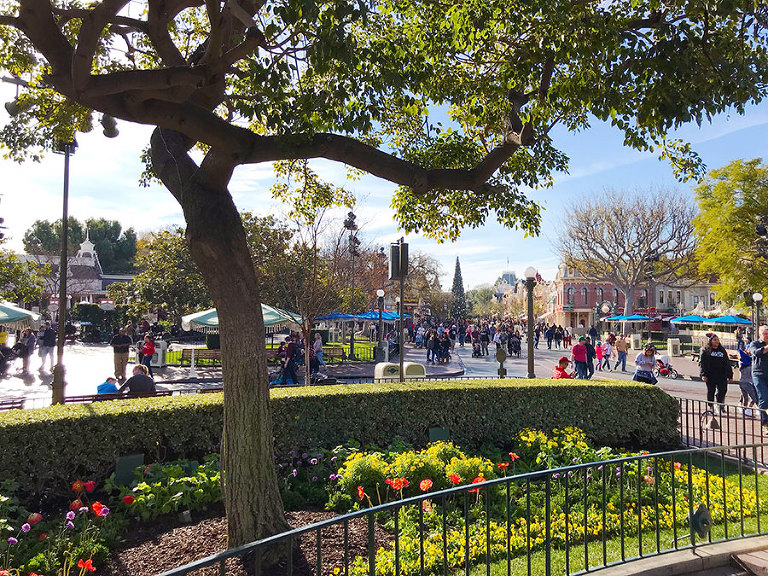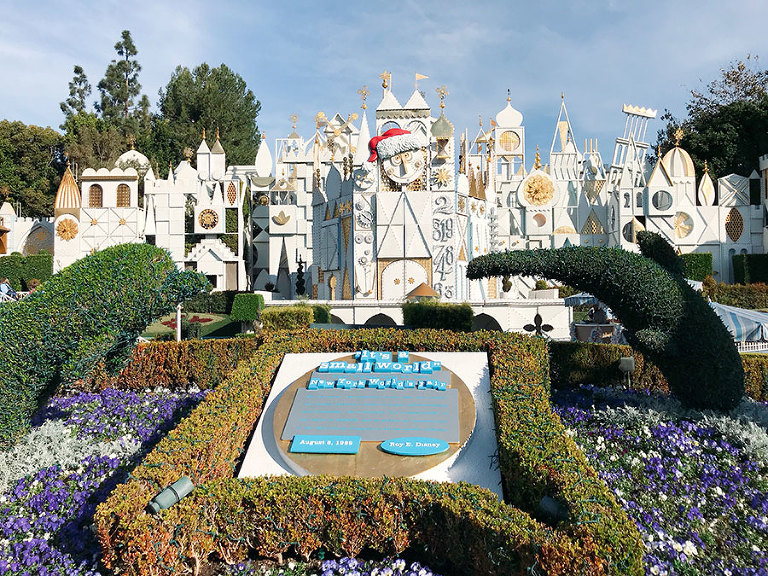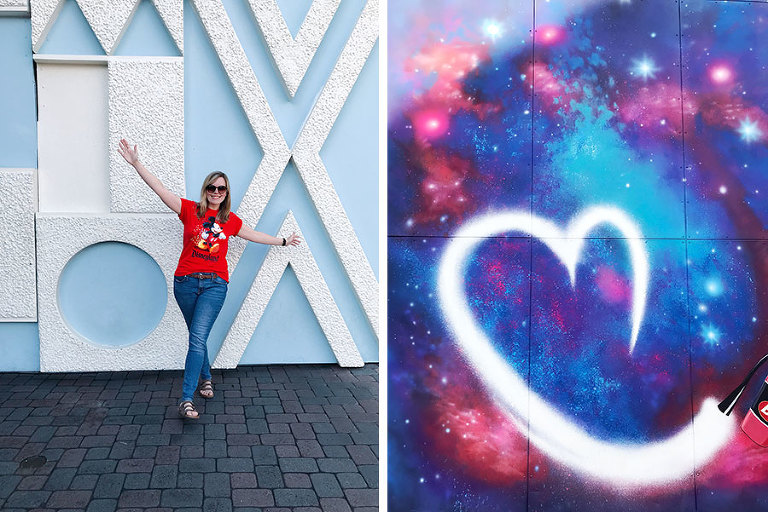 Really happy to be there!  And on the right is the Wall-E wall at DCA.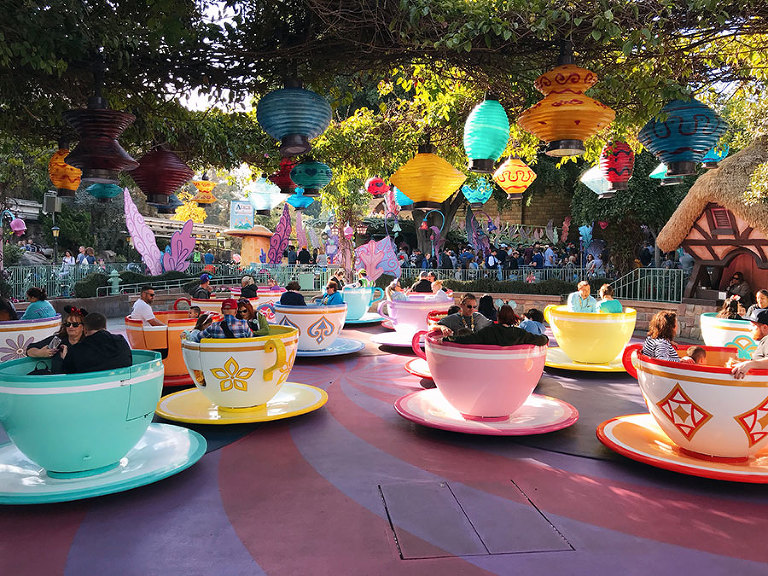 Always and forever my favorite ride.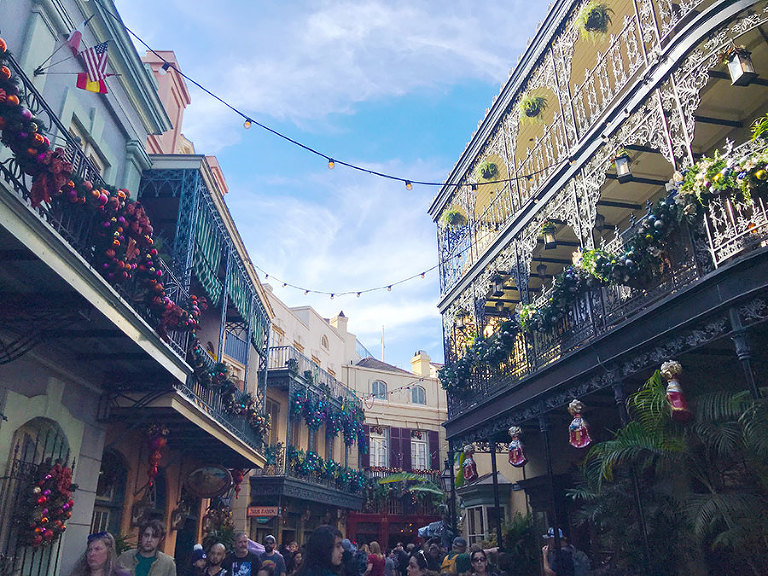 The New Orleans Square area is so cute!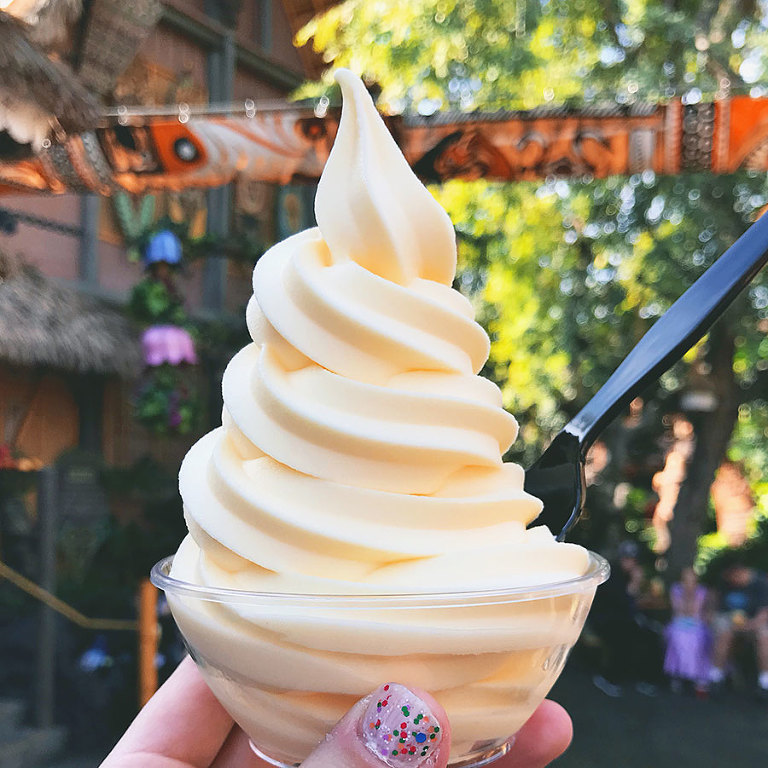 I mean, duh, we had to get Dole Whip.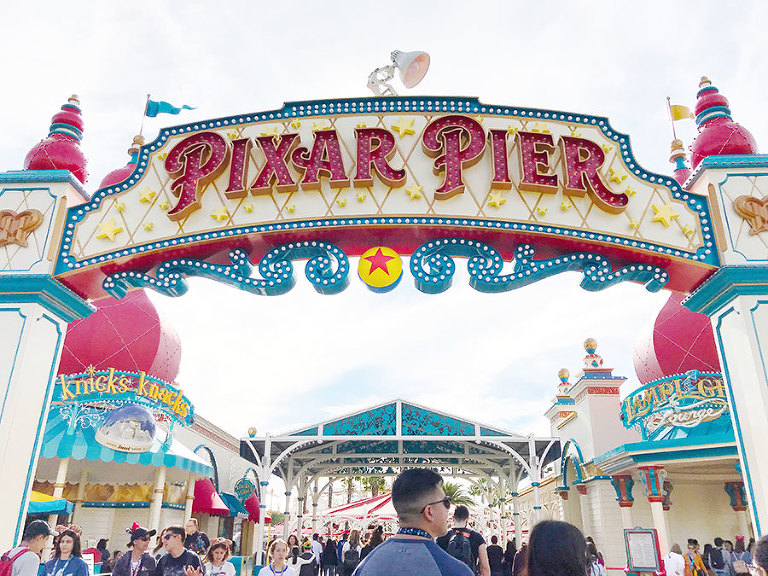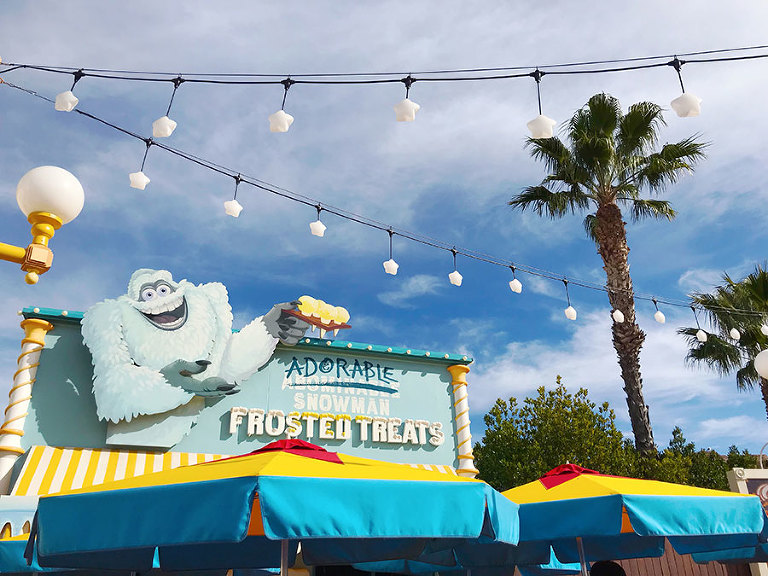 The cutest!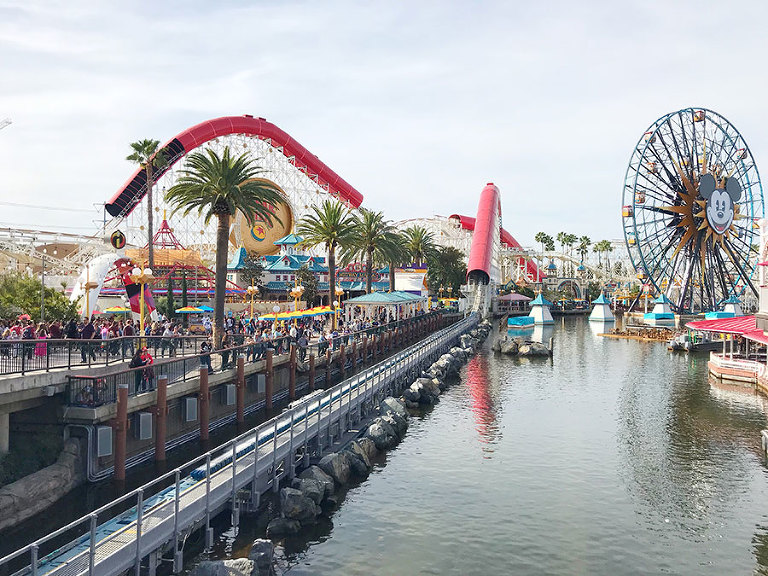 The Incredicoaster!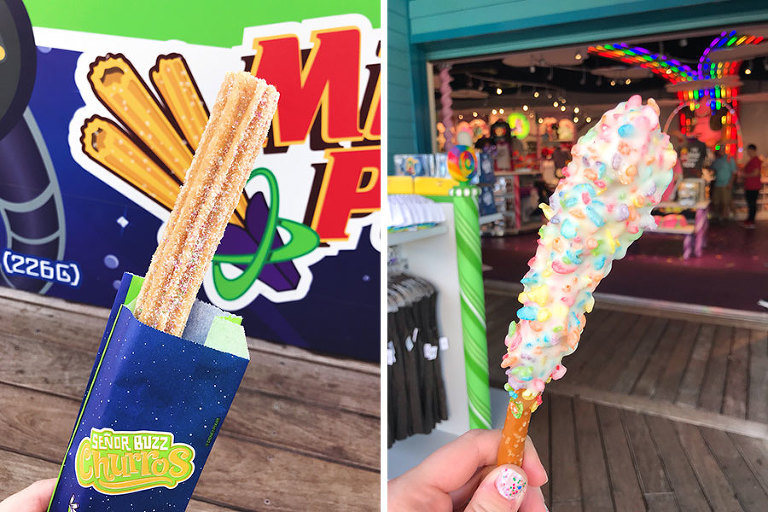 My mom had never tried a churro before (*gasp*!) so we had to fix that (spoiler alert: she loved it).  I also tried a treat at Bing Bong's Sweet Stuff (spoiler alert: I loved it).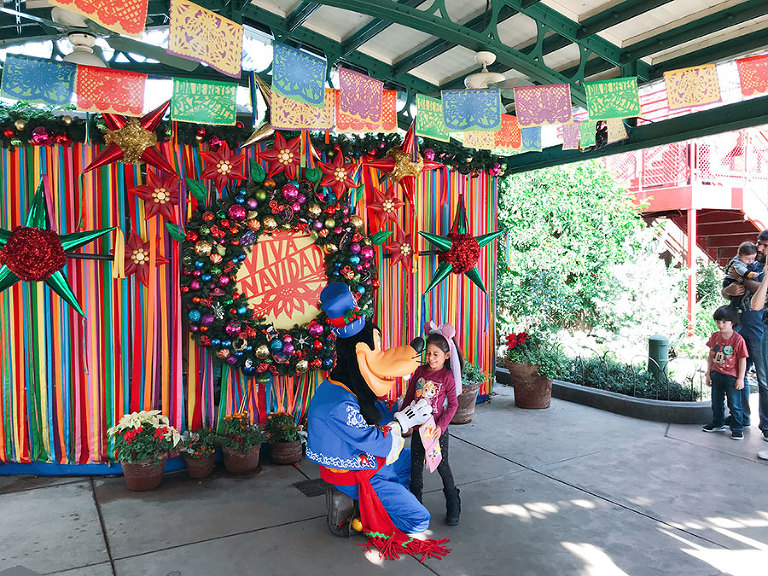 The cuteness overwhelms.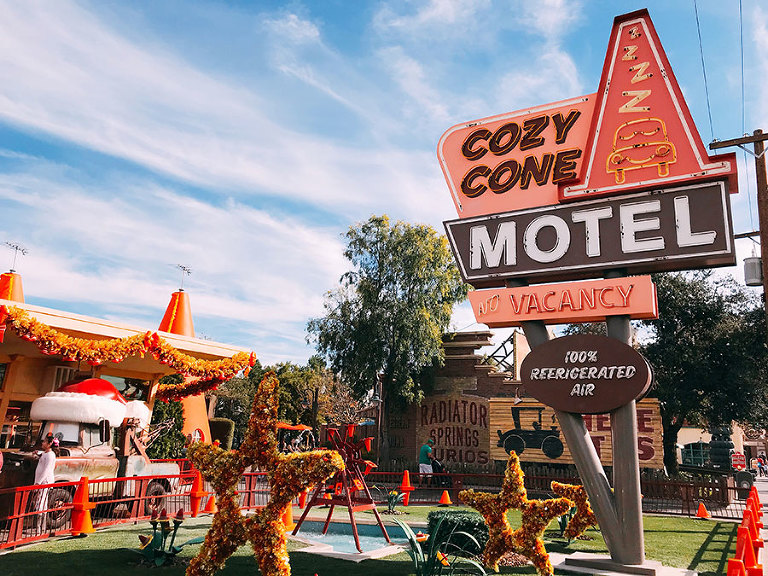 I think the Cozy Cone area is one of the cutest things of all time.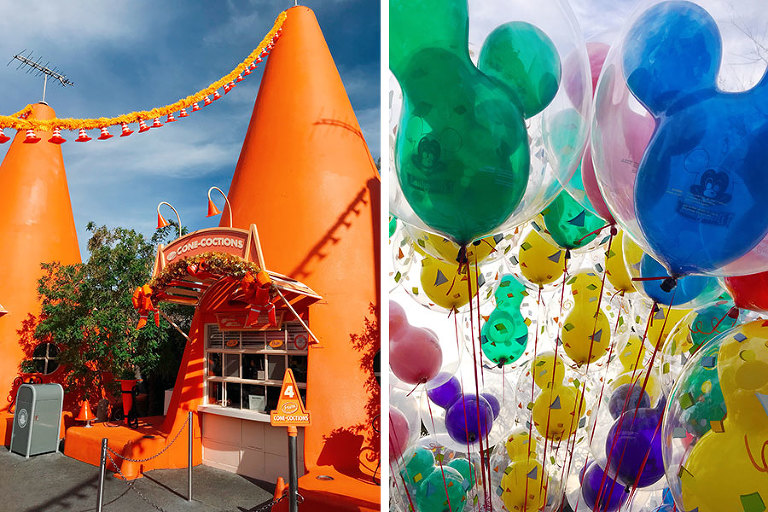 Each "cone" sells a different treat.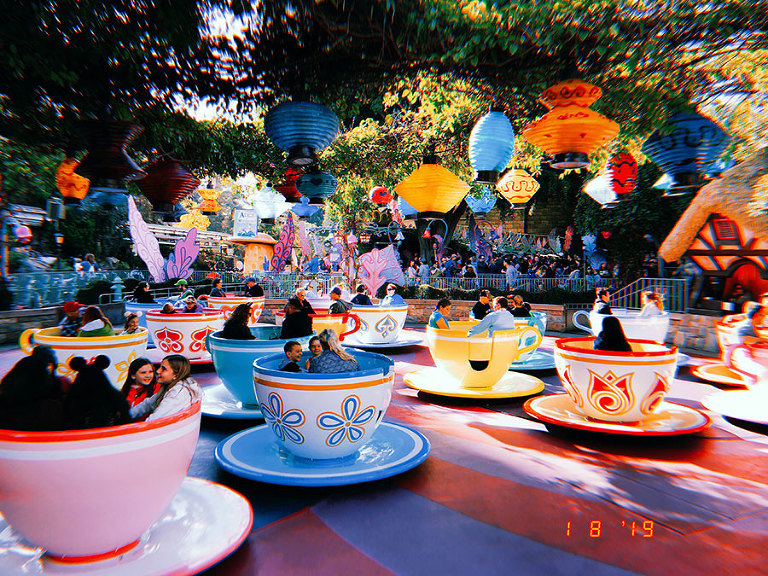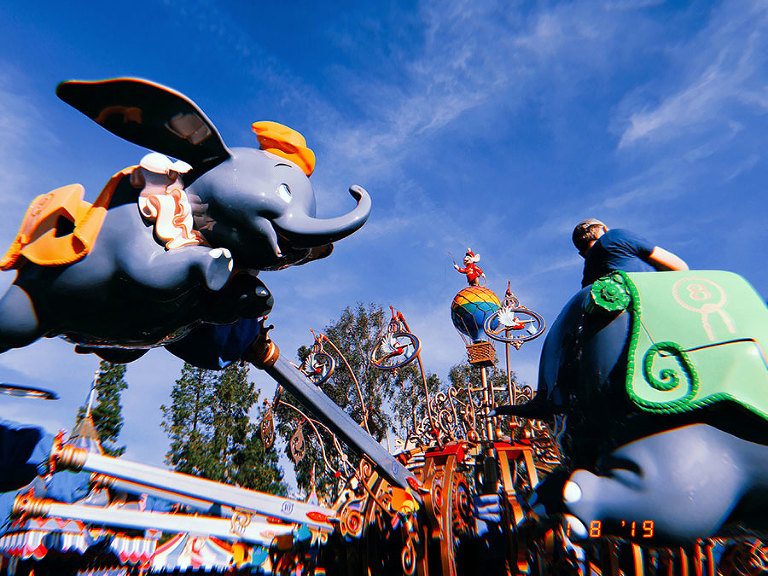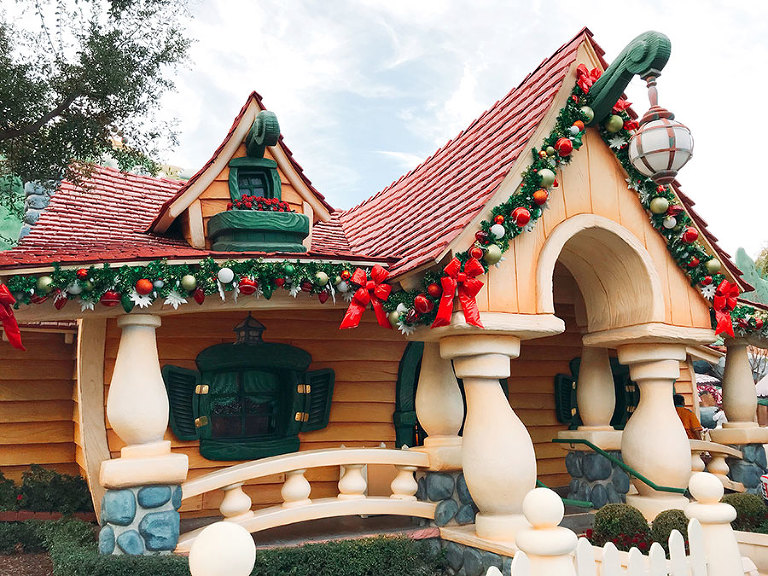 Mickey's house!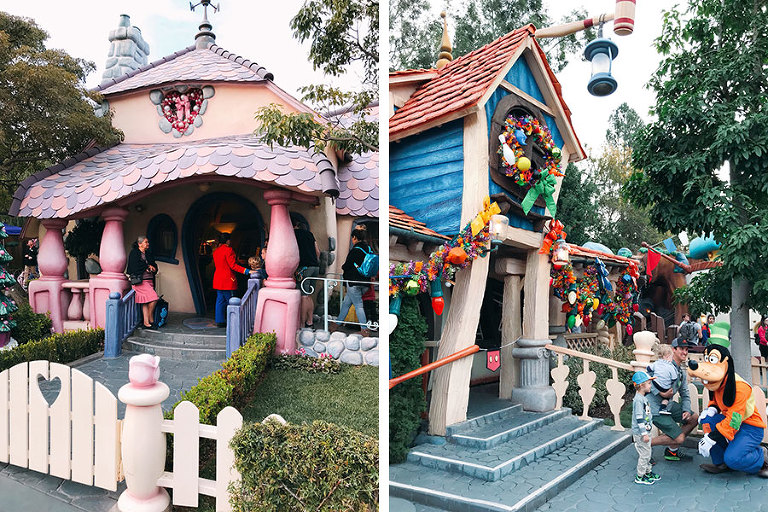 Minnie and Goofy's houses.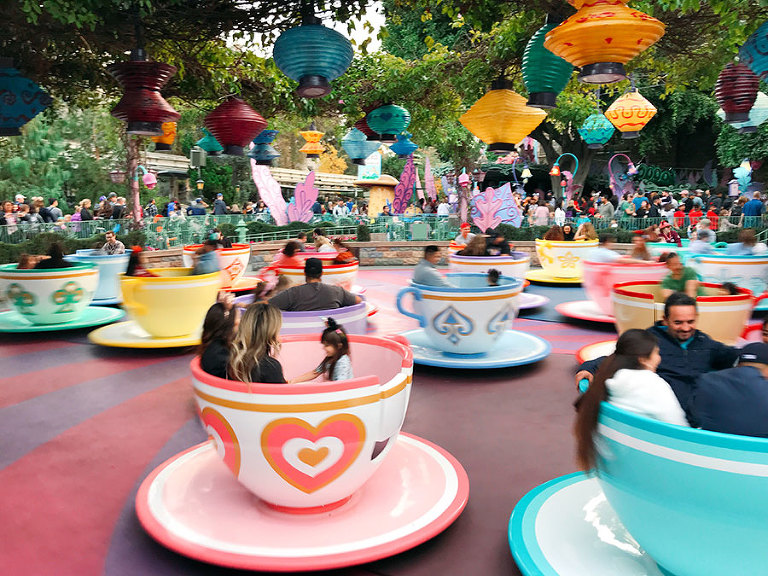 Oh look, another photo of my most favorite ride ever.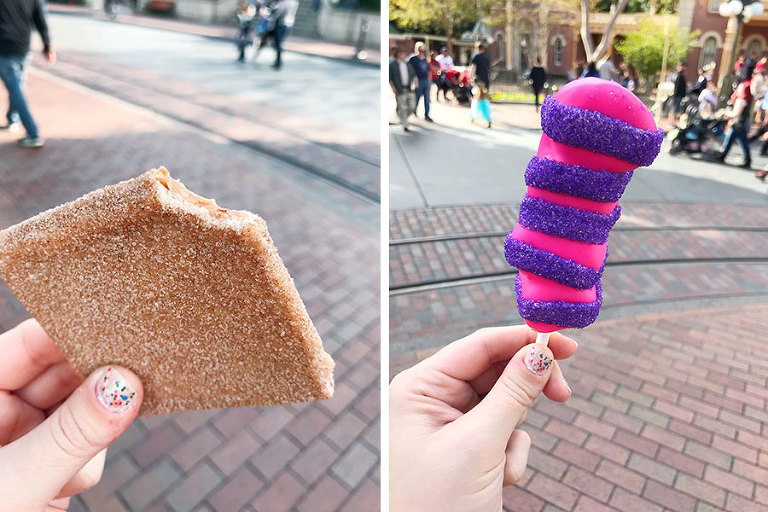 Churro toffee!  Cheshire cat tail!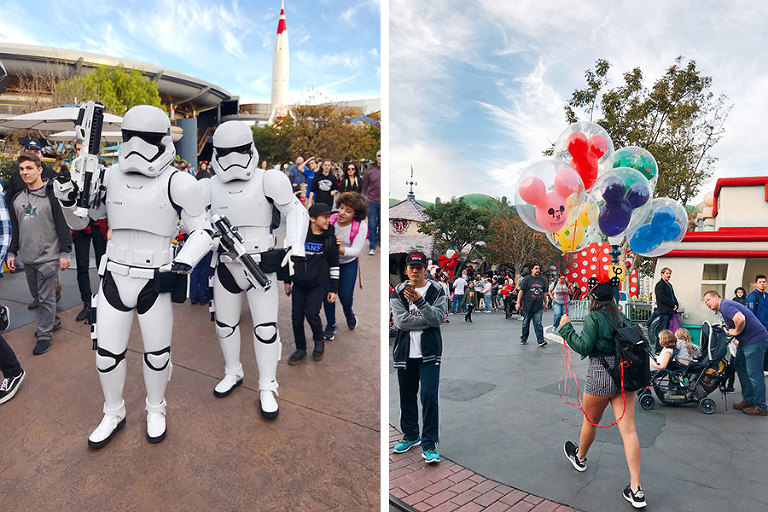 Stormtroopers in Tomorrowland; and my personal hero: a girl who bought 5 Mickey balloons and took photos of herself throughout the park with them.  I'm gonna do that next time.  I'll probably be spending $100 on 5 balloons, but I'm gonna do it.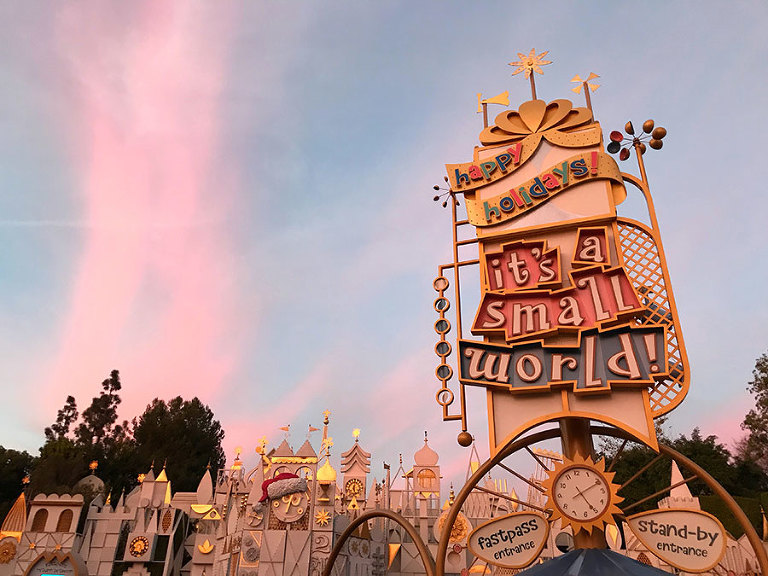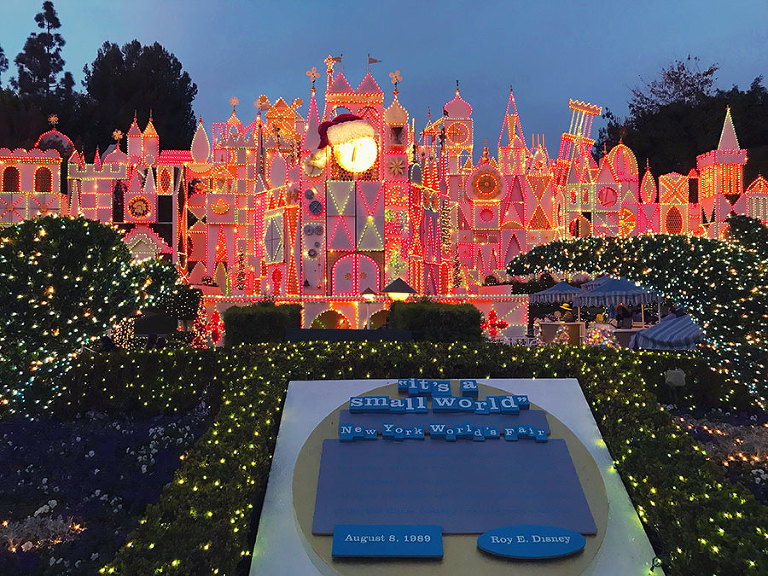 One of the things I've always wanted to see is it's a small world lit up for the holidays.  I assumed that I'd miss that chance because we were visiting in January.  Wrong!  I was so thrilled to see it all bling'ed out with Christmas lights.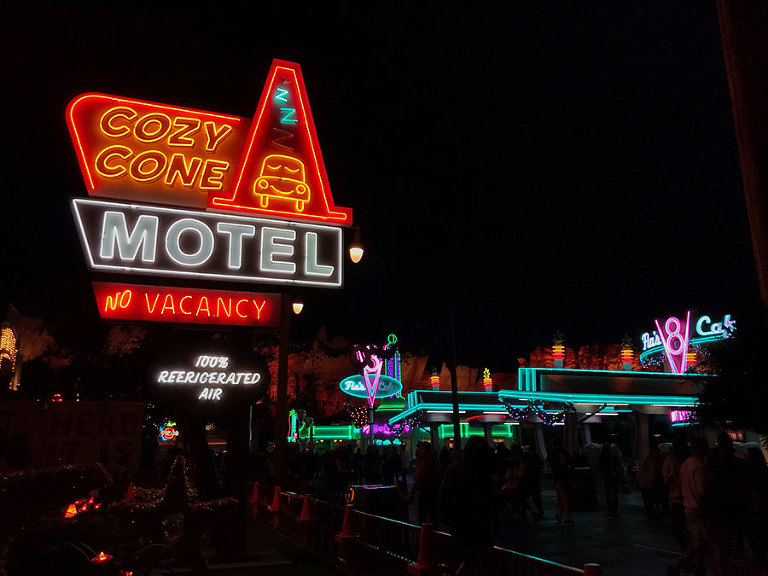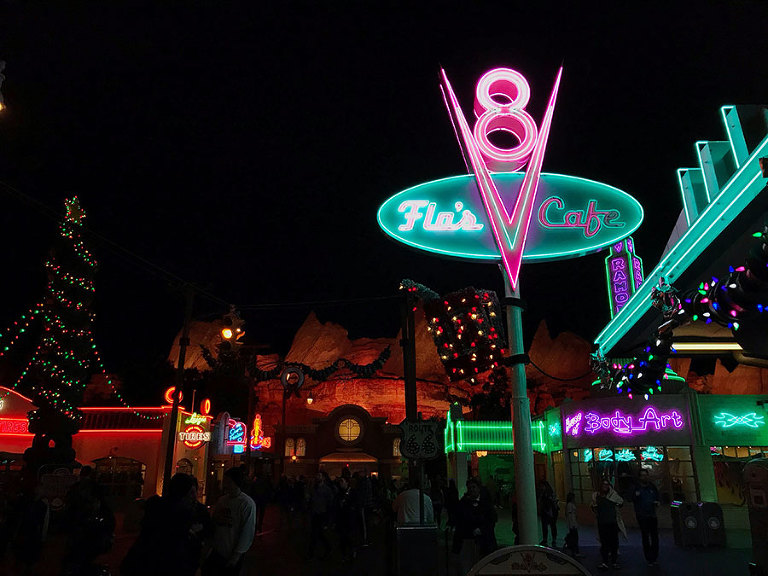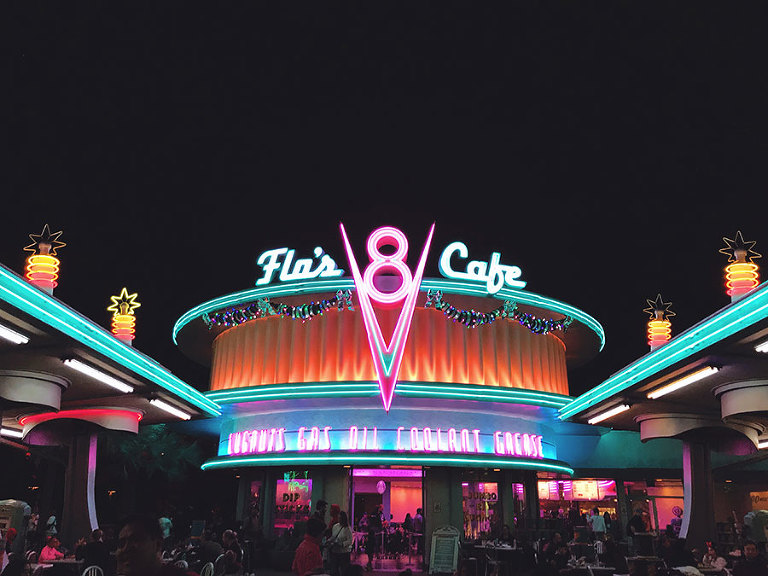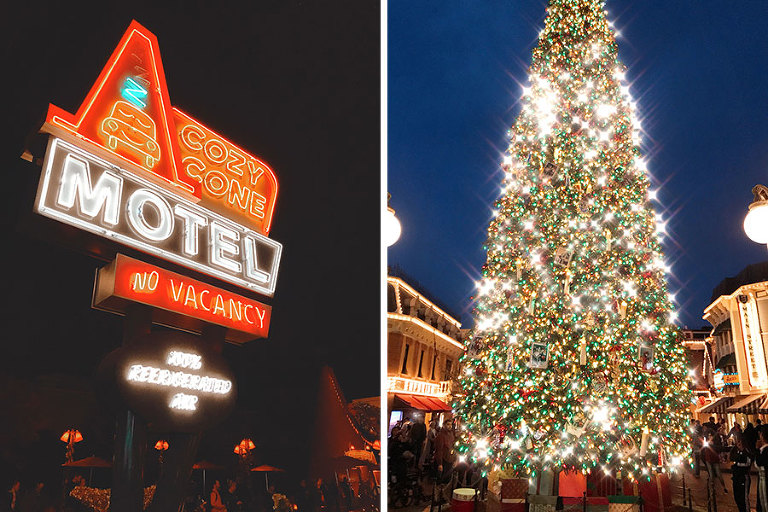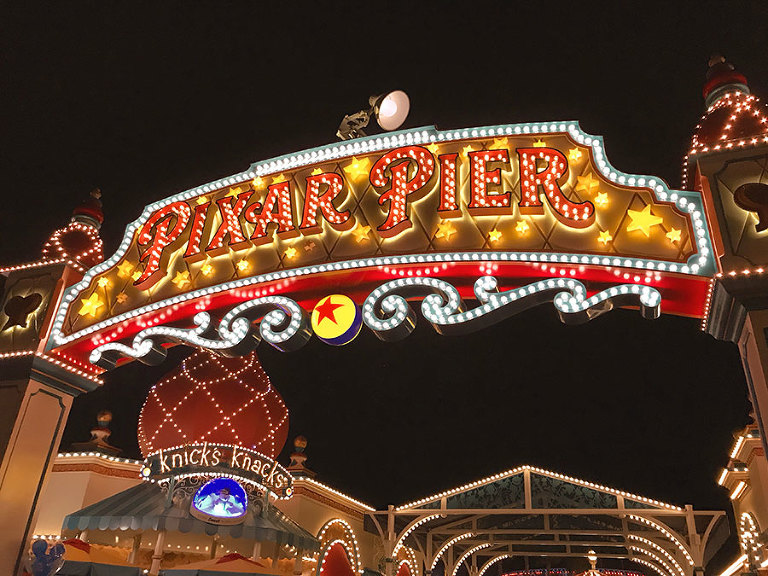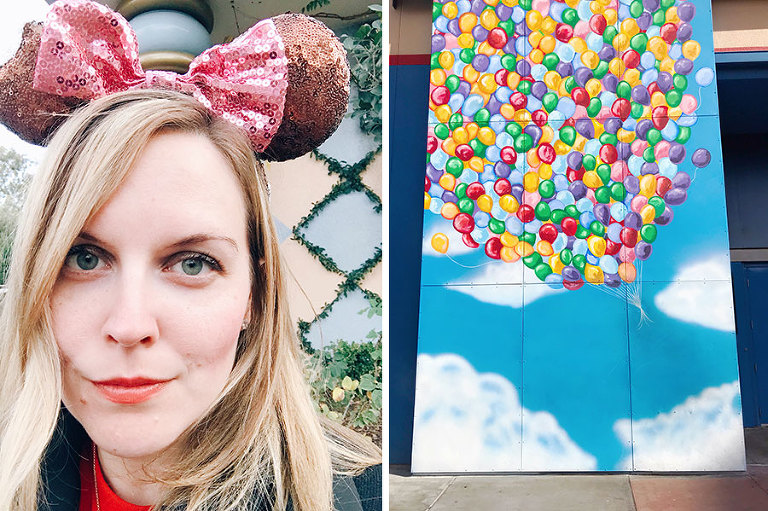 Had to buy these Mickey ice cream bar ears — notice the "bite mark" one of the ears? So cute. Also, this "Up"-themed wall at DCA is amazing!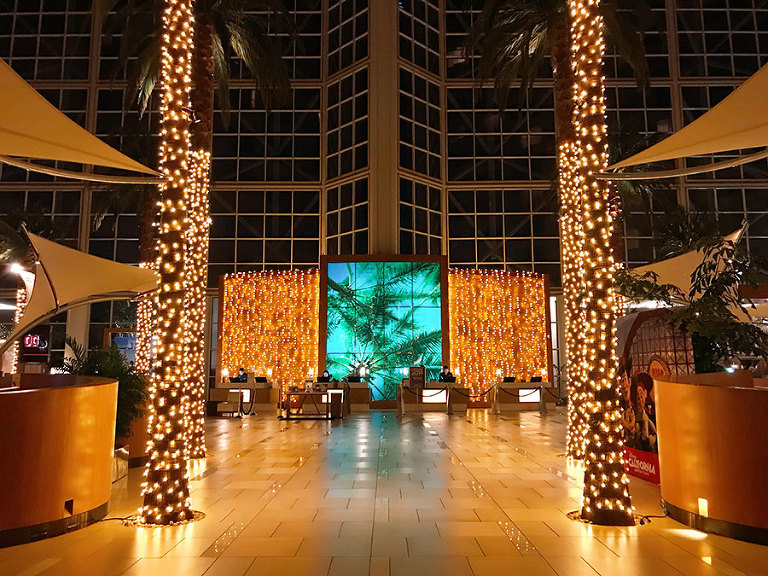 Back at our hotel after a long day of walk walk walking.  See you next time, Disneyland.  I love you so much.