March 2019
Where I Stayed:  The Archer 
I spent a long weekend in Austin, TX and I LOVED IT.  I traveled there to visit my friend Stefanie.  Me and Stef go way back — all the way to 2nd grade.  There aren't many memories of elementary school or summers on the lake that don't involve Stef.  We don't get to see each other often, but when we do, it's like no time has passed.  And this time — we got to chat and catch up over tacos and BBQ and cookies!
I arrived late-afternoon on a Friday.  Stef picked me up and we headed to Kerbey Lane for dinner.  Kerbey Lane is a famous Austin diner-type restaurant — they have locations all over the city.  I immediately ordered chips and queso because….when in Rome.  For my meal I had chicken + pancakes (a slight twist on the classic chicken + waffles combo).  So good!  After dinner, Stef dropped me off at my hotel and I crashed.  Why are travel days/airports so tiring?!
The next day I had bacon and a Texas-shaped waffle for breakfast, then we headed down to Congress Ave.  Congress is one of the more well-known streets — filled with shops, restaurants, nightlife, etc.  Our first stop was Jo's for coffee (though I had iced tea) and to see the famous "i love you so much" wall.  Then we spent the rest of the morning walking around, shopping, taking photos of cute things, etc.  Lunch was at Torchy's for tacos — so good!  Before heading back to Stef's neighborhood, we stopped at Hayley Cakes and Cookies.  I've been following the bakery on Instagram for YEARS, so it was a trip to finally be able to visit the store in person.  And the cookies were really good (thank you, almond extract!) — I love it when cute cookies actually taste great.
I took a little break mid-afternoon to take a nap (because I am an old lady and I was still tired from the day before, I think).  We reconvened on Saturday night to go to Stiles Switch BBQ for dinner.  OH MA GODDDD, so good!  Stef had ribs, I had brisket, and between the two of us, we had mac + cheese, potato salad, french fries, and corn casserole as sides.  We did not leave hungry and everything was so delicious.  But perhaps my highlight was the fact that they had Diet Dr. Pepper on fountain AND crushed ice. All my dreams came true that night in Austin!  After dinner we stopped at Sprinkles for a cupcake because… why not?
The next day, Sunday, was another busy day! We had brunch at Punch Bowl Social (eating nachos at 9am is dreamy).  We visited fancy Target (because I always visit Target wherever I go; stop judging!).  We went to a ton of shops at the Domain.  Then in the afternoon, we headed downtown to see Ellsworth Kelly's Austin, which was spectacular.  It's not shock that I love Ellsworth Kelly — but the building and its colored class was so beautiful!  The rest of the Blanton Museum was really enjoyable — make sure to visit if you ever get the chance!
After our time at the museum, we headed to Casey's for a snowball.  To be 100% honest, I saw the mural on the side of the building when we were driving around on Friday — and because of the mural, I knew I had to stop.  I'm drawn to all things rainbow like a moth to a flame!  And hey, I really like snowballs, snow cones, and the like.
We went to Velvet Taco for dinner, which was my favorite taco experience of the trip.  So delicious and everything tasted so fresh and semi-healthy.  Loved it!  I had a super early flight the next day, so it was an early night for me.  I loved my time in Austin and I can't wait to return someday!  Thank you to Stef for showing me around your new city!
Other stray observations:
We should all love ourselves as much as Texas loves itself. For. Real.
Tacos everywhere. Everywhere.
The bathroom situation was amazing. Hear me out.  Every single public bathroom that I experienced was its own separate, totally private stall.  Texas is doing it right!
Everyone was very friendly and generous with the "y'alls"
Texas loves legal u-turns and hates decent road signage.
Queso everywhere. Everywhere.
Clear eyes, full hearts, can't lose. Texas forever, y'all. [now, if you'll excuse me, I'm going to go re-watch Friday Night Lights]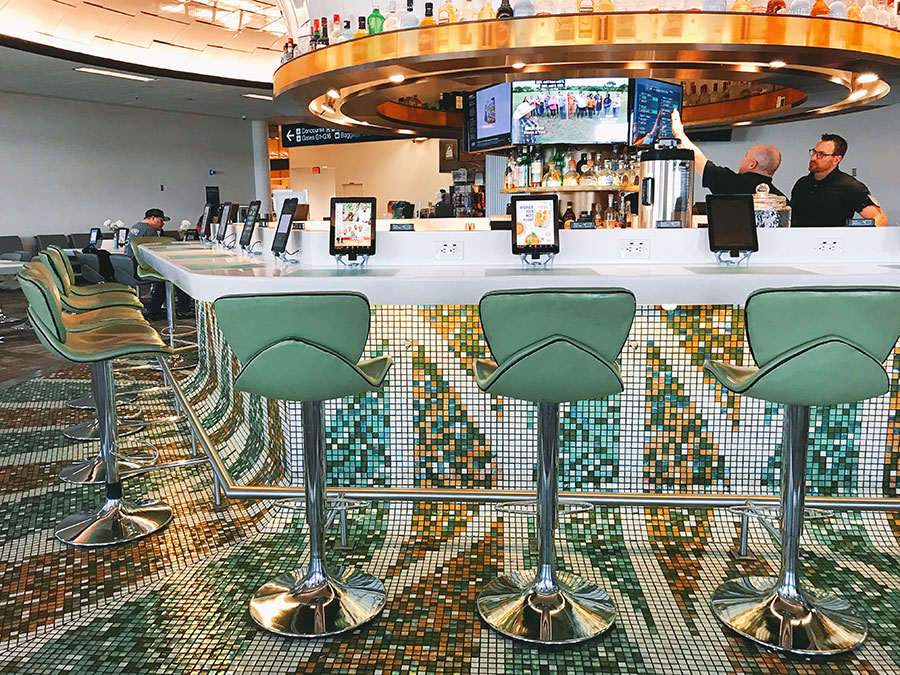 The Minneapolis airport's "Minnibar" was pretty glam!

Eats at Kerbey Lane!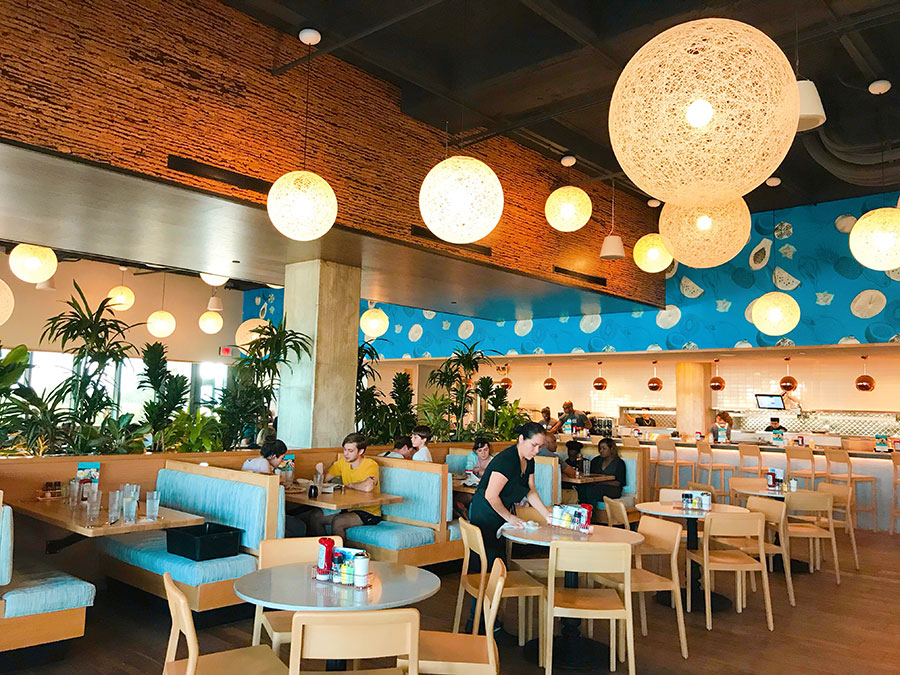 Kerbey Lane!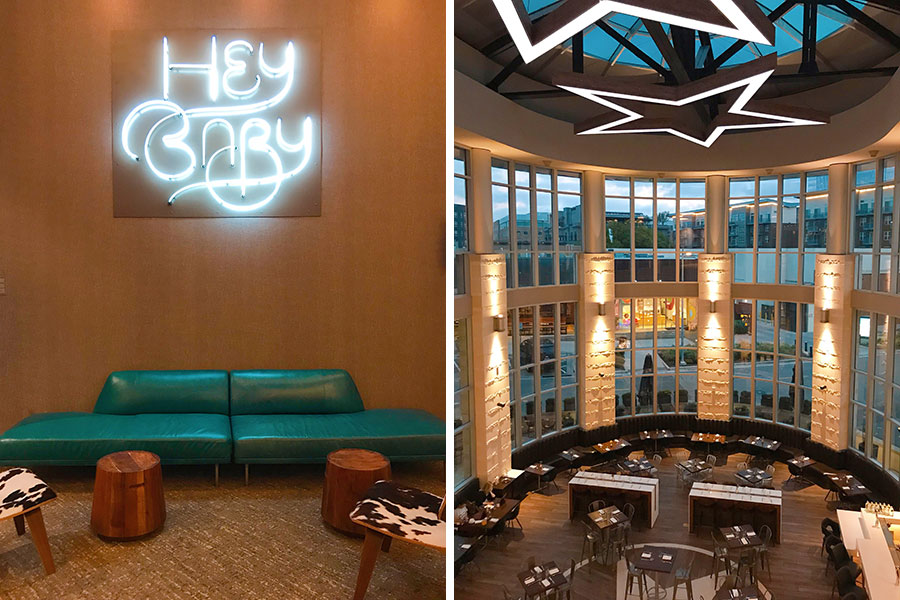 Hotel vibes.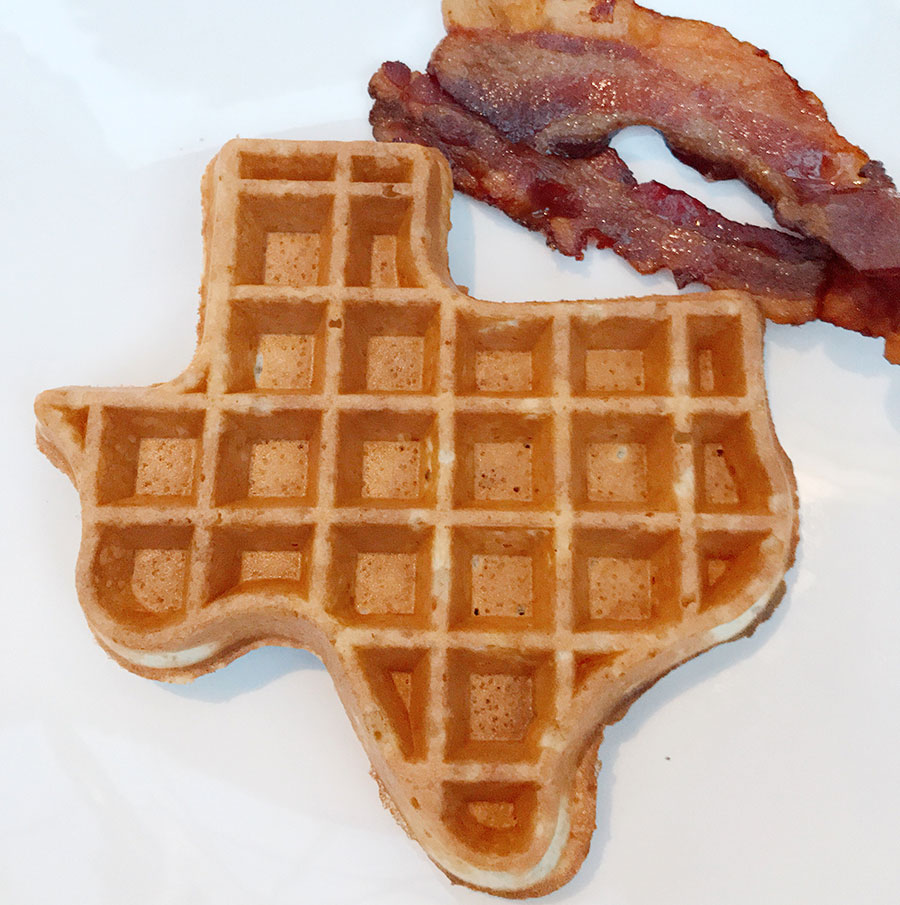 Texas, y'all.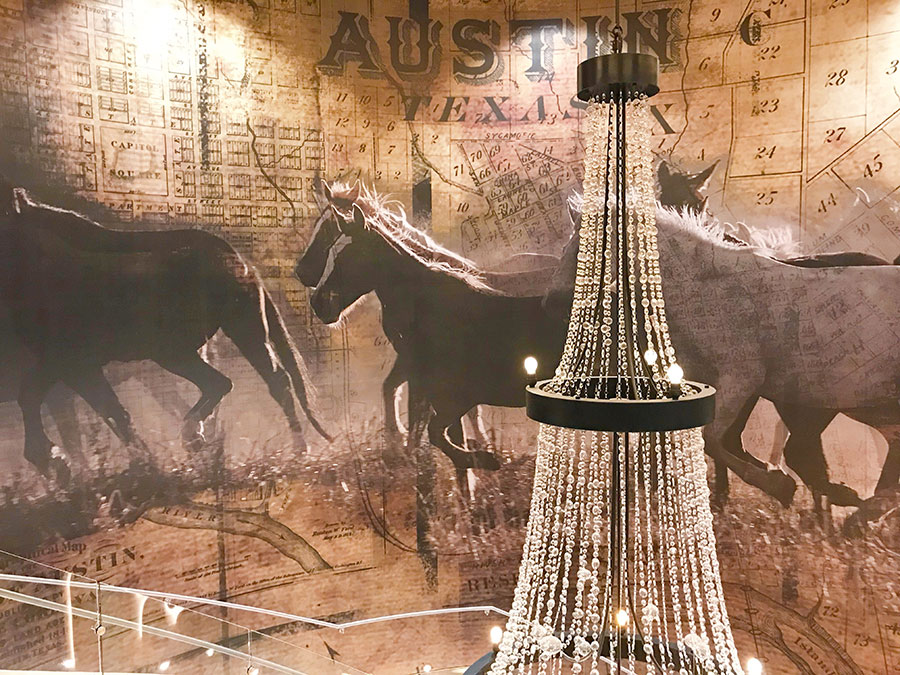 Hotel glam.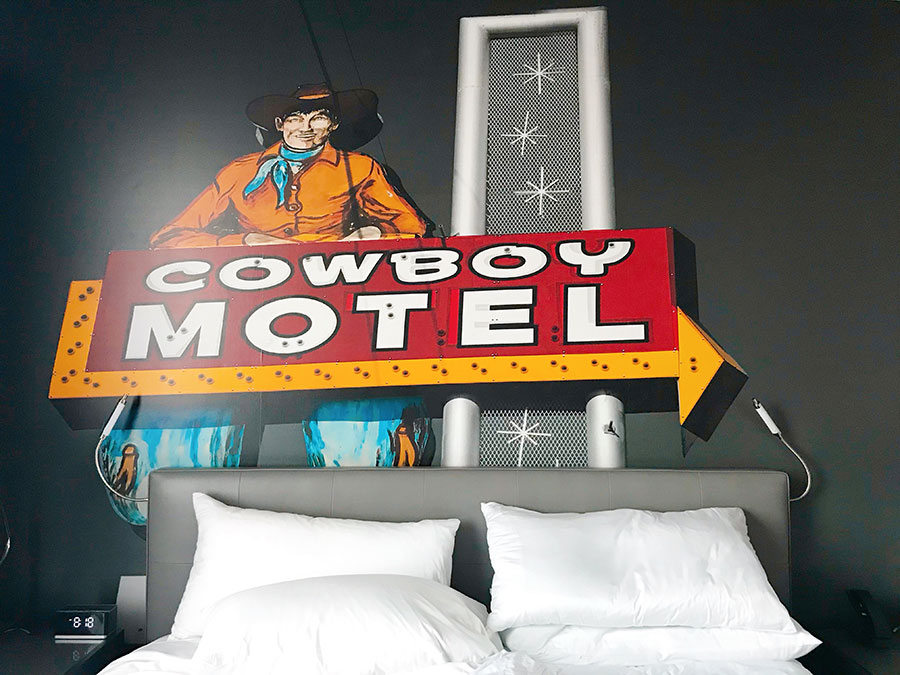 Of course there's a cowboy sign above the bed.  Of course.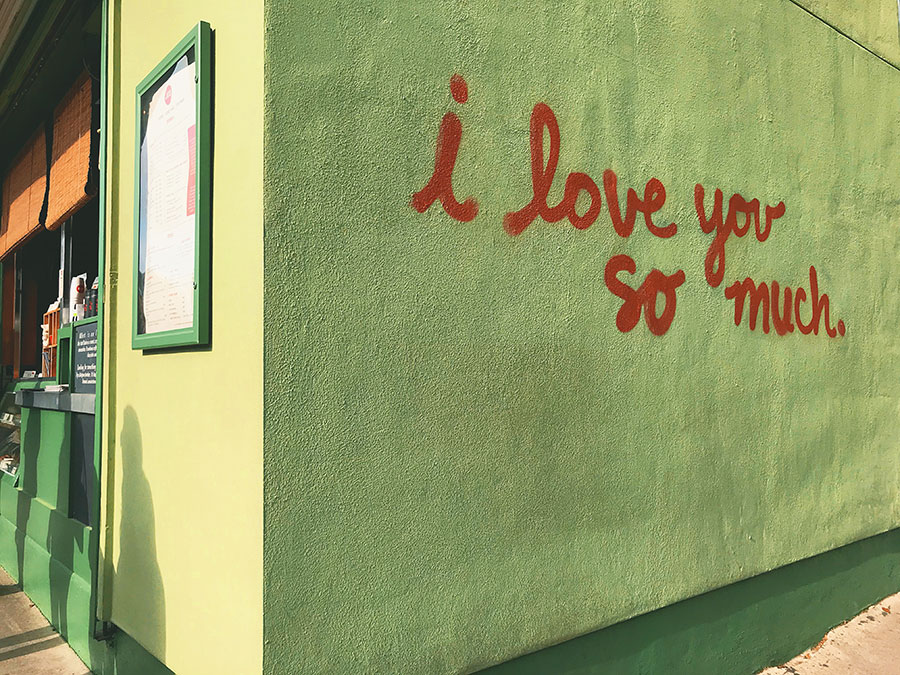 i love you, too!  The story goes that the "i love you so much" was spray painted by Amy Cook, a local musician, in tribute to her then-girlfriend, Jo's co-owner Liz Lambert.  Romance!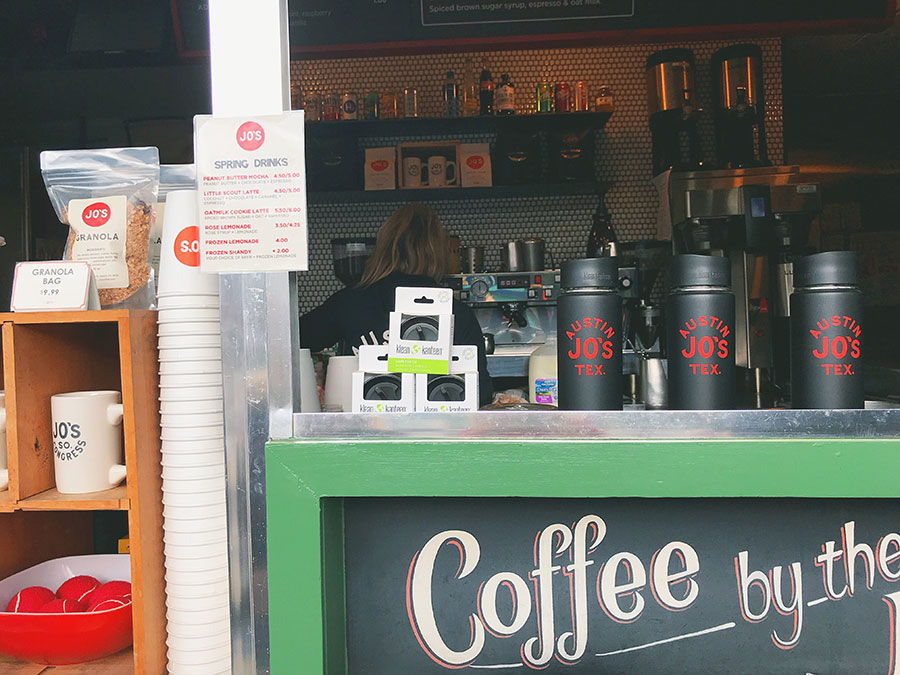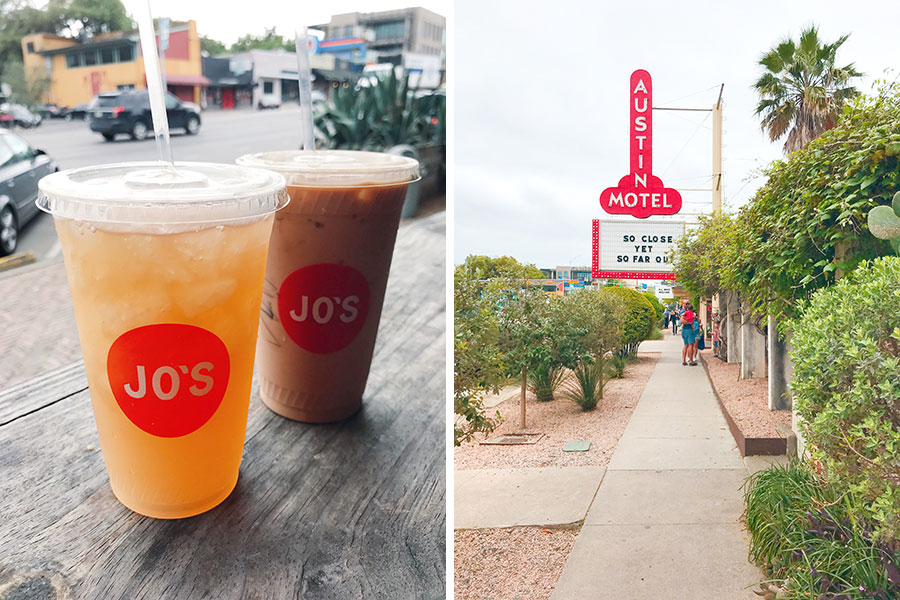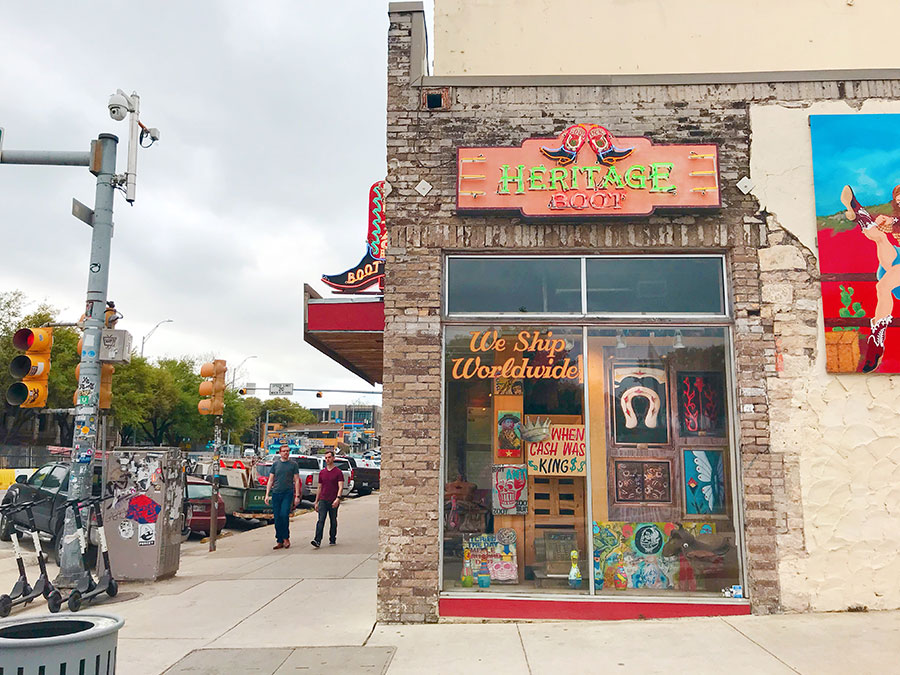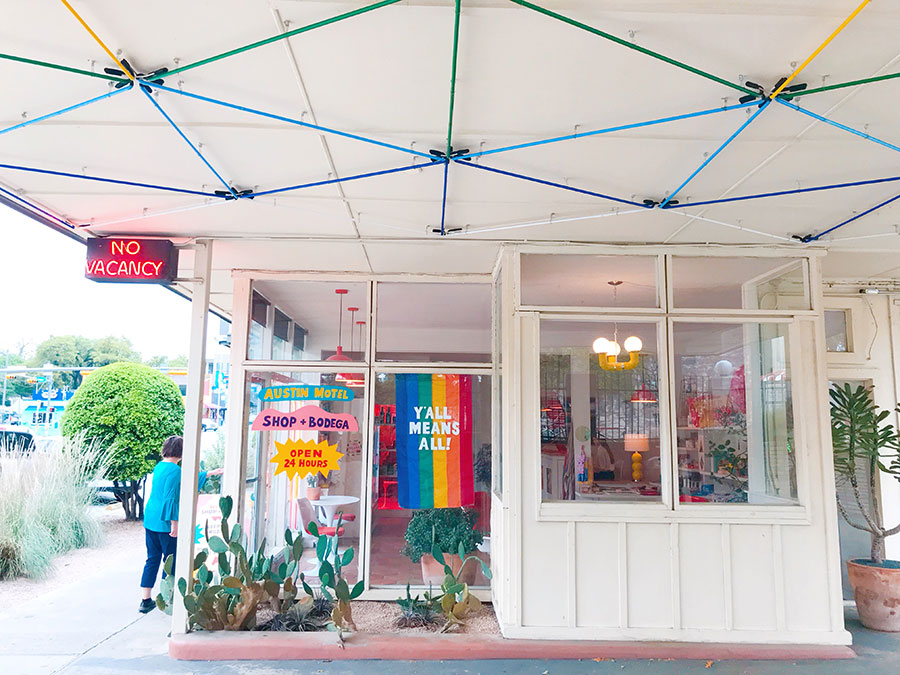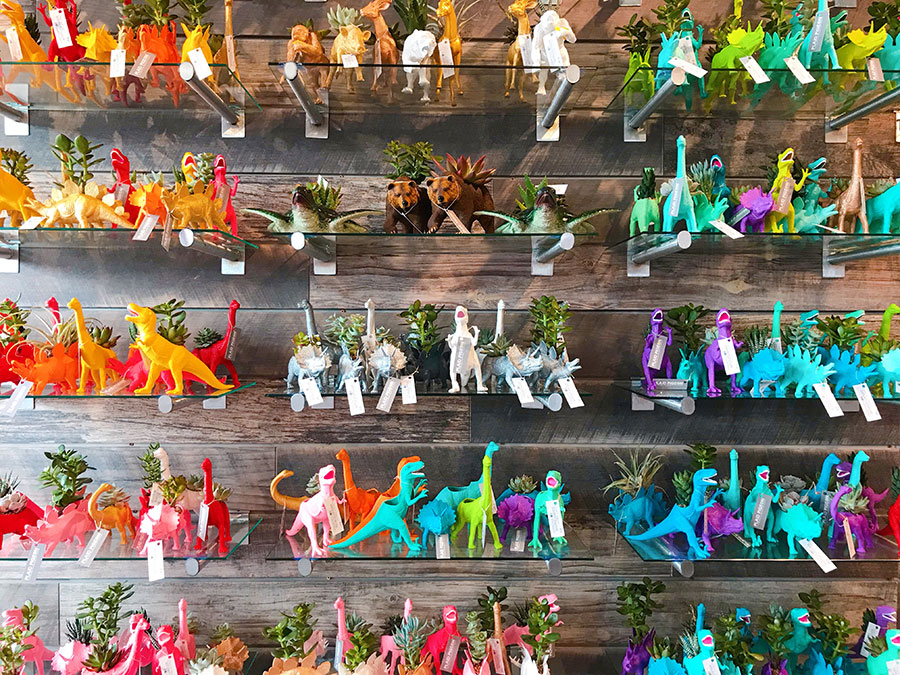 The wall of dinosaurs at Maya Star.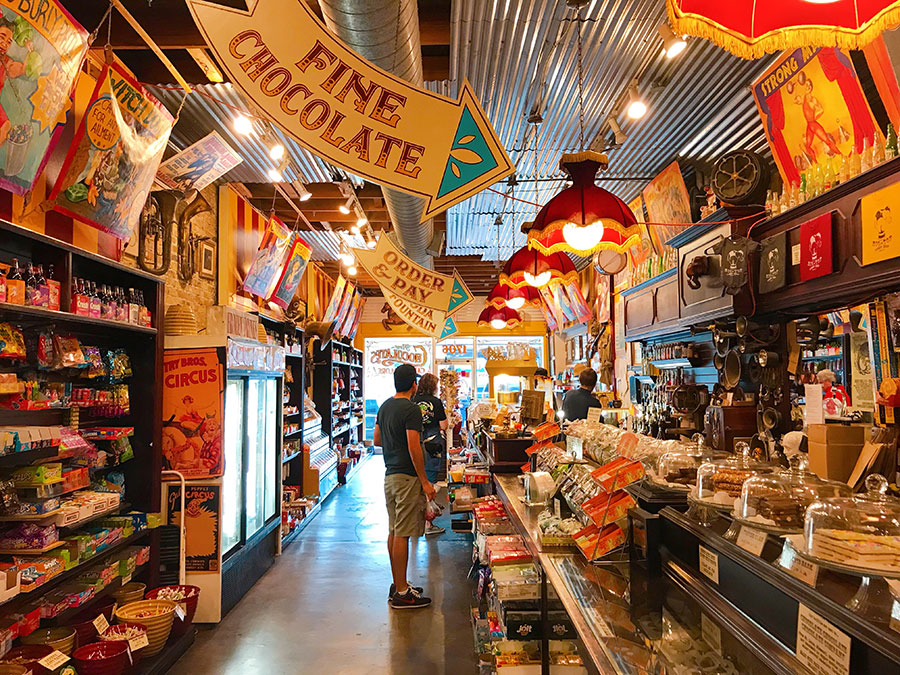 Big Top Candy Shop!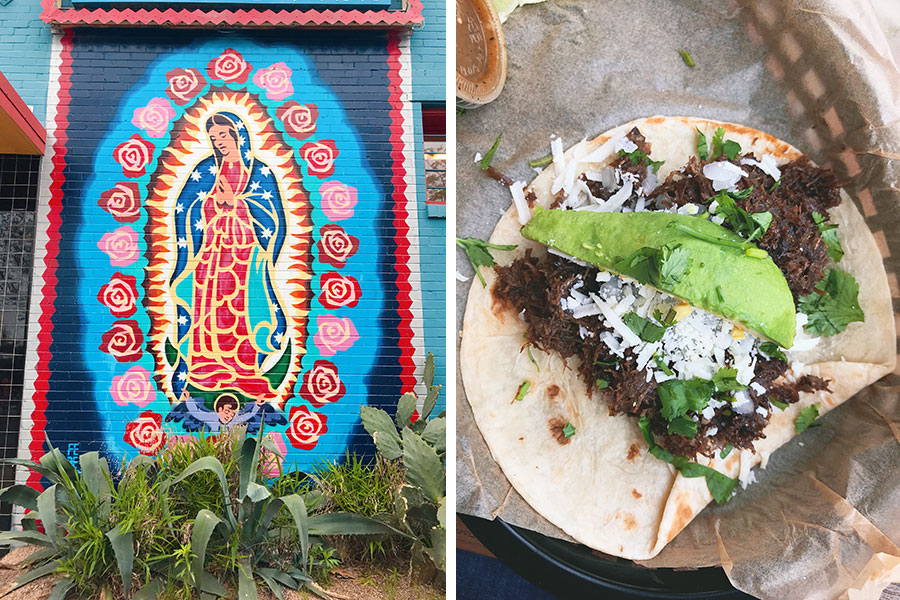 Bless this Torchy's taco.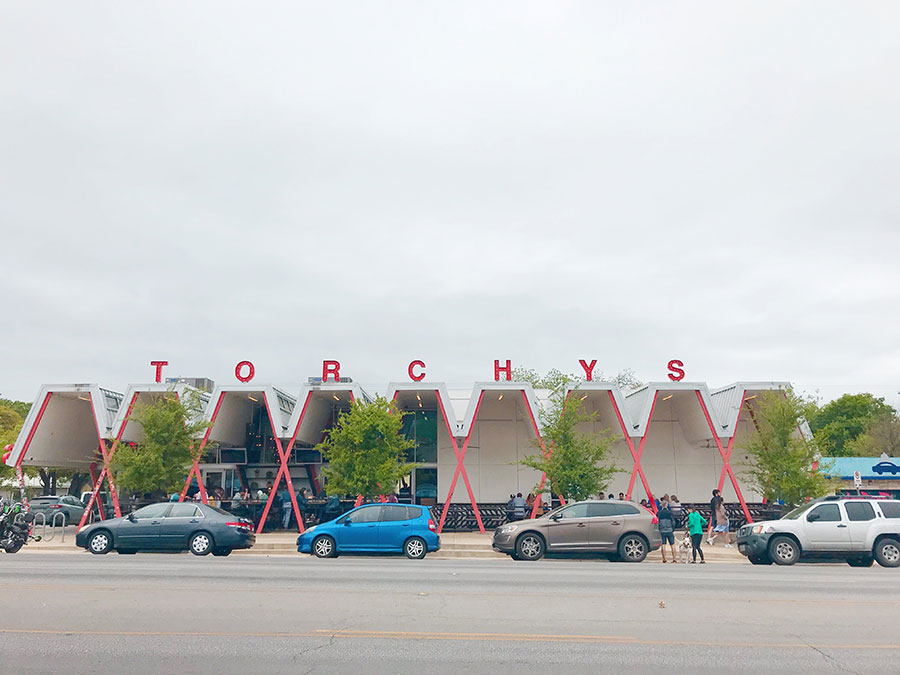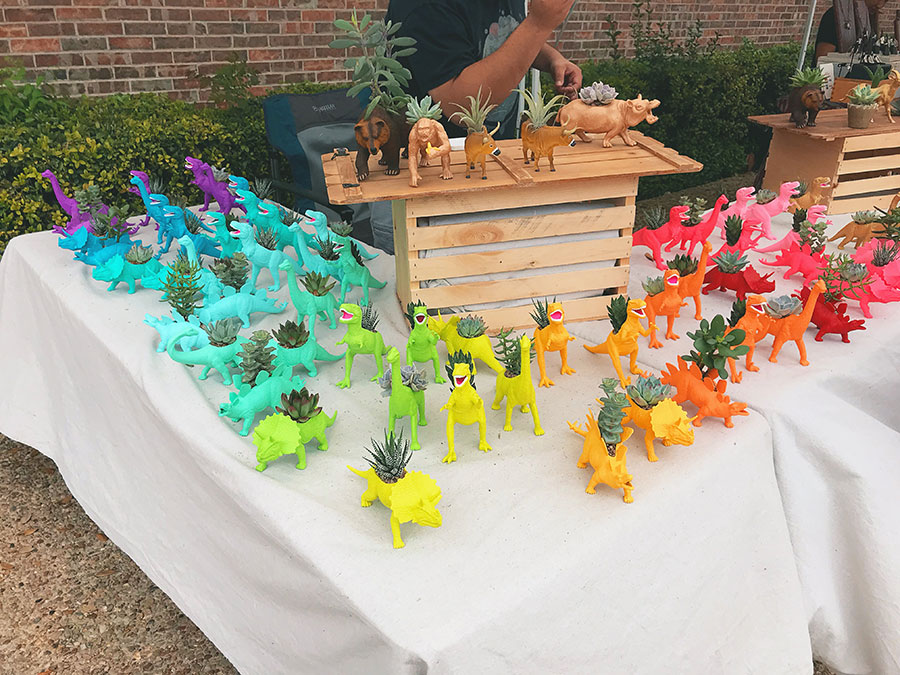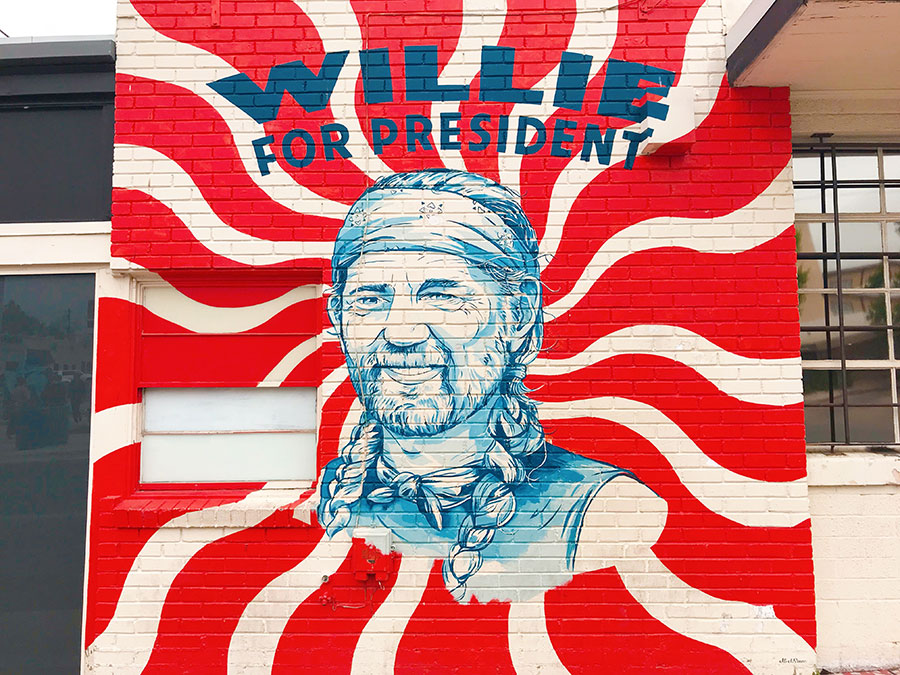 I could think of worse candidates.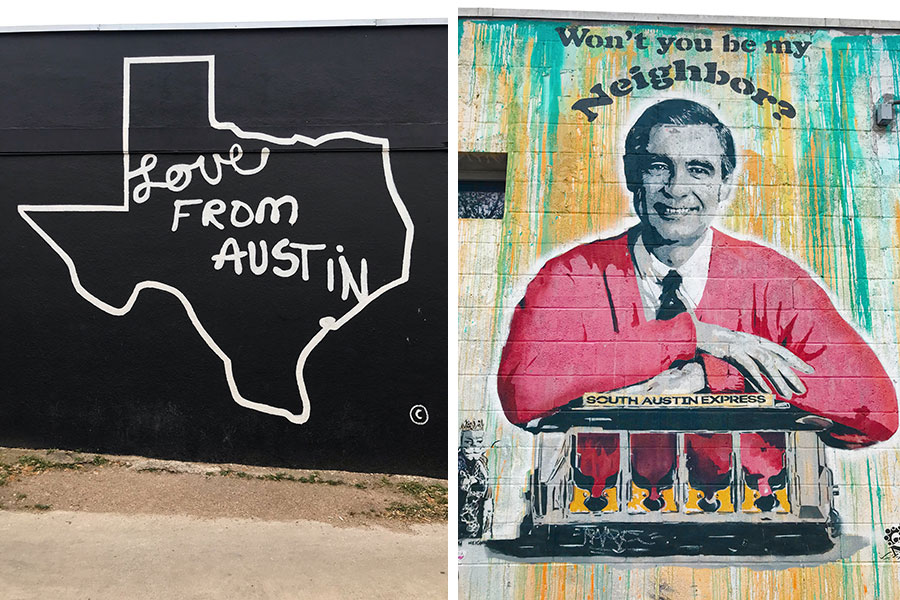 The mural game is STRONG in Austin.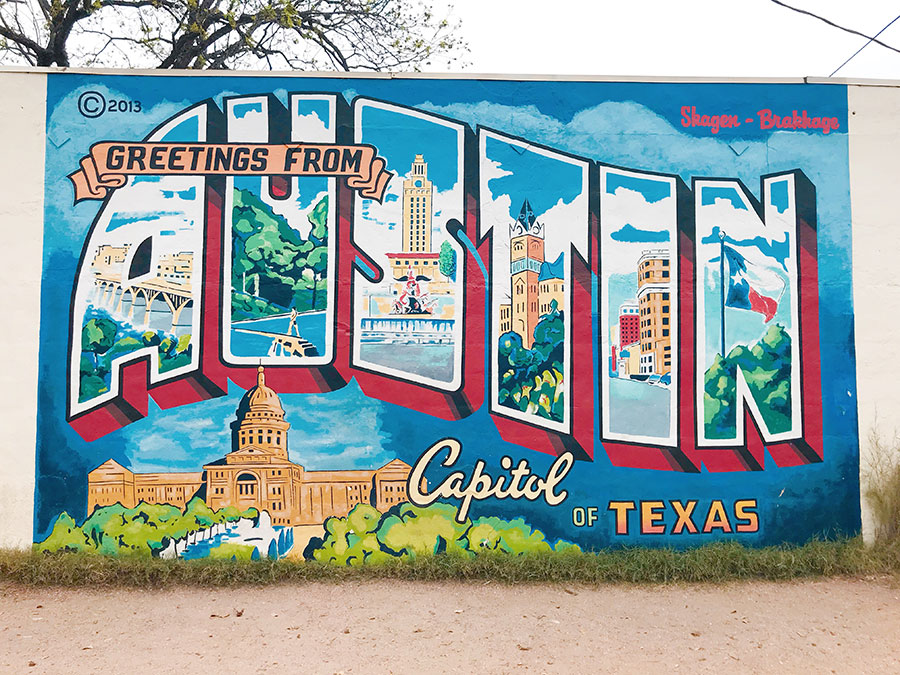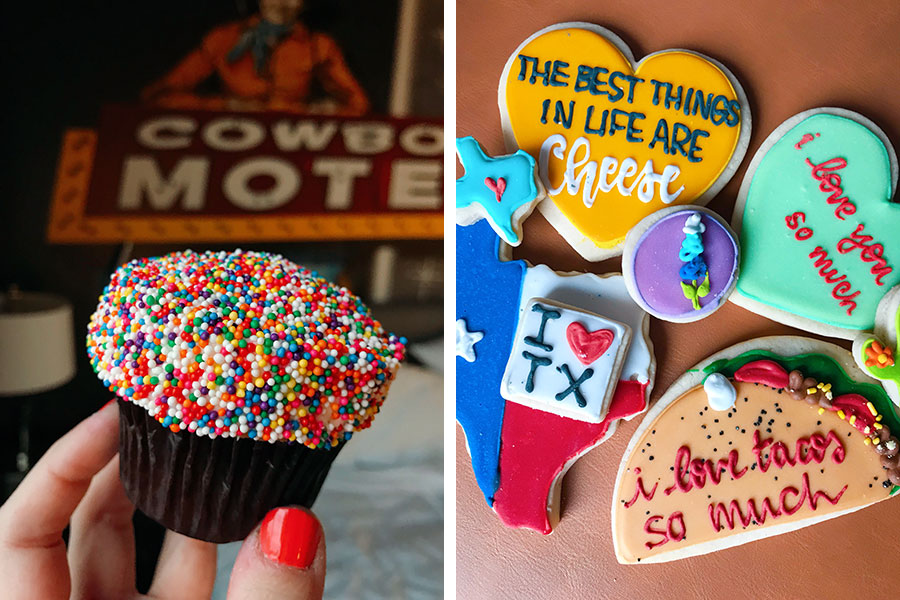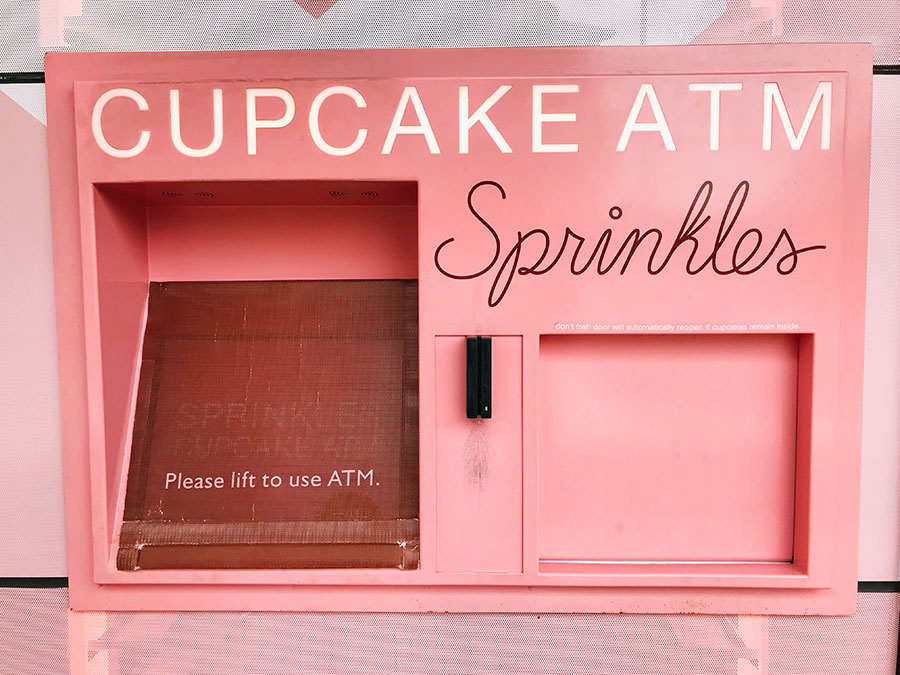 I bought the cupcake from this "Cupcake ATM" — because I am what I am: a basic white girl.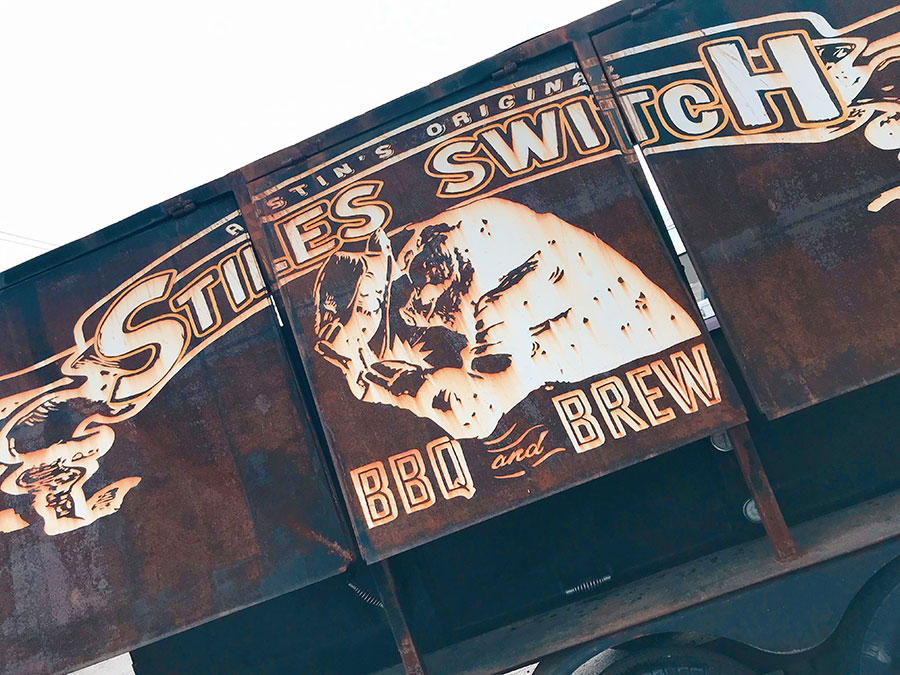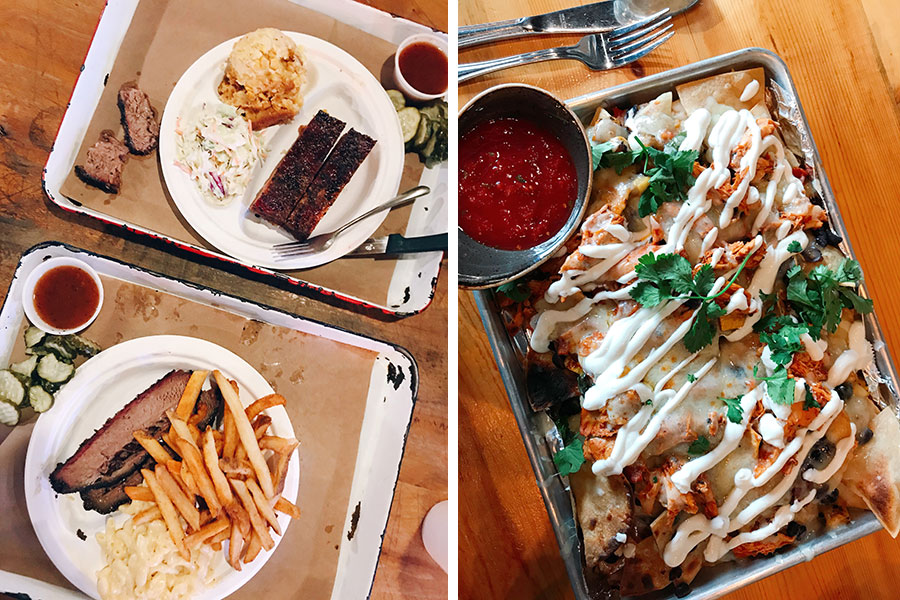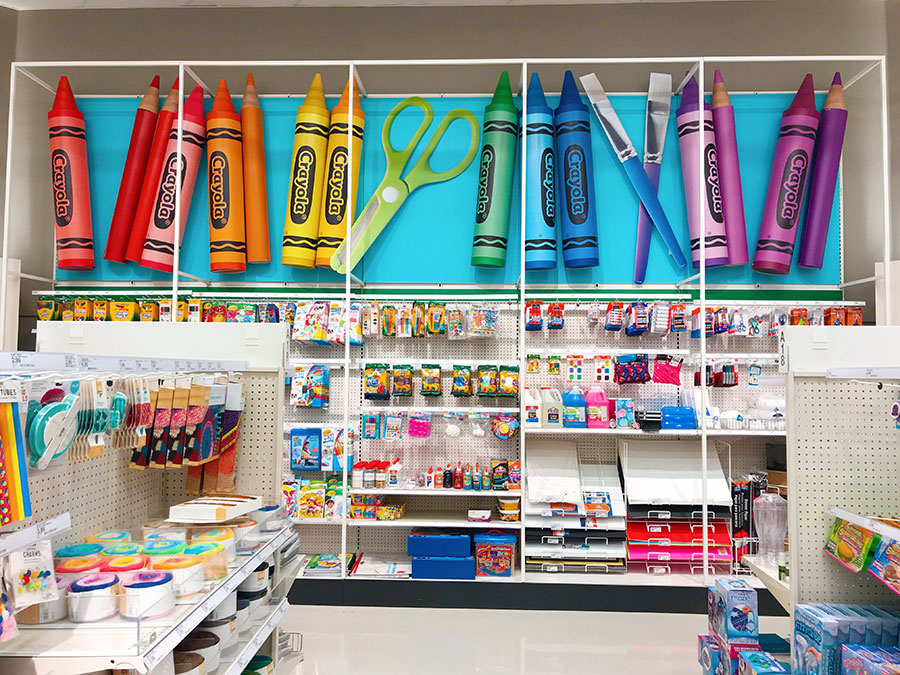 Target!!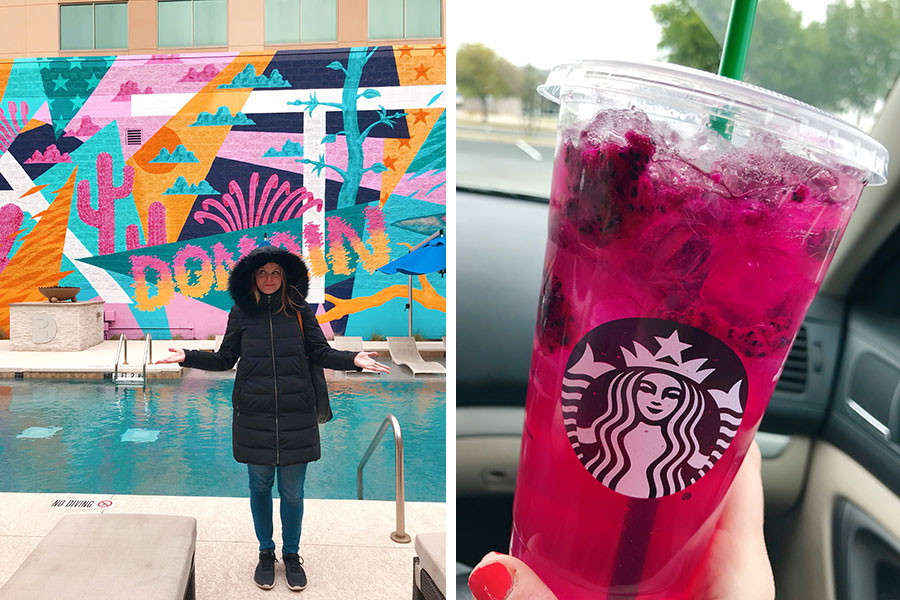 It was chilly, which I wasn't expecting! Low 40s and windy — but that made for fewer people out and about.  It was a win!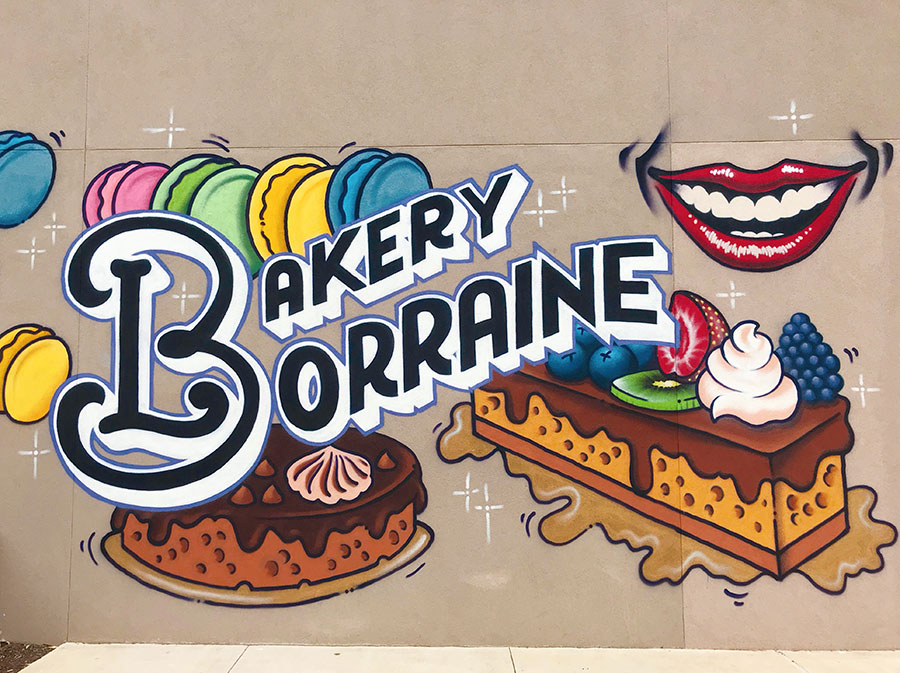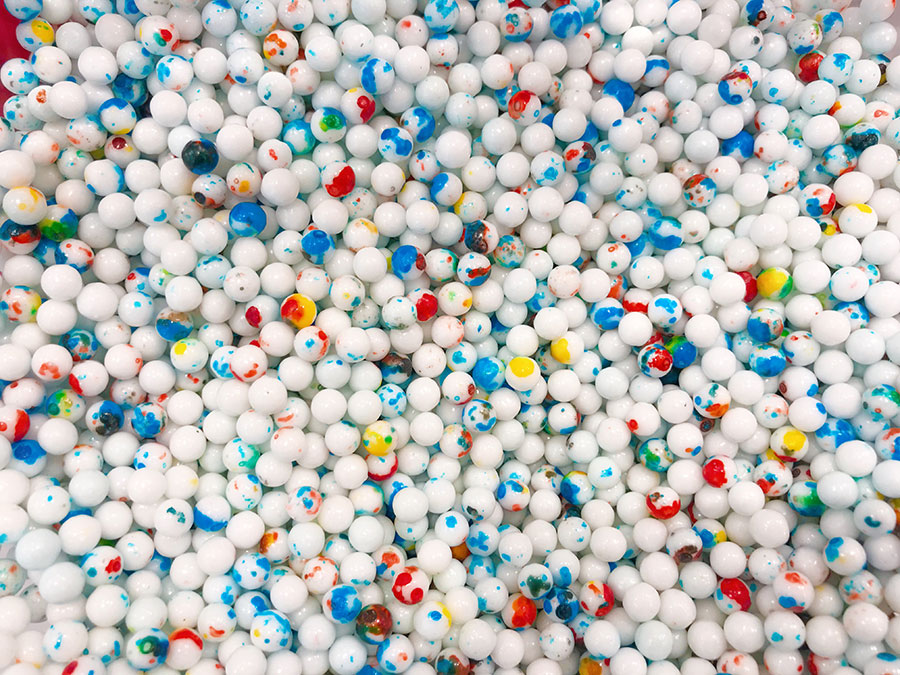 Jawbreakers.  I just liked the colors.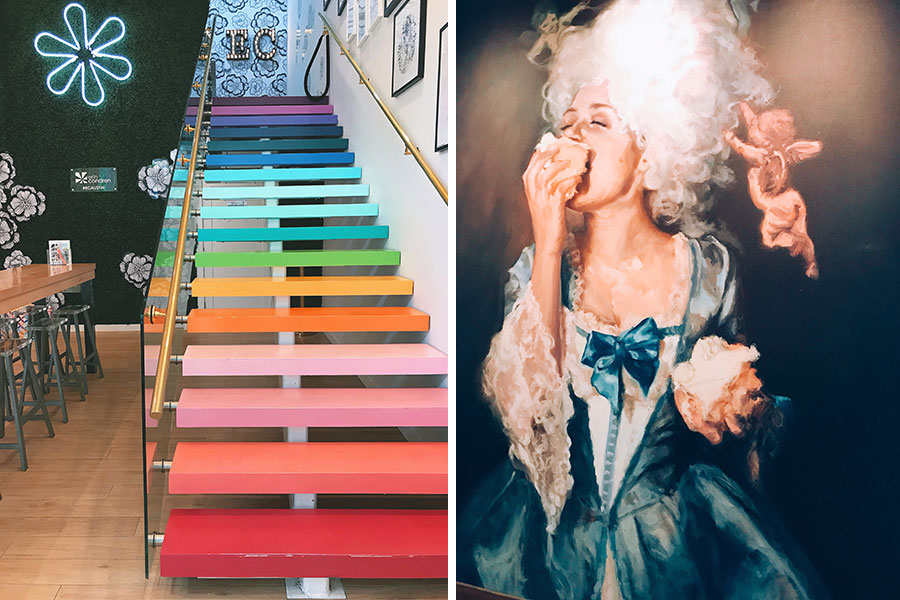 Great stairs at Erin Condren; and let them eat cake in the bathroom of Velvet Taco!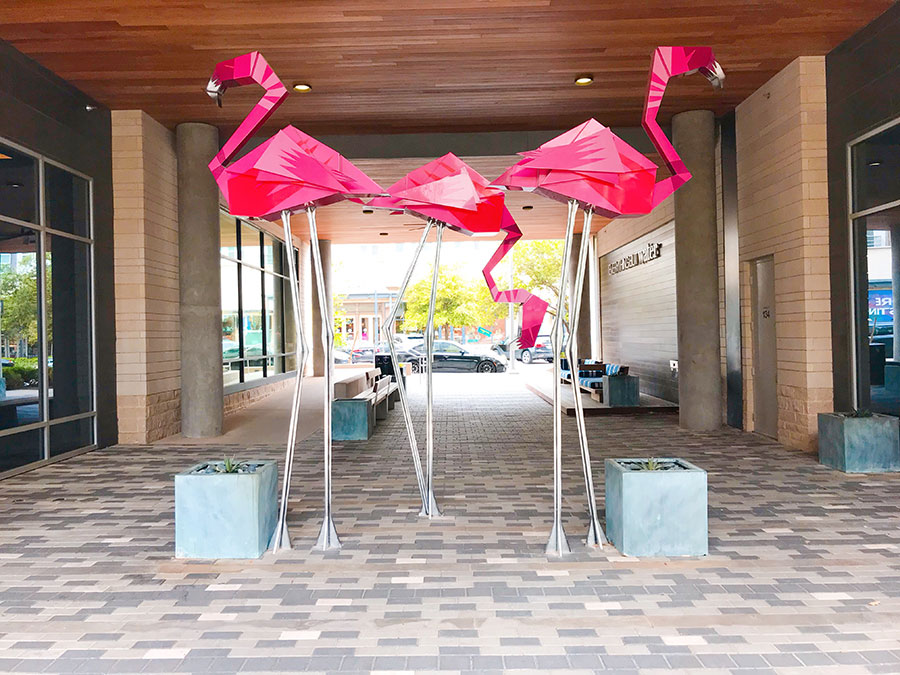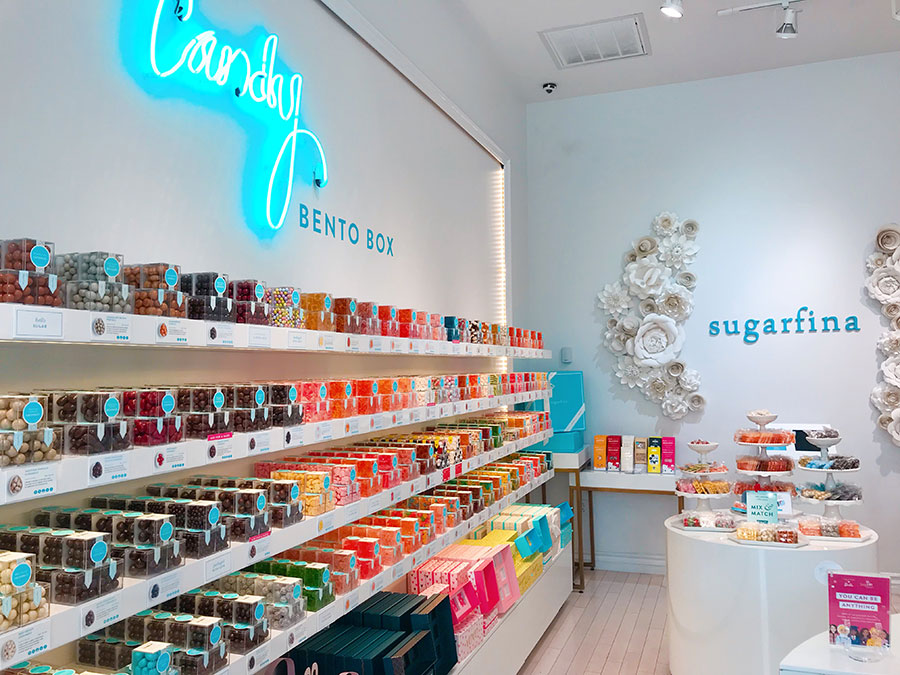 The prettiest candy store I've ever seen.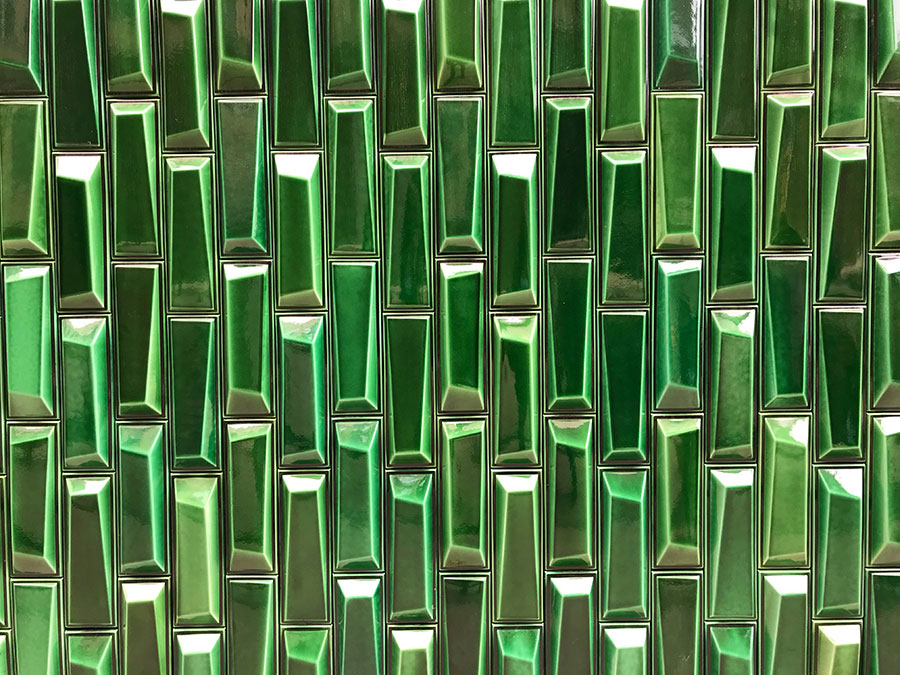 A great green wall.  I don't know why I love walls so much but I do.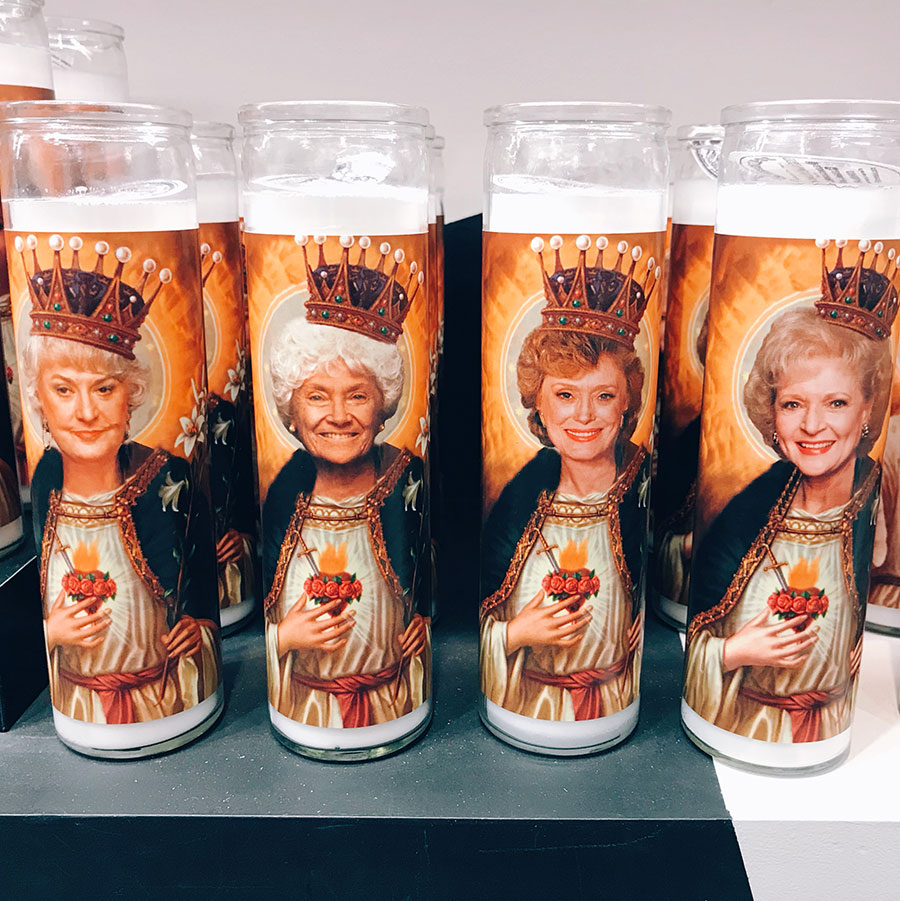 The Patron Saints of my life: Dorothy, Sophia, Blanche, and Rose.

The Blanton Museum.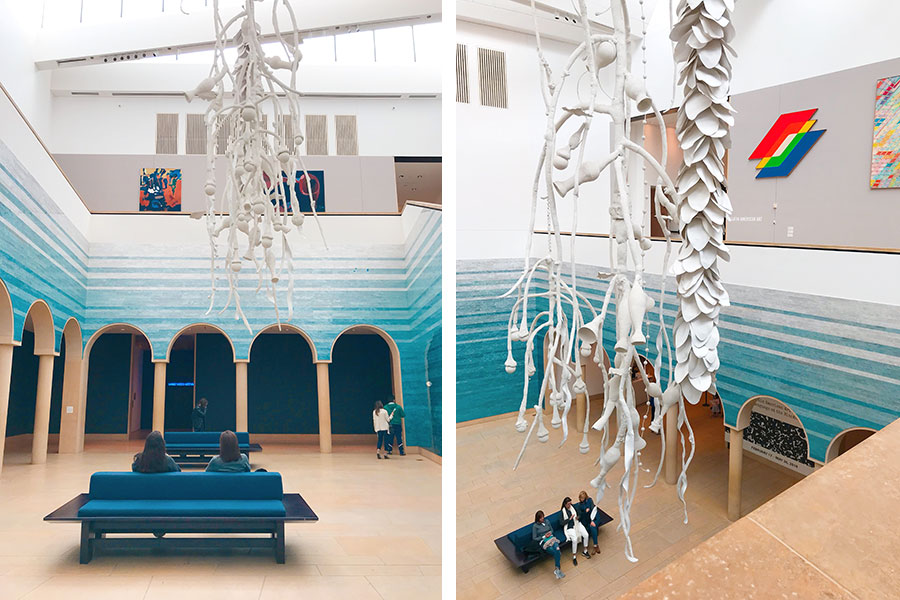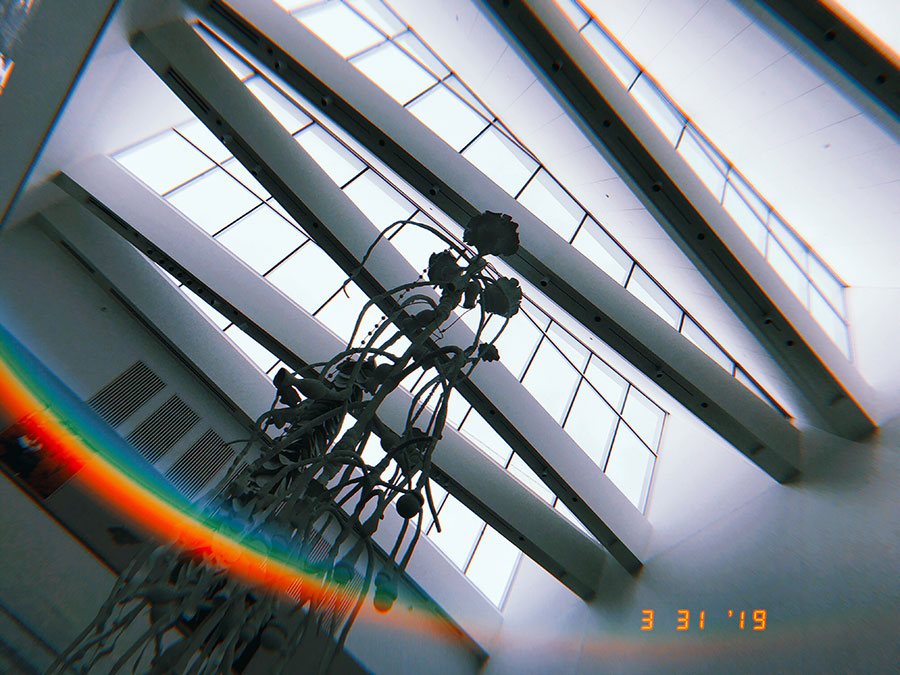 Thank you, Huji app, for making the art museum EXTRA artsy!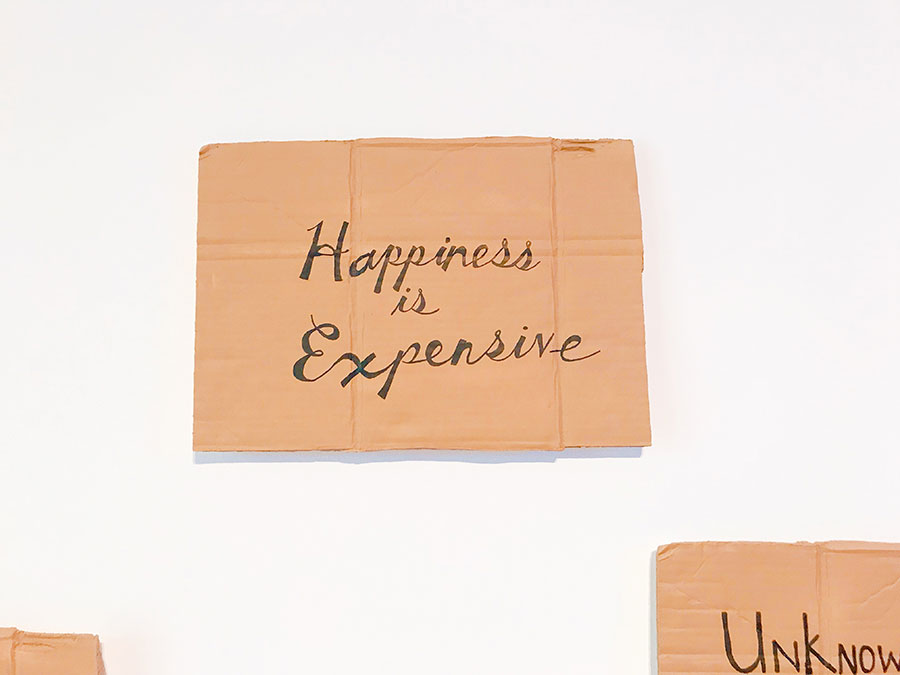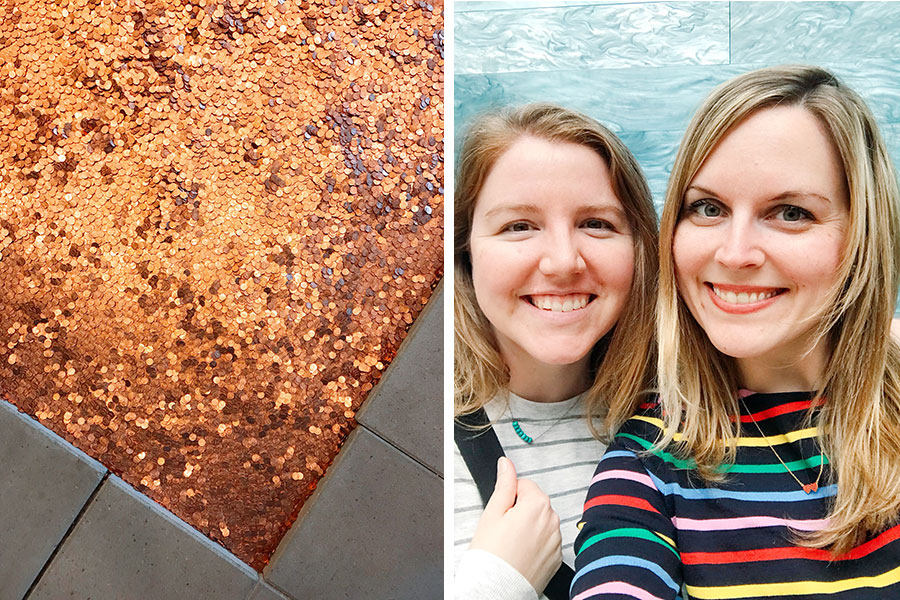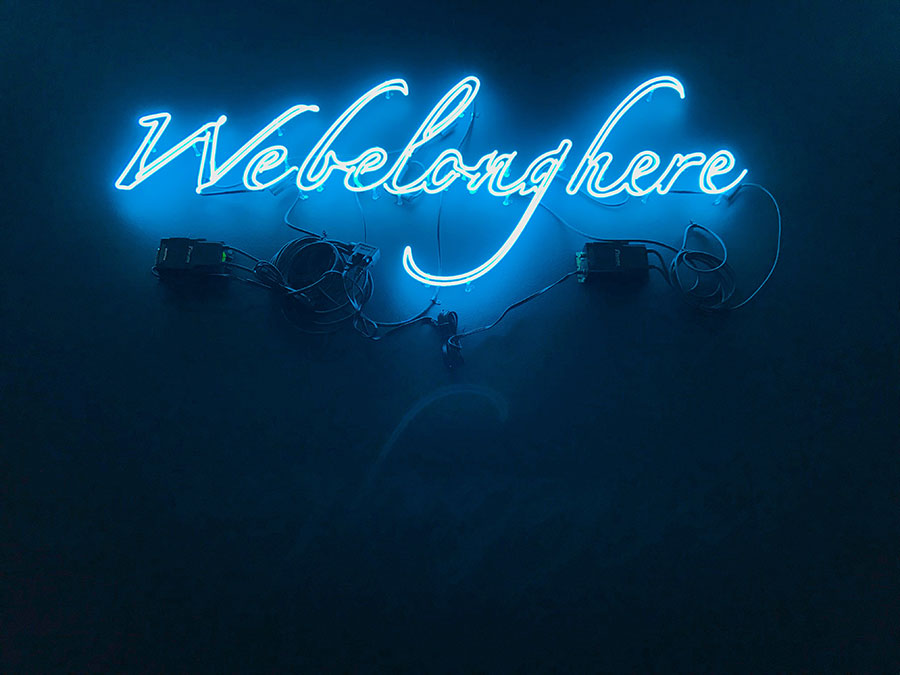 Always love a good neon sign.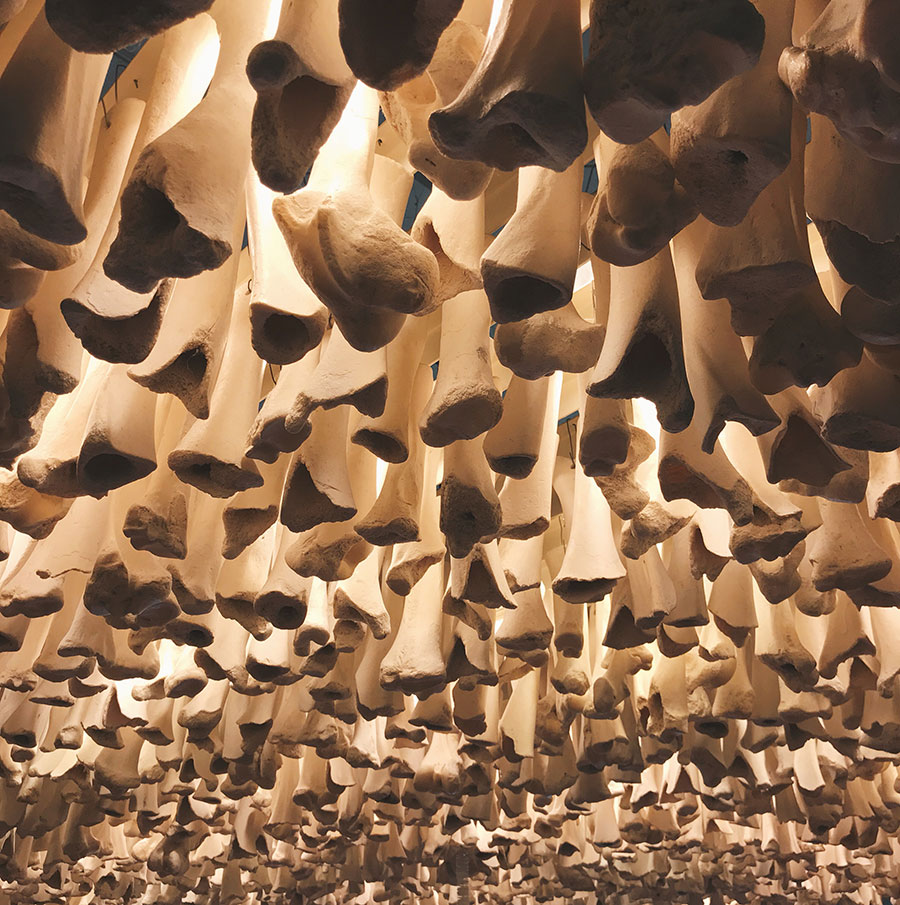 Bones hanging from the ceiling.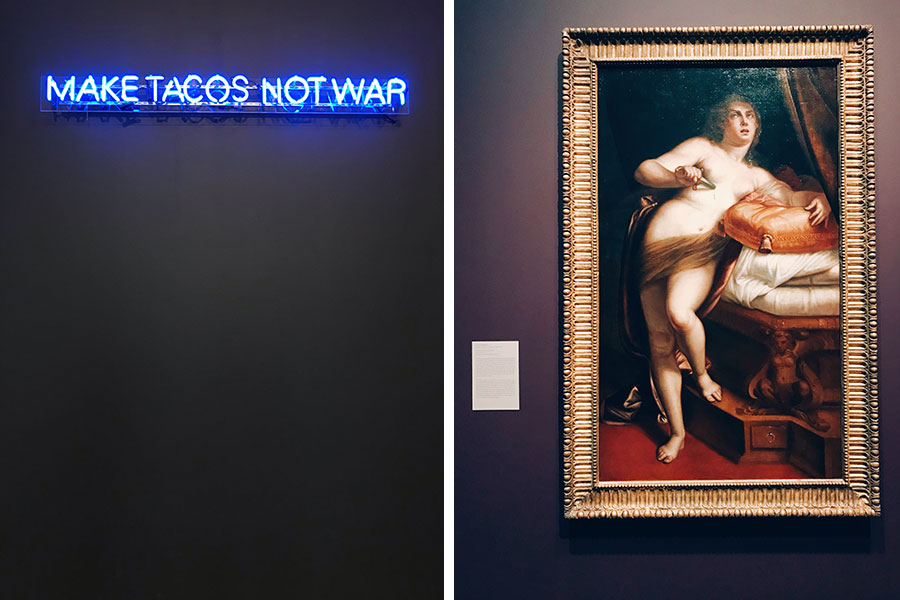 Mood.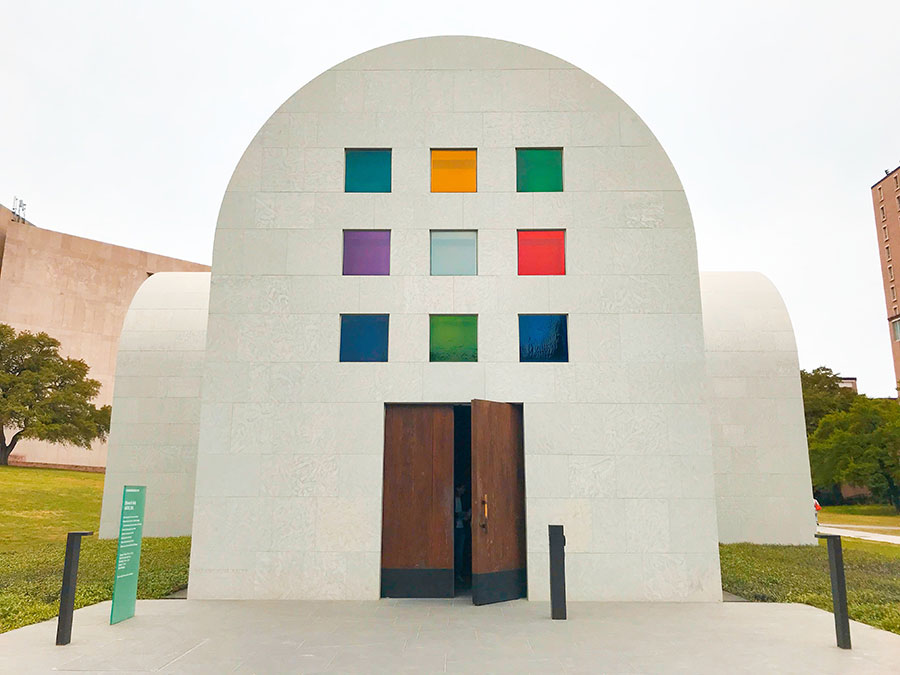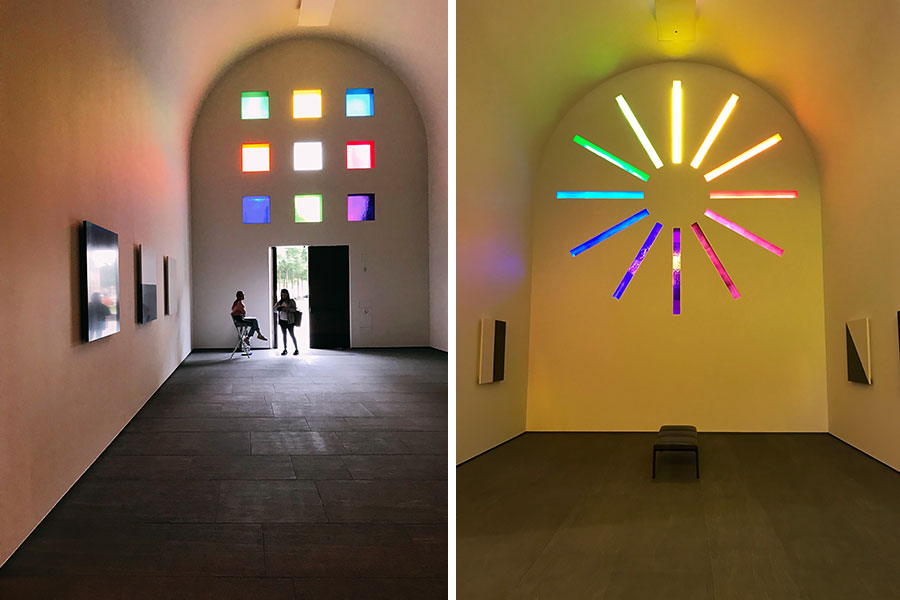 The iPhone pics don't do it justice.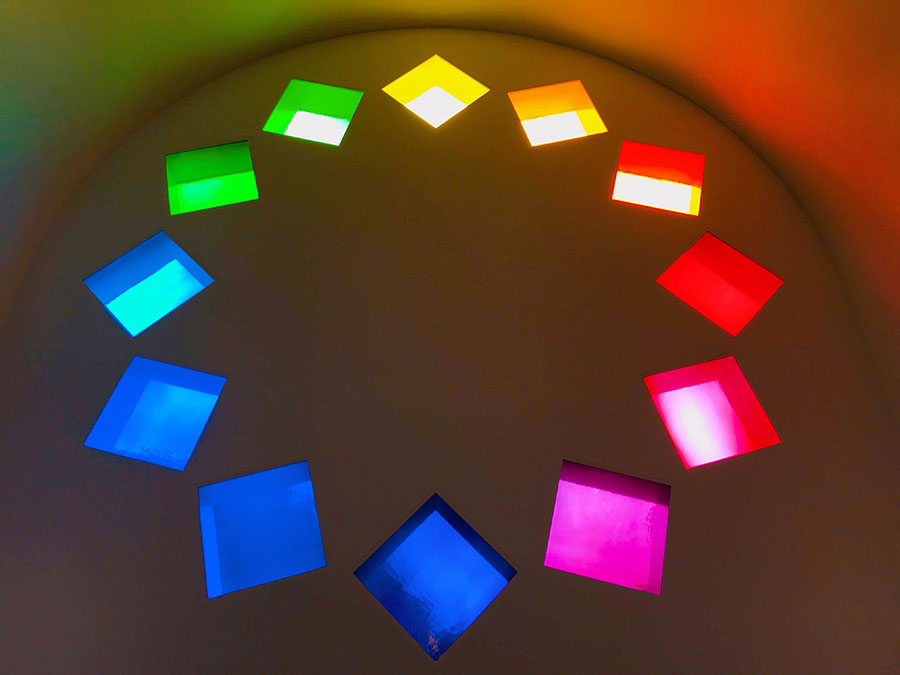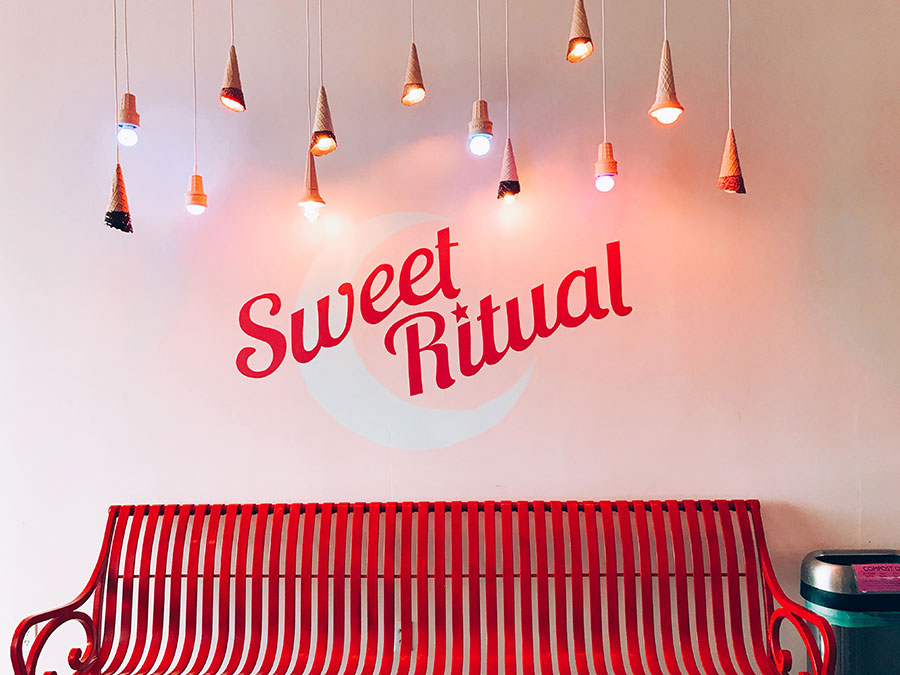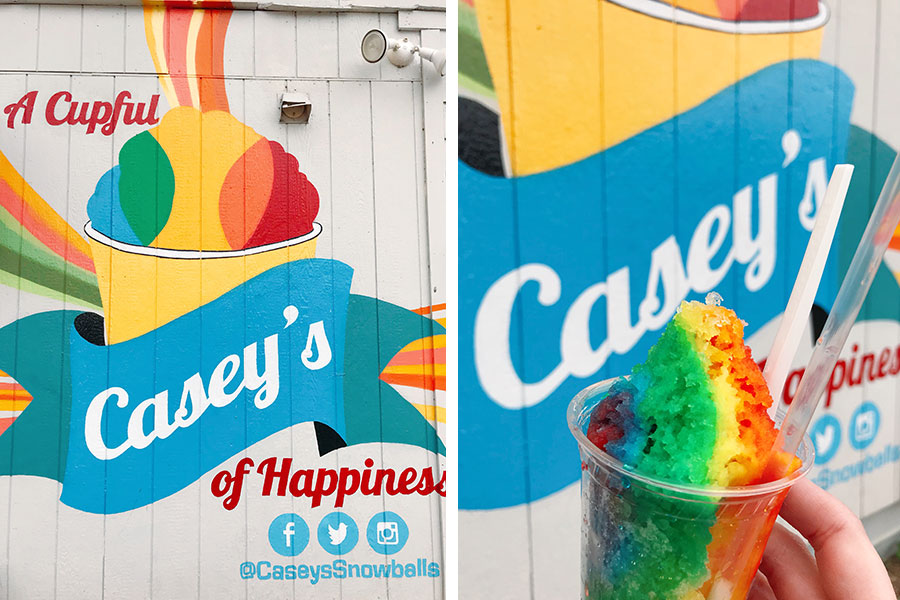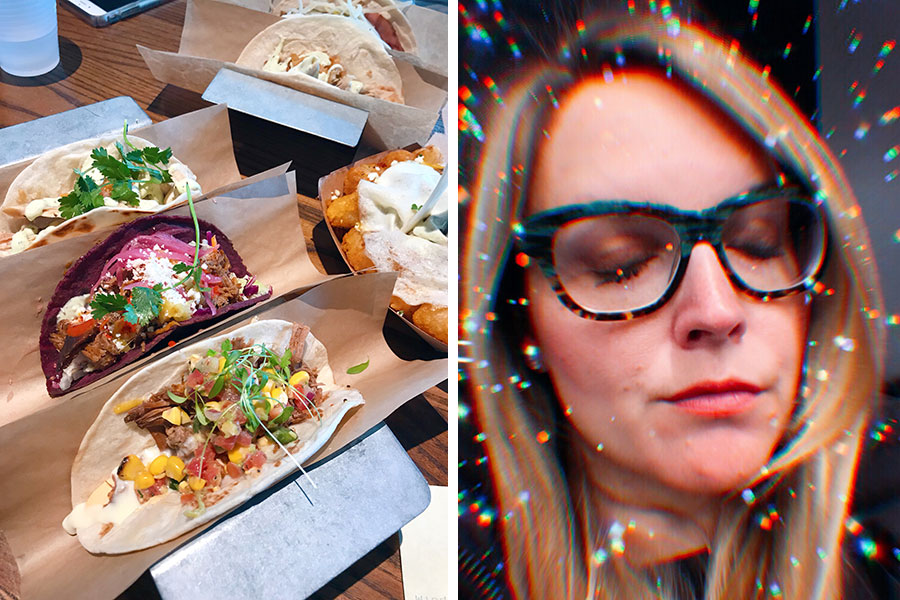 And me… at the airport… at 6am.  See ya next time, Texas!