July 2019
Where We Stayed:  The Hewing
I came to the realization that I had never visited Minneapolis as an adult.  I went to Minneapolis when I was ten years old to see the Mall of America.  And then I drove through while on a roadtrip back in '09.  So I never really experienced the city!  I wanted that to change because a) it's only 4.5 hours away, b) it's a major Midwestern city, and c) everyone and their uncle seems to love it.
Well, I loved it. HOWEVER, we had some weather issues on this long-weekend trip.  It was 100+ degrees on Friday, when we departed.  What on earth can you do in 100+ degree weather except stay indoors with strong air-conditioning?  So yes. We did it. We went to the Mall of America! It was enormous (duh) and overwhelming and the parking structure was just as I remembered it from my childhood.  Isn't it weird what sticks in our memory?  I remember the damn parking structure and how level one was the Lobster Level.
I had a cone at Dairy Queen, went to Barnes and Noble, and visited the Crayola Experience's gift shop (so cute and colorful!).  That was pretty much the extent of my time at the MOA.
We drove to our hotel, the Hewing.  It's a gorgeous hotel that reminded me a lot of the Kimpton Journeyman or Iron Horse hotels in Milwaukee.  The Hewing was once a warehouse that also served as a farm implement showroom.  How Midwest, right?  But it's a gorgeous space and I'm glad it was able to be refurbished into something new!  One thing to note — the hotel is across the street from a strip club and there are multiple sex shops (Sex World!) in the neighborhood.  Don't let that dissuade you from staying at the Hewing!  It really is a great area with lots of restaurants and shopping.
We had dinner at a pizza place that was a few blocks away.  I don't even remember the name of it because it was so bad.  But we didn't know — and we didn't want to walk far in the ONE HUNDRED DEGREE HEAT.  Ya know.
The next day I got up early and walked to a donut shop to meet up with my friend Beth.  I went to graduate school with Beth and she's now a kickass OB/GYN in St. Paul.  We don't get to see each other enough (thanks, distance!) and jumped at the chance to catch up over coffee and donuts at Angel Food Bakery.
The weather was a real pill though.  The heat was gone but the RAIN arrived! Torrential rain, thunderstorms, skies that were DARK at 8am. Sigh. It just wasn't my weekend for good weather. The rain put a damper on some of the things I had planned (mini golf at the Walker Sculpture Garden, for example).
Mom and I waited around our hotel until mid-afternoon, when the rain finally let up.  Then we headed out to explore.  We visited some murals (duh).  We did a little shopping.  We went out for lunch at Red Cow for burgers.  We tried to go for drinks on the rooftop bar of the Hewing, but it was crowded to the max and we felt underdressed and overaged (for real, I think the average age of everyone in the bar was 24!).
The next morning we had a very early breakfast at the hotel, stopped at the beautiful Walker Sculpture Garden, and then made the 4.5 hour drive home.  I think the driving time is the worst thing about going to Minneapolis.  But it's a gorgeous city, full of shopping, restaurants, culture, diversity, and Midwest Nice. Add it to your to-visit list. The Midwest is so much more than "fly over country" — and trying to open people's eyes to that fact is a hill that I will die on!
Other stray observations:
I need to make a return trip and cover St. Paul.  Gotta round out the Twin Cities!
Minneapolis was an easy city to drive in.  Not a ton of traffic when we were out and about.
If I had a dollar for every homage to Prince that I saw, I'd be rich.  Prince and Bob Dylan, the patron saints of Minnie.
TARGET, my beloved Target, is headquartered in Minneapolis.  I didn't get to visit the Mothership store on this trip, but it's on my list for next time!
I walked past the stadium where the Vikings play.  Eww.  But Minneapolis was a great city for walking — lots to see in the downtown area; and I felt safe the entire time because so many people were out and about.
Minneapolis has a lot of churches.  Those good Lutheran Scandinavians were big on building churches I guess!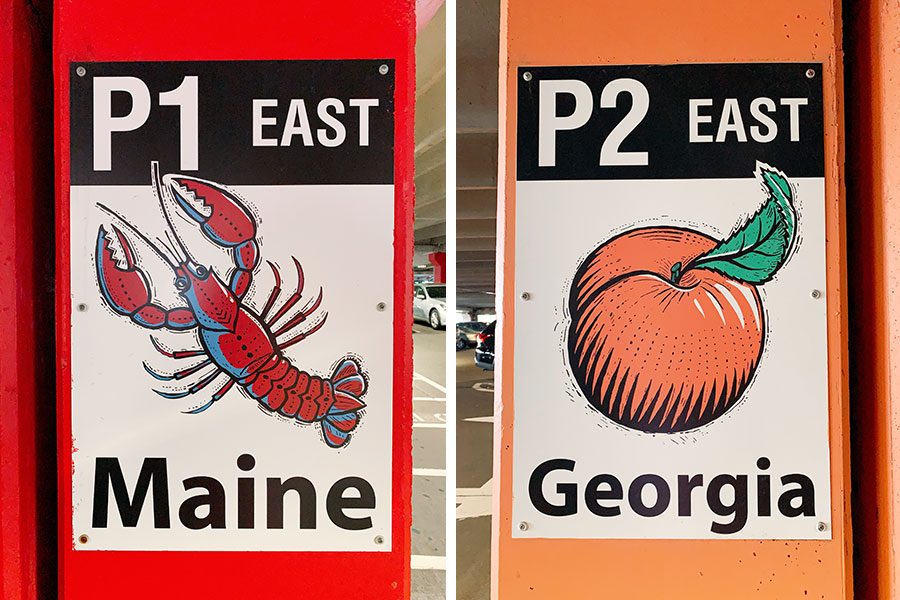 The parking structure signage that I remember from my youth.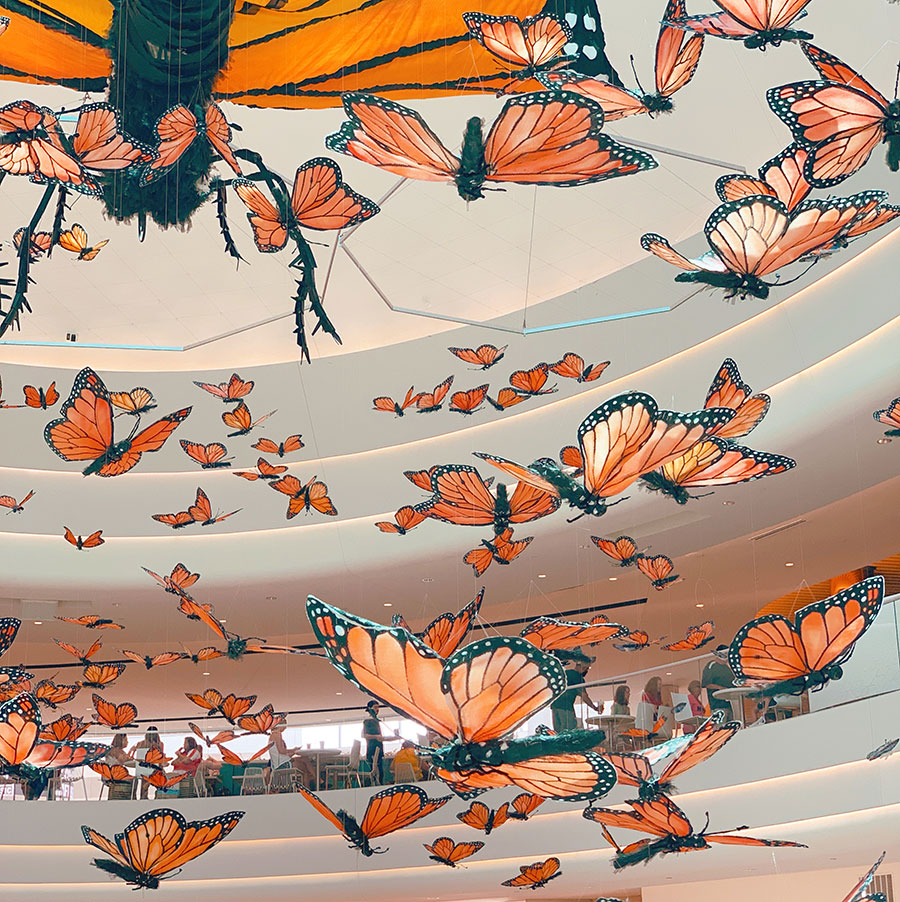 A beautiful butterfly art installation at the Mall of America.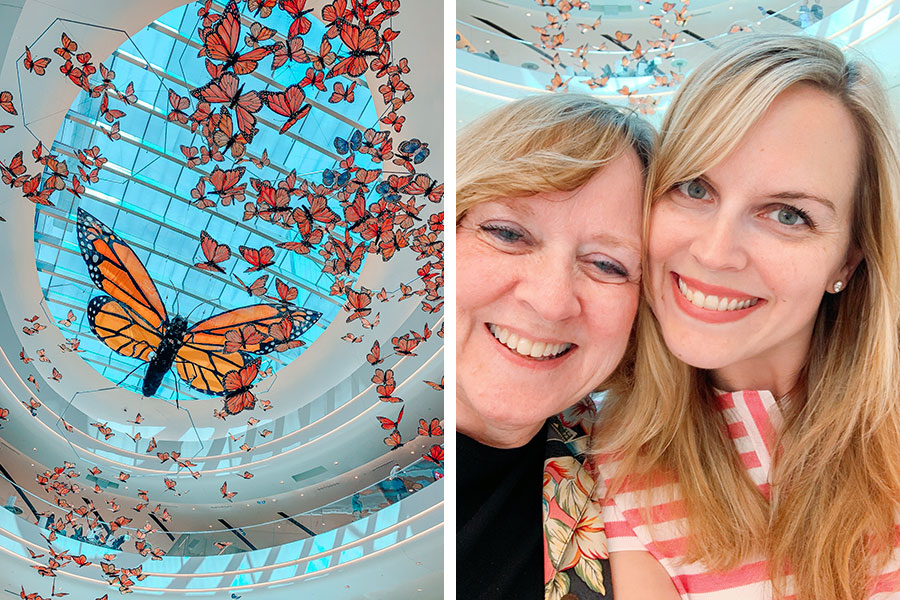 The butterflies — and my favorite travel companion.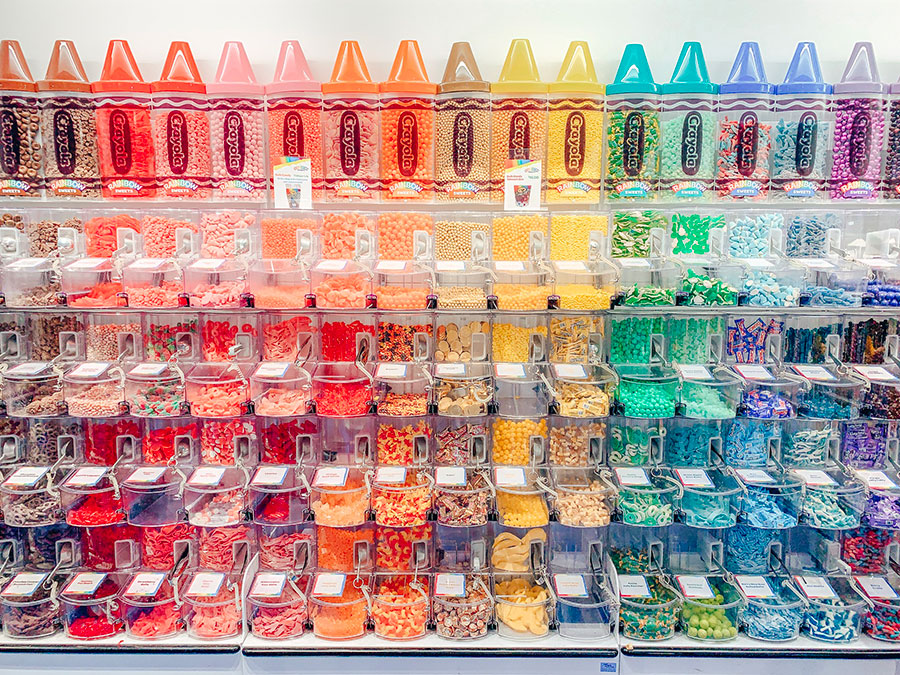 The Crayola Experience's gift shop was so cute!  And you know I had to stop because… colorful.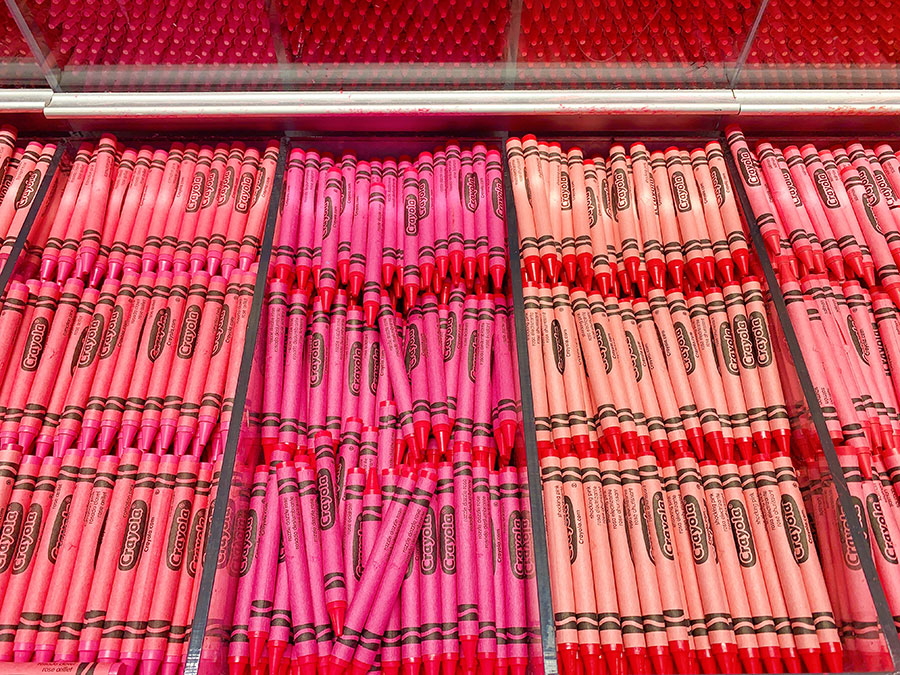 Tickle me pink.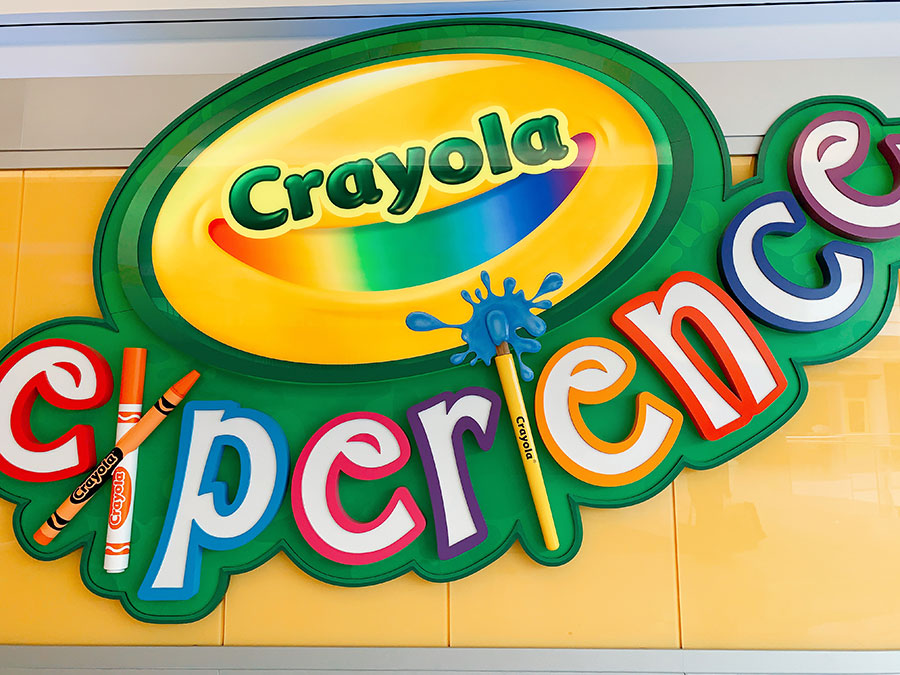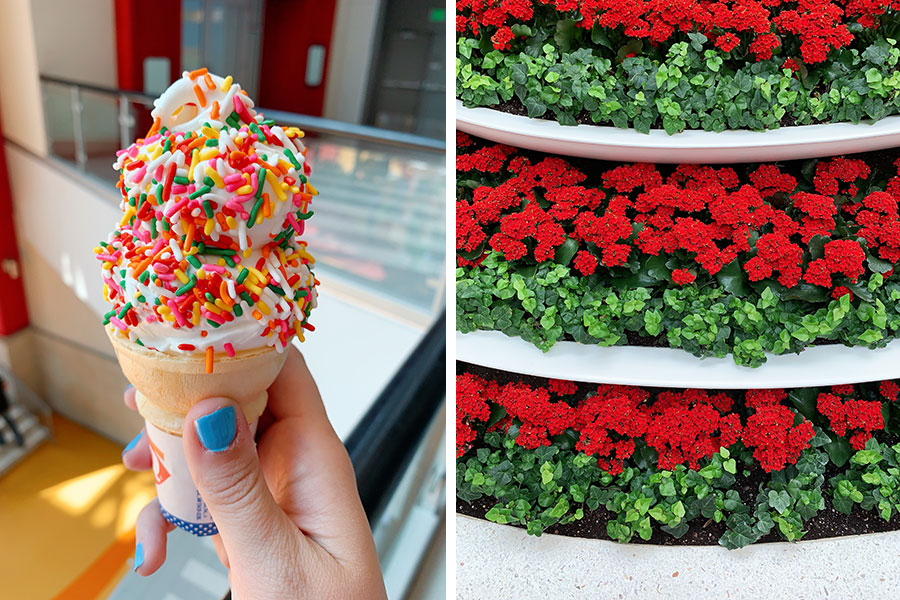 Carbs covered in mini carbs.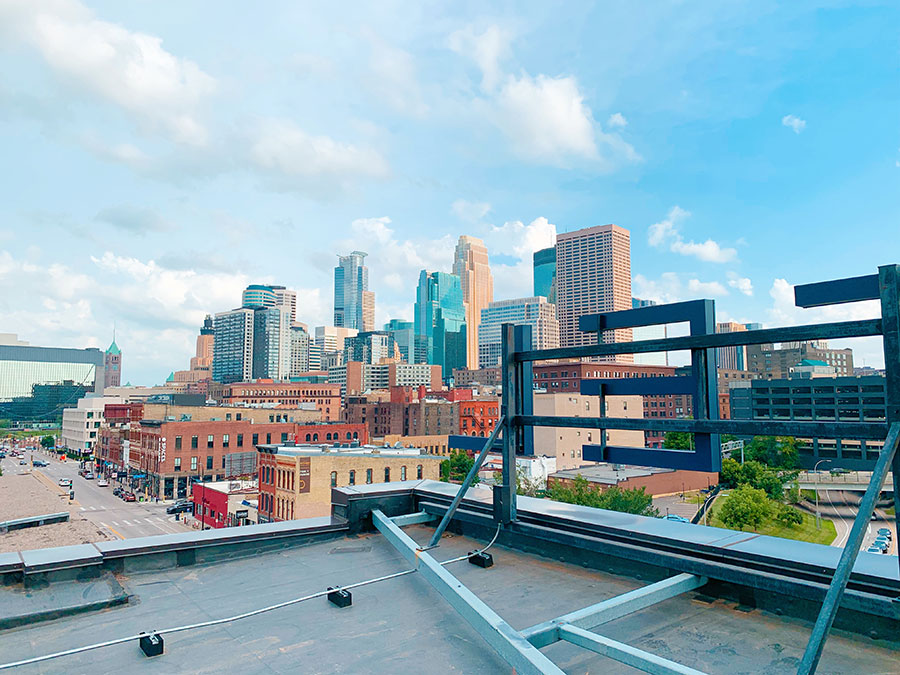 View from the rooftop of the Hewing!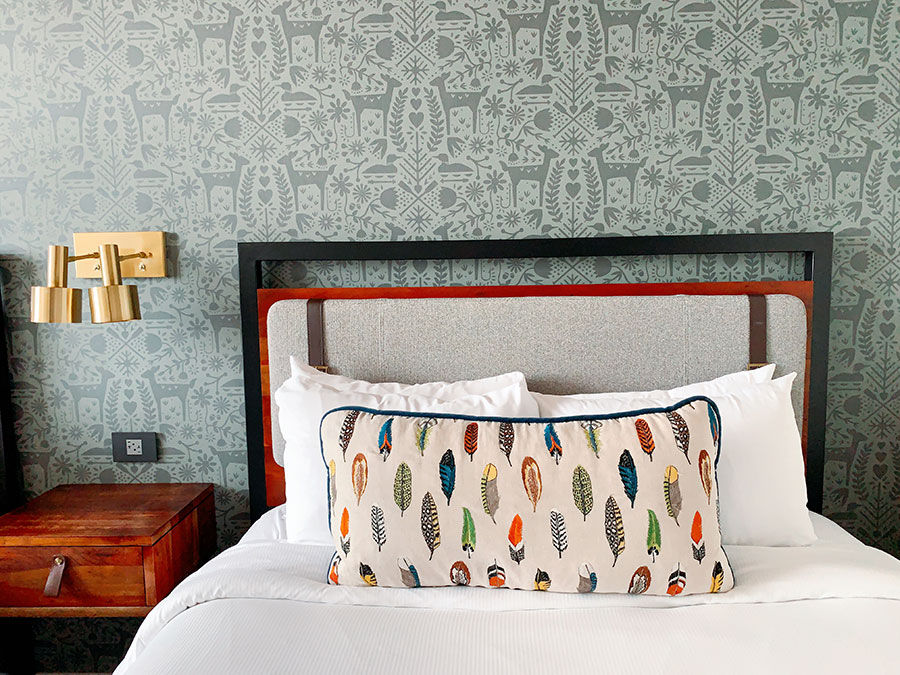 I LOVED the wallpaper.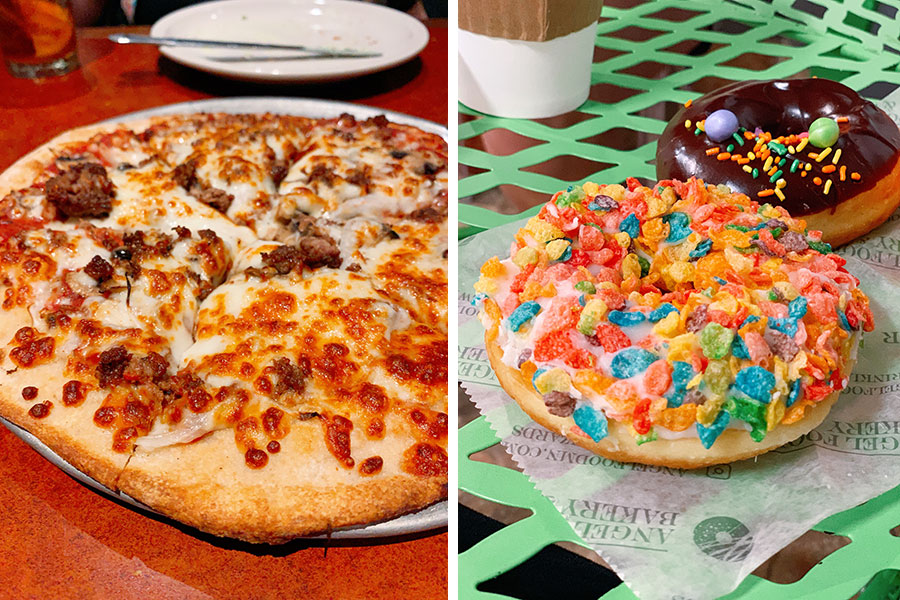 Terrible pizza, delicious delicious donuts.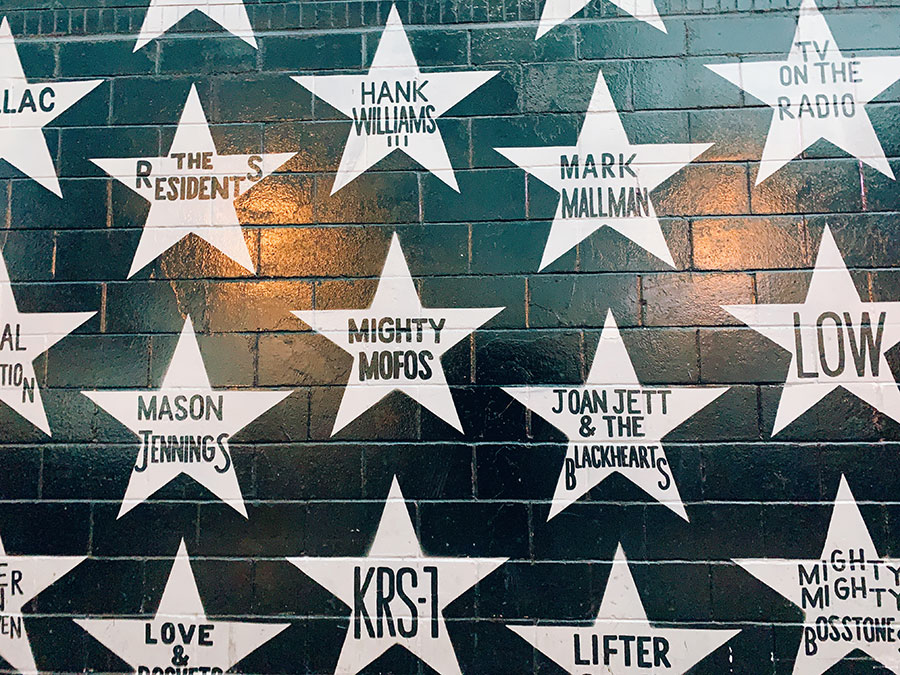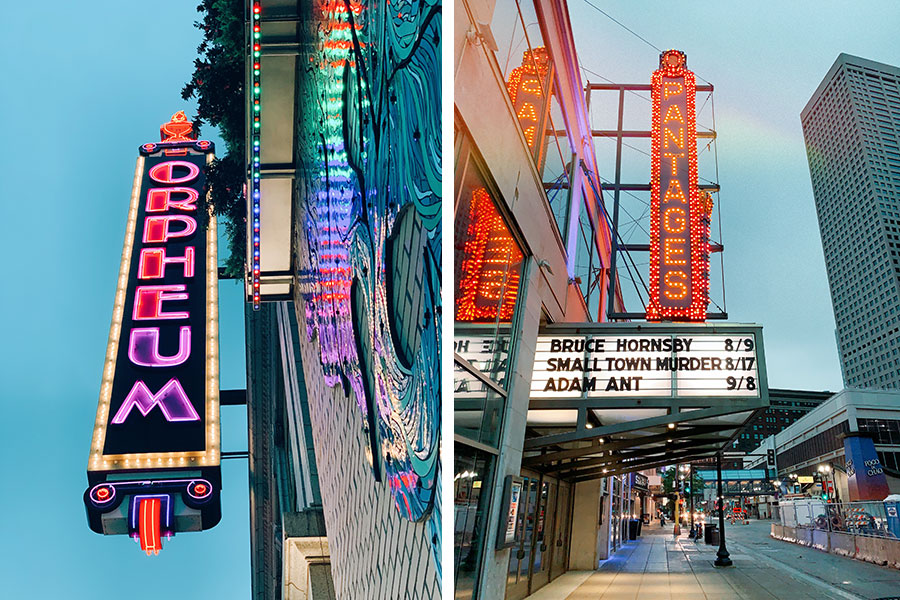 It was so dark and stormy on Saturday morning that all of the theater marquee lights stayed on!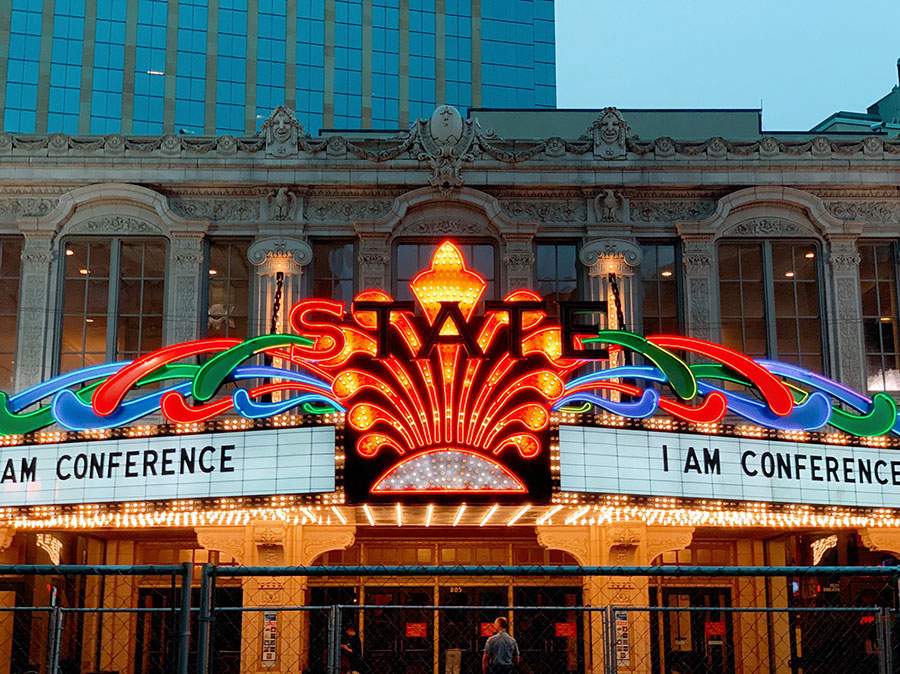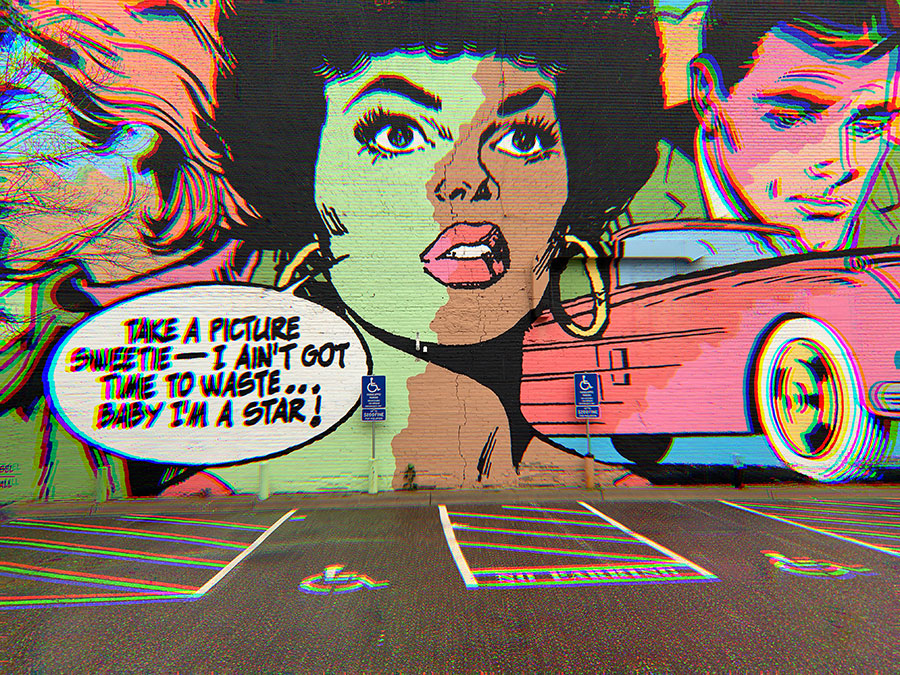 I think this was my favorite mural — because I love anything having to do with skulls.  I'm weird.  I know.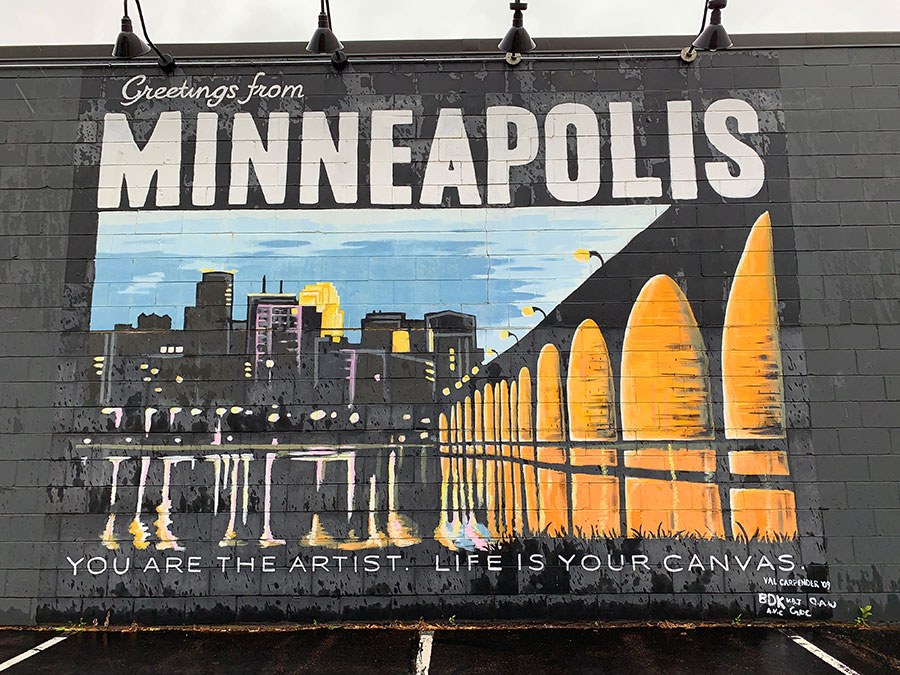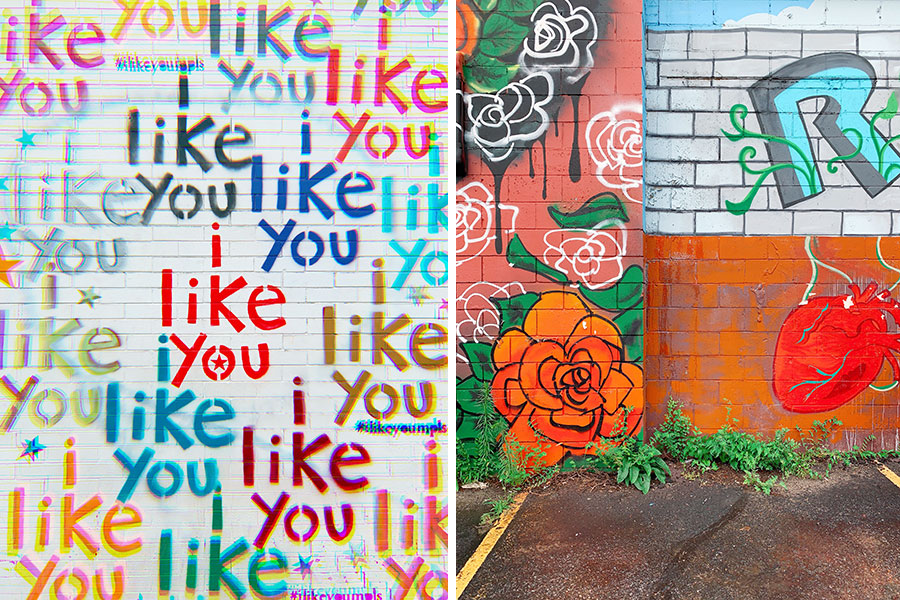 I also liked the I Like You mural very much.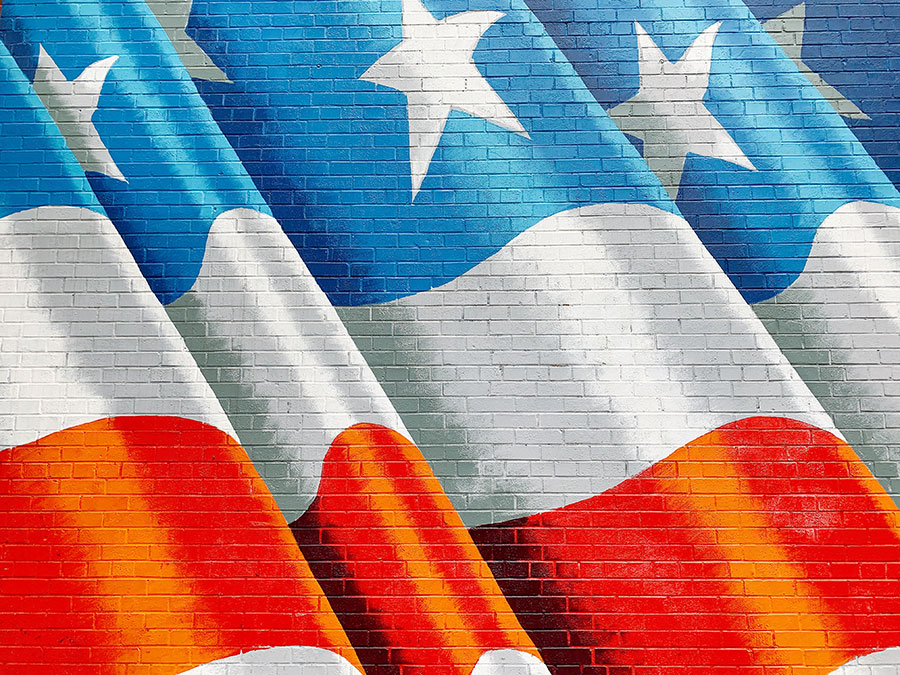 'Merica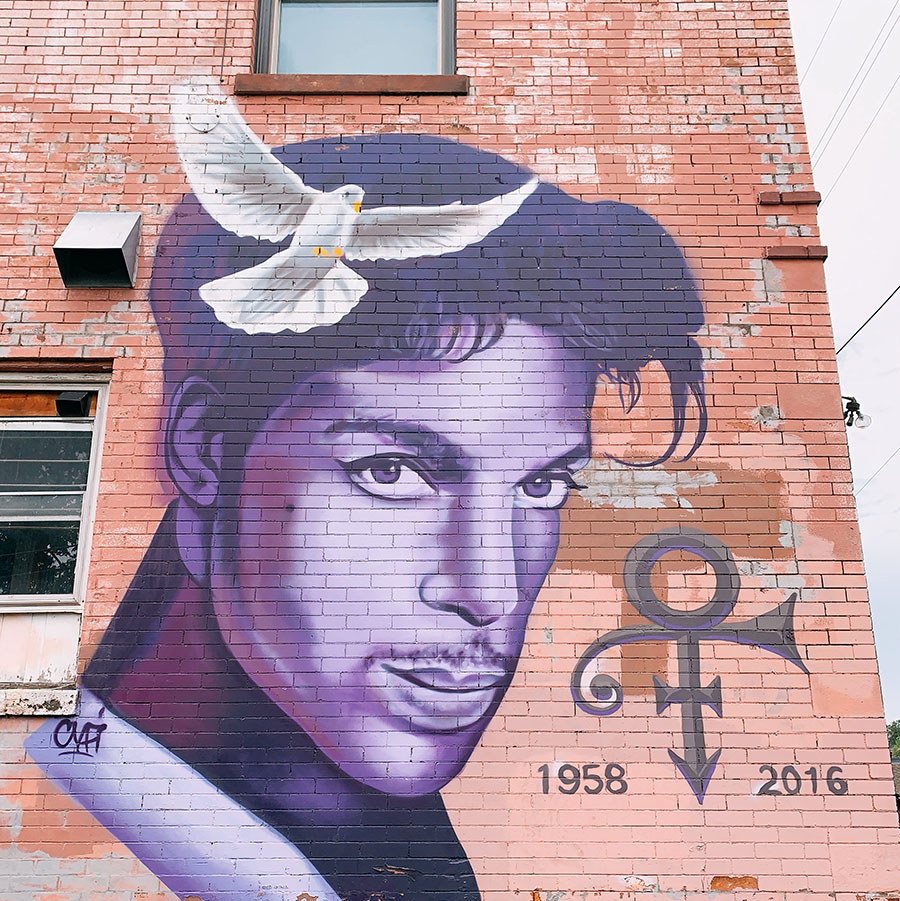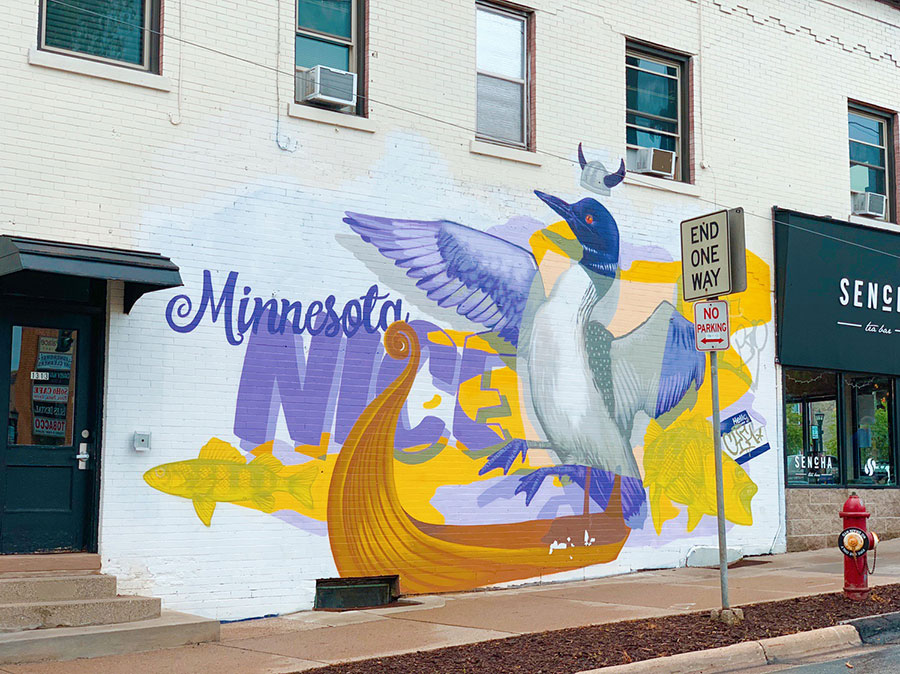 Minnesota Nice!  The concept of "Midwestern Nice" is a real thing.  We are real nice here!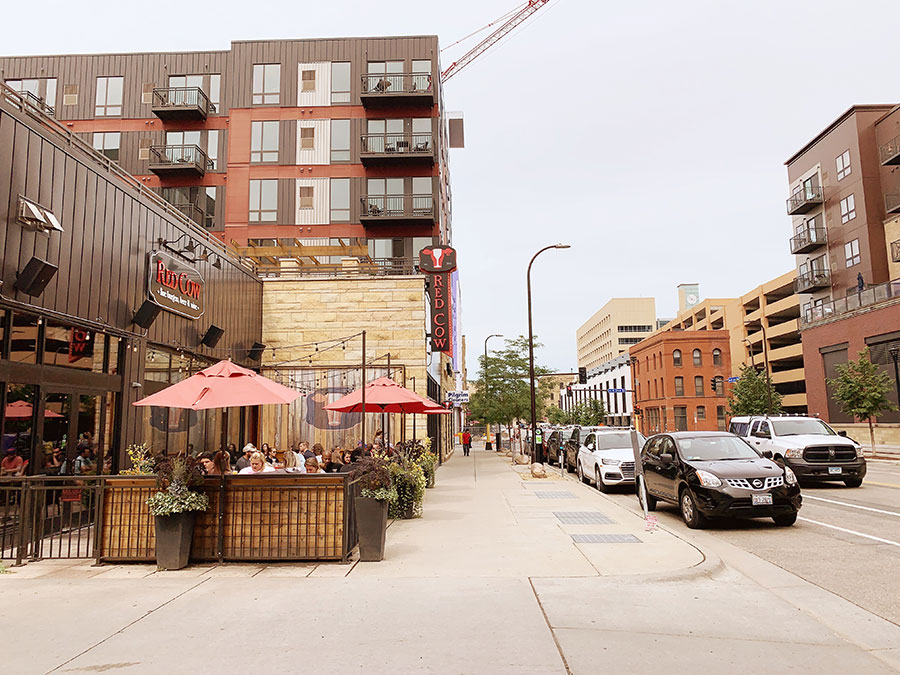 Walking to lunch/dinner.  Linner? Dunch?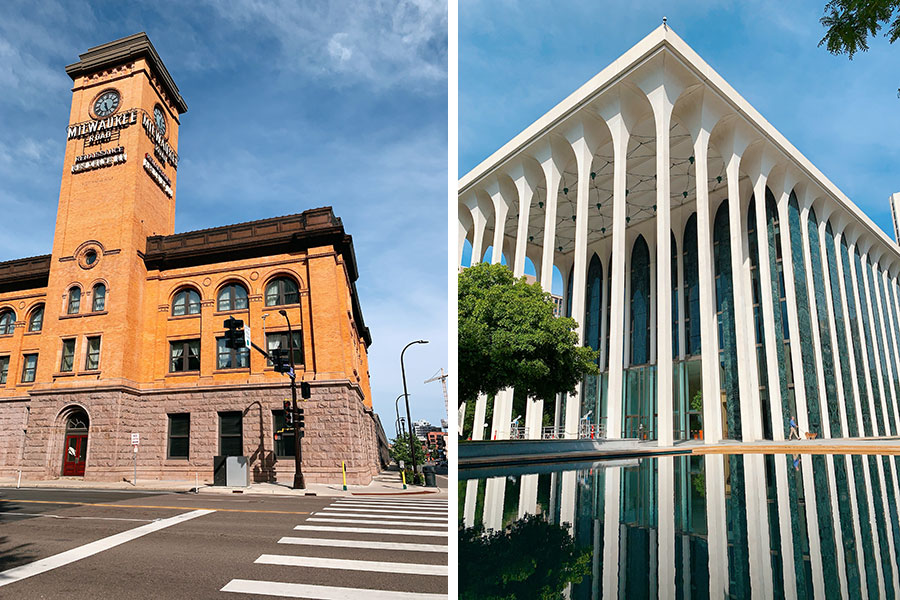 The sun came out and I took a walk around downtown.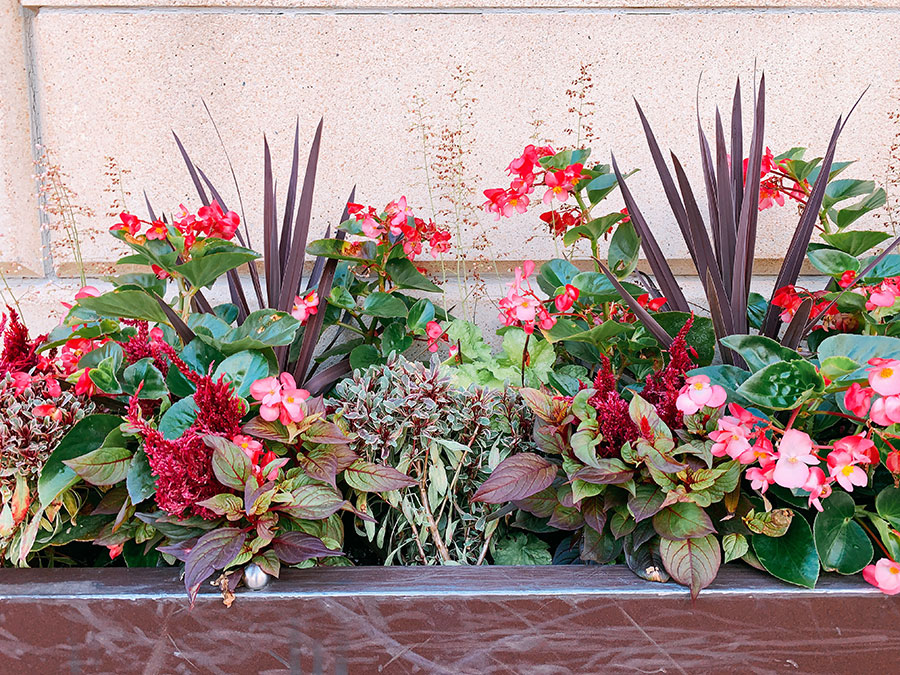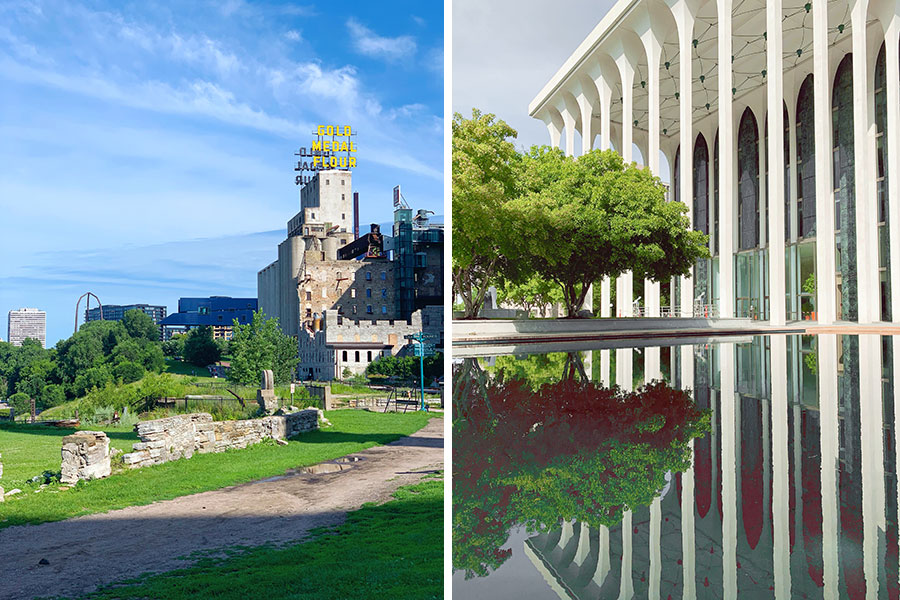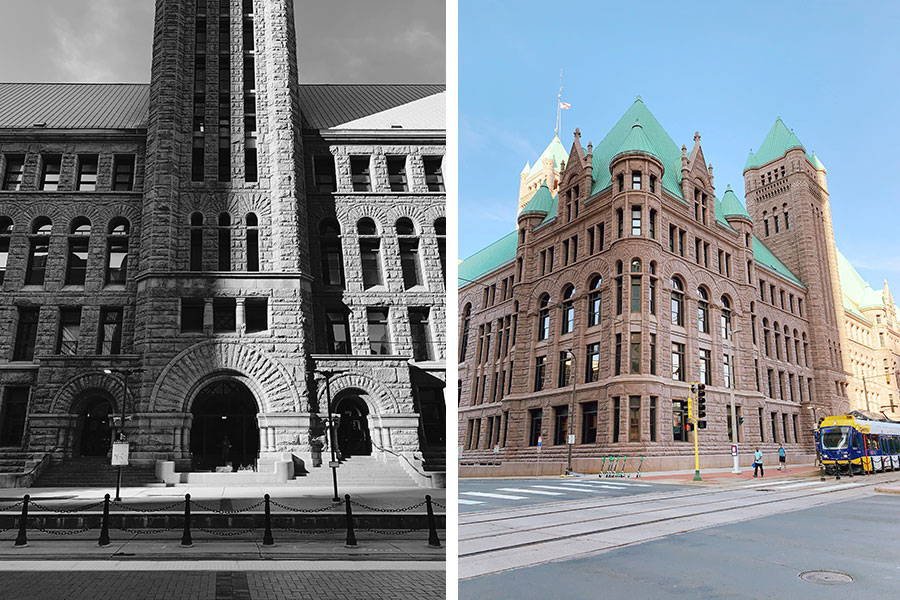 City Hall.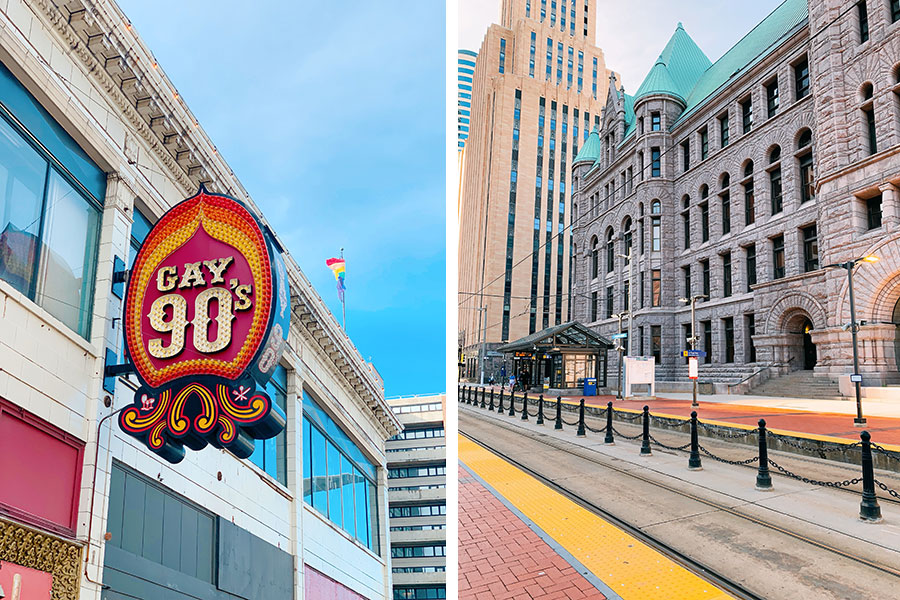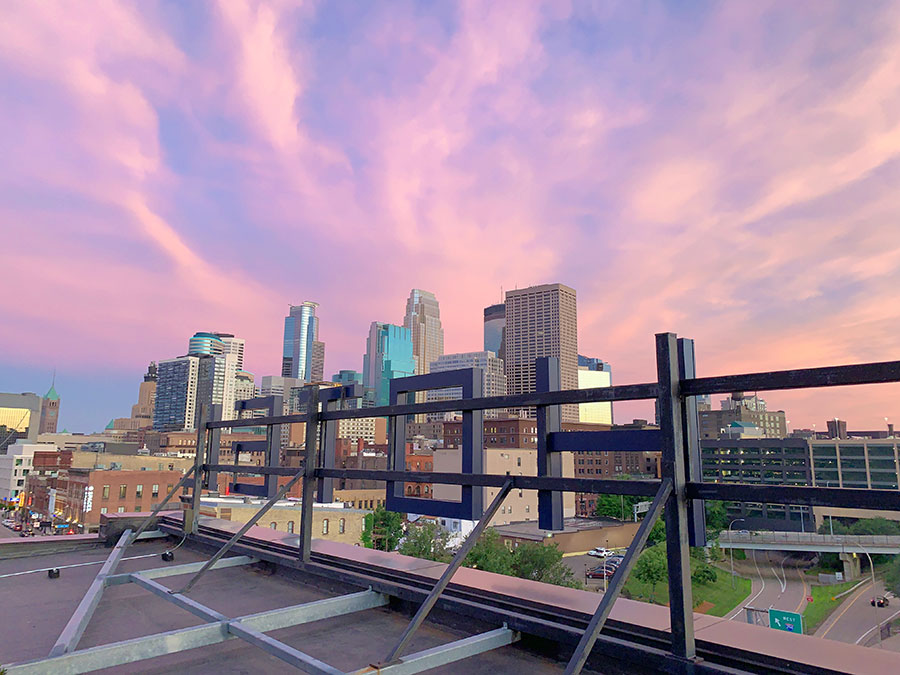 Cotton candy skies.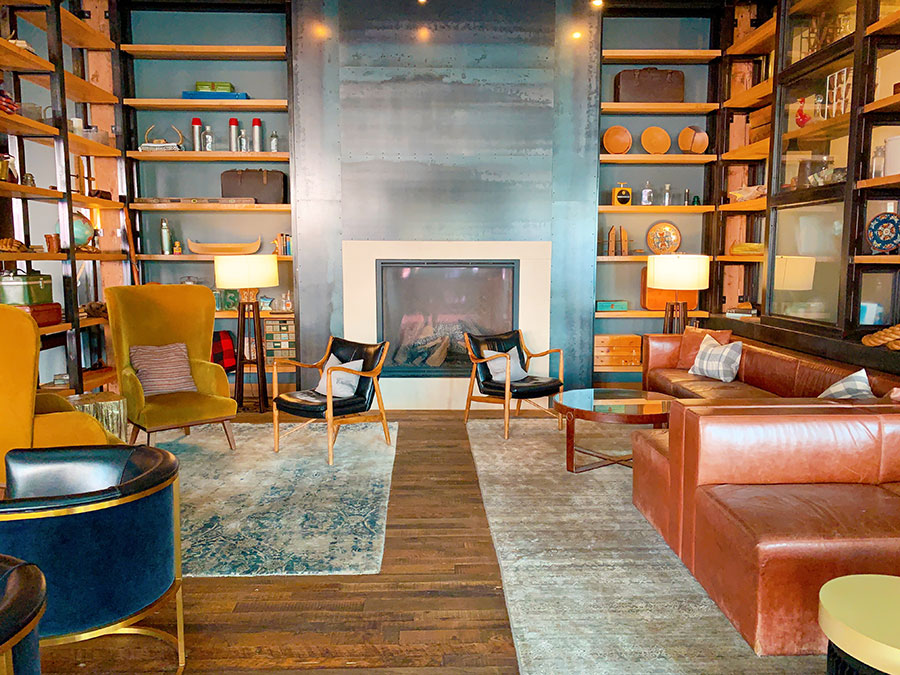 The lobby area of the Hewing.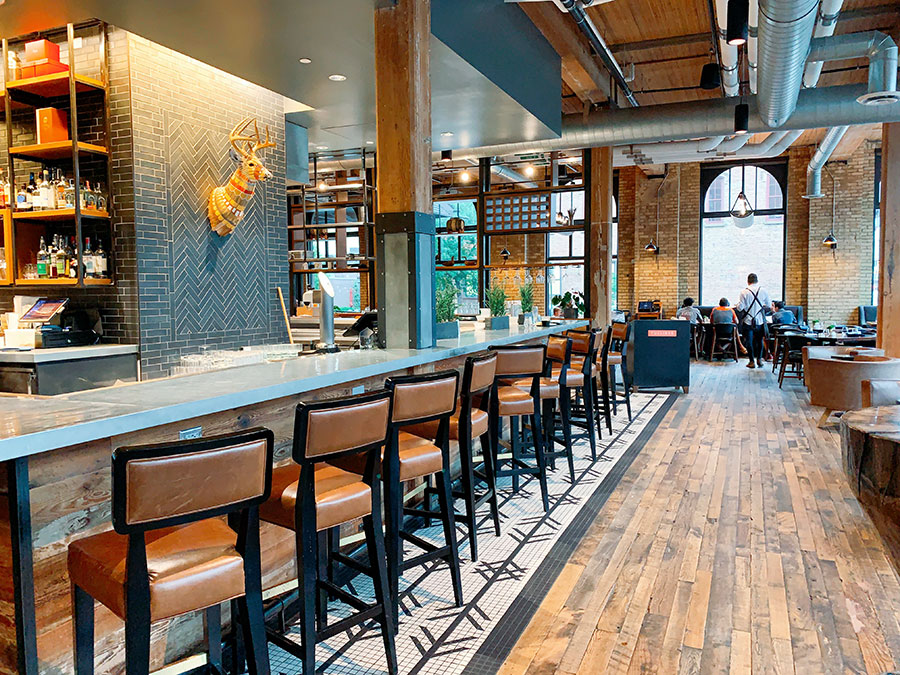 Restaurant.  Quite empty at 7:30am.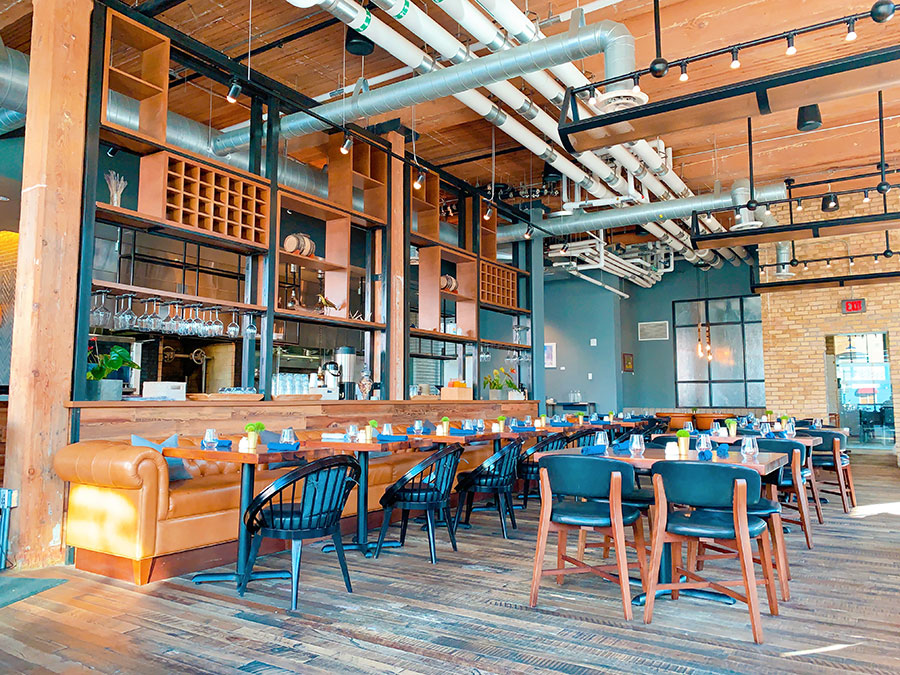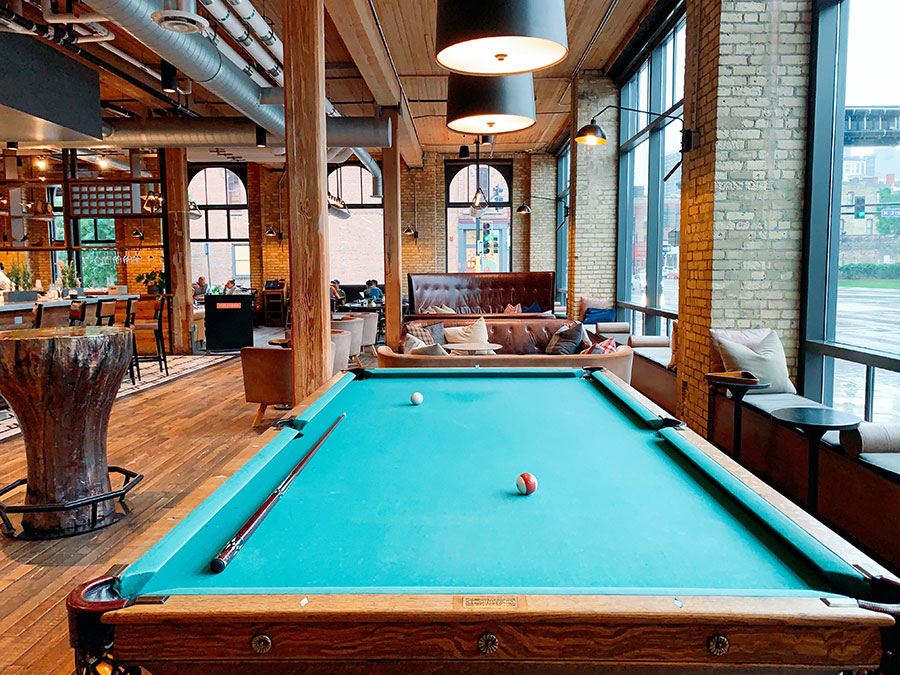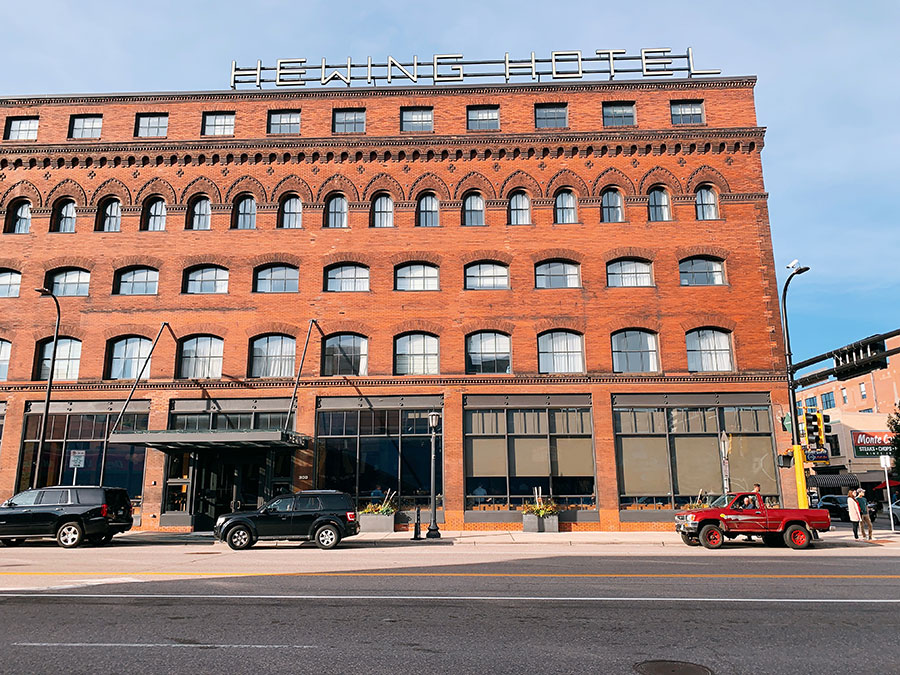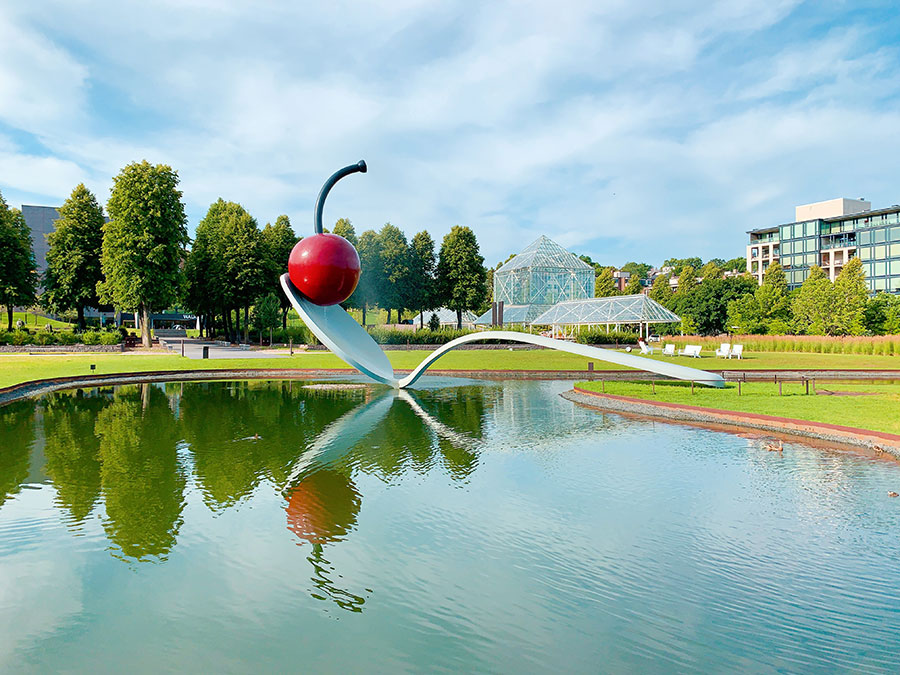 The Walker Sculpture Garden's "Spoonbridge & Cherry"