June 2022
Tour Company: Regent Seven Seas Cruises
This trip to Alaska was BIG – lots of photos, lots of documentation! We were gone for about 10 days total and I'm breaking the posts up into Land vs. Cruise, and within each post, I will break it down by what we did each day.
Day 1: Travel from Appleton, WI via Chicago O'Hare to Fairbanks, AK
Our air travel from Appleton to Fairbanks was smooth, thank goodness. We were all on edge a little bit because of all of the travel horror stories as of late. Paying extra for Economy+ was worth it on the lengthy flight from Chicago to Fairbanks (about 6 hours).
O'Hare continues to be a disappointing airport – though I'll forever love the "neon tunnel" between Concourses B and C!
We arrived in Fairbanks, registered with our tour company, hopped on the tour bus to our first hotel, the Bear Lodge.
By this point we were all exhausted but decided to have dinner at the hotel restaurant. Alaska is 3 hours behind CST, so it felt like midnight for us when we were eating our meal. We soon headed to bed and it was light as day out – almost 24 hours of daylight when you're this far north in the summertime.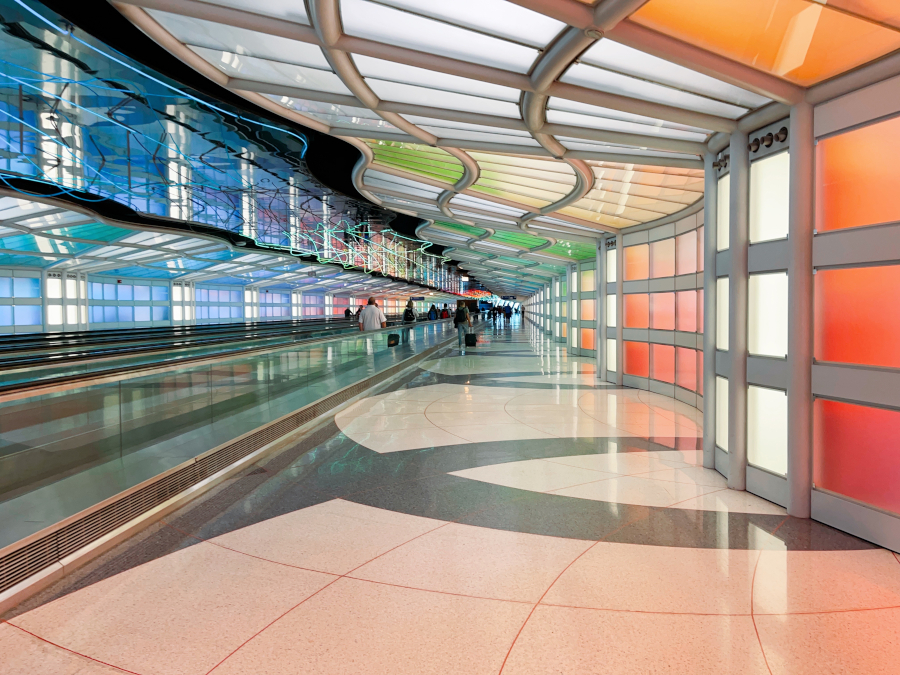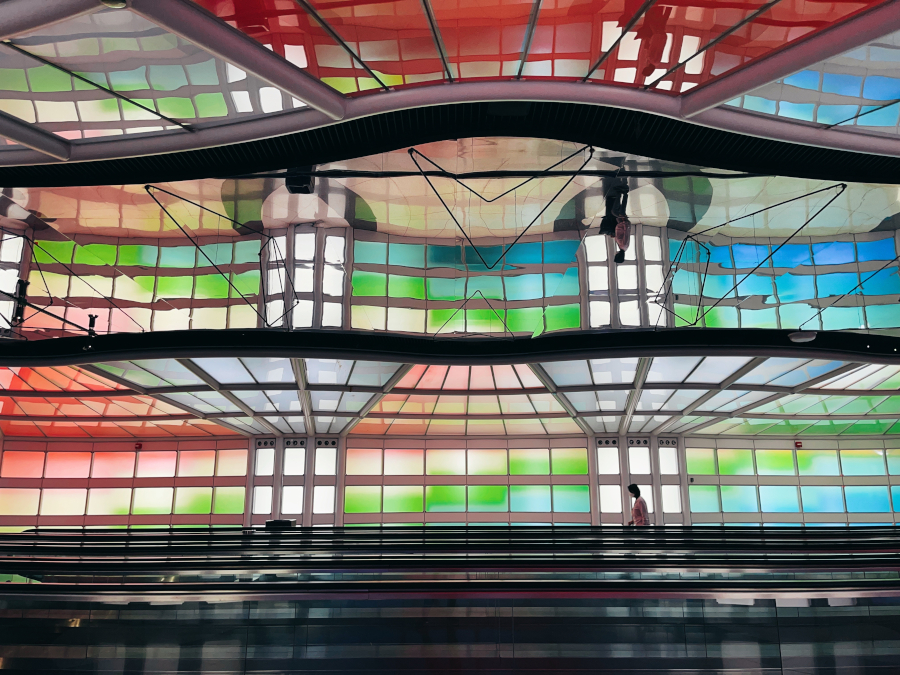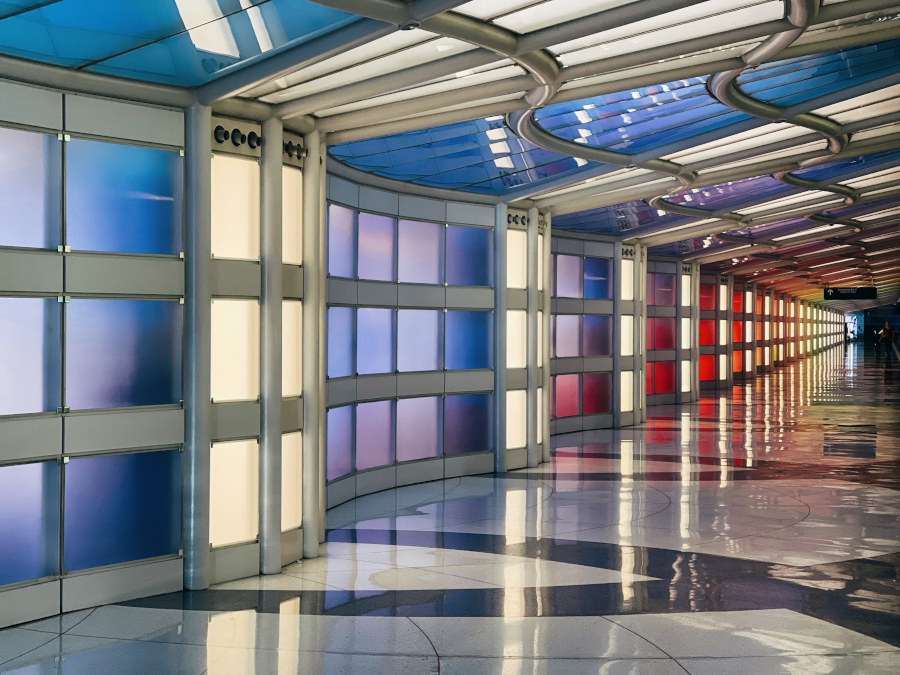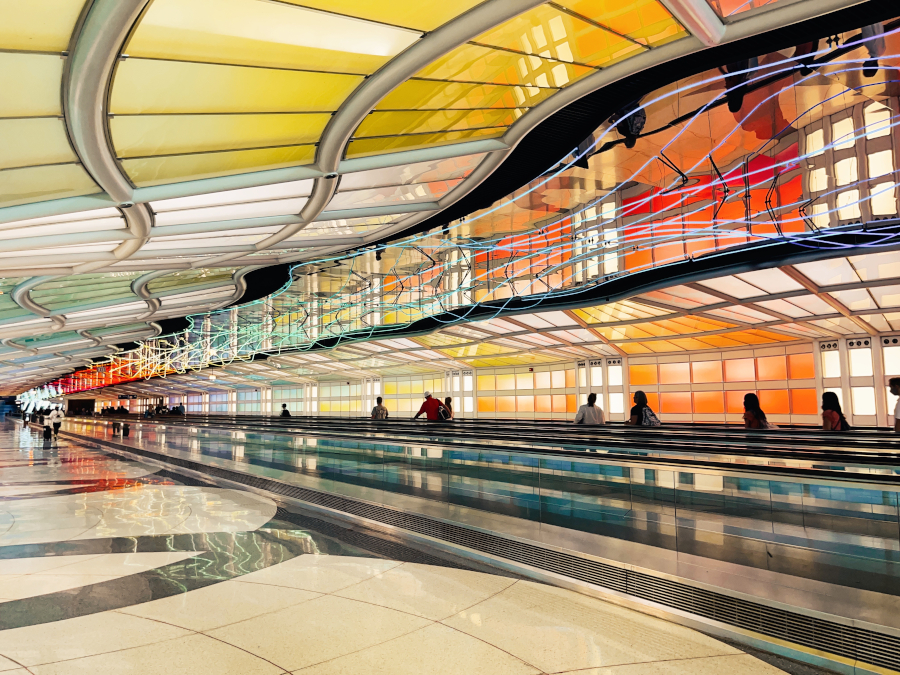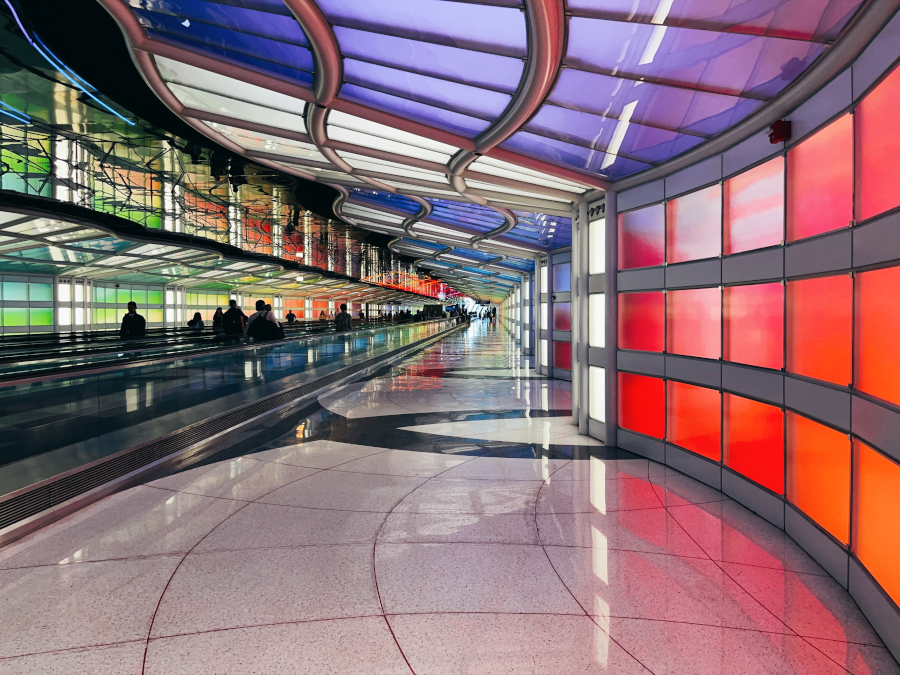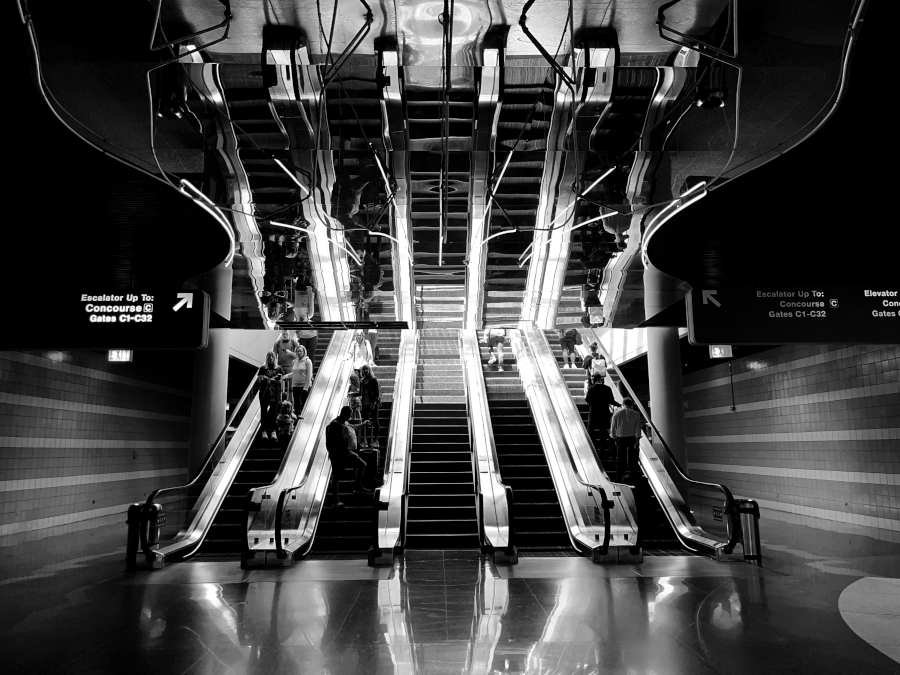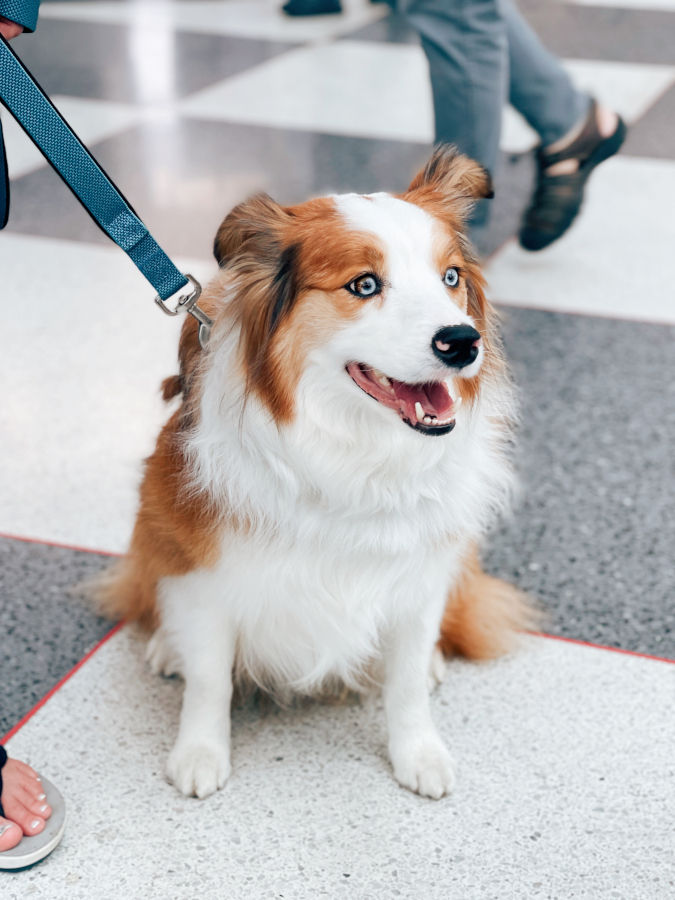 Mia was the cutest! If there's a dog or something colorful within 500 feet of me, I will find it!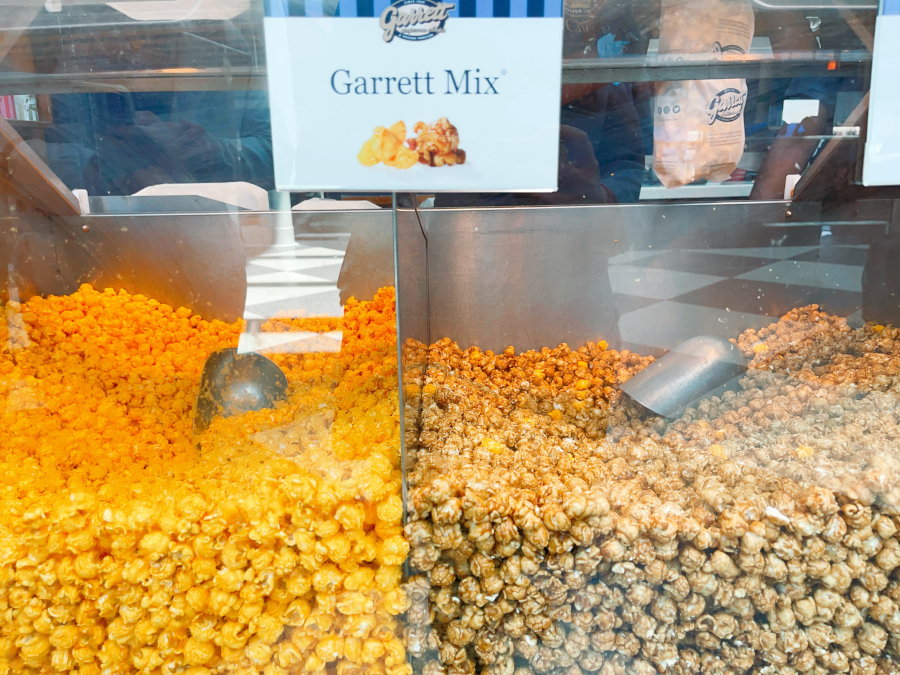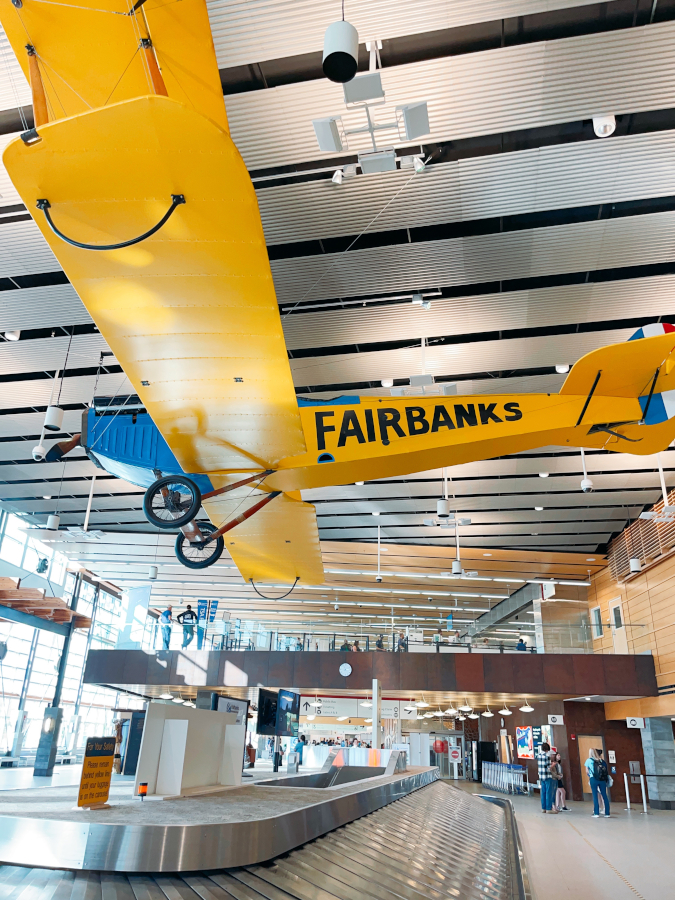 We made it to Alaska!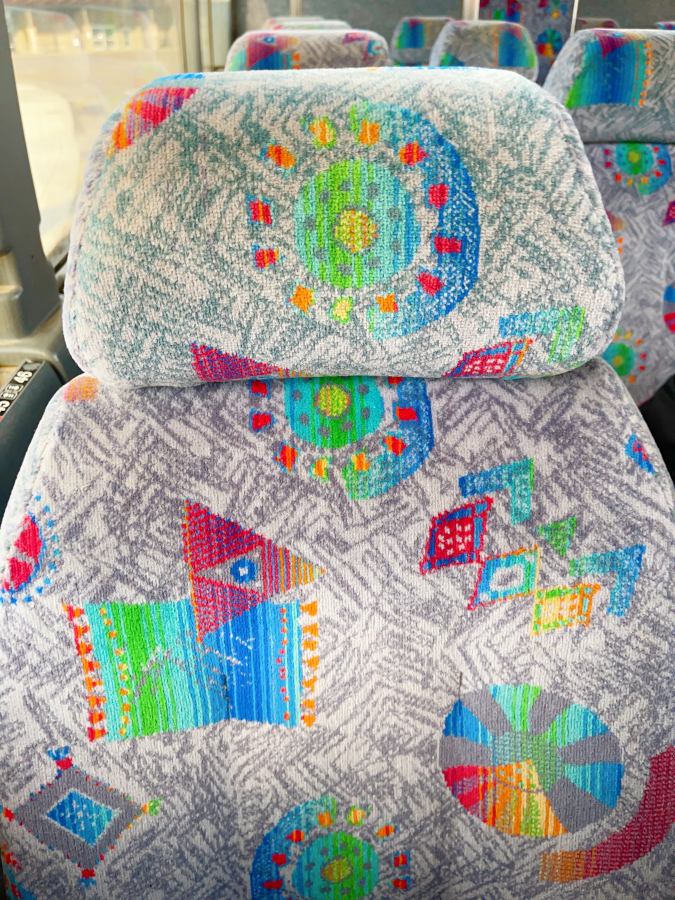 Loved the retro rainbow vibes of the bus seat cushions.
Day 2: Pipeline, Trail Breaker Kennel, the Morris Thompson Center, and the Fountainhead Antique Auto Collection
We met our tour guide and bus driver bright and early. Our first stop was to see a portion of the Trans-Alaskan Pipeline. Me, being the science nerd that I am, loved learning about the pipeline and how it does its thing.
From there we went to the Trail Breaker Kennel to meet the Alaskan sled dogs! OMG! The property is located along the Chena River in Fairbanks and was started in 1980 by the husband the wife team of David Monson (Yukon Quest Champ) and Susan Butcher (4-time Iditarod Champ). David and Susan were both avid mushers and wanted to share their love of sled dogs with the public. Sadly, Susan died in 2006 of leukemia, but David still maintains the kennel and welcomed our tour group to his property.
Our tour of the kennel was led by Joe, who was very easy on the eyes. Joe taught us all about the dogs, how they train, what the humans wear to keep warm during the races, what characteristics of the dogs are desired when breeding, etc. It was SO interesting and I loved it! My favorite quotes from Joe include "I would take a small hardworking female over a big lazy male any day" — and "you're not going to breed a dog who is a huge prick." He also explained why the dogs are out in the opened, chained to their doghouses — instead of being held in pens: "if all the dogs were in pens, it would look like Alcatraz around here."
But in all seriousness, keeping the dogs in the open reduces aggression and fosters community for the dogs; they learn to be a part of the pack instead of being separated by cages. The Kennel provided us with a chili and salad lunch.
Following lunch we were allowed to meet the newest members of the team: a litter of sled dog puppies! OH MY FREAKING GOD. It was the highlight of the trip for me. I got to hold a sled dog puppy! The litter was named after NBA and WNBA teams: Maverick, Sonic, Warrior, Storm, Fever, and Dream. I died and went to heaven.
After our time with the dogs came to an end (*sad trombones*), we headed to the Morris Thompson Cultural and Visitors  Center for about an hour. It's a cultural center and honestly, I thought it was a snooze. The gift shop was closed because it was a Sunday and there just wasn't much to do.
Our last activity of the day was a visit to the Fountainhead Antique Auto Collection — a car museum. The museum has collections from around the world and even has a collection of vintage clothing from Alaska's post-Gold Rush era. But cars are NOT my thing… at all. So I walked the short walk back to our hotel and skipped this portion of the tour.
We had another meal for dinner at the Bear Lodge restaurant and rested up for tomorrow's adventure.
Day 3: Denali National Park
We had breakfast at the Bear Lodge and then hopped on the bus to Denali National Park, making a stop at a roadside gift shop along the way.
We took a tour of Denali National Park in one of their classic school busses, led by our guide Allen who was a hoot.
The first portion of our tour included a short film about the creation of Denali Park Road. We then hopped on the school bus and headed to Savage Cabin, the original park ranger's cabin. We had to walk a bit through the woods to see this, so we got lessons on what to do if we encountered a bear or a moose. I think I'd be more afraid of the moose, tbh.
Our final stop was Primrose Ridge where we listened to an Alaska Native present about how the land has been used for nearly 10,000 years.
Our tour concluded and we checked into the Grand Denali Lodge for the night. We had a fantastic dinner at the Lodge (to-die-for halibut and dessert and ahhh, everything was wonderful). The Lodge also had the BEST views. It was such a delightful evening.
Denali was my 16th National Park visited and it's just stunning. Allen warned us to lower our expectations about actually seeing the peak of Denali though. Apparently summertime isn't the greatest for viewing because of how the weather forms clouds around the peak. He said that if you want to see a mountain, visit the mountain during its climbing season — which would have been May for Denali. And Allen was right… the peak of Denali was nowhere to be found.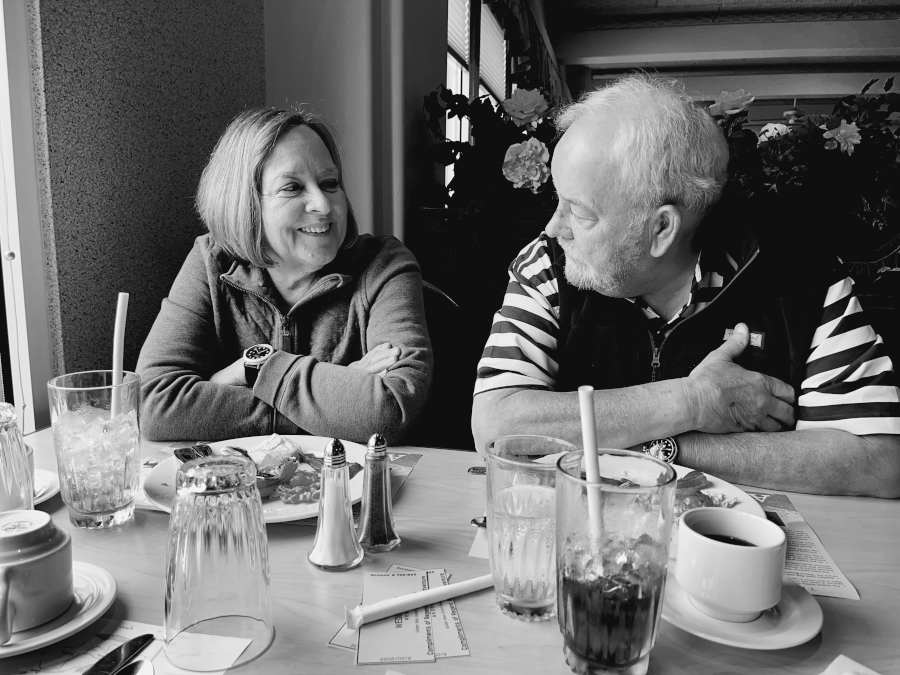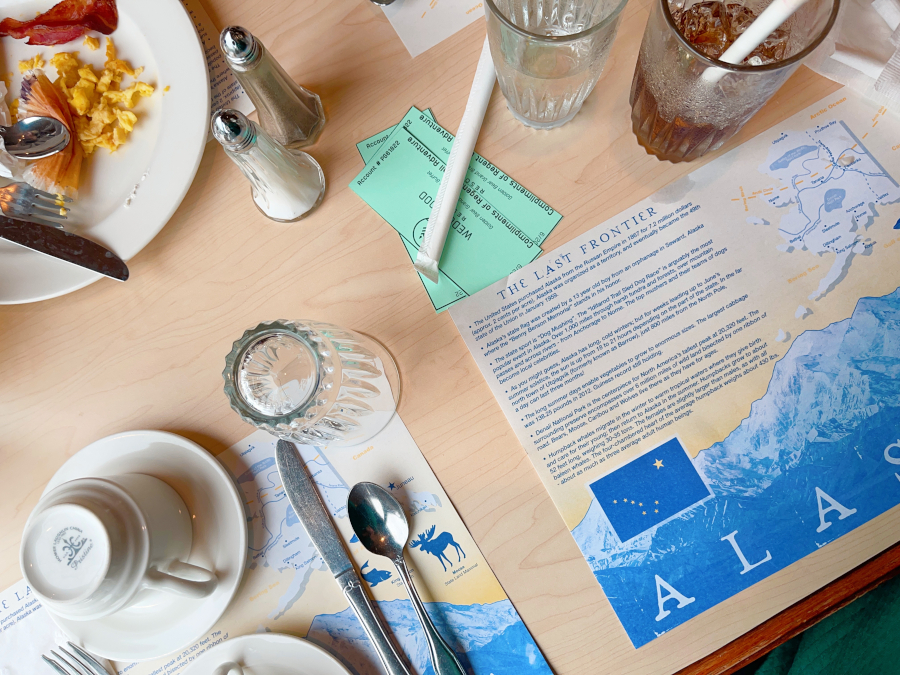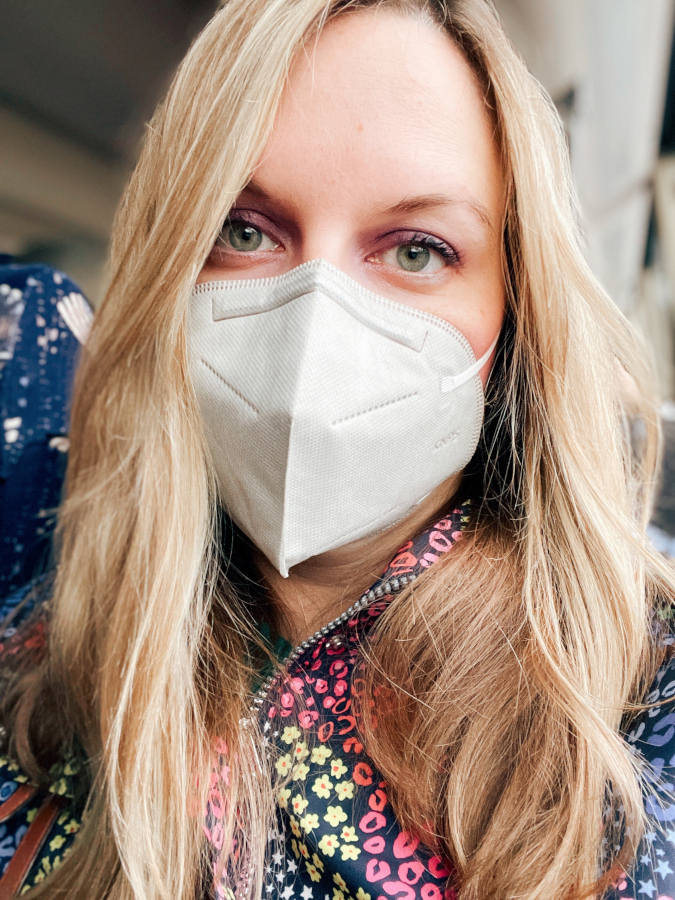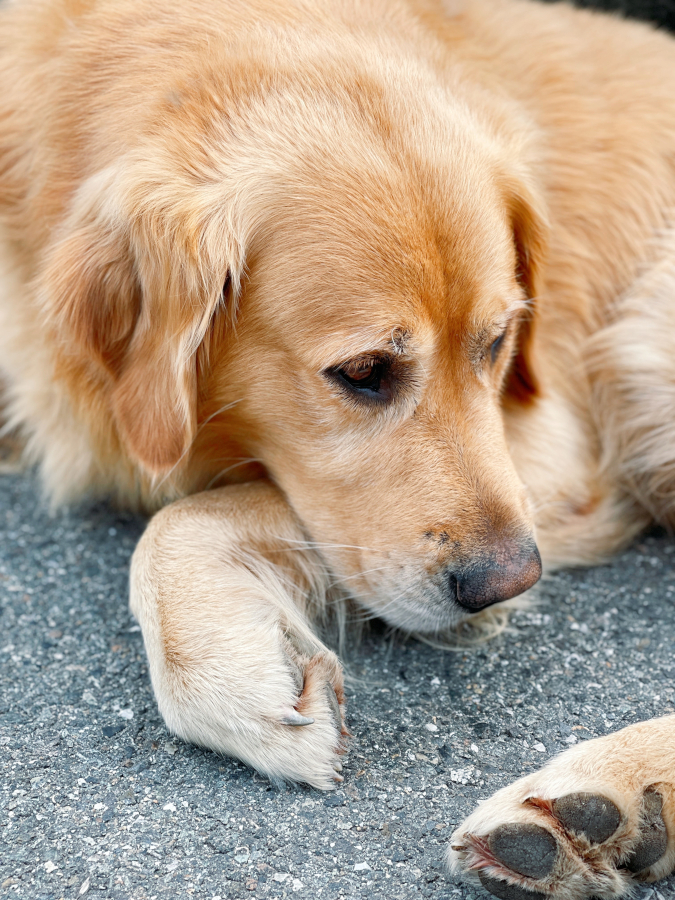 Dogs of Alaska – and this girl was a sweetie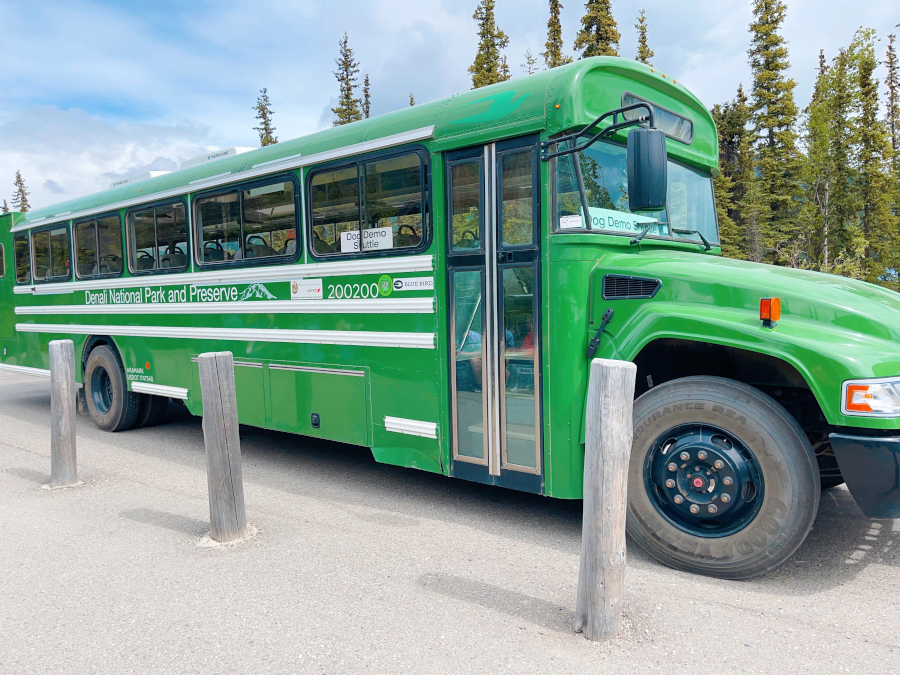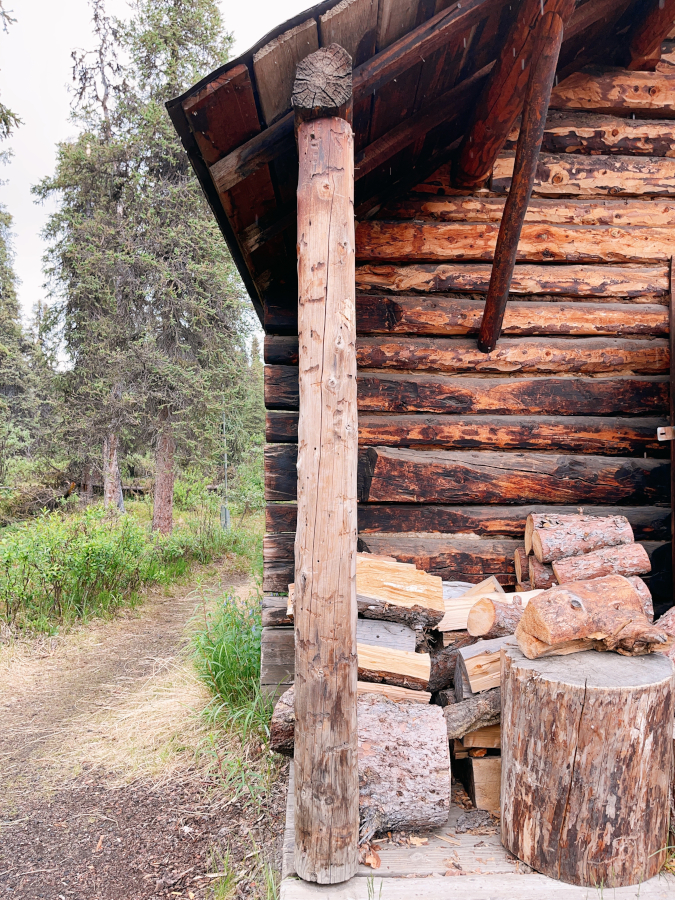 Savage Cabin – it wasn't much to see and the rain and mosquitoes didn't help!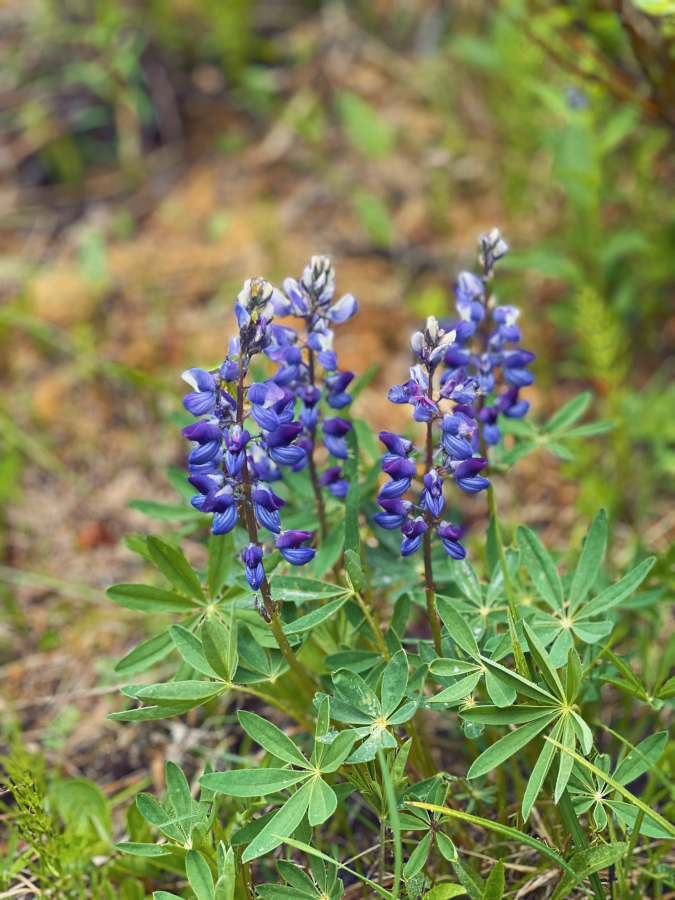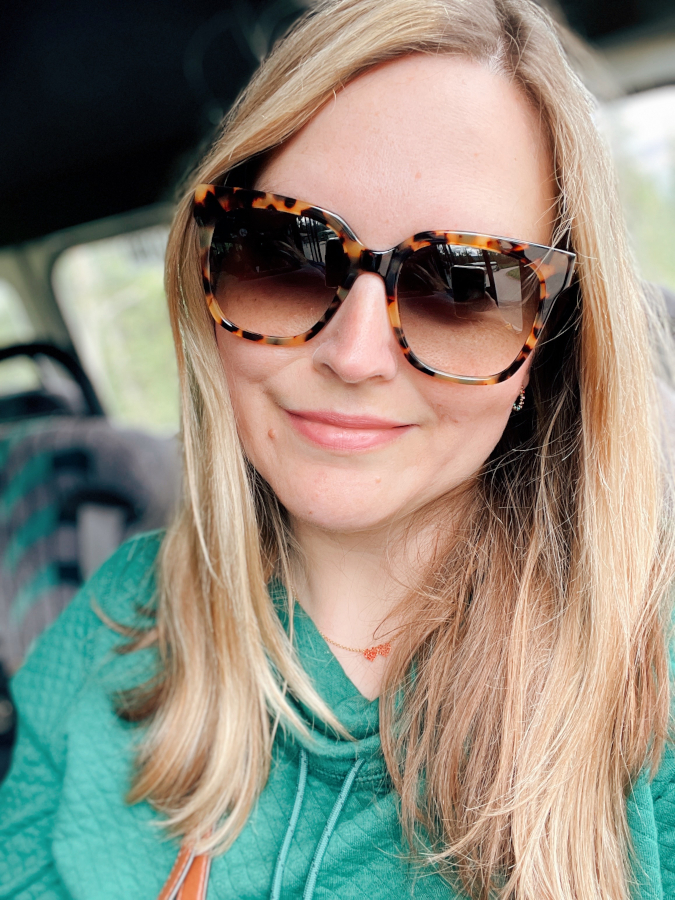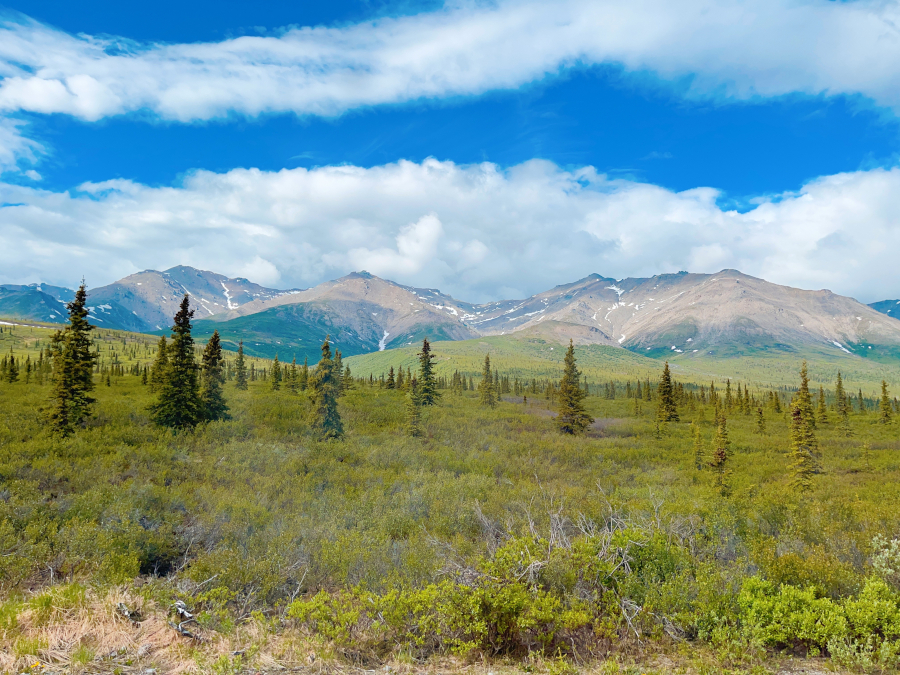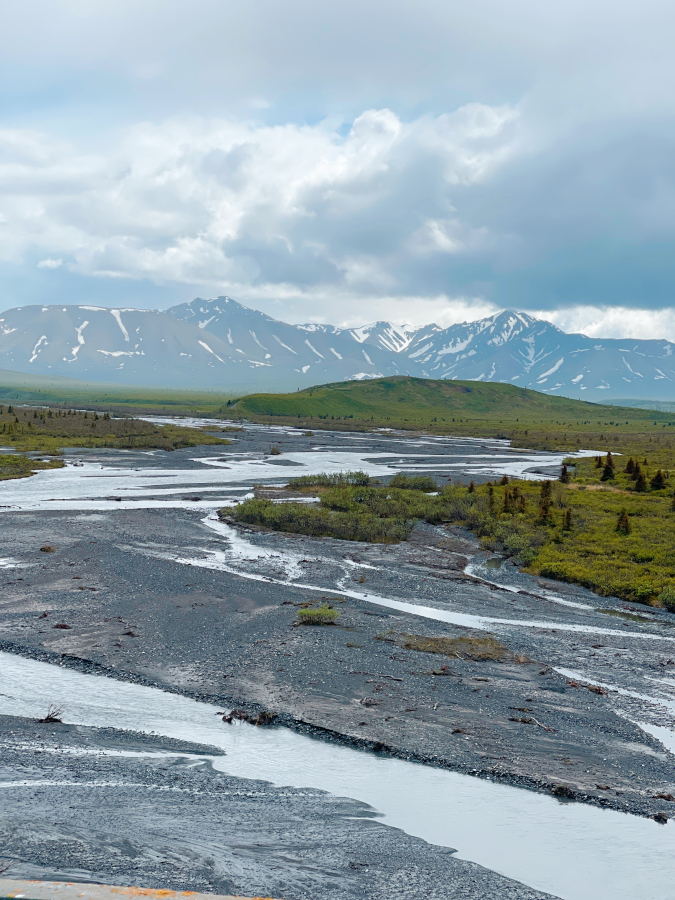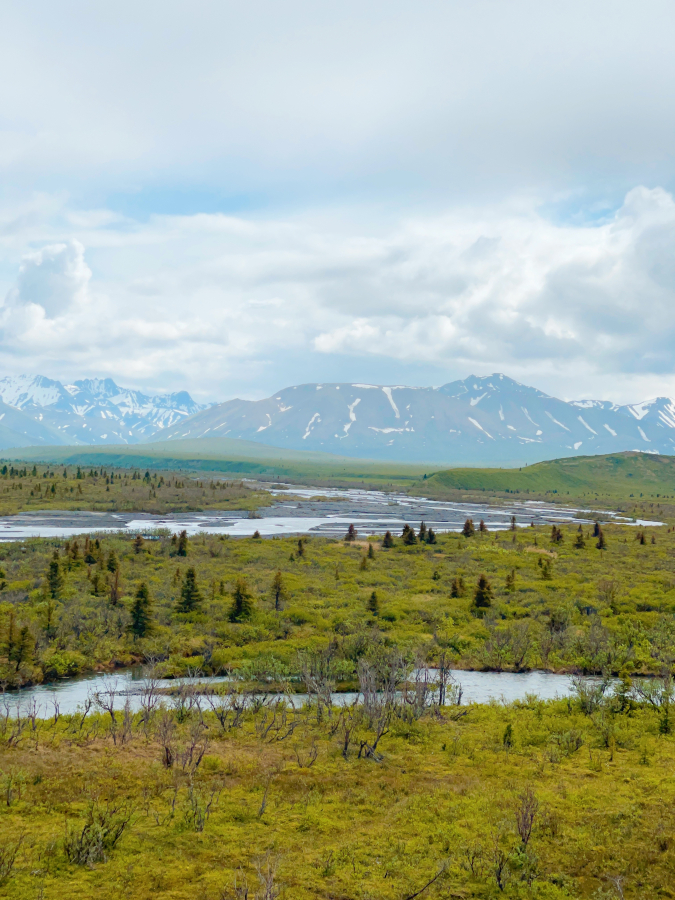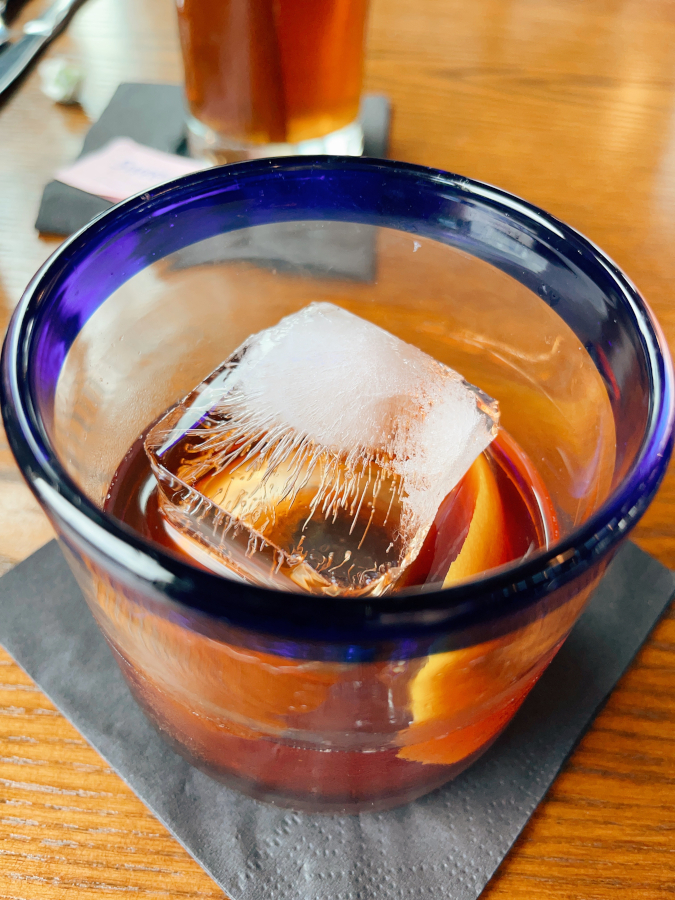 My "Pirate Old Fashioned" was much welcomed.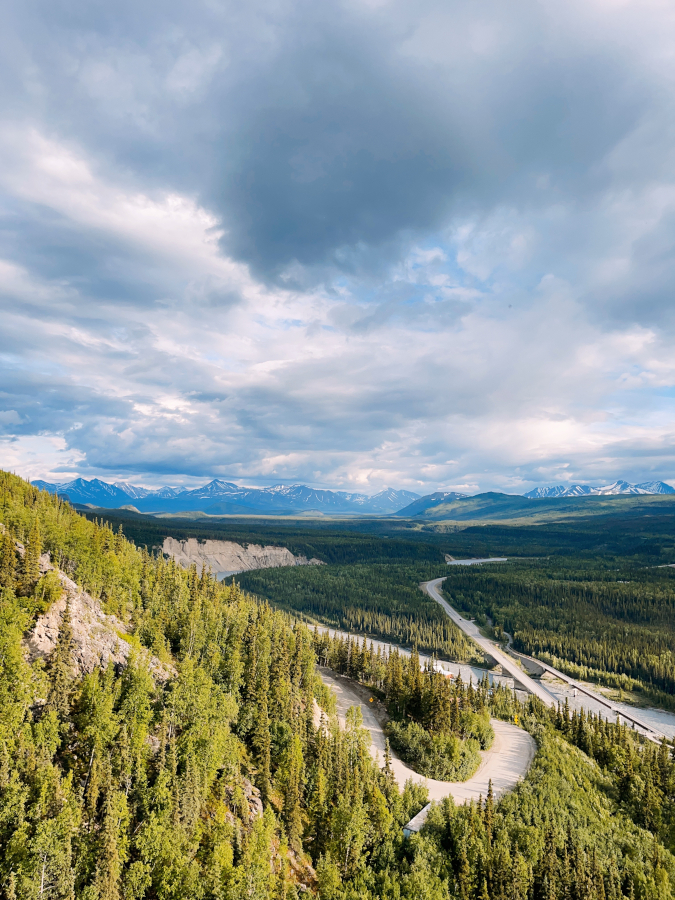 Views from dinner.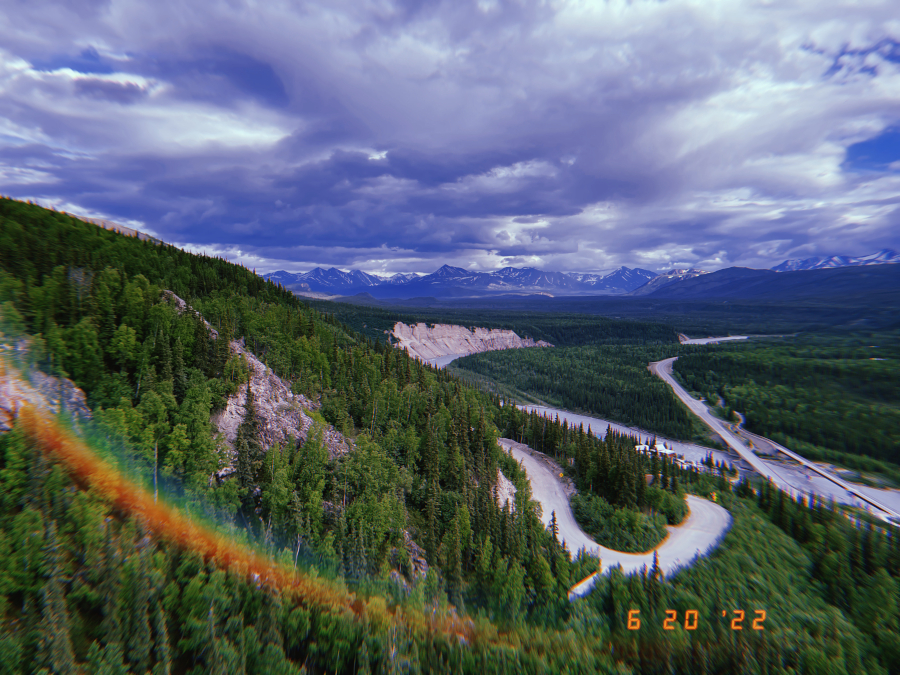 Day 4: The Alaska Wilderness Express and Talkeetna
The day started out BRIGHT and EARLY at 3:15am when the fire alarm at the Grand Denali Lodge got tripped. That got the adrenaline pumping and I had a hard time falling asleep. I did, however, get a beautiful photo of the park at 3:30am… when it was still fully light outside! Ahh, the land of the midnight sun.
We had a slow morning and a nice breakfast, then boarded the Alaska Wilderness Express to Talkeetna.
The train was a deluxe dome railcar and it was AWESOME. Super comfortable seats, our group had the whole car to ourselves, a full lunch and bar was provided, and we had a wonderful and really professional staff and guide to narrate our journey. I cannot say enough good things about this train experience!
We arrived in Talkeetna a little late due to train issues that were beyond our control — but we didn't even mind given that we were sitting in such a lovely train car.
Upon arrival in Talkeetna, we hopped back on our tour bus and were dropped off at the Talkeetna Alaskan Lodge for the night. We had another great dinner at the Base Camp Bistro, the highlight for me being the homemade cheesecake for dessert.
Fun fact about Talkeetna: it served as the inspiration for the 1990s TV show "Northern Exposure." The show didn't film there but was heavily inspired by the small little town.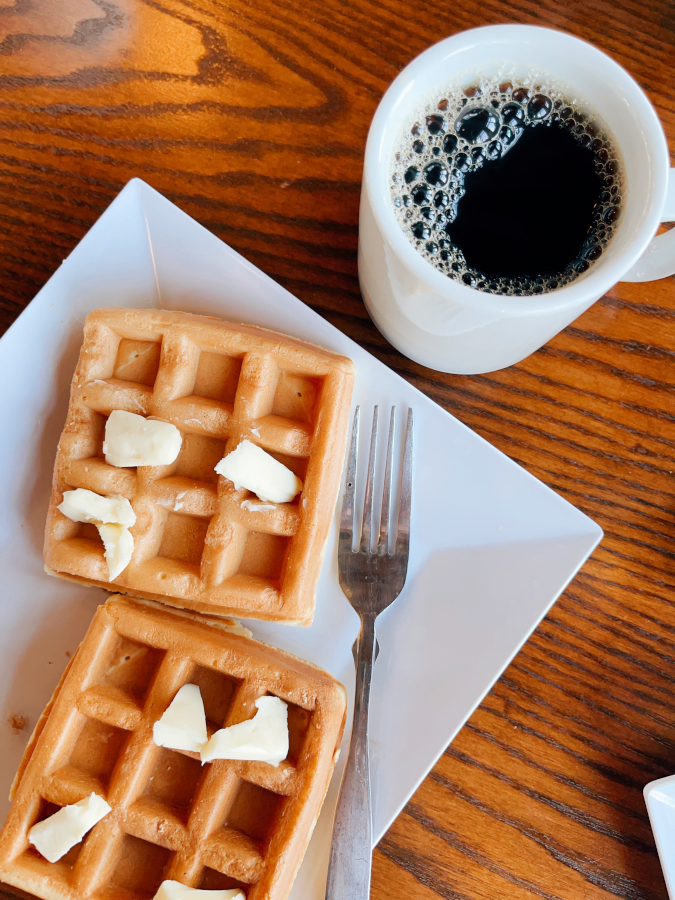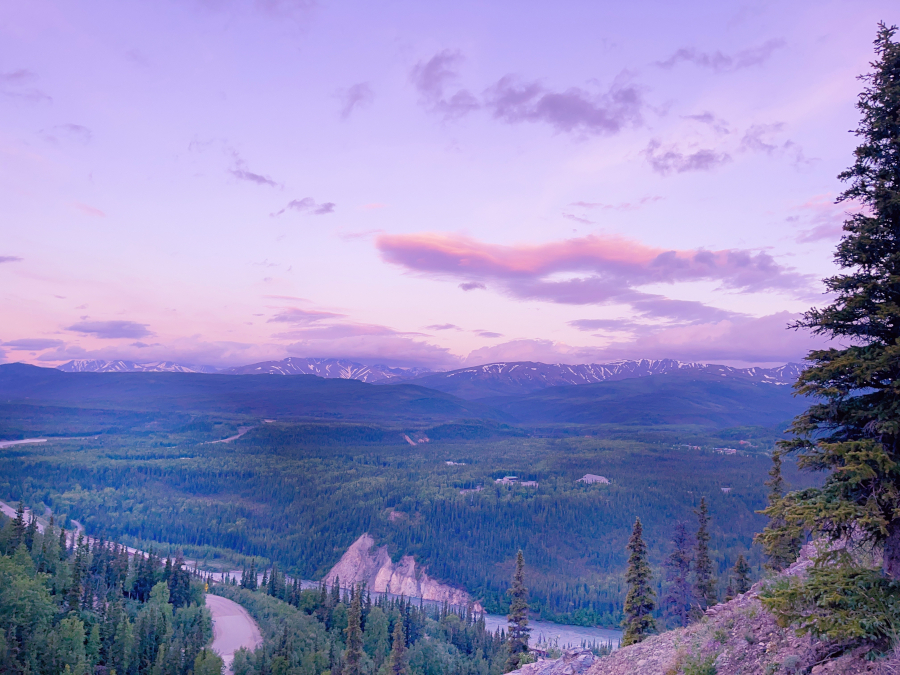 The view at 3:30am.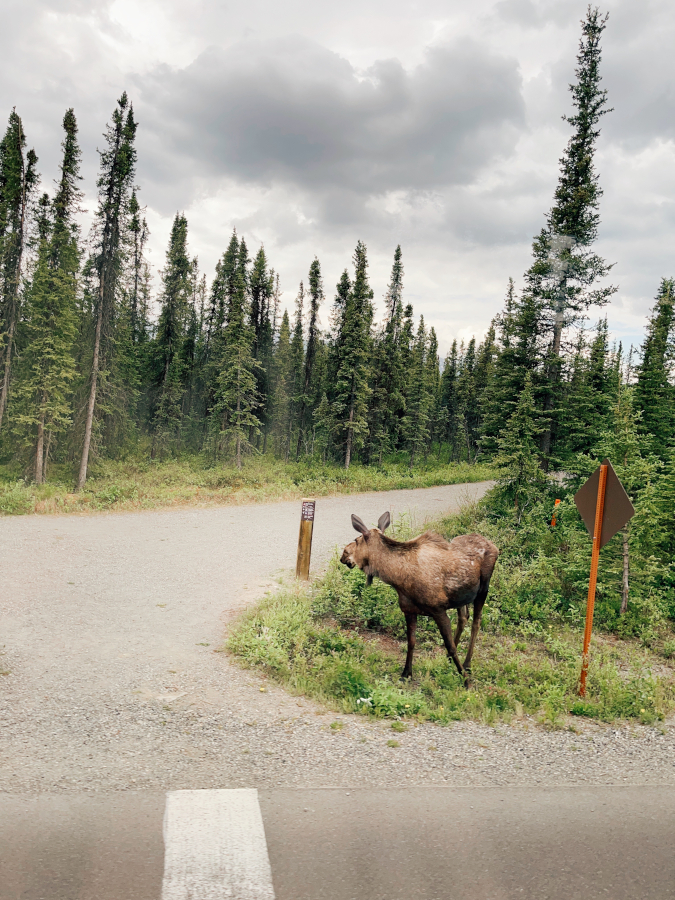 We saw a moose!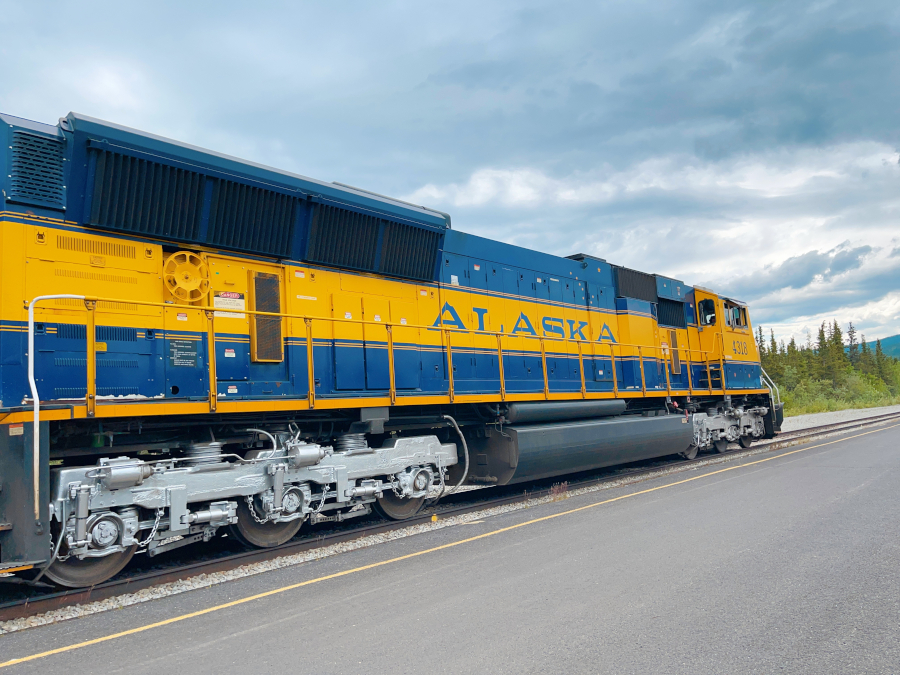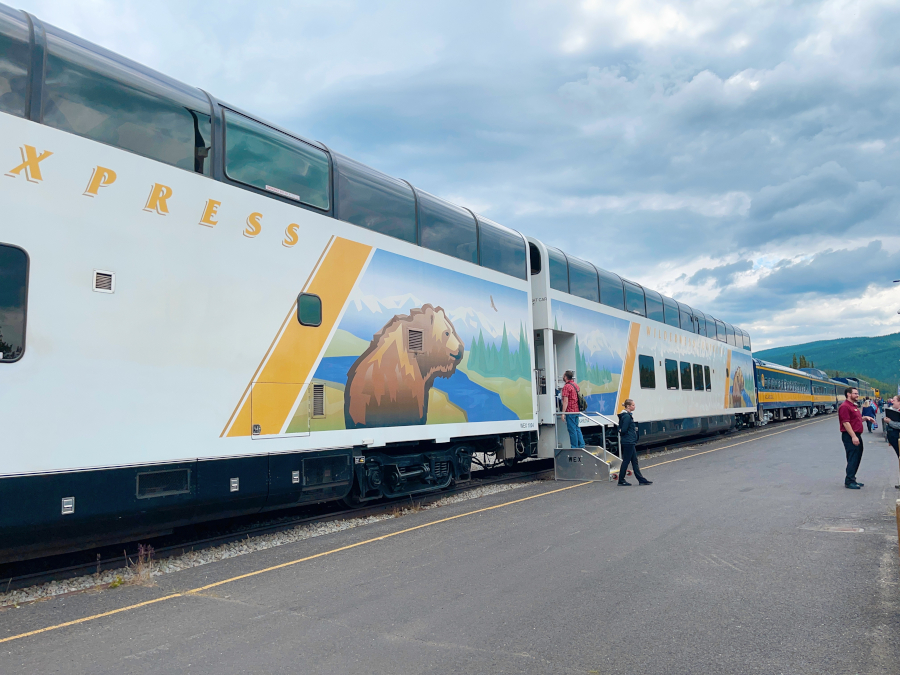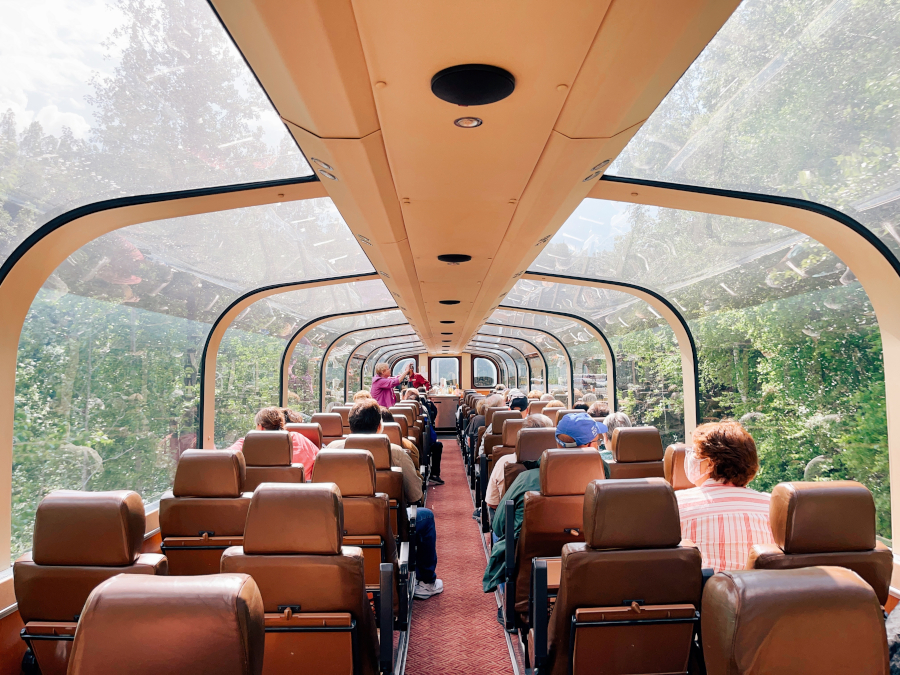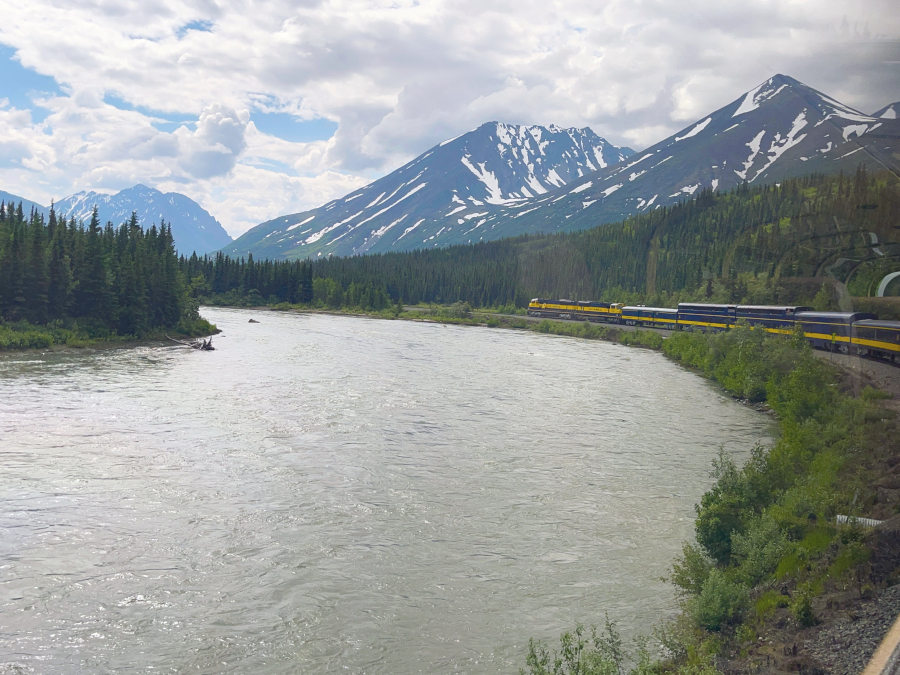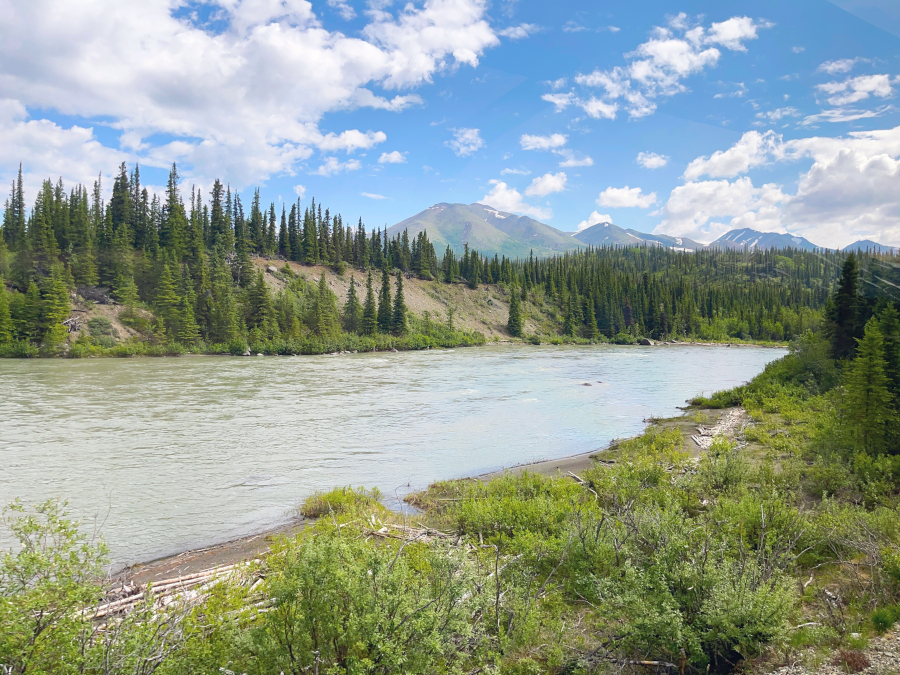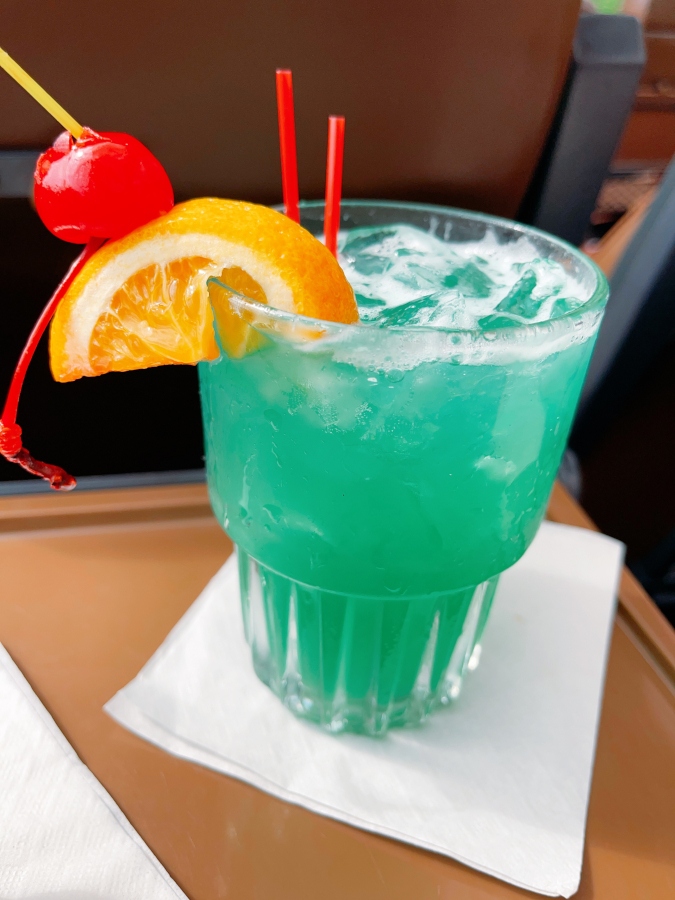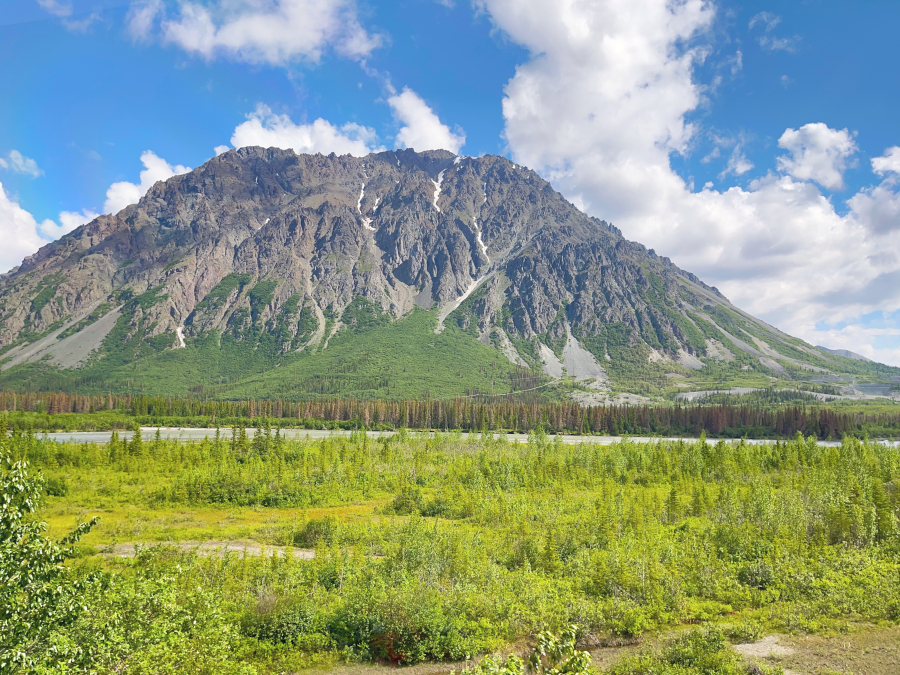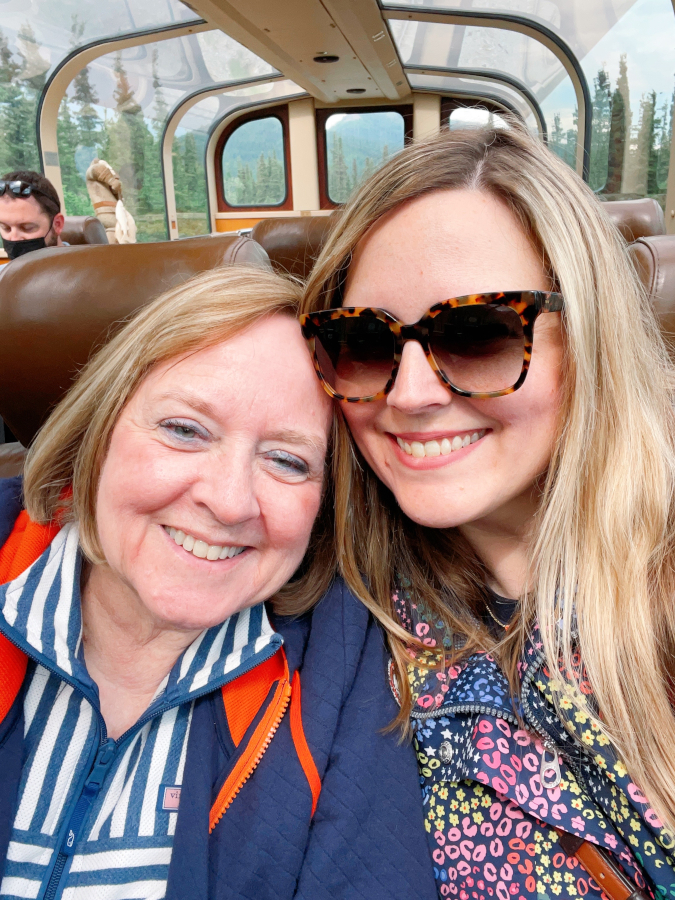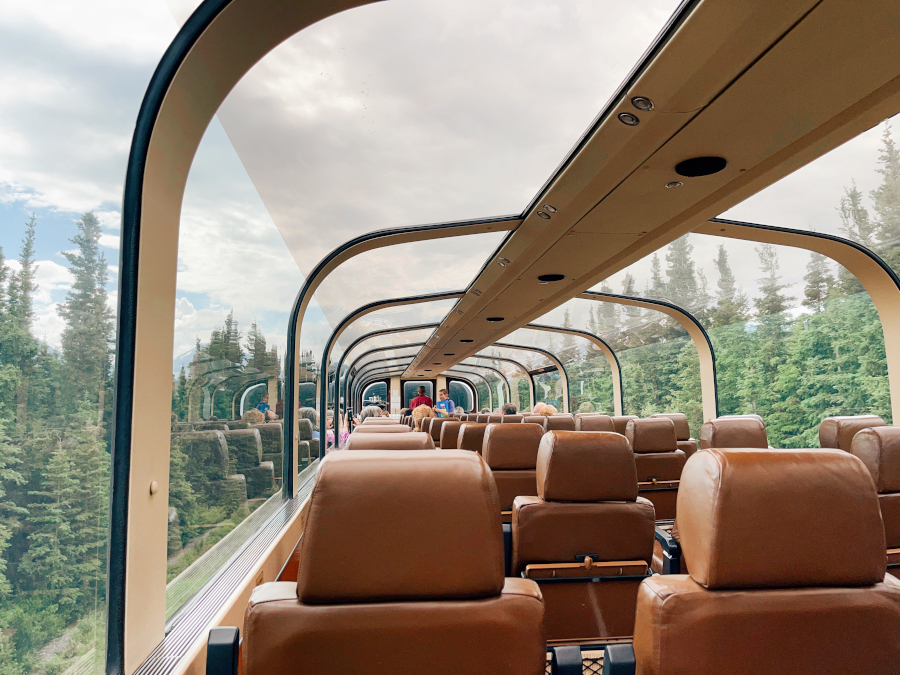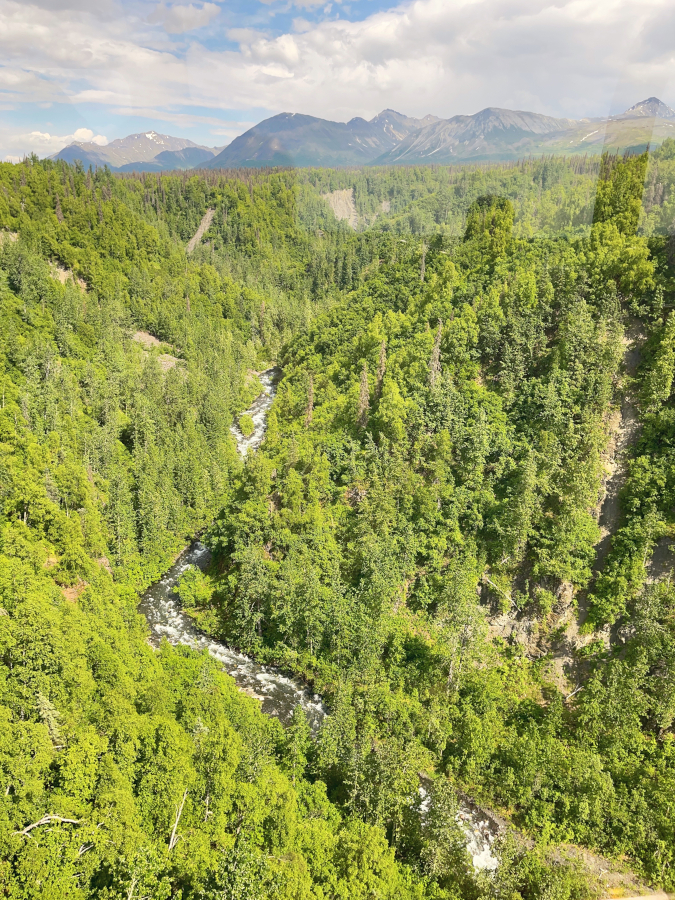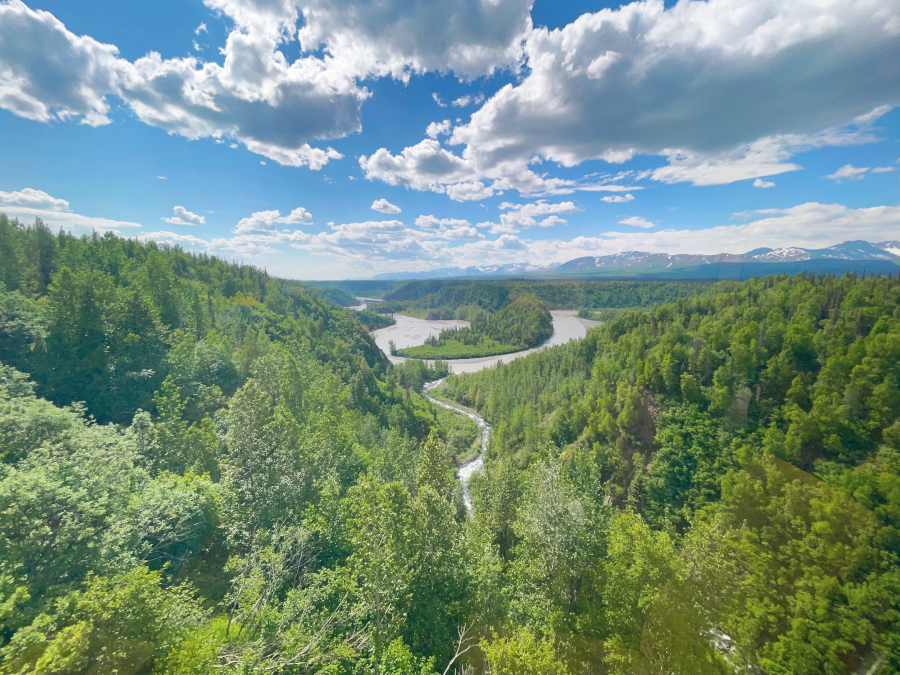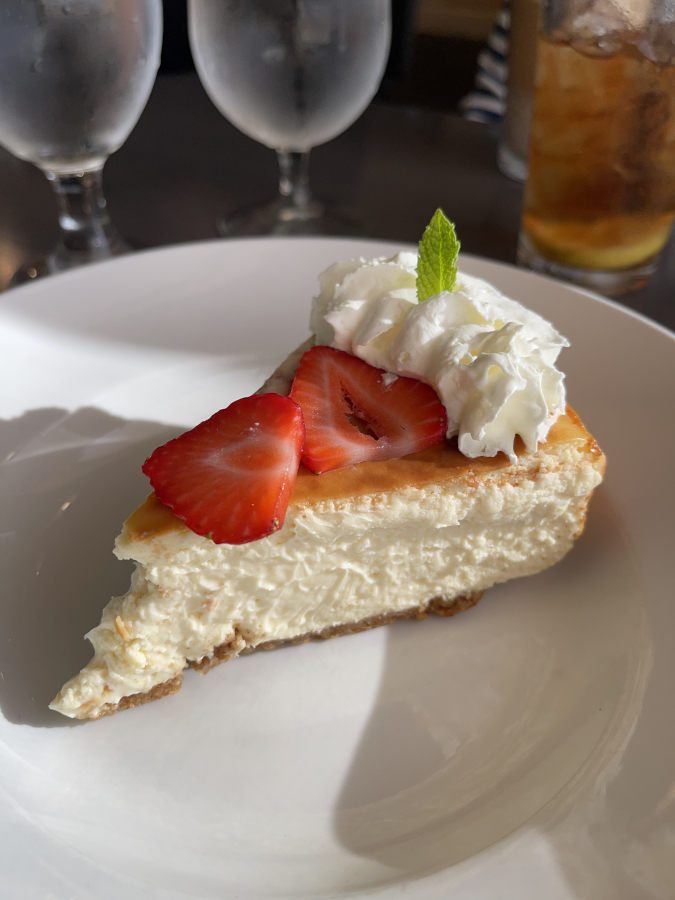 I will forever remember this cheesecake.
Day 5: Anchorage, a Zoo, and Cruise Ship Embarkation
I've been having a hard time sleeping well on this trip — travel anxiety paired with 24 hour daylight is somethin' else. But it benefitted me on this day! I woke up at 5am because I couldn't sleep. I opened the curtains of my hotel room, looked outside, and there it was: the peak of Denali! Clear as day off into the distance. Oh my god! What a gift to be able to see it so beautifully… to be able to see something that we only had a 30% chance of seeing. It was so thrilled.
We grabbed yogurt parfaits and coffee in the hotel lobby and then got on the bus to head to Anchorage.
One kid in our tour group overslept and caused our departure to be 20 minutes behind schedule — can you even imagine being THAT kid?!
It was a 2-ish hour ride to the Hilton in Anchorage where we had to get COVID tested. Unfortunately, two people from our tour group tested positive and had to leave the tour immediately. Our hearts sank — both hoping they'd be alright and hoping that the rest of us would stay healthy for the remainder of our trip and cruise.
After we all received our negative results, we were free to explore Anchorage for about an hour and a half. My parents grabbed lunch and I decided to walk around downtown and take some photos. Anchorage was really cute… from what I could see in an hour! We all, sans those who had to leave due to COVID, hopped back on our bus and headed south toward Seward.
We stopped at the Alaskan Wildlife Conservation Center (aka a zoo) along the way. I hate zoos and did not enjoy this experience. I thought it was a huge waste of time and that it would have been nice to have more time in Anchorage… not at a zoo. But alas.
Our final leg of the land tour was driving all the way down to Seward so we could board our cruise ship, the Regent Seven Seas Mariner. The embarkation process is somethin' else, though still infinitely more pleasant than boarding an airplane. The ship impressed us from the moment we stepped on board — gorgeous, luxurious, and instantly put us in a relaxed mood after 4 grueling days of land touring.
The only issue we had was that our land tour guide, because of how much time he wanted to spend at the zoo, caused us to be late getting to the ship. As a result, we were the last people on the ship, our luggage was delayed, etc. We had to cancel our dinner reservation for that evening because we didn't have luggage… which contained our dress code-appropriate clothes to change into. So we had room service instead and called it a night.
I watched Father of the Bride in my stateroom and had the sway of the ship to lull me into a deep sleep. I slept like a BABY for the first time in days and it was so wonderful.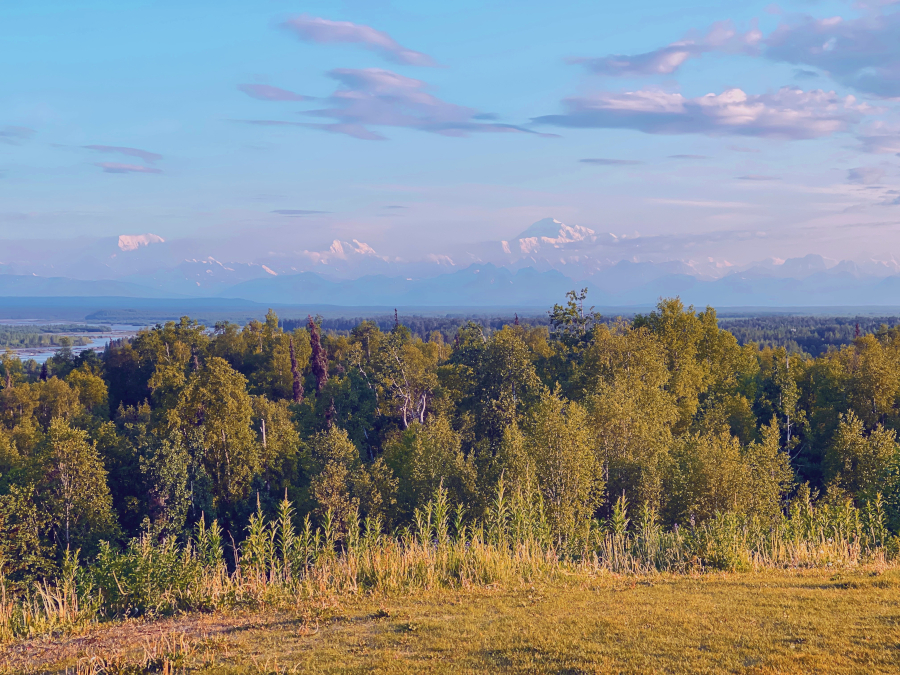 There she is!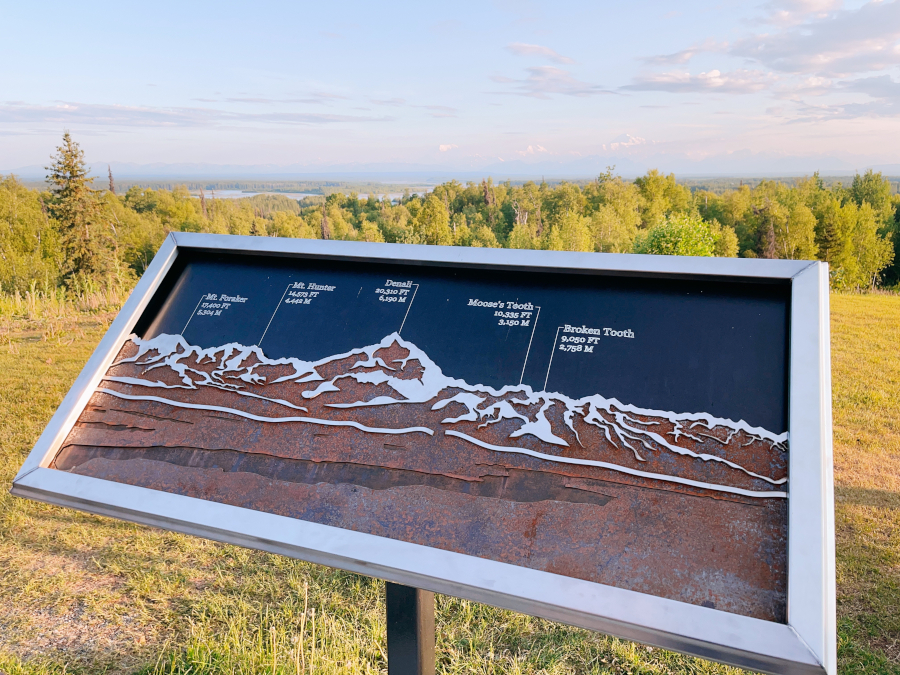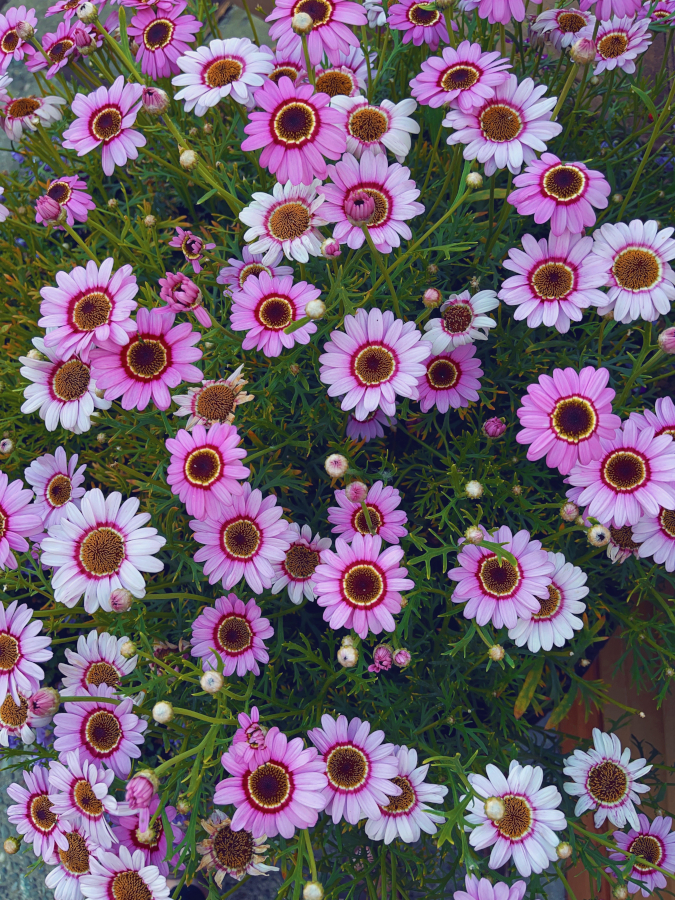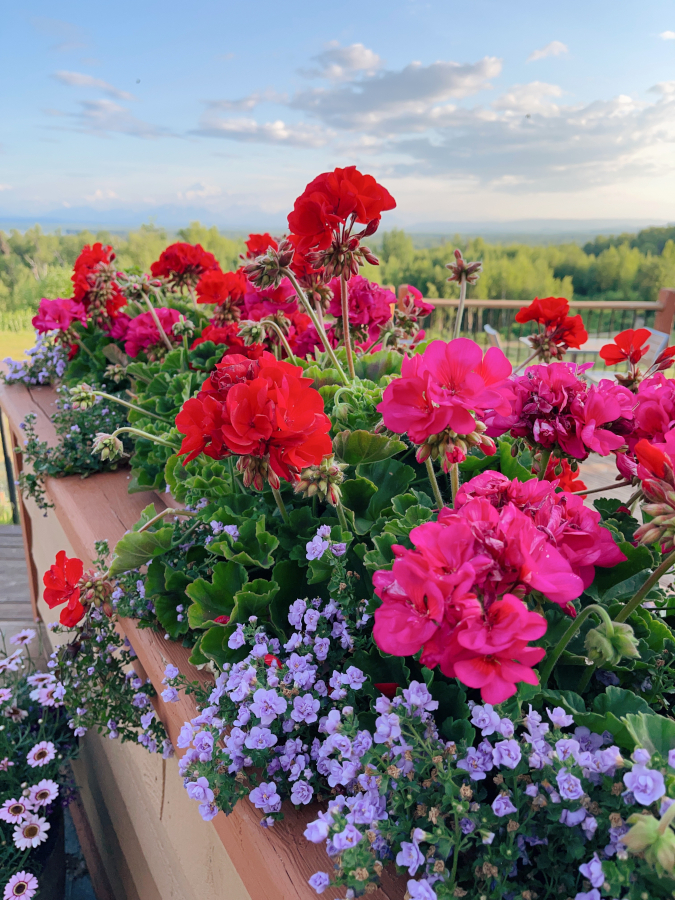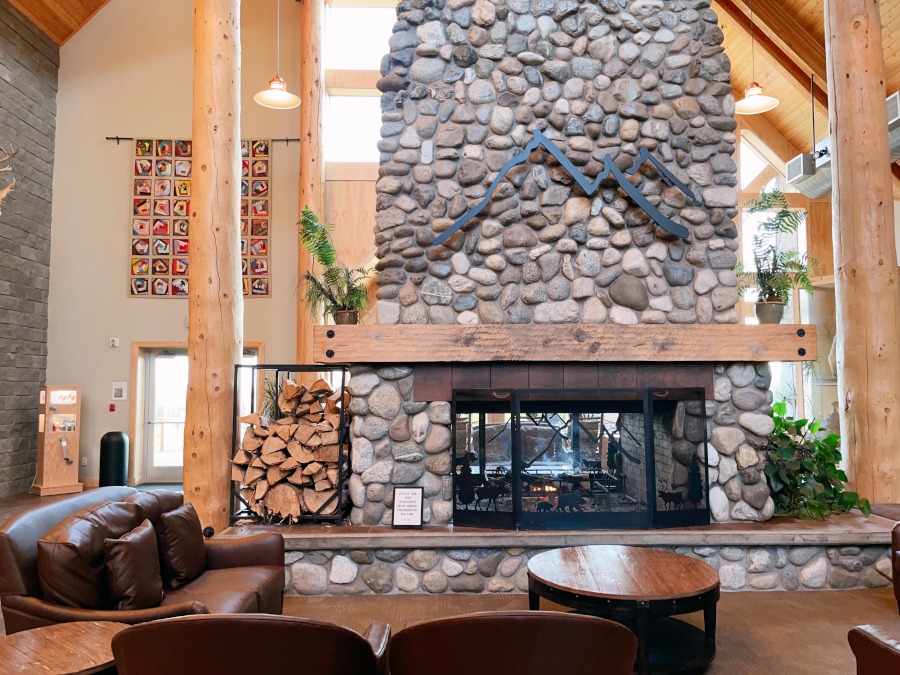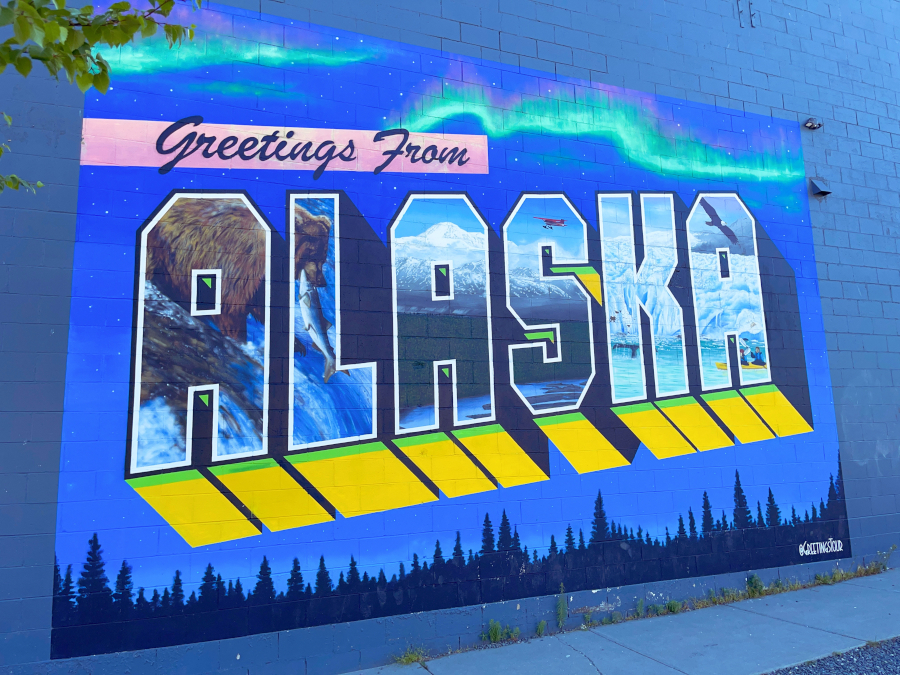 Another great Greetings Tour mural in Anchorage!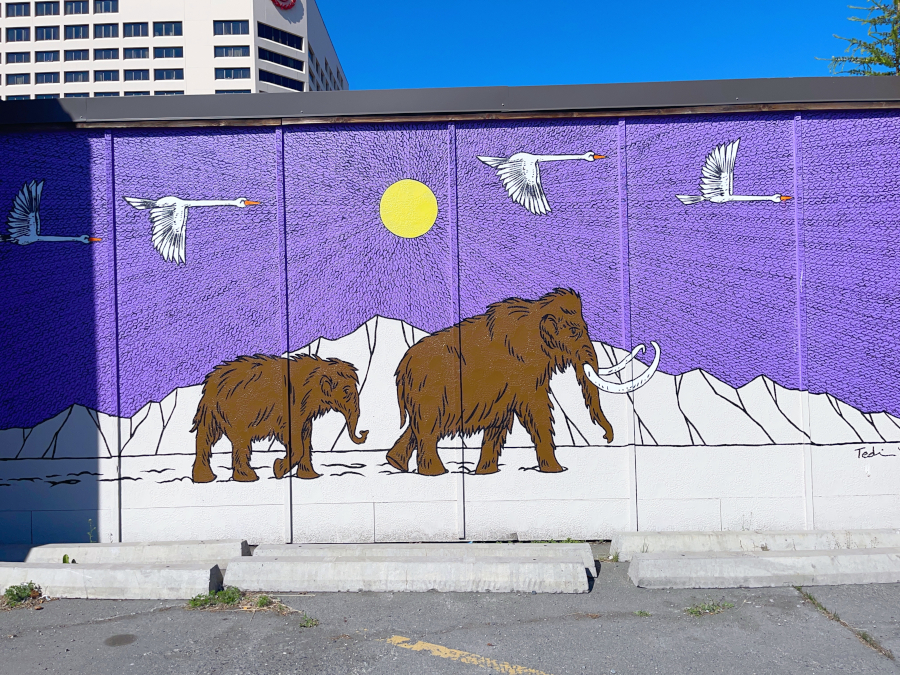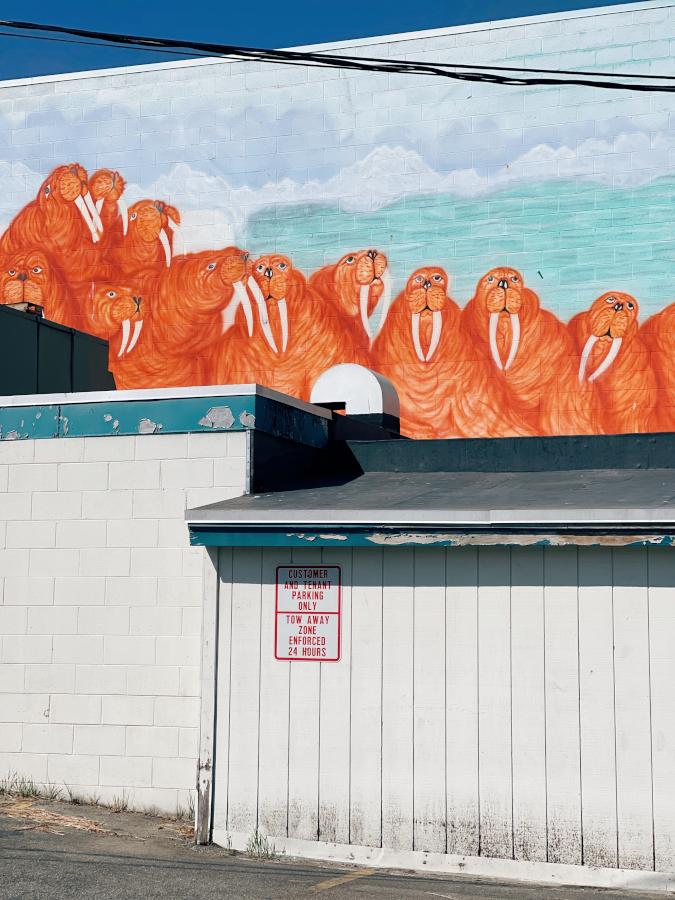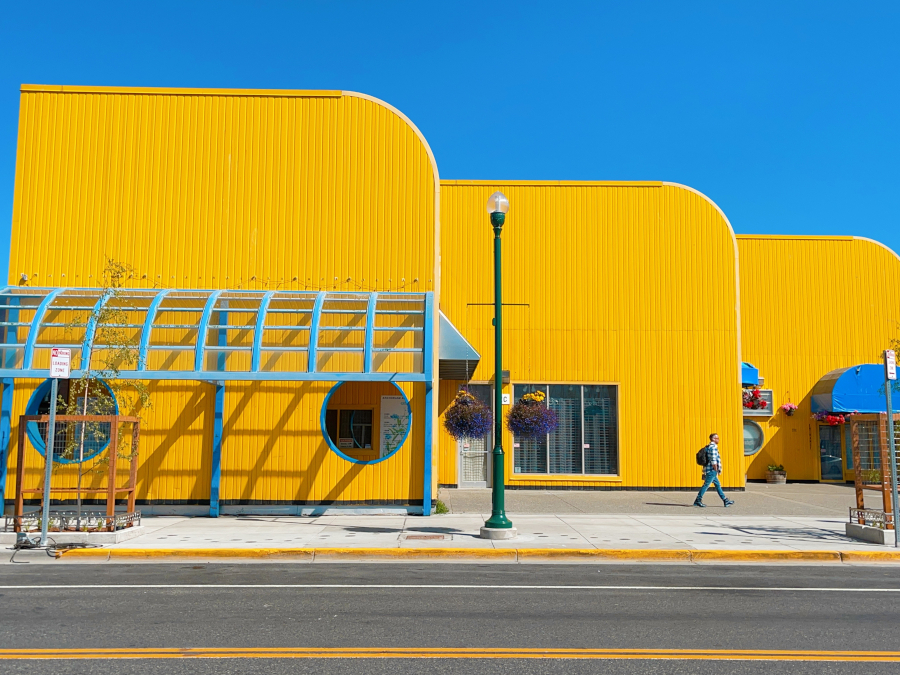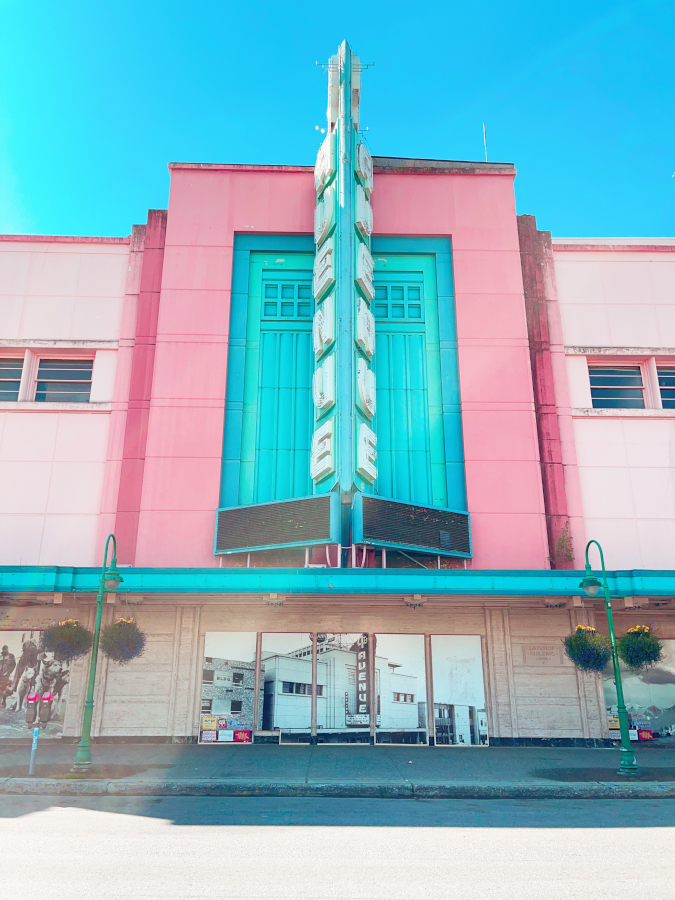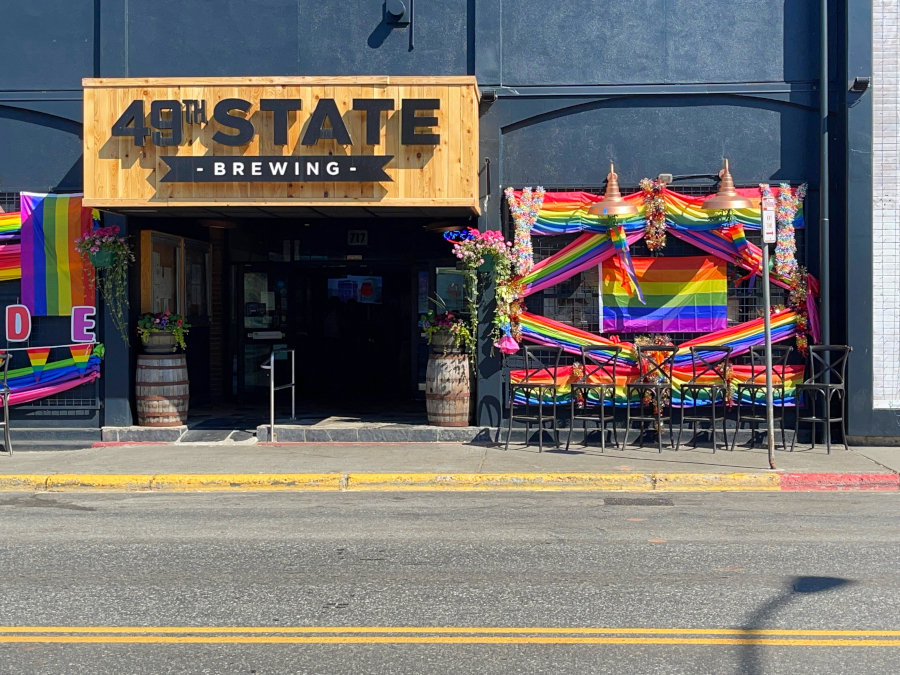 Happy Pride, Anchorage!