January 2018
Where We Stayed: The Contemporary

This was my 10th visit to Disney World. Words will never adequately express how much it means to me and how much it pulls at my heartstrings. My parents and I visited together for just a few days, then I flew home and they continued on to Boca Grande to visit friends. I don't think my Dad loved it — as his hips and knees were hurting (and we all know that Disney involves a lot of walking) — and he and my mom both developed colds (damn snot-nosed kids!). But I had a wonderful time and I can't wait to go back. WHEN CAN I GO BACK?!
Here are some observations:
January is an ideal time to visit, if you don't mind cooler temps. The 40s and 50s felt nearly tropical to us, so we didn't mind! HOWEVER, we didn't realize that the Disney Marathon would be going on — so that brought more people and activity to the parks.
We stayed at the Contemporary, which is now my favorite Disney resort. It's within walking distance to my beloved Magic Kingdom, it's on the monorail, the rooms were recently revamped, and it's just a cool, retro building. LOVE IT. I've also stayed at the Grand Floridian (nice, but a little too fancy pants), the Polynesian (lovely, but a little too dark… literally.. everything is brown), the Boardwalk (beautiful! and within walking distance to EPCOT), the Yacht Club (eh, it's alright), and the Caribbean Beach (blehhhh).
We didn't go on many rides because a) we didn't have much time to work with, b) the wait times for many of them were 100+ minutes, and c) the FastPass system is bonkers and you almost have to plan out every minute of your day.  I understand why they started the system, but man, it takes all the spontaneity out of your experience.
The Magic Kingdom is still my favorite. Forever and always. And I love how they've expanded Fantasyland!
Speaking of the Magic Kingdom, we had breakfast at Be Our Guest and it was such a disappointment. When I was last at Disney (with Andrea in 2014), I ate dinner at Be Our Guest and it was such a wonderful experience — music, Belle & the Beast, good food, the "Grey Stuff", table service, etc. Breakfast was none of that. Such a bummer!!
Hollywood Studios is a shell of its former self; it's sad. Hopefully once the new Star Wars Galaxy's Edge opens up, it'll bring more life into that park.
EPCOT was okay. The rides I wanted to go on had long wait times; and unless you want to eat and drink the day away, there isn't much to do in the World Showcase. However, I loved seeing Coco incorporated into the Mexico pavilion! That movie was so beautiful and touching.
I bought 5 t-shirts from an online shop called It's a Magical Adventure; so you will see the variety in the pics below! It was kind of a joke — how many times will Annie change her shirt in one day, just for the photos?!
Retail was a success – bought a fun pair of Minnie shoes (to wear on my next Disney adventure), a few cute magnets, MANY coffee cups (hello, I'm addicted, I need a 12 step program), Star Wars Mickey ears, and some ears for Sadie (my Dad insisted… as I think he's finally realizing that my dog may be the closest thing to a granddaughter that he'll ever get).
Eating at Disney is becoming a chore. For table service, you need to book reservations weeks (if not months) in advance. Good luck if you just walk up and want a table for 3. Again, it takes all the fun out of it and involves too much planning. And I love to plan! Quick service is OK, but it's quick service — you don't necessarily want to eat Mickey pretzels or "fast food" for every meal. But Disney's not gonna change because I don't like their ways — so on my next trip, I will have to plan more and make reservations!
But… PS: Dole Whip is still the best food ever and I love it more than words can say.
Even though you're eating junk food for days on end, the walking makes up for it. I walked 10 miles one day! TEN. MILES. Yeah!
While my parents may not have loved their Disney experience this time around, I loved being there with them. I'm keenly aware that they are getting older — and who knows what Disney trip may be the last. They're the reason I love the parks so much; I'm grateful that they took me to Disney World as a kid and gave me that experience… because I know it's expensive, tiring, and not always magical… and that parents endure all of that in order to give their kids happy, safe, and fun memories. I'll be forever grateful.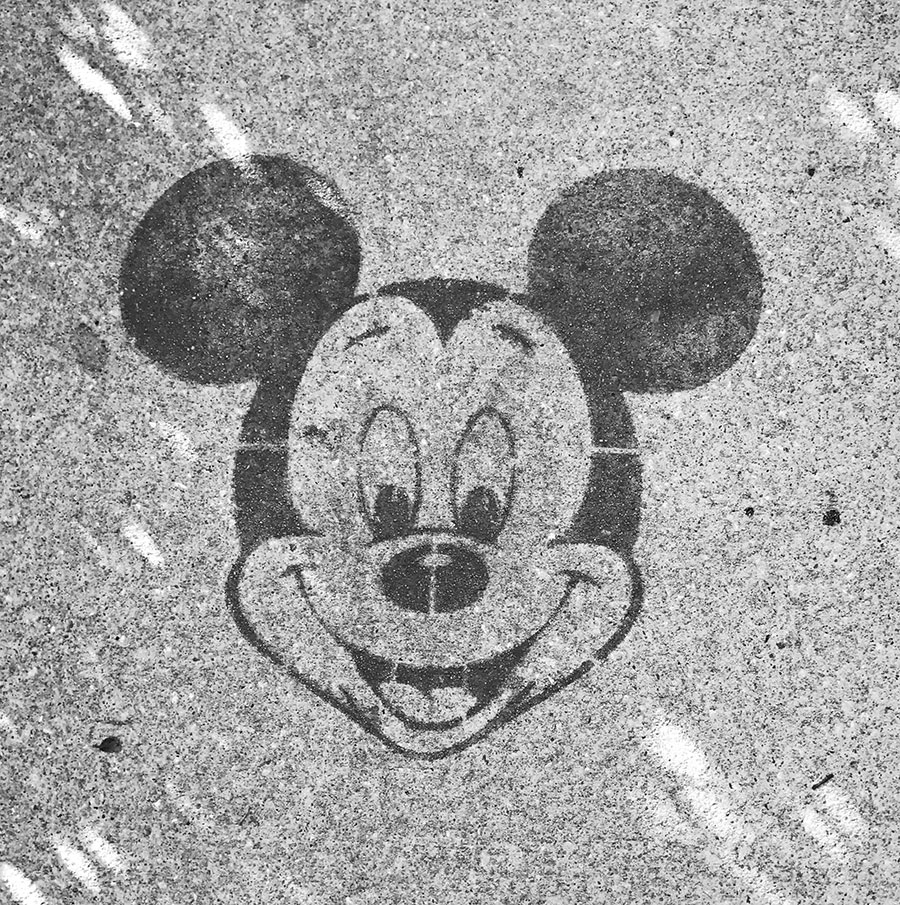 This was on the walkway between the Contemporary and the Magic Kingdom.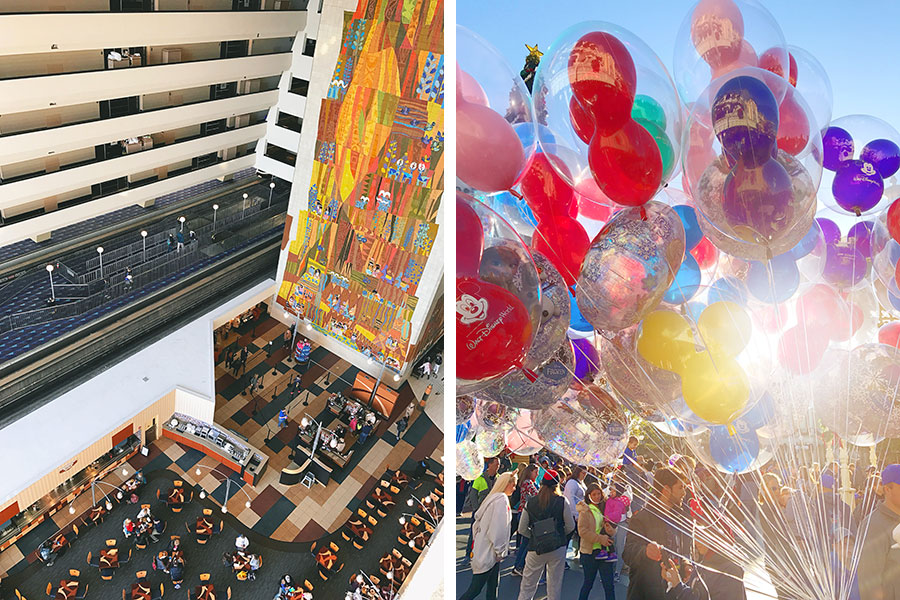 The view from our hotel door – isn't the open concept cool? And the monorail runs right through the hotel.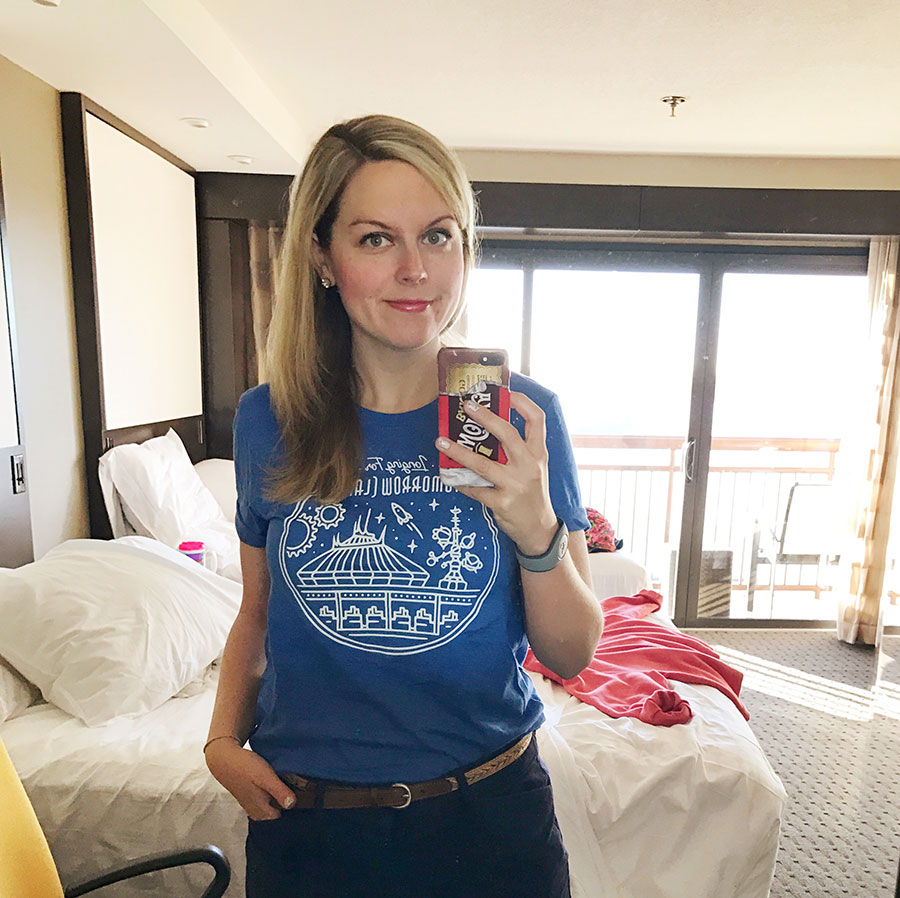 One of my many Magic Kingdom-themed t-shirts!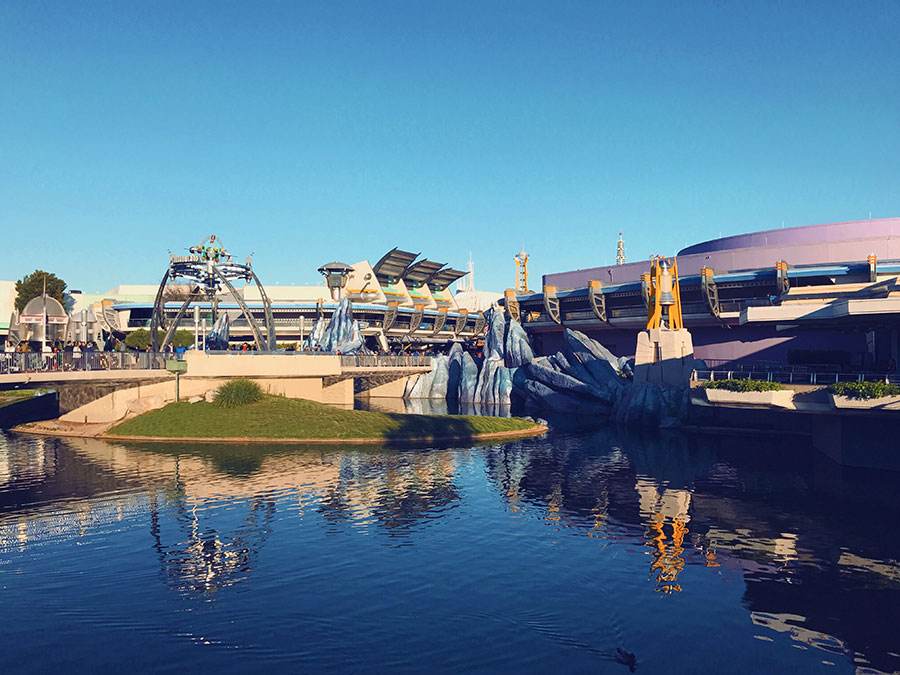 Looking toward Tomorrowland.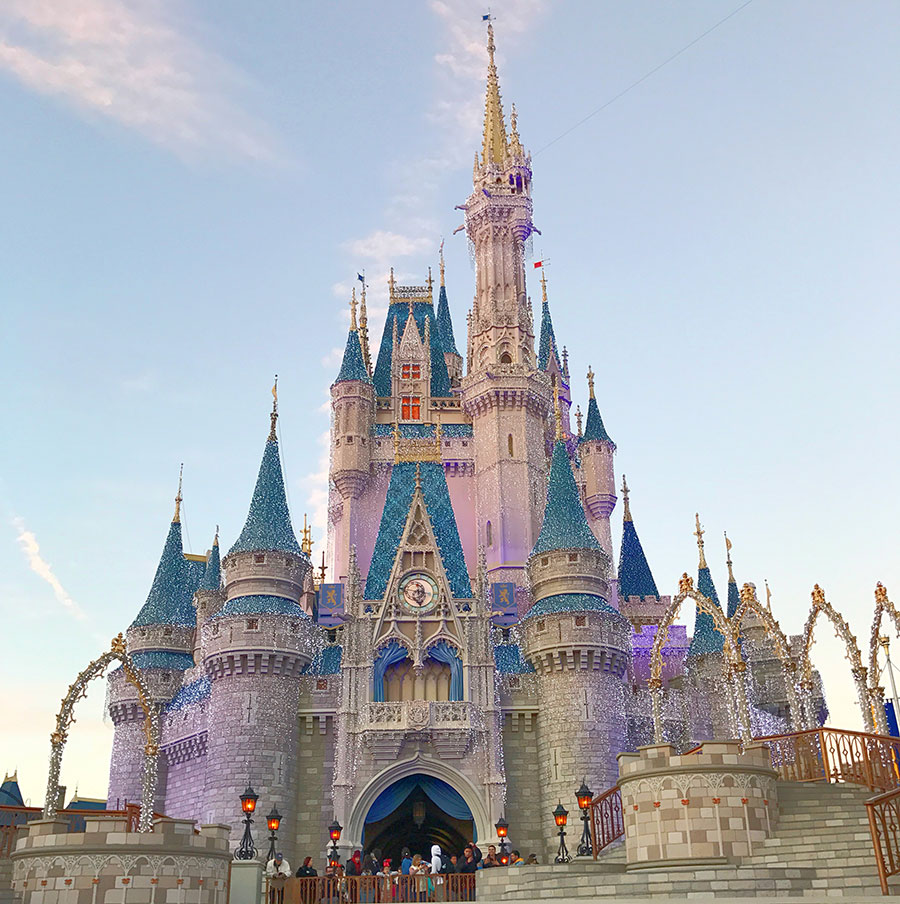 The castle covered in dreamlights.

Mad Hatter's Tea Party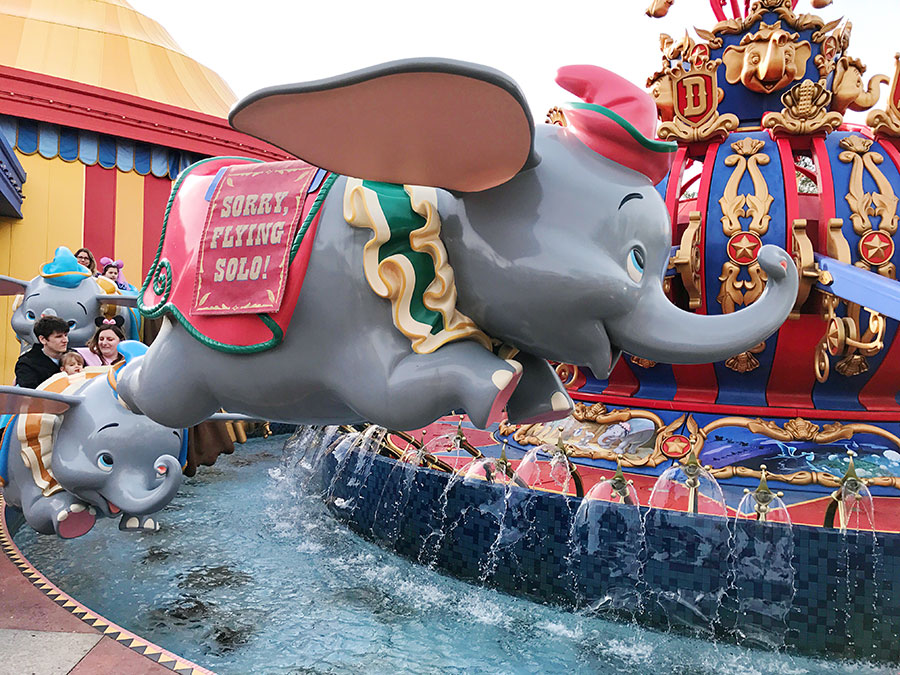 I relate to this Dumbo.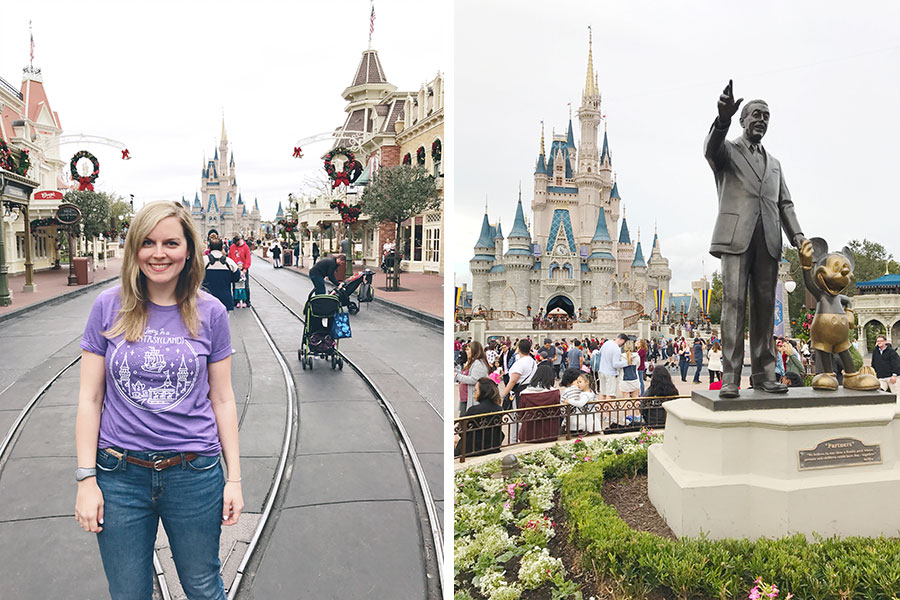 Making an early morning breakfast reservation is neat because it gets you into the park before everyone else :)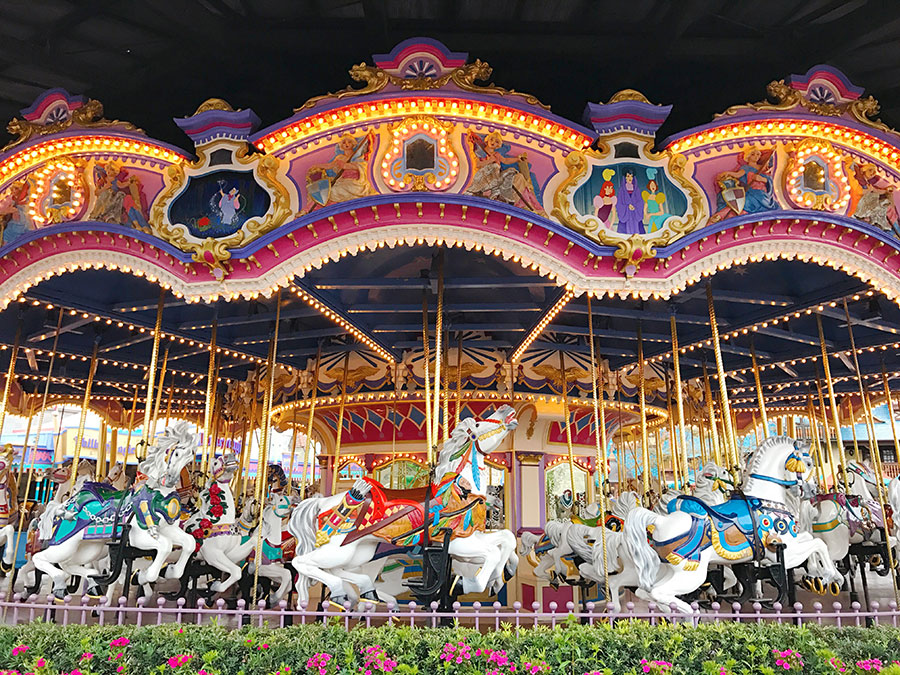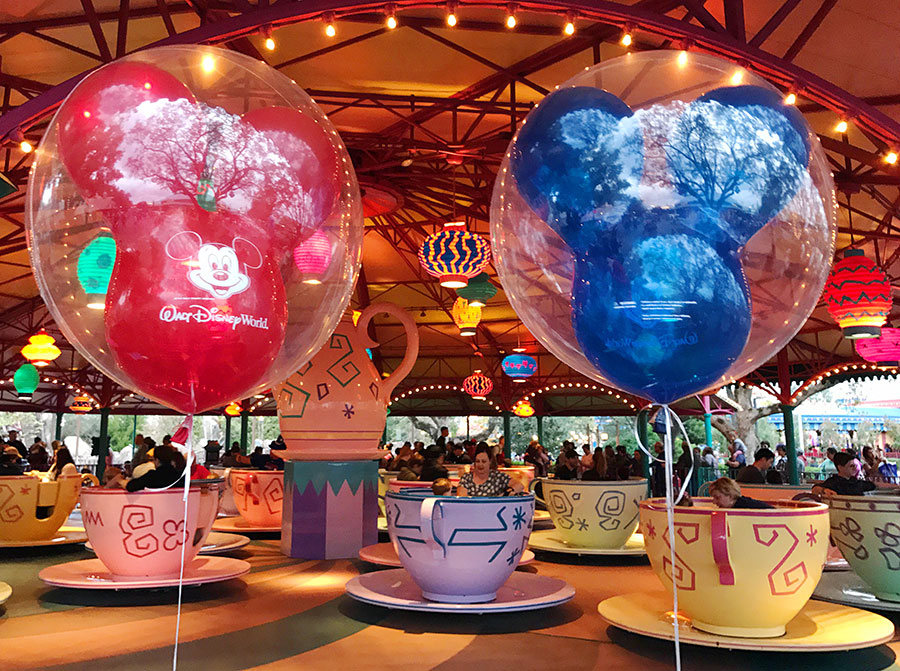 I am Mickey balloon-obsessed.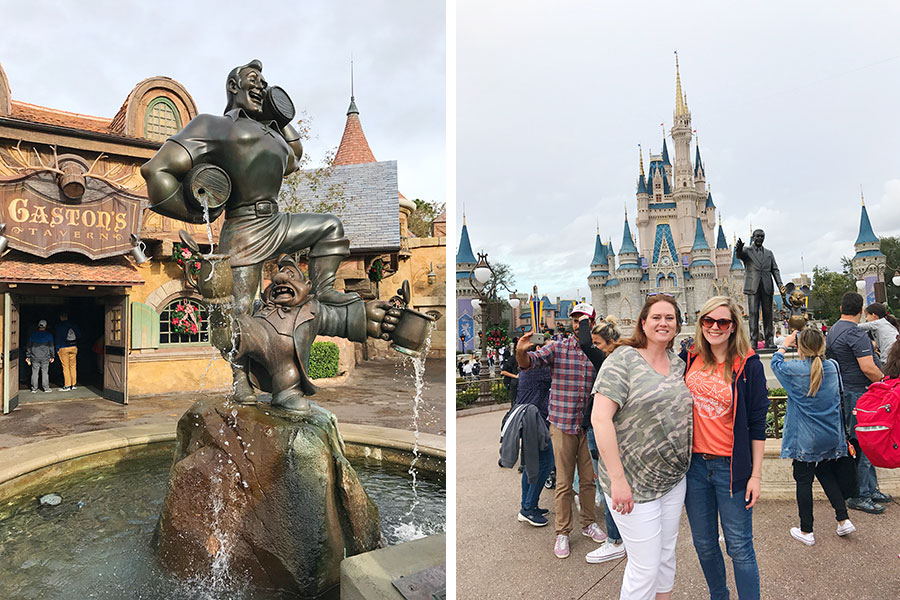 So I randomly ran into my friend Kelly. RANDOMLY. I was walking up to the Walt + Mickey statue to take photos and she grabbed me and screamed "HEY GIRL!" I nearly had a heart attack! But how cool, right?! What are the chances?!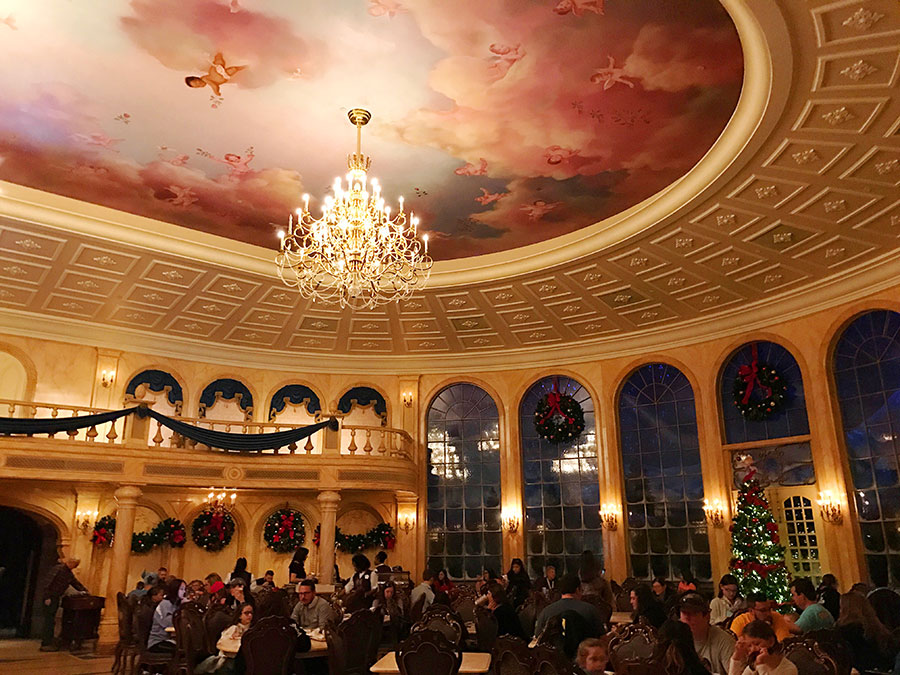 My Dad bought me one of these when I was a little girl. A pink one. I still have it.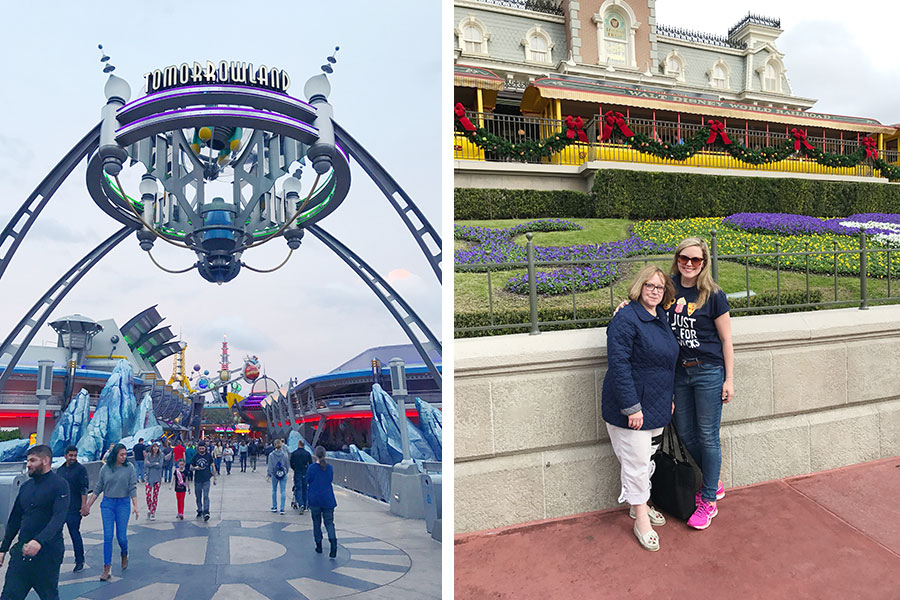 Momma was not feelin' it. Look at that smirk!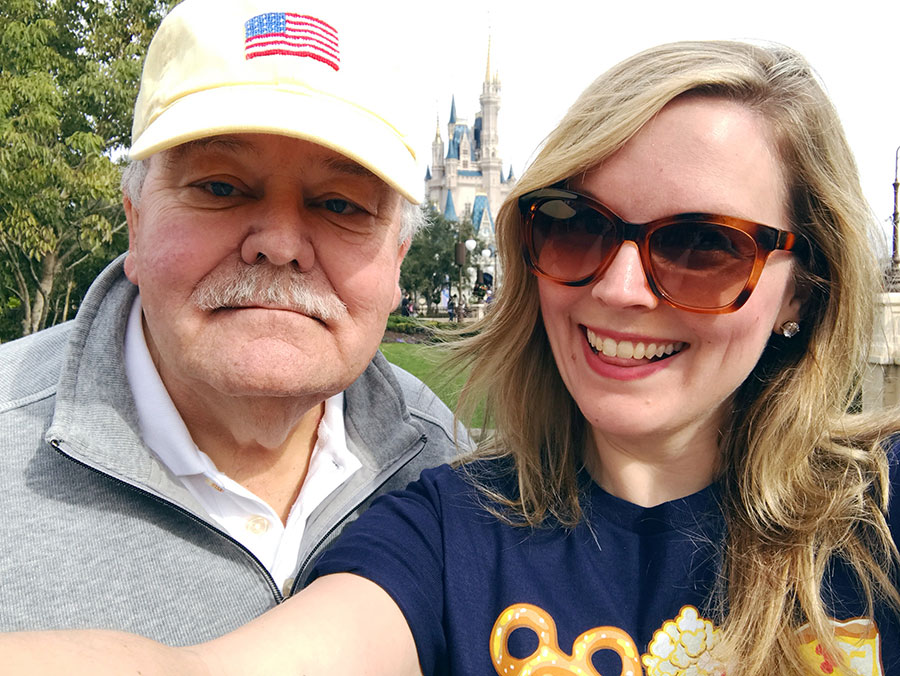 Denny + me. I remember sitting with him when I was 5 years old, eating M&Ms in Tomorrowland, and waiting for my mom to get off of Space Mountain. Always happy Magic Kingdom memories.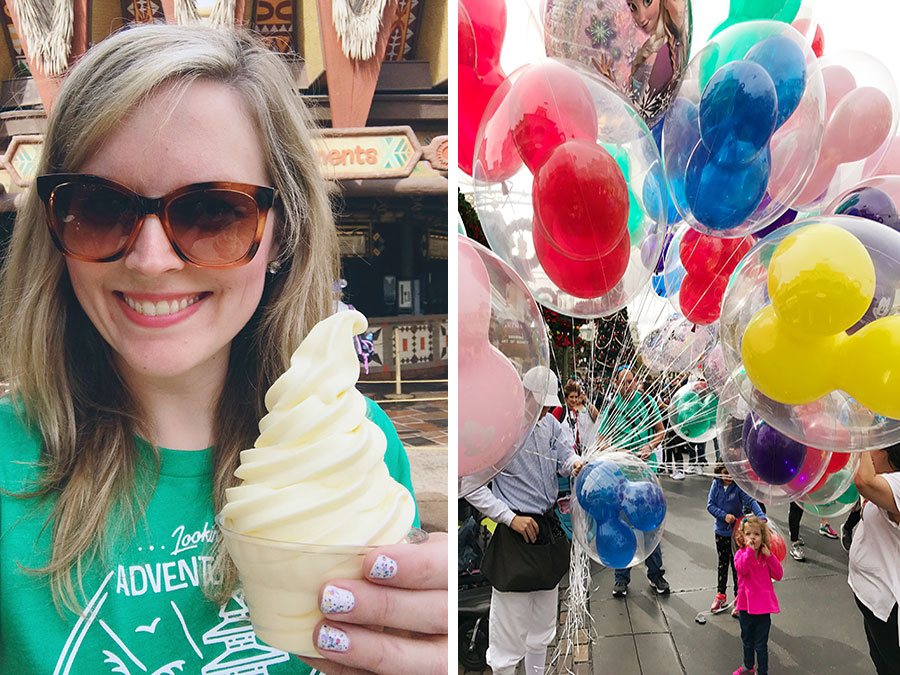 Another shirt! And look at that Dole Whip. Precious, precious Dole Whip!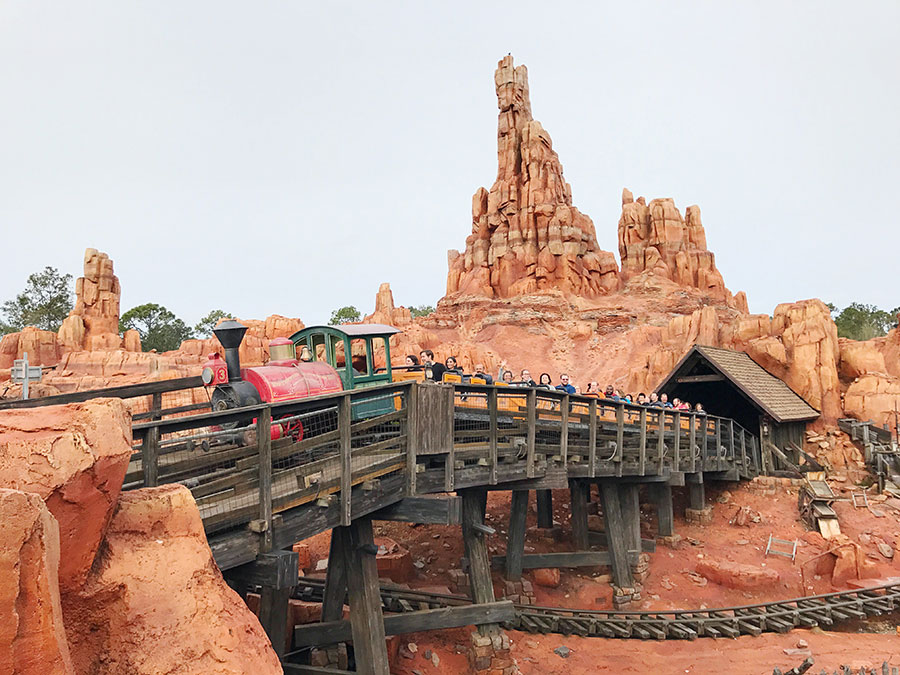 Big Thunder Mountain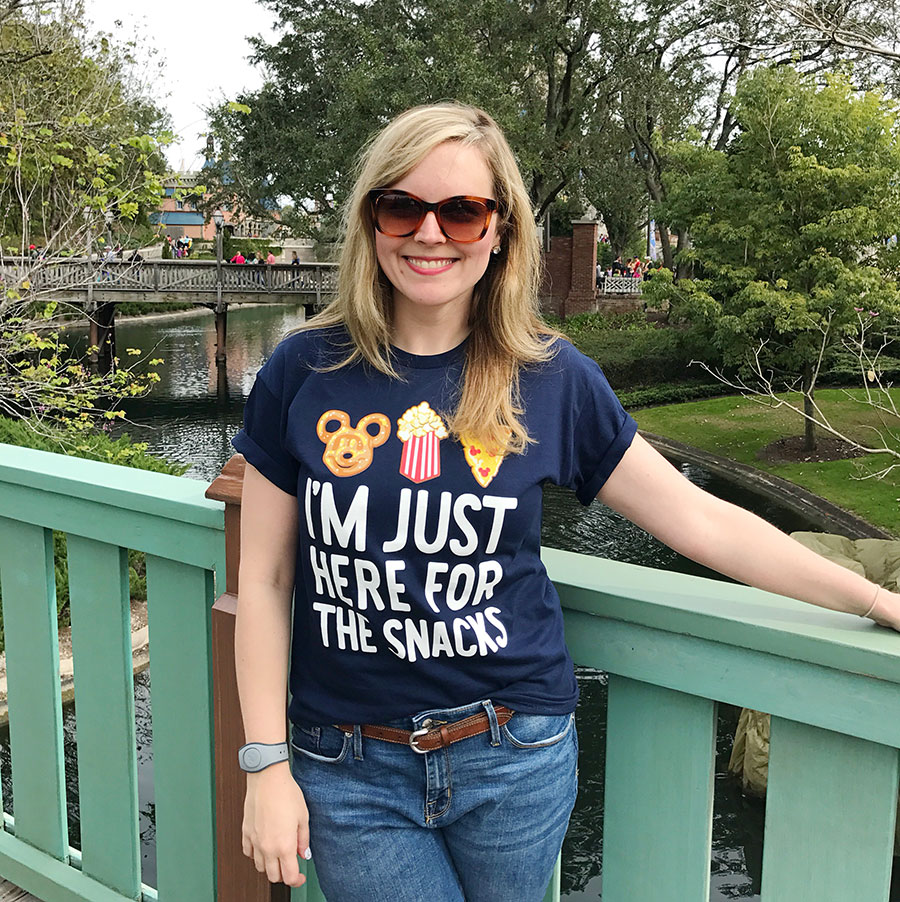 I also found this shirt and had to have it! It's a kids shirt, but I bought an XL and it works! I mean, come on, it's perfect for me. My body was composed 90% of Mickey-shaped foods at this point.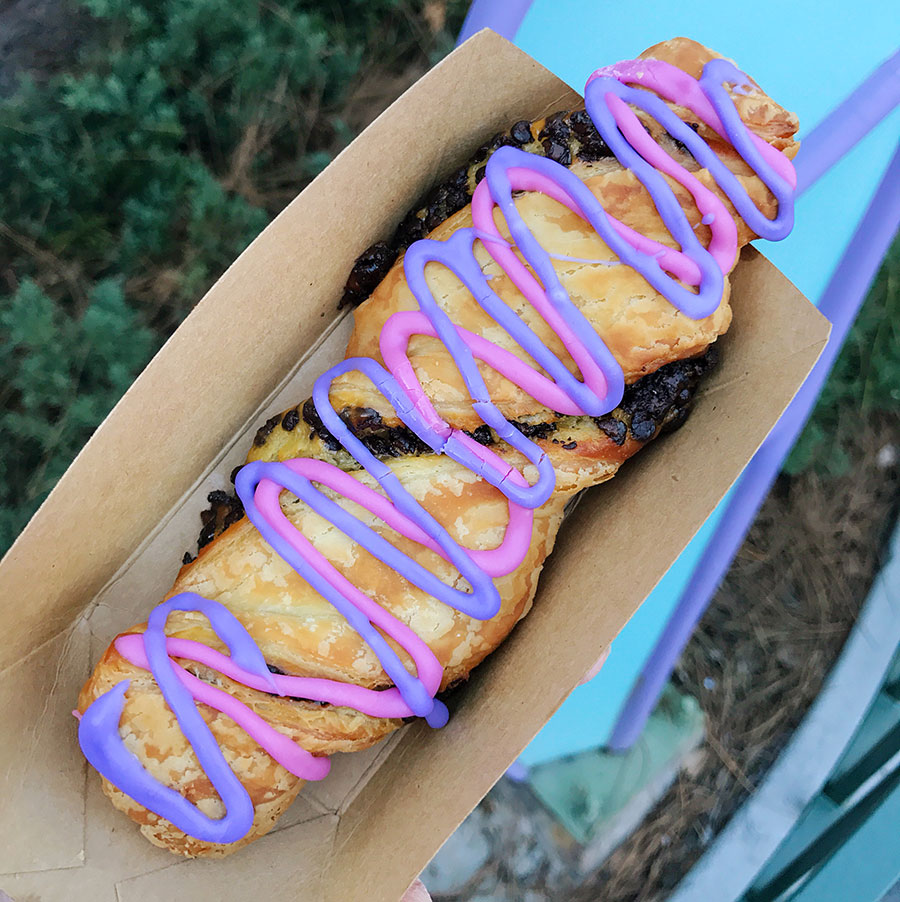 Cheshire Cat Tail – which is a warm chocolate chip-stuffed croissant drizzled in icing. Hot daaaamn.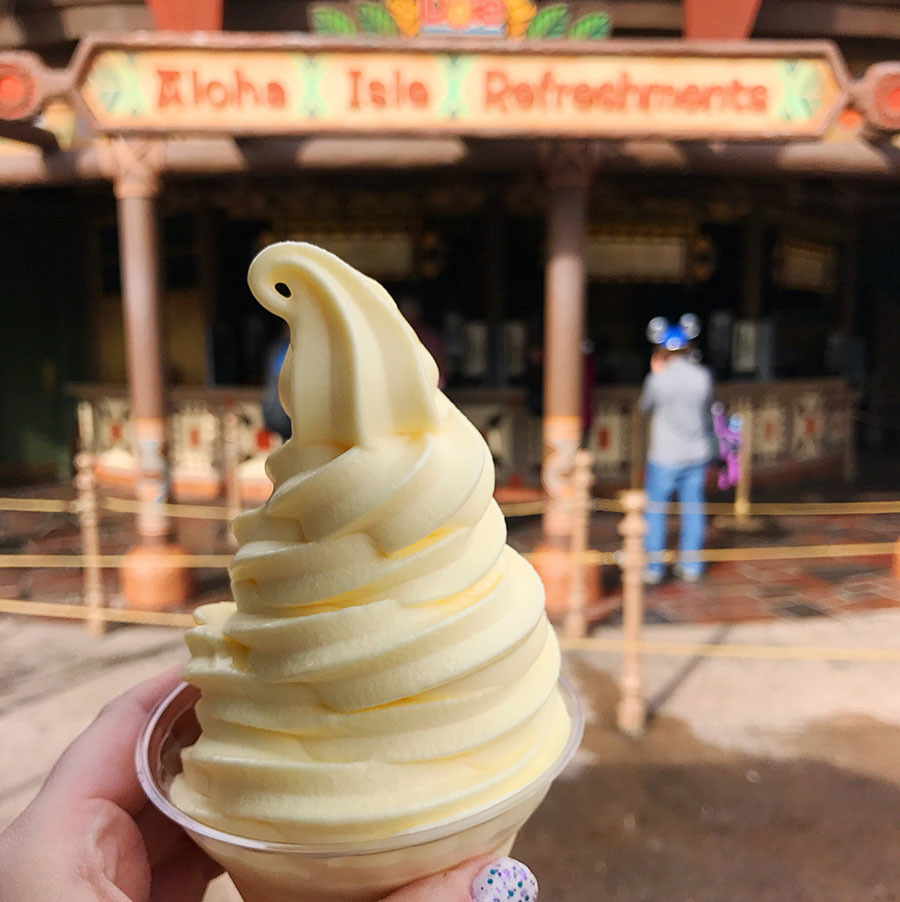 Dole Whip is a must in Adventureland.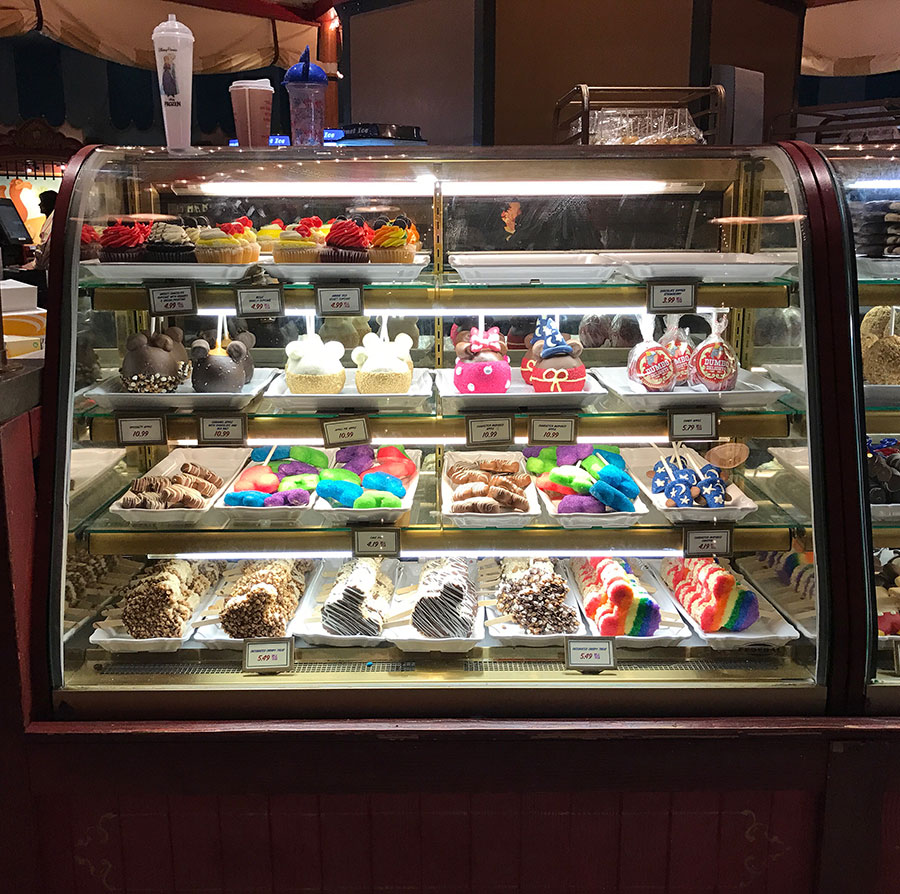 Look at all those Mickey-shaped treats!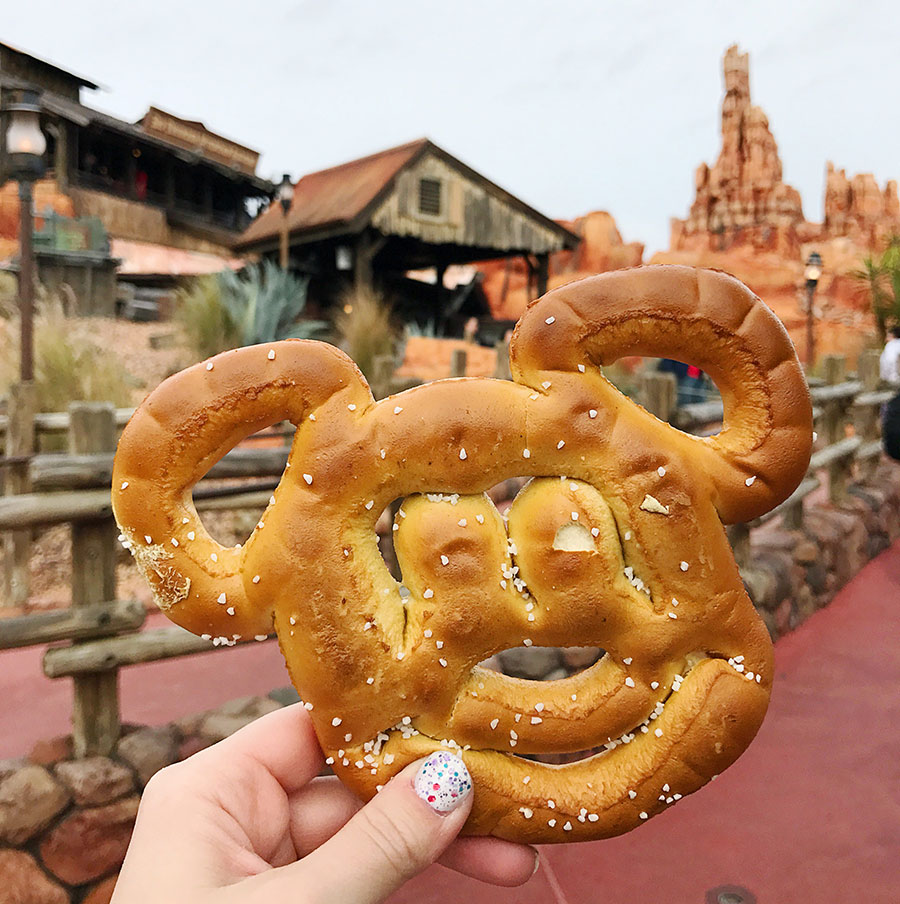 Had to get a Mickey pretzel, obviously.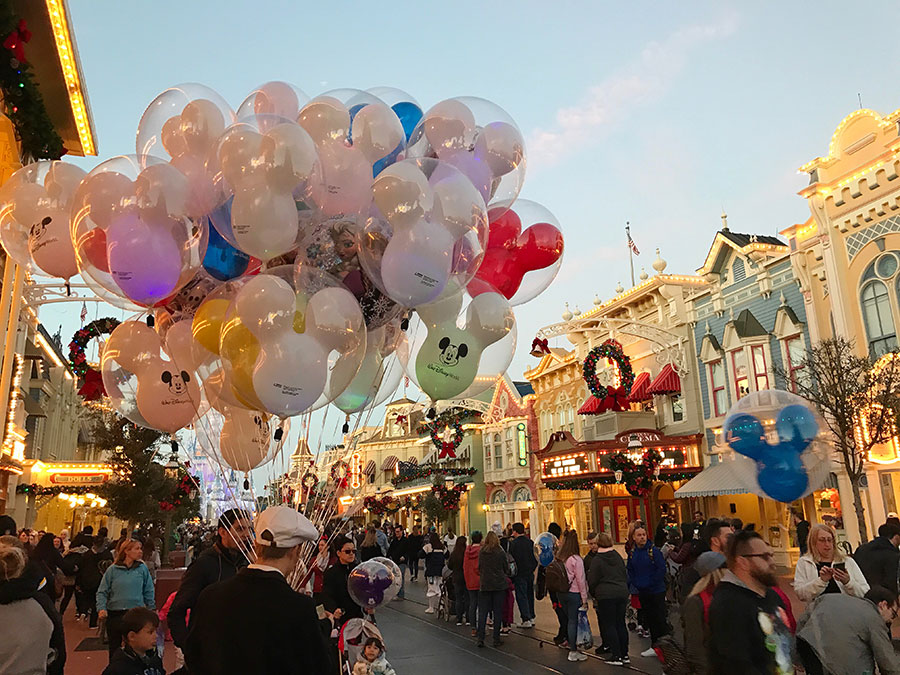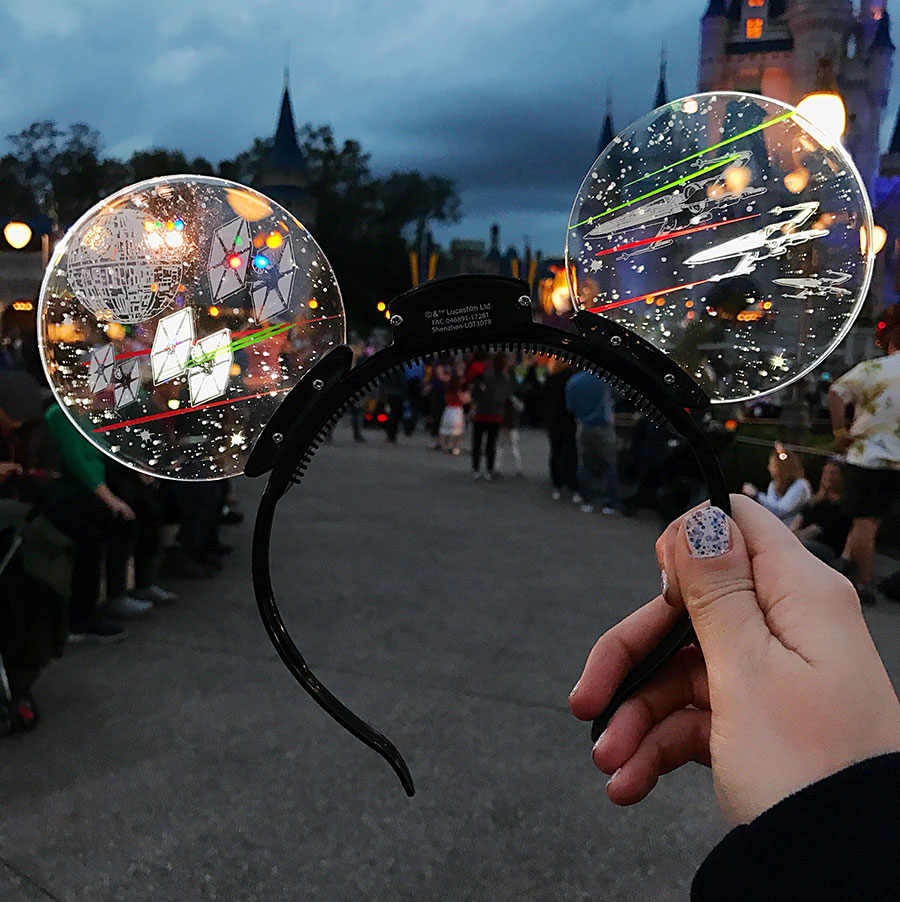 Aren't my Star Wars ears awesome?

The Christmas decorations were still up! Added bonus!!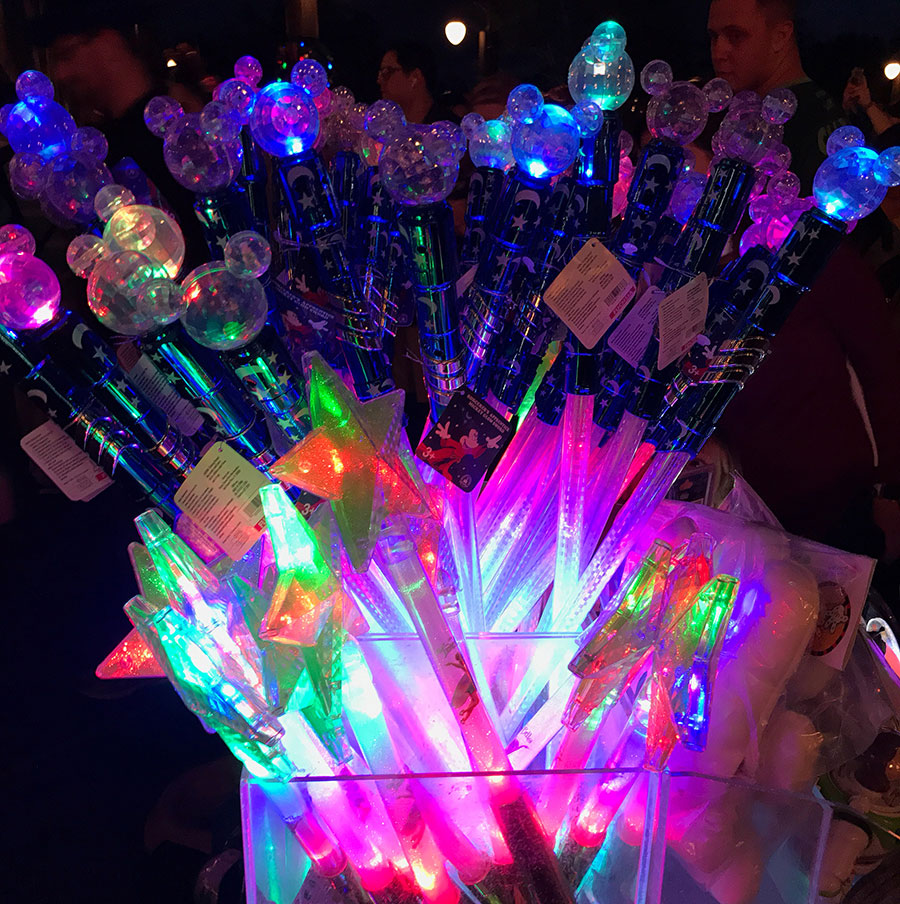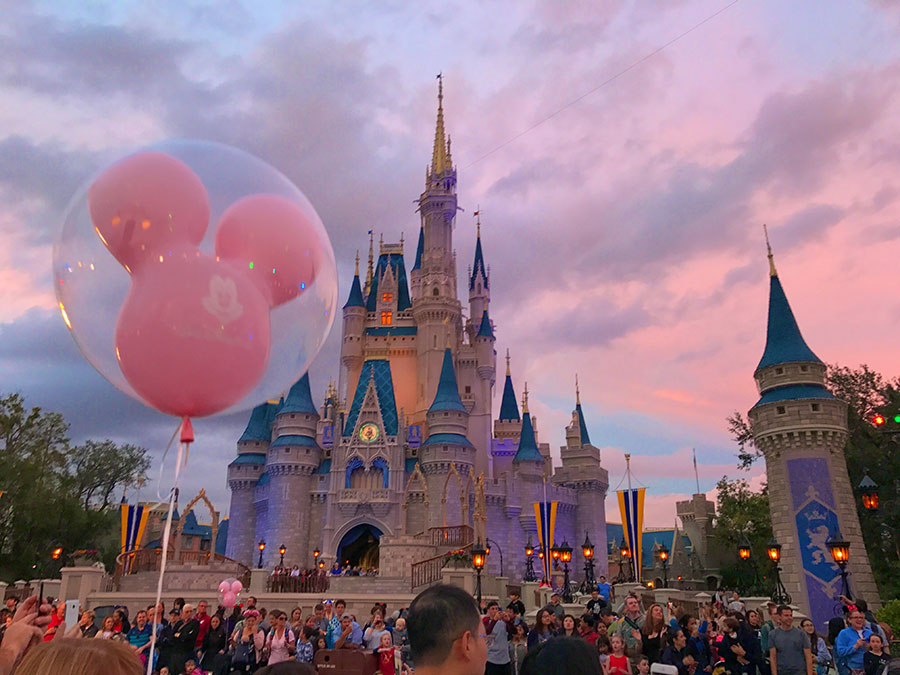 This might be my favorite Disney photo that I've ever taken. It's not technically perfect, but oh, the nostalgia of it. Childhood… safety, happy memories, a simple life — we all chase what we can't have back; but when you're at the Magic Kingdom, it really is possible to feel it in split-seconds.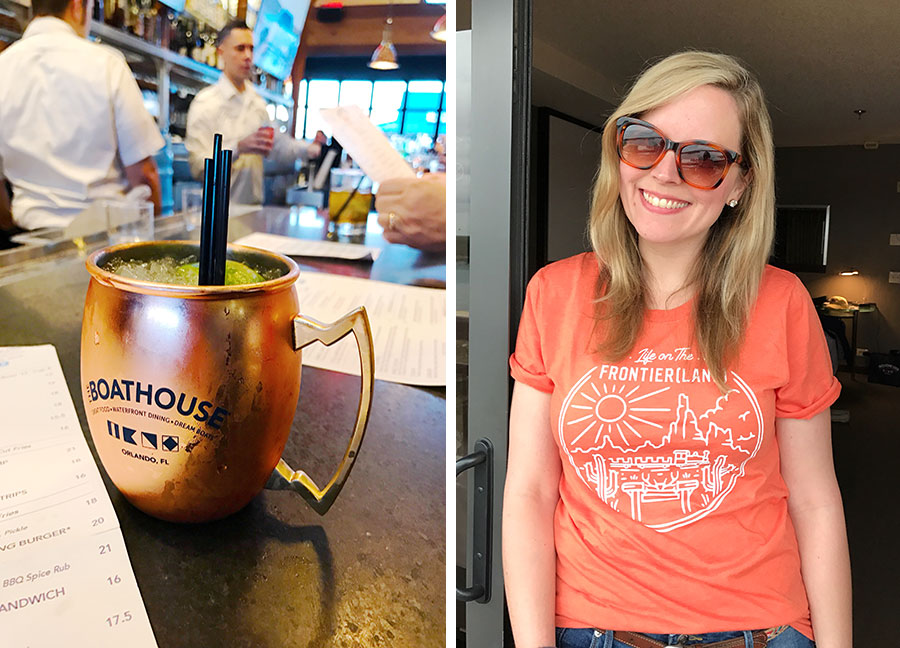 We had a great dinner at the Boathouse at Disney Springs. We didn't have a reservation (oops) and were told that the wait would be 4 hours. But we stalked their bar and waited for three seats to open up. We enjoyed cocktails, good seafood and burgers, rested our feet after a long day, and mentally regrouped (read: ate something, became less hangry and therefore nicer to each other). It really was perfection in that moment.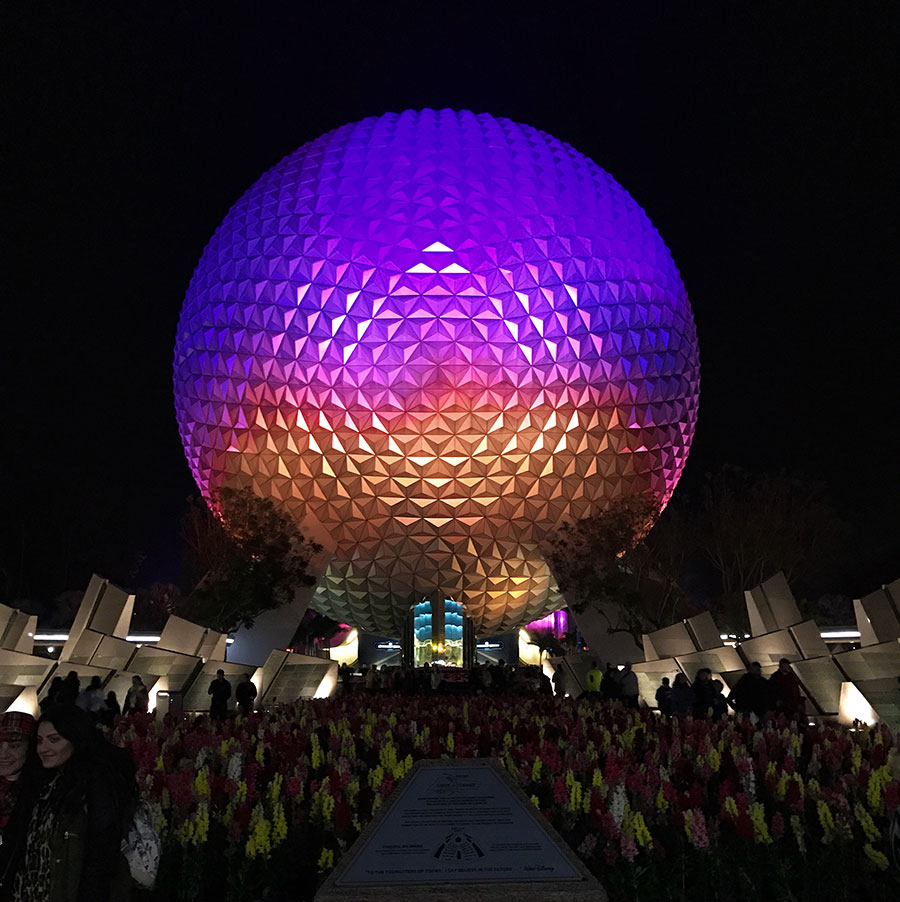 Look at these cutie pies!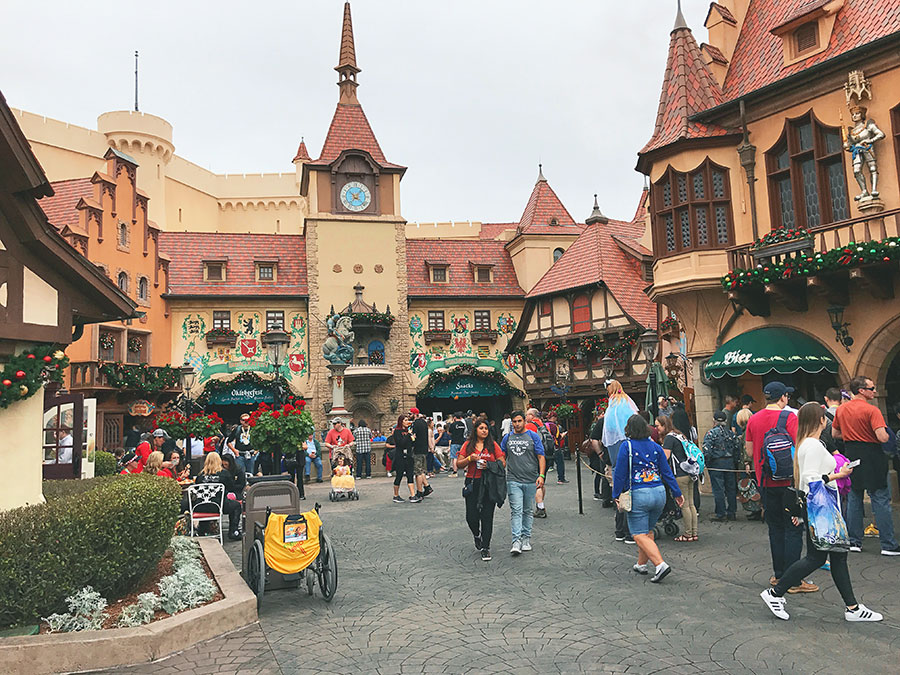 The Germany Pavilion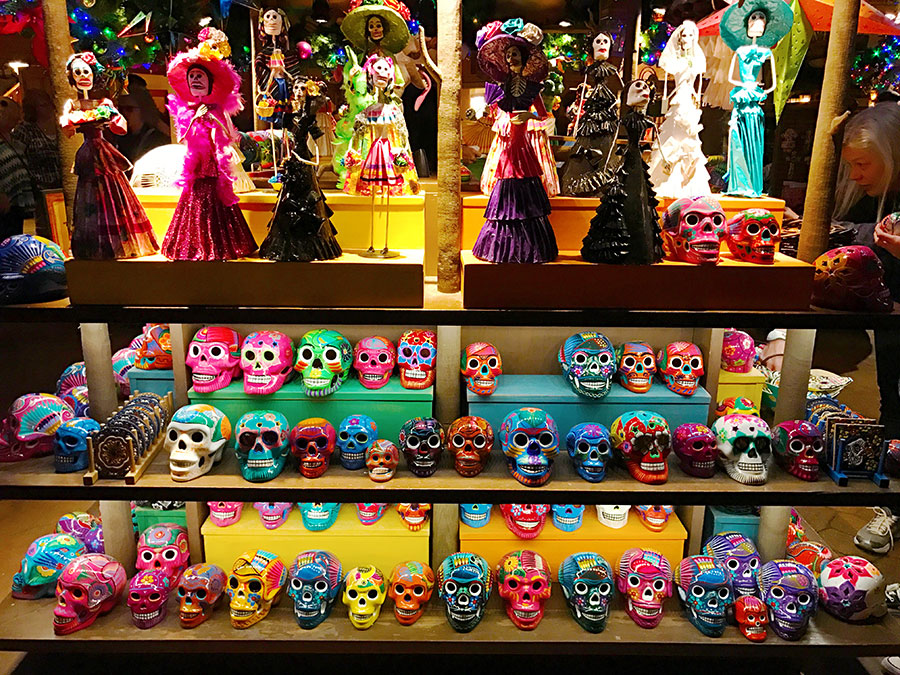 The Mexico Pavilion; I bought one… I had to! Look at how beautiful they are!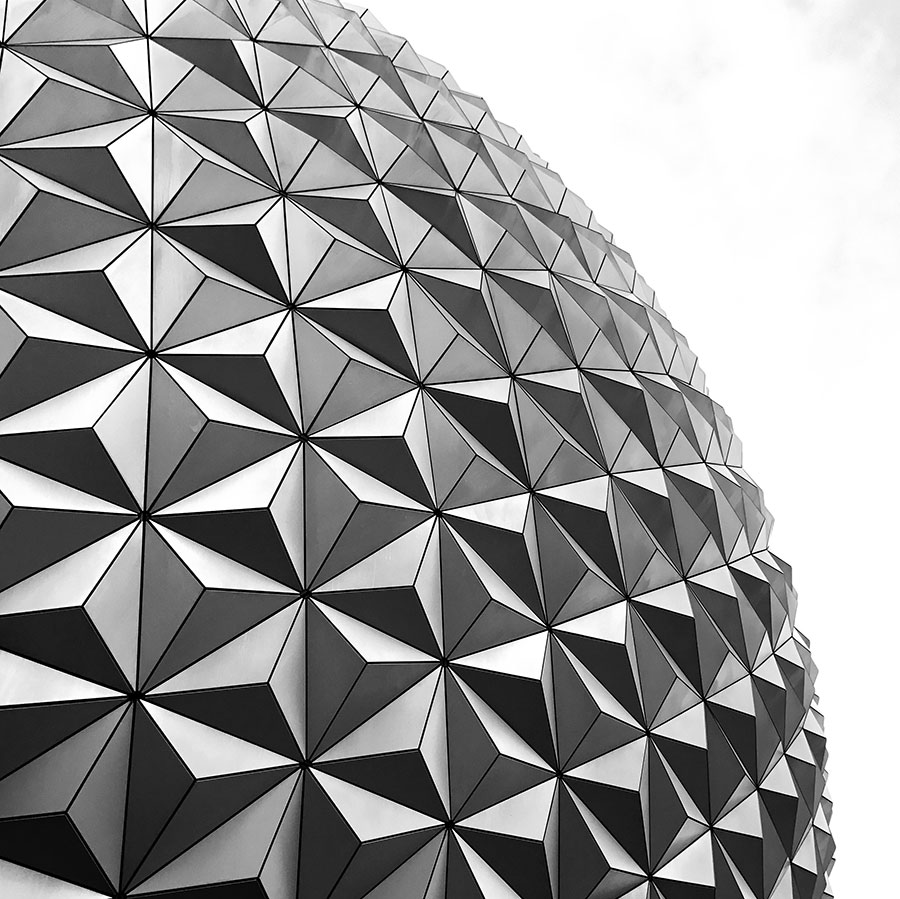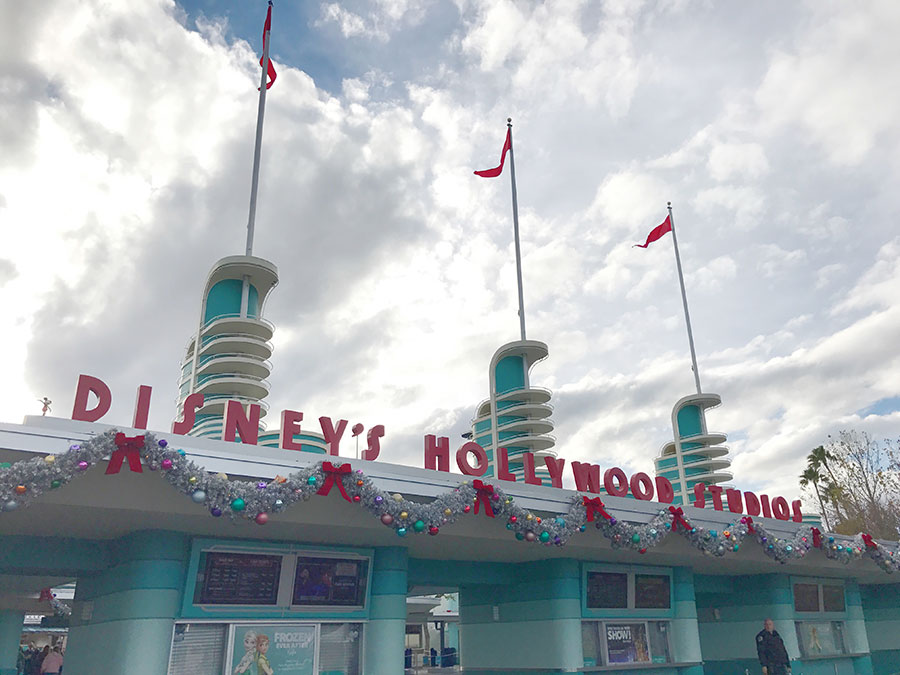 My mom and I hopped over to Hollywood Studios. We didn't stay long because, well, there isn't much to see there anymore!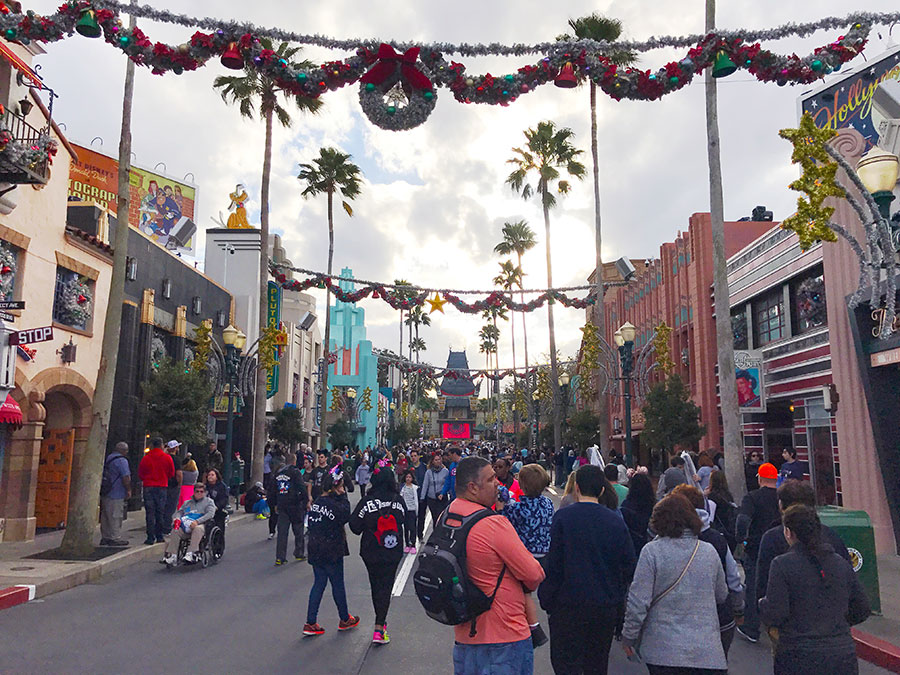 I'm still endlessly happy that they got rid of the big hat. Hollywood Blvd looks so much better now!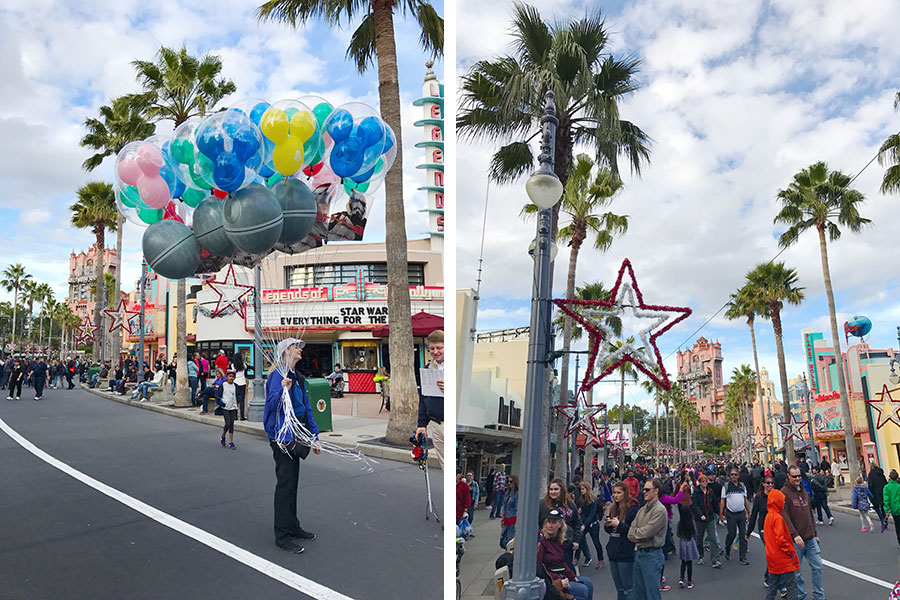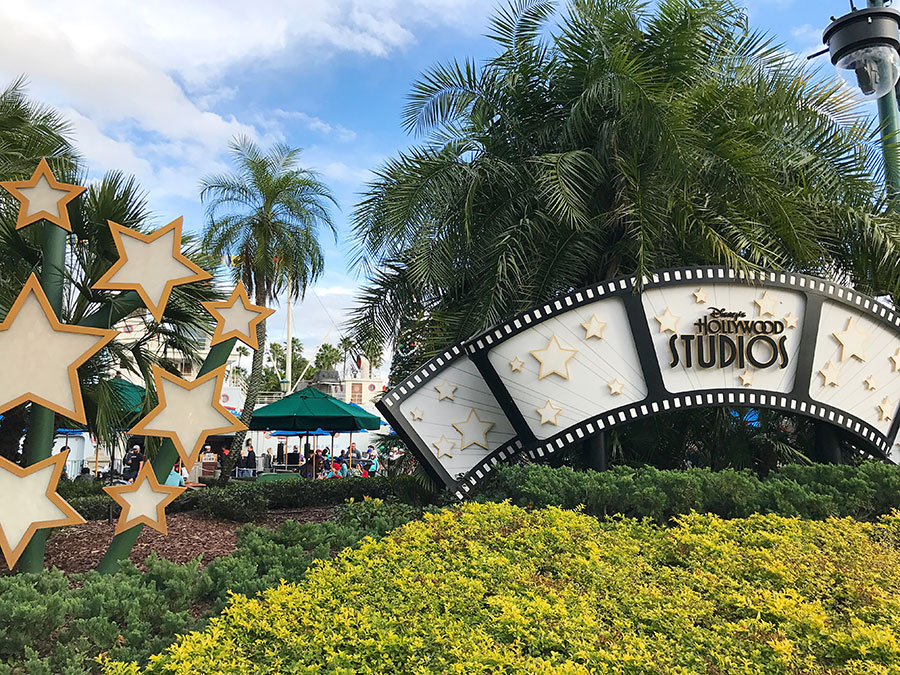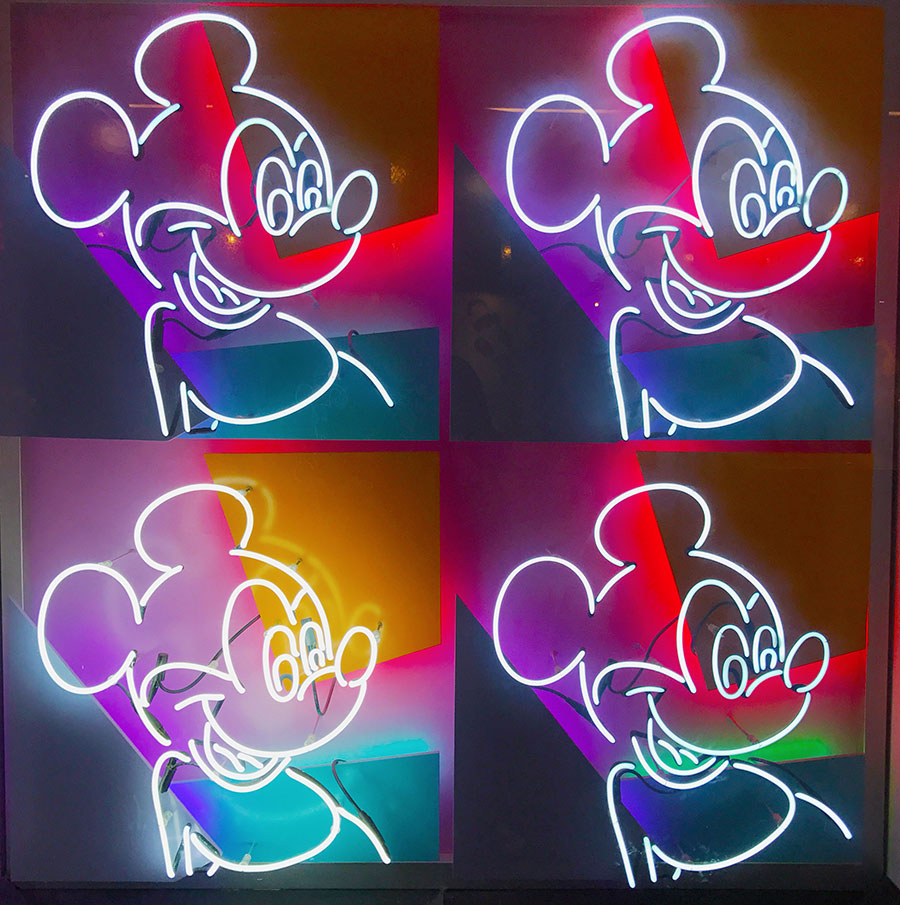 Mickey neon at the Contemporary.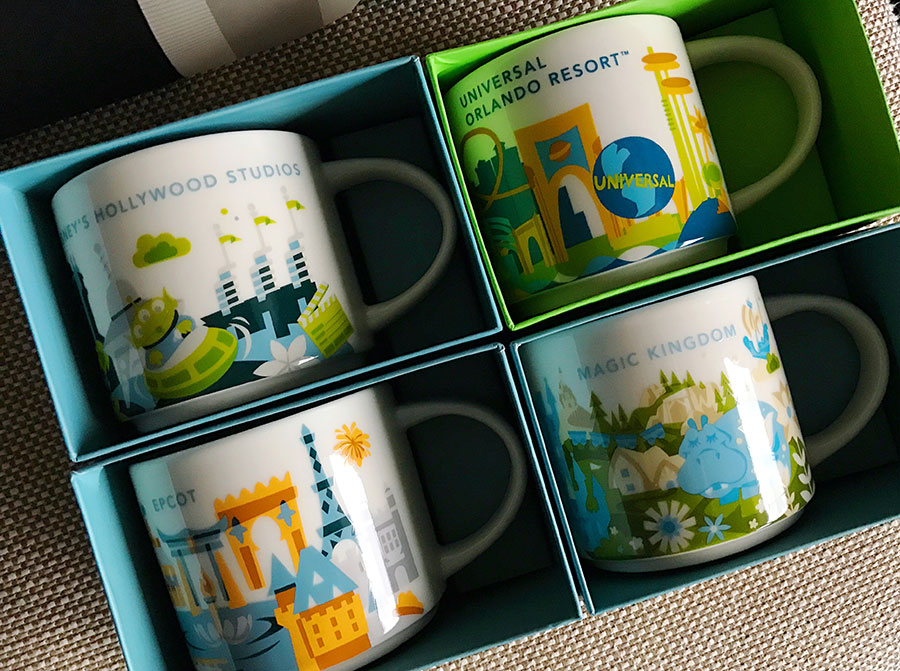 Of course I had to chase down all of these mugs. OF COURSE!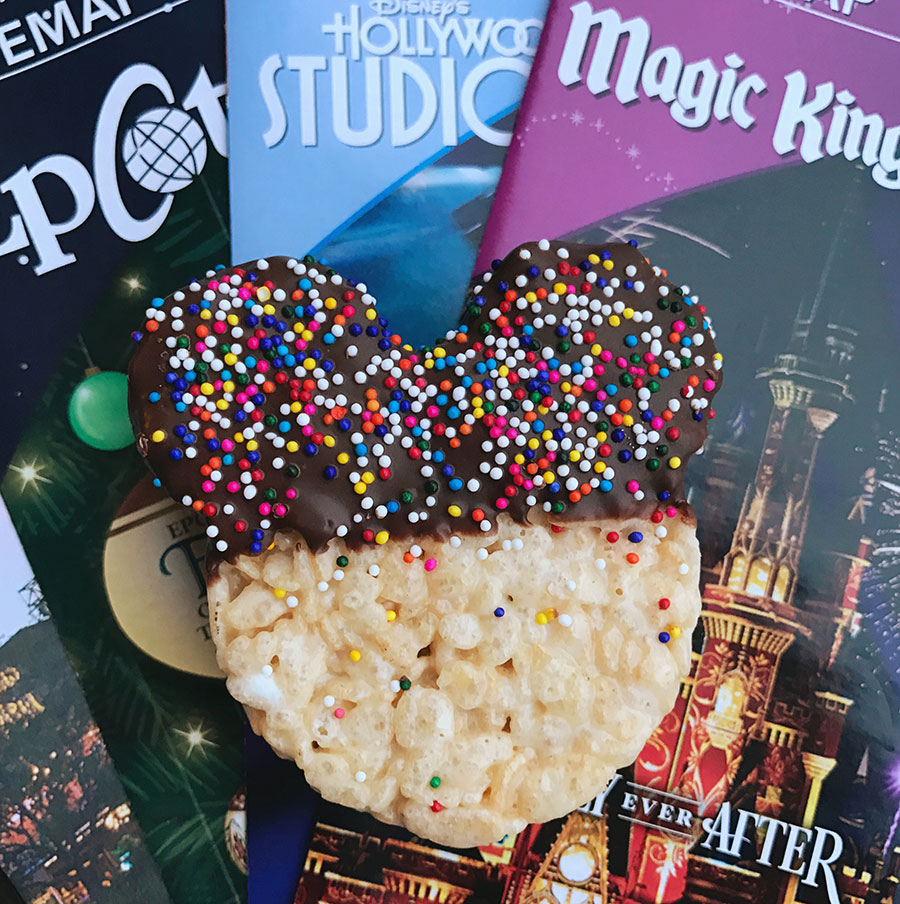 'til next time, Disney World. I'll love you forever.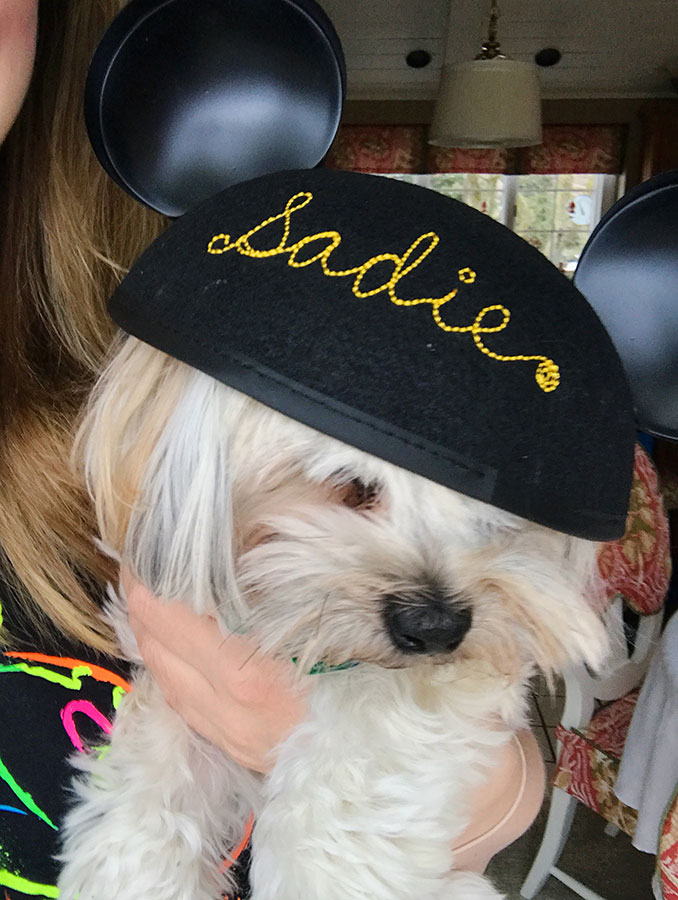 PS: Here's Sadie in her ears. They are infant-sized and still too big!