August 2019
Where We Stayed:  Hampton Inn (American Side)
The third leg of our August vacation was Niagara Falls.  It's a MUST-SEE, right?!  RIGHT.  But I cannot impress upon you enough:  see the falls from the Canadian side and skip right over the American side.  More on that in a bit.
We drove from Cooperstown to Niagara, which took about 4.5 hours.  We arrived in Niagara early afternoon and were immediately disappointed.  Niagara Falls, NY is sad, blighted, and just plain creepy.  We chose to stay at a Hampton Inn because Hamptons are predictable and clean — and this one was no different.  We couldn't check in upon arrival (we were early) and we didn't want to leave the car full of luggage parked anywhere (fun fact: Niagara Falls, NY has a very high rate of violent crime).
So what did we do?  We were grumpy, hungry, a little sad that Niagara Falls, NY was so dismal, and we had time to kill.  My mom and I visited the Visitor's Center to get the lay of the land.  Then my dad drove us to the parking lot of Niagara Falls State Park.  Mom and I got out and walked around and saw the falls.  I was underwhelmed.  I mean, any gigantic waterfall is cool and impressive but I just didn't get what all the fuss was about.  Our moods were not improving and it was turning out to be the worst day of our trip.
We were finally able to check in and drop our luggage off around 4pm.  It was a beautiful, hot, sunny day and I pretty much demanded that we drive over the Rainbow Bridge to Canada.  I had read that the view of the falls was 10x better from the Canadian side — and we had hours of daylight left in the day.  So we went to Canada, lost our tempers about 10 times trying to find parking, and made our way to the pedestrian walkway along the falls.
Then I saw it: the biggest and most magical rainbow of my life — and a BEAUTIFUL view of Horseshoe Falls.  My mood instantly turned to giddy. Now, it is not surprising that I saw this rainbow.  I'm not trying to make this out to be some rare occurrence.  Cause mist + sunshine = RAINBOW TIME.  I took approximately 500 photos and was on cloud nine.  Niagara Falls truly is a beautiful sight to see and I'm so happy that we brought our Passports so we could see it from the Canadian side.
The Canadian side, it must be noted, is generally nicer more aesthetically pleasing.  Beautiful flower beds, luxury hotels, better restaurants, and view of the falls that is 1000x better than what you'll see from the United States.  I cannot recommend driving or walking over the bridge to Canada enough!
We also visited one of the gift shops and found Smarties!  Tim Horton's!  And Hudson Bay goods! Our short time spent in Canada lifted all of our moods.
We quickly realized that we had one more day left on the trip, but we saw all there was to see of the falls.  What were we going to do?  The thought of spending any more time in Niagara wasn't appealing in the slightest.  So we looked at the map and say, "let's go to Cleveland!"  More on that in another post.
Other stray observations:
Does anyone know why there are so many Indian tourists in and around Niagara Falls?  We saw about 25 Indian restaurants and there were just so many Indians at the Falls.  I'm just curious why this is the case!
I cannot stress this enough:  the American side and view of the falls is TRASH.  Bring your Passport and go to Canada.  Stay at a Canadian hotel.  Spend all your time in Canada.  You will not regret it.
We did not go on one of the tourist boats (US's Maid of the Mist or Canada's Hornblower) but if I were ever to visit again, it would be on my to-do list!  We didn't have time at the end of our day and weren't wearing appropriate clothing to get soaking wet, so we passed.
If you are into murals, visit Niagara Falls, NY's "Art Alley"!
We stopped for gas/bathroom break on our way to Niagara Falls and the rest stop area had this cute little produce stand.  I loved the almost-rainbow order.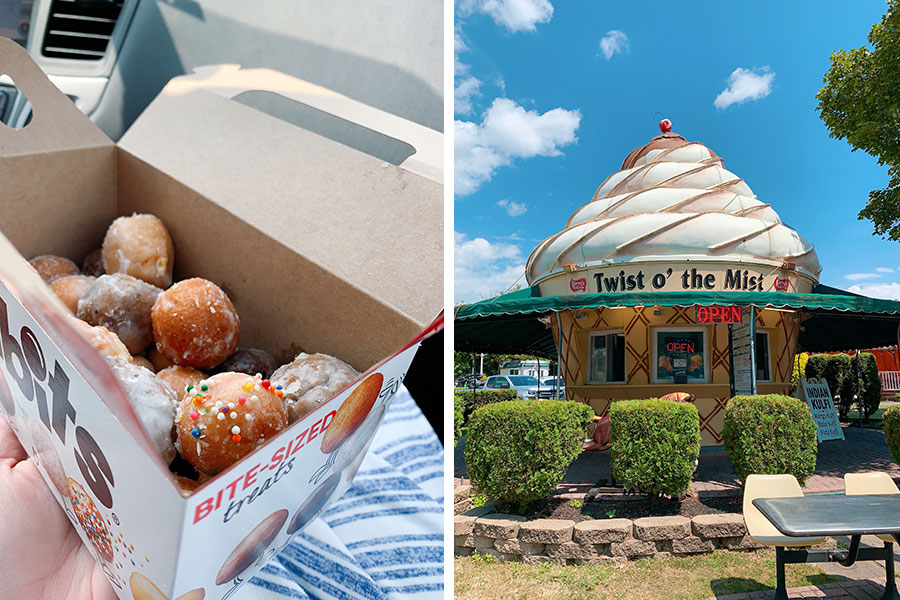 TimBits!  And Twist of the Mist!  I'm drawn to soft-serve like a moth to a flame.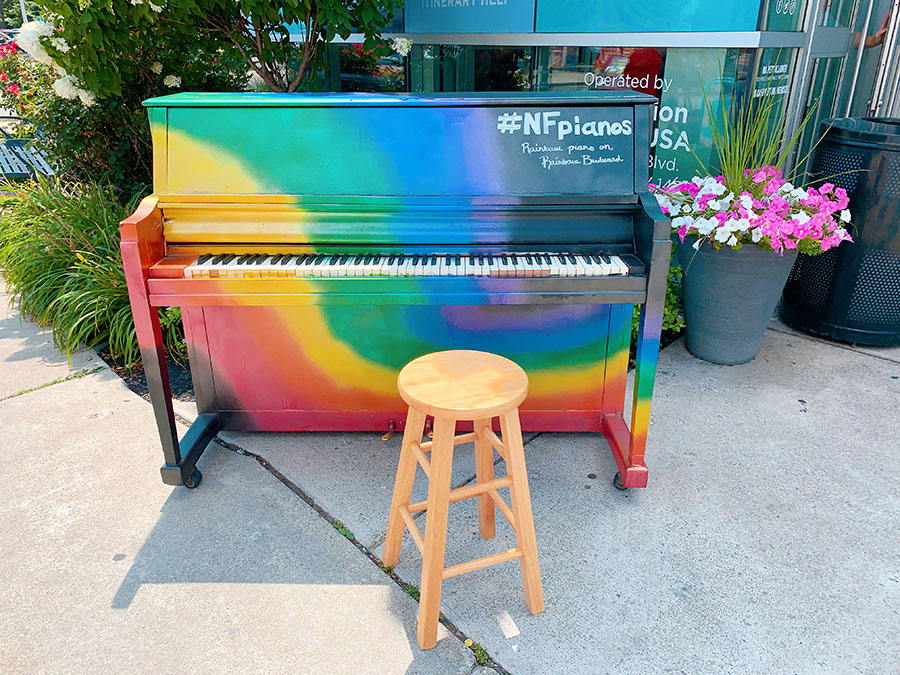 Rainbow piano!

American side. Cool but not THAT cool, right?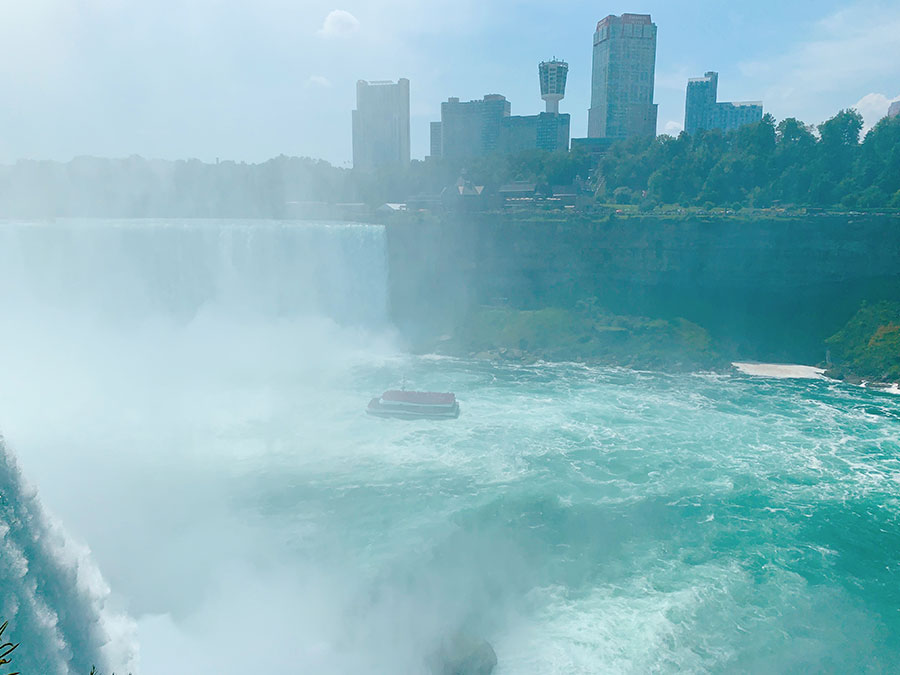 American view of Horseshoe falls. Meh. Very MISTY.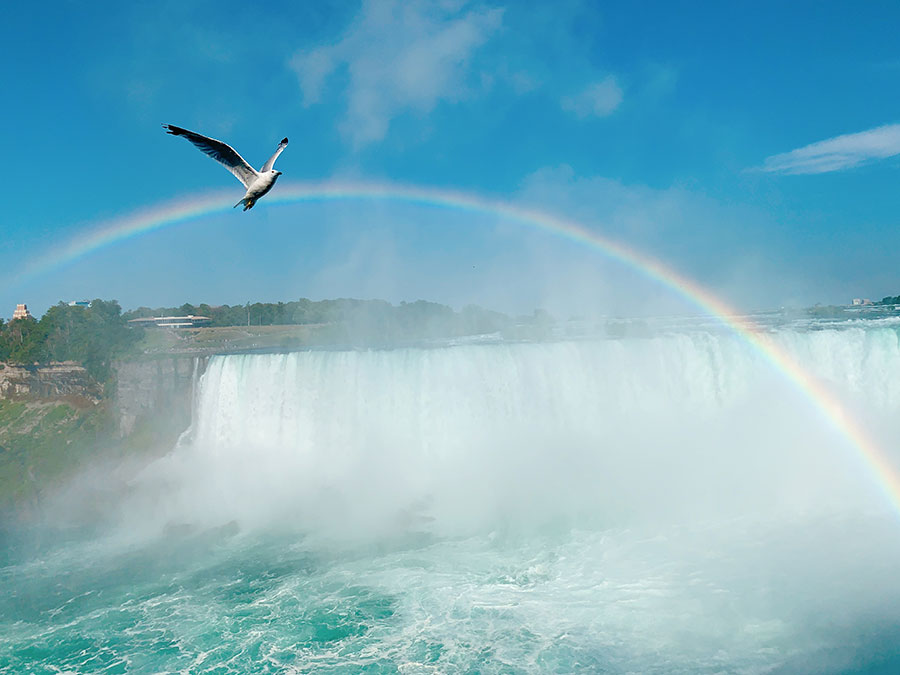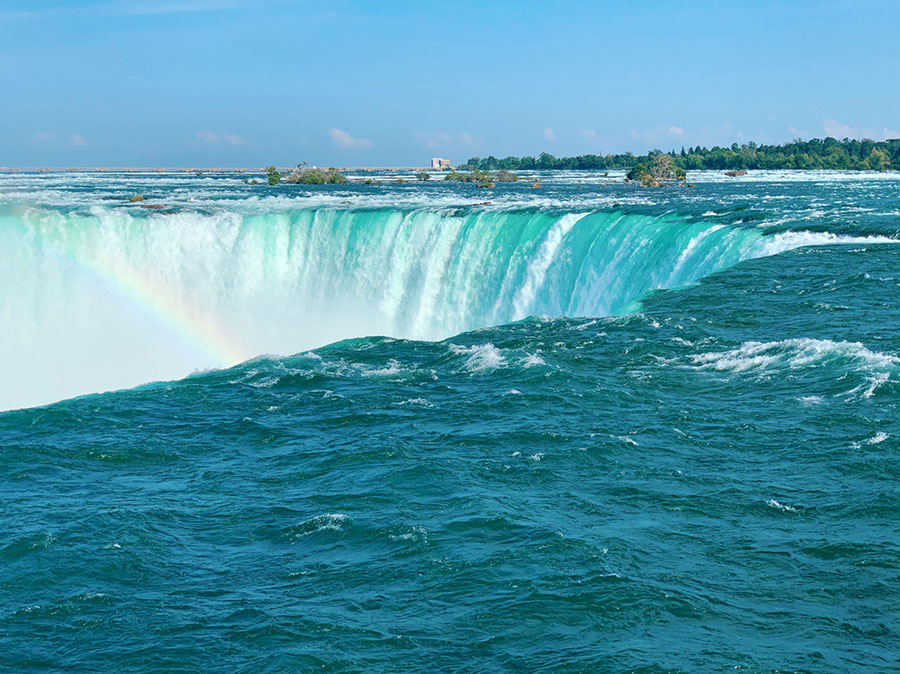 LOOK AT HOW MAJESTIC IT IS FROM CANADA! LOOK!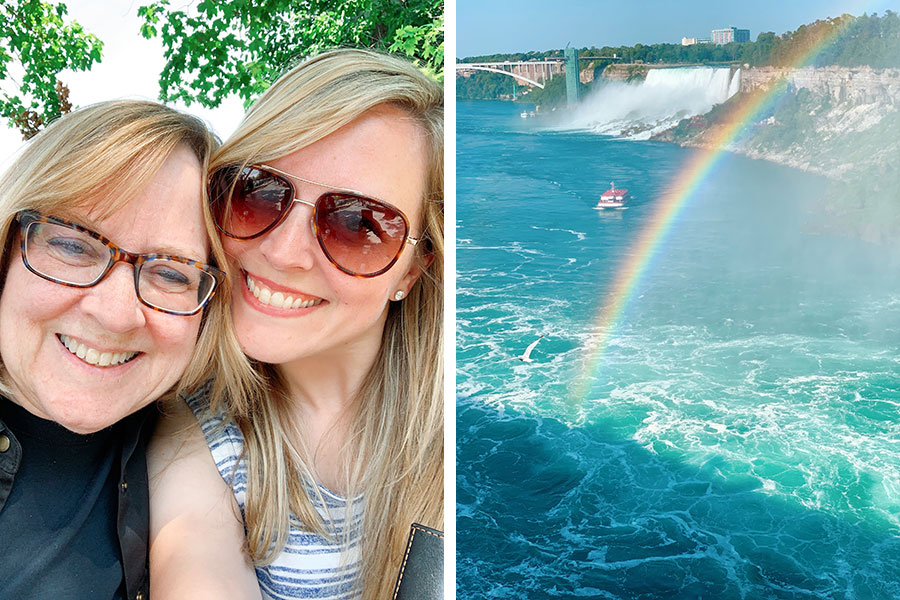 Happy!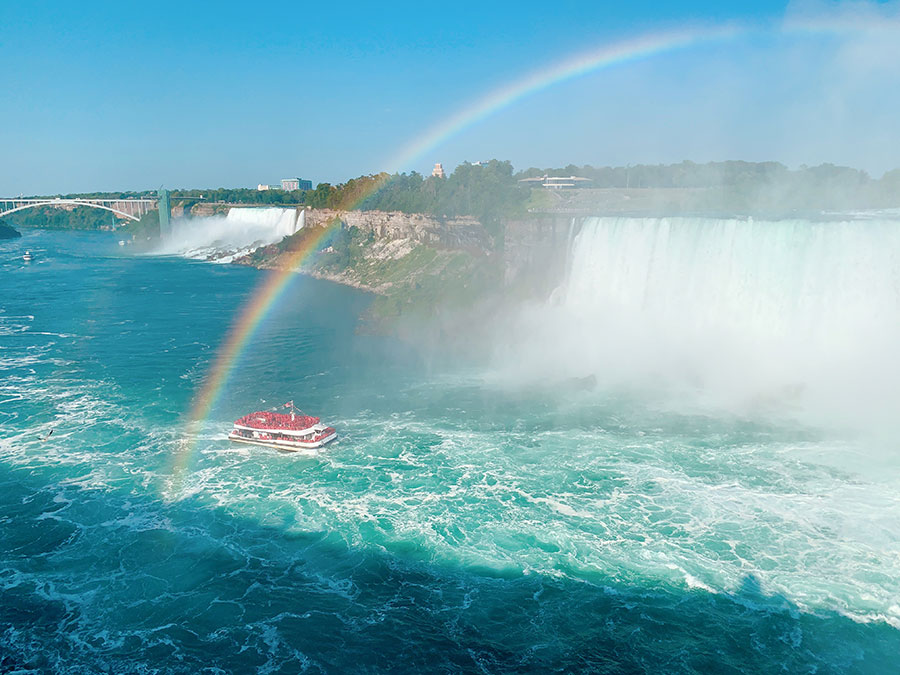 It is 1000x better from Canada, RIGHT?!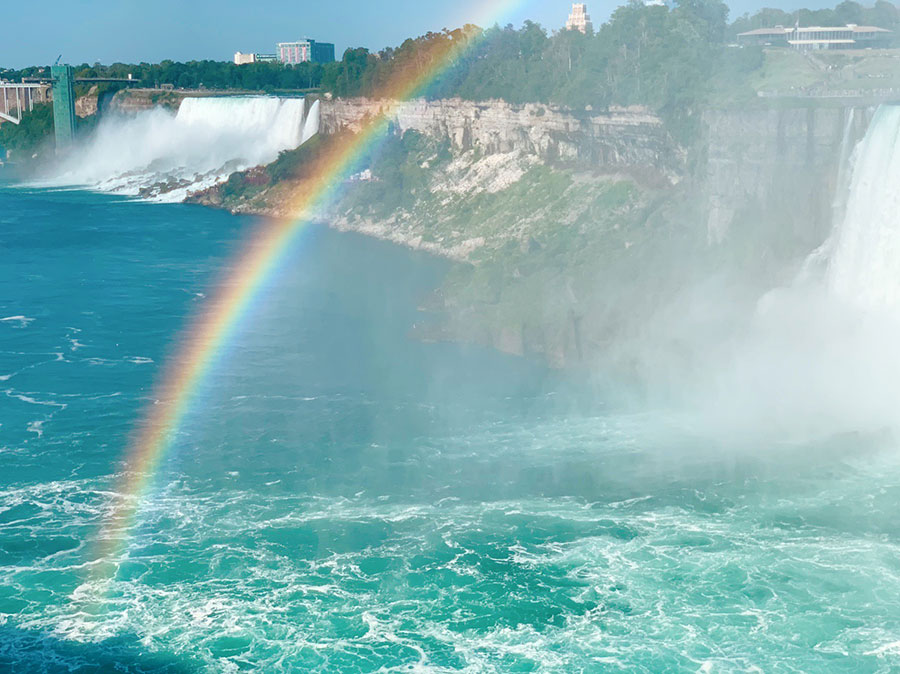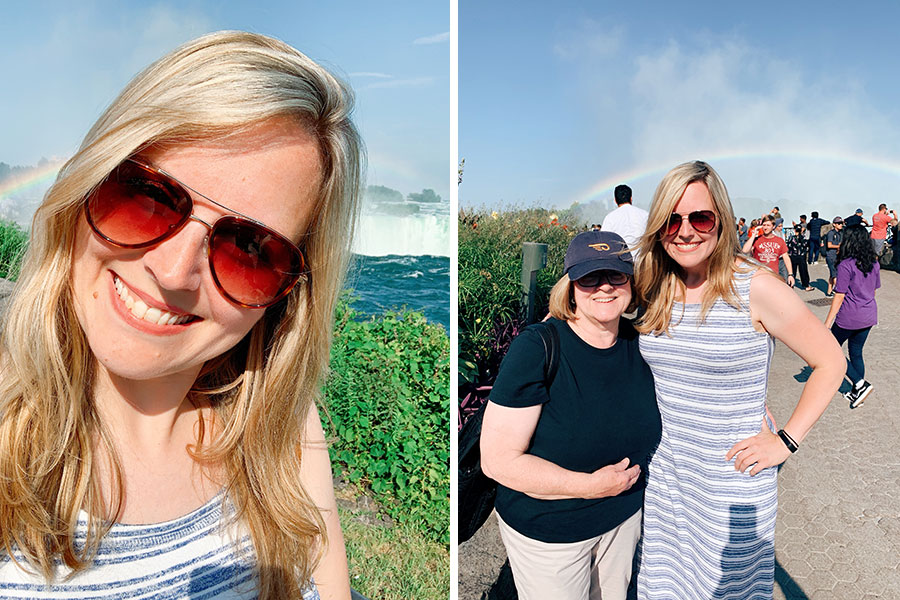 Happy American tourists.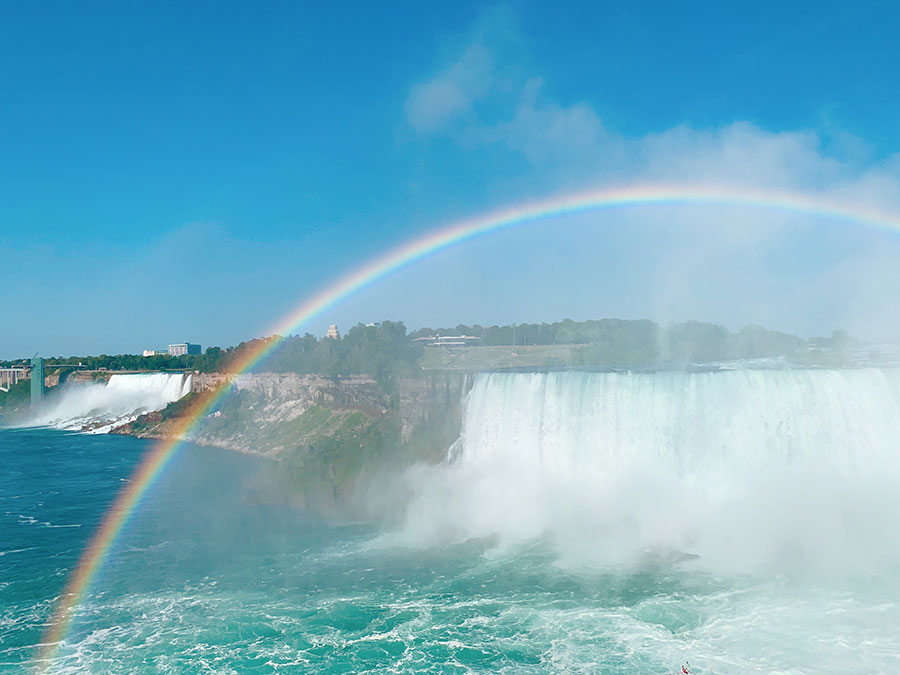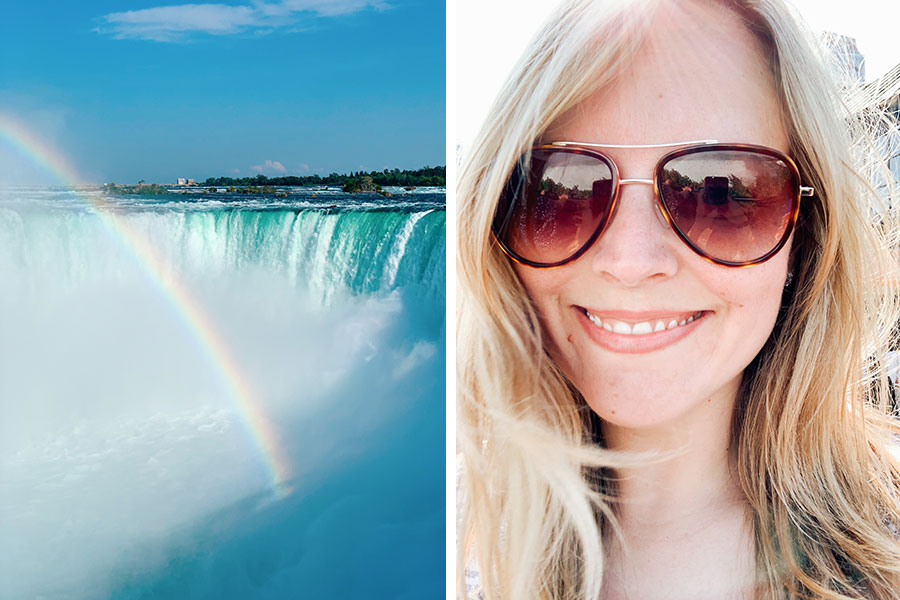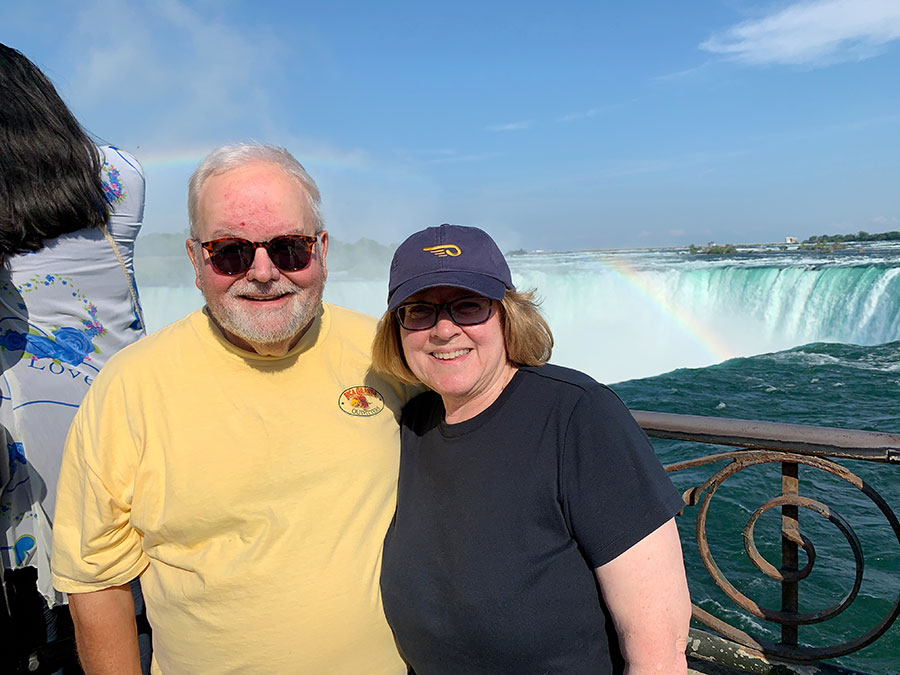 Cute parents.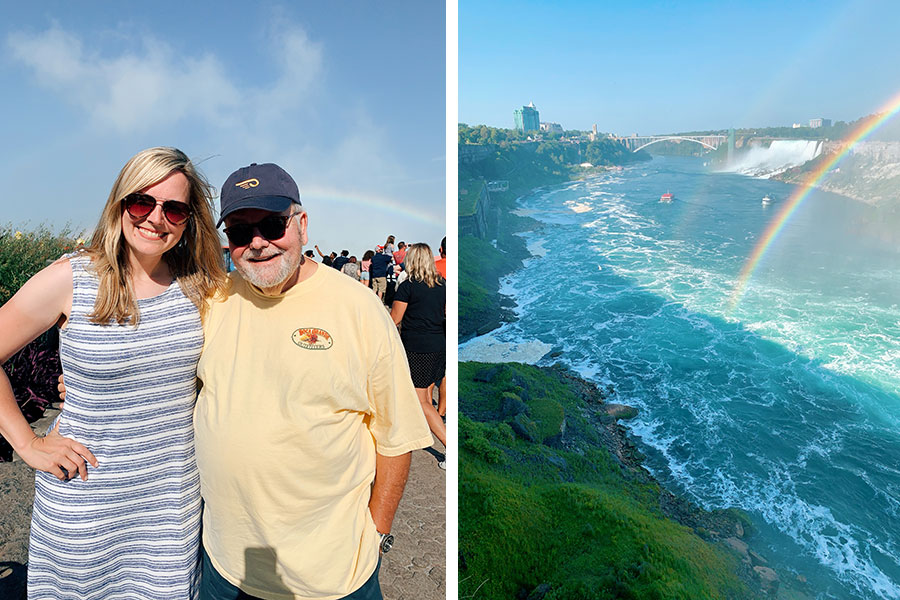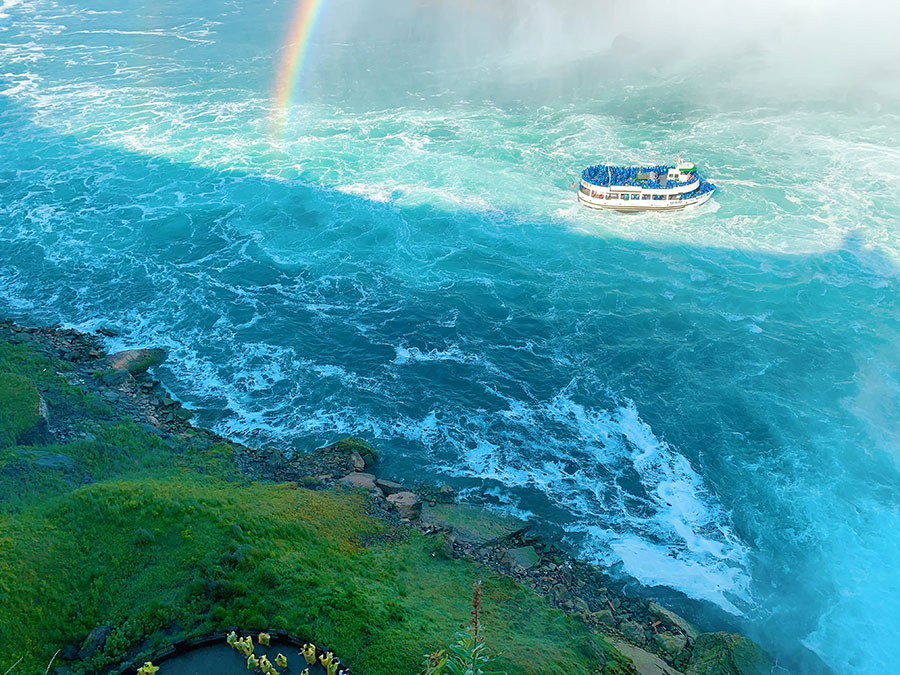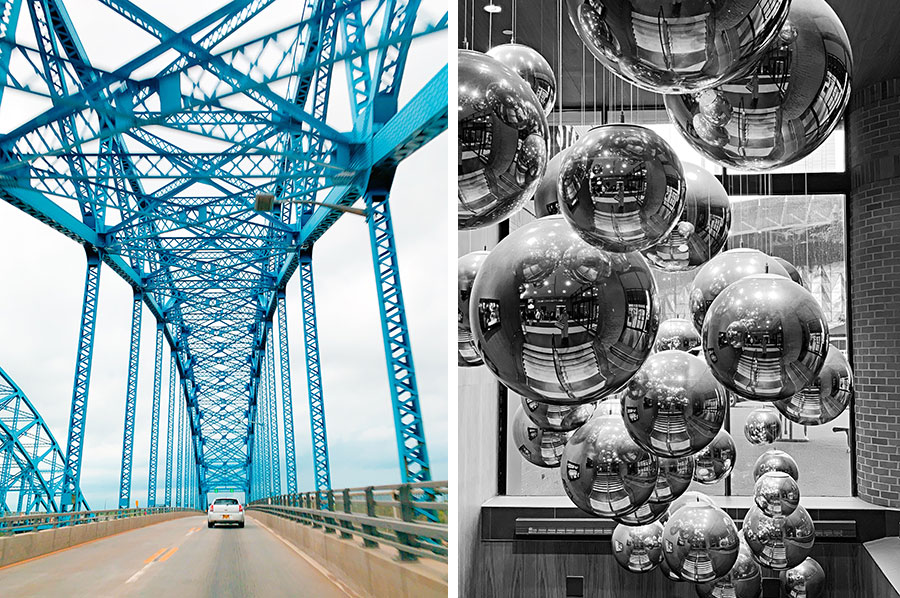 Bridge 'n' balls.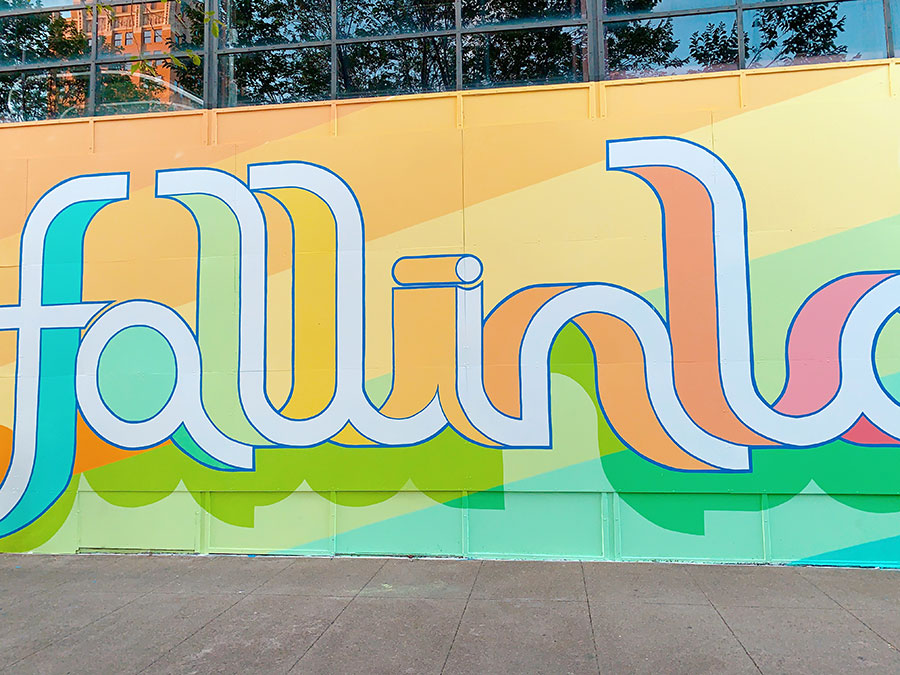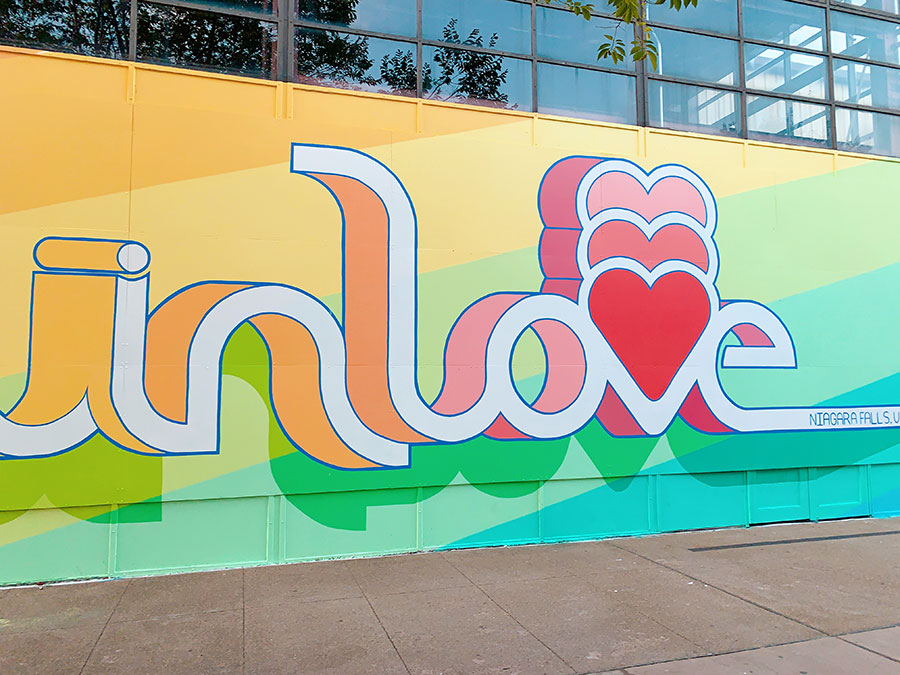 We did not fall in love with Niagara, NY.  Sorry not sorry.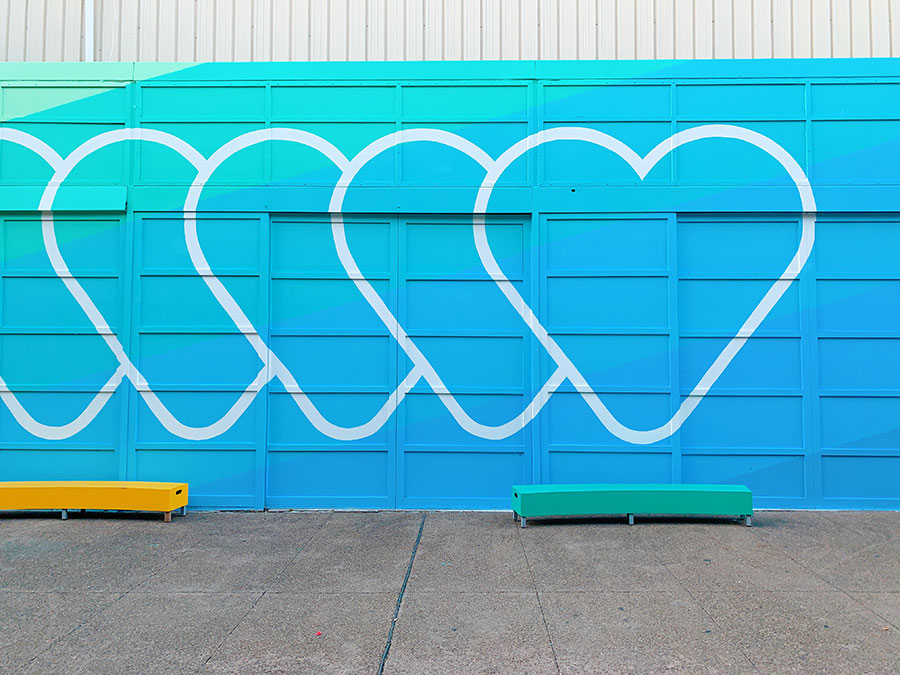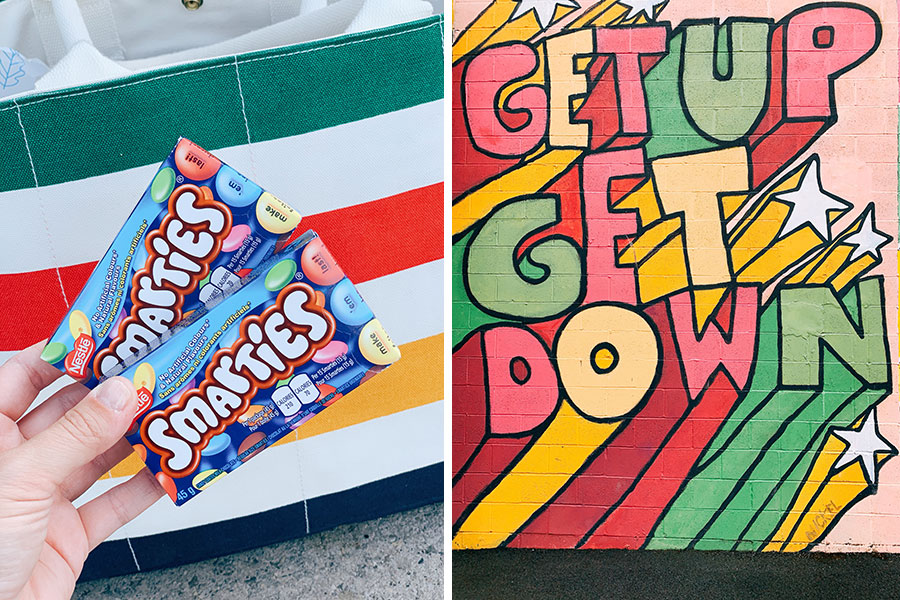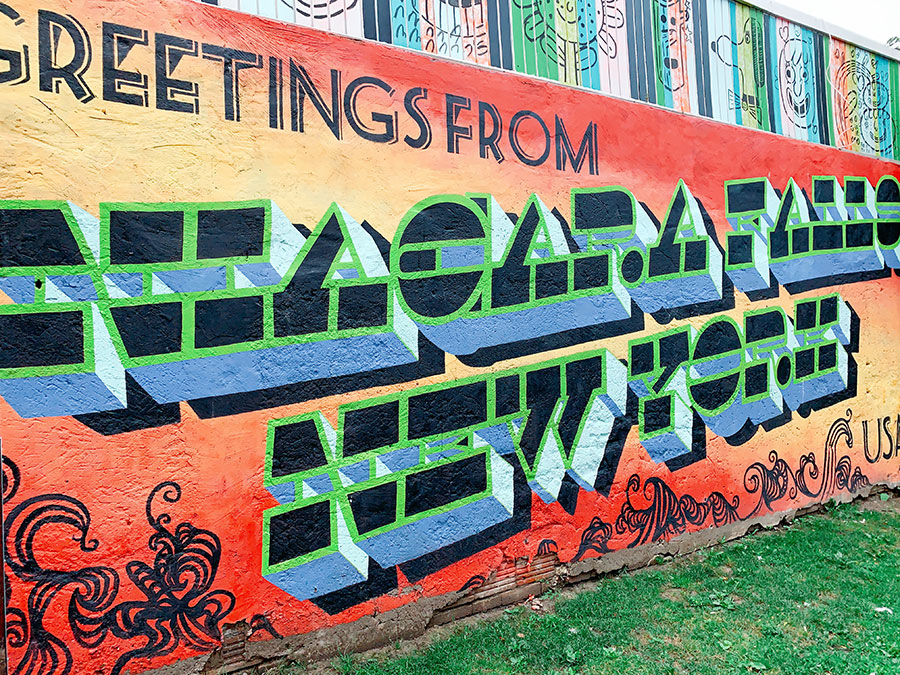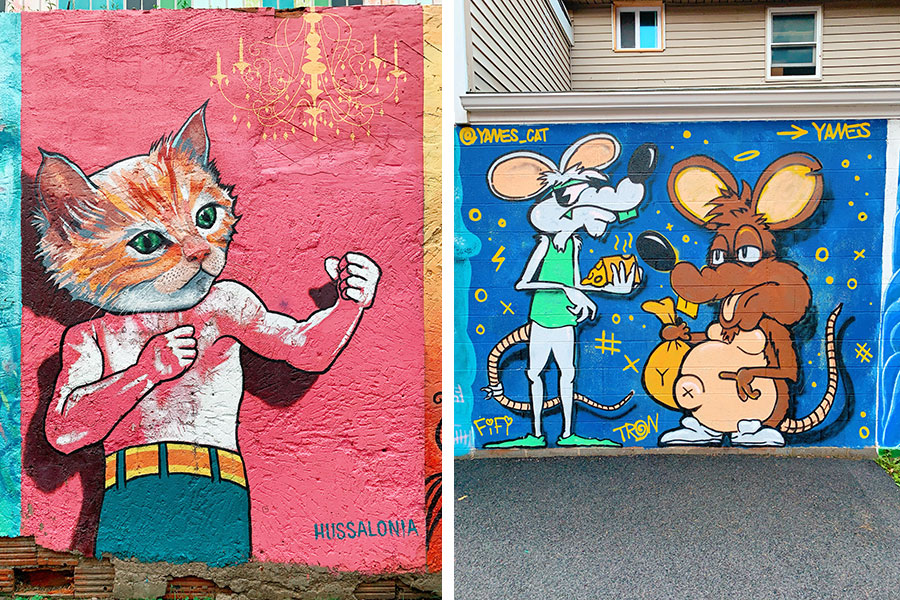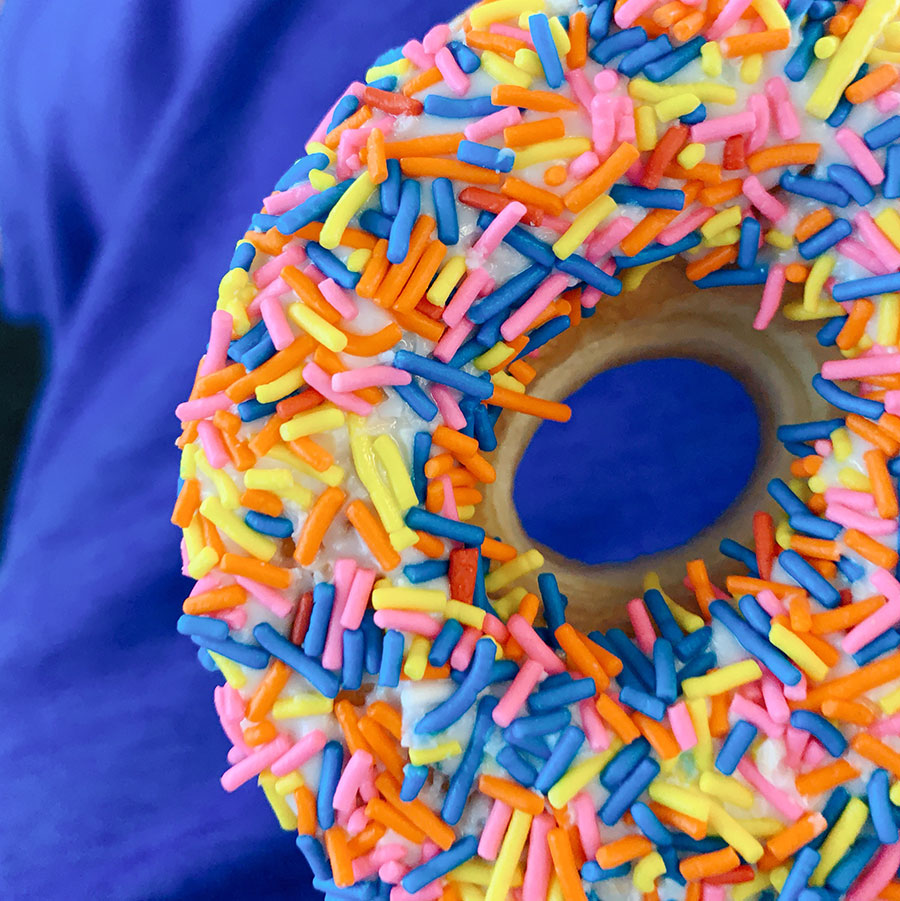 One last Tim Horton's donut.